Best Golf Sunglasses 2022
Our guide to the best golf sunglasses on the market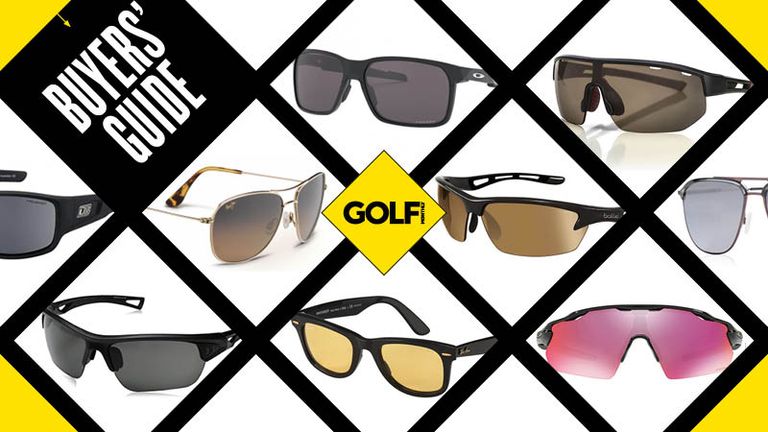 (Image credit: Golf Monthly)
Golf Monthly Newsletter
Golf tips and expert instruction, golf club reviews and the latest golf equipment.
Thank you for signing up to Golf Monthly. You will receive a verification email shortly.
There was a problem. Please refresh the page and try again.
Best Golf Sunglasses
A pair of sunglasses is one of the best golf accessories to get especially when playing golf during the summer months and when the sun is low as it rises and sets.
Manufacturers have made big strides in recent times in terms of lens technology and frame design, whether you are looking for something sporty and colourful or maybe a more traditional type of shades, there is something for everyone. From Oakley to Bolle, to even Henrik Stenson's designs, we have narrowed things down with hopefully something for every budget. The best sunglasses should fit you well, look great and, most importantly, give you a comfortable visual experience.
We've picked plenty of classic styles and colors, and there's plenty of different frame and lens color options for you to fully customize your glasses to your personal taste. Now before we get to the models, we should say that UV stands for ultra-violet radiation, and it is split into three groups, A, B, and C, each of which can be harmful in different ways. The best models below help protect from all three.
Also for other ways to protect yourself from the sun we recommend taking a look at our guides on the best sunscreen for golf, best golf hats, best golf caps and best golf polos which are made from fabrics to guard against harmful rays.
Great Comfort
Specifications
Protection: 100% UVA, UVB, and UVC protected
Frame/Lens Colors: 13
Material: Highly durable nylon-based material
Reasons to buy
+
Stylish, comfortable and stay secure when swinging
+
Enhance clarity and contrast
Reasons to avoid
-
View is a little too dark when the sun isn't at its brightest.
Oakley's Portal X model is one of the best golf sunglasses on the market because it is perfect for use not just out on the golf course but also away from it too. Importantly the design lends itself to being worn all day because comfort is one of the key characteristics.
After testing we found these to be stylish, comfortable and the Prizm Dark Golf lenses undoubtedly enhance the contrast on bright days, which is especially helpful on greens with subtle slopes.
The tacky material used for the nose pads ensures a comfortable but secure fit while the special Unobtanium material on the inside of the earsocks has a similar feel and increases in grip when wet. This ensures that when you sweat, a common occurrence when playing on hot sunny days, they stay firmly in position when you swing.
Tifosi Swick Sunglasses
Off-course versatility
Specifications
Protection: 100% UVA/UVB protected
Frame/Lens Colors: 5
Material: Durable Grilamid TR-90 frame
Reasons to buy
+
Good selection of colors
+
Non-slip features
Reasons to avoid
-
Nose piece not adjustable
'Call it sweet. Call it sick. It's Swick.' These come in a collection of colours and come from a company that specialises in sporting sunglasses and they are lightweight, durable and comfortable.
And they're very cool and are a unisex design so handy for when your other half wants to borrow them. Sunglasses can be pretty pricey but these are a very affordable option. Importantly there are lots of different styles, colours and designs to choose from as well so these will suit just about anyone.
Henrik Stenson Iceman 3.0 Sunglasses
Used by Henrik himself
Specifications
Protection: 100% UVA and UVB protected
Frame/Lens Colors: 5
Material: TR-90 – a flexible polymer sports frame
Reasons to buy
+
Excellent optics and protection
+
Feel very high-quality
Reasons to avoid
-
Can feel quite large on the face
Henrik Stenson more than anyone understands how important it is to get the best golf sunglasses, so much so he started his own eyewear company in 2017.
The Iceman 3.0's are the signature model in the range and they are suitable for more sporting activities. They have been designed with TR-90, which is an ultra-lightweight and flexible polymer for the frame, and they sof rubber grips for comfort.
The lenses are also a significant feature here. They are anti-scratch and have a sharp, ventilated HD lens for outstanding visuals out on the golf course. This particular golf specific lens enhances contrast so that the terrain appears more distinct and defined, while natural colour balance is still maintained. That being said they also work off the golf course too.
Sporty frame and polarised lenses on a budget
Specifications
Protecton: UVA & UVB
Frame/Lens colors: Two lens/Four frame
Material: Polycarbonate frames
Reasons to buy
+
Excellent clarity and color contrast
+
Adaptable frame for a secure fit
Reasons to avoid
-
Sporty design limits versatility
For golfers that want a little more substance with the style at a price point that doesn't hurt the wallet too much, the Sunwise Parade White sunglasses are an appealing prospect. They feature Polafusion polarised lenses that filter out potentially damaging light and provide vivid color contrast in bright light while also reducing glare.The fit is adaptable thanks to the adjustable nose pad, which helps the sunglasses stay securely in place when you're swinging as to limit distractions. The frame is very lightweight but also surprisingly sturdy and anyone that plays other sports or goes running will find these come in handy when doing this type of activity on sunny days, such is the performance on offer.
Bolle Bolt Photo V3 Golf Oleo AF Sunglasses
Breathable frame design
Specifications
Protection: N/A
Frame/Lens Colors: 2
Material: B88 Nylon
Reasons to buy
+
Lightweight comfort
+
Highly-respected brand
Reasons to avoid
-
Perhaps not as sturdy as others on this list
These are great for when you want to tee it up in the midday sun. They come with interchangeable lenses so you can adapt to the different times of the day and the comfort level is something else, meaning they will suit any sport that you want to try in them. The ultra-light vented frames and Thermogrip technology deliver a secure but highly comfortable fit. They also come with a sturdy case and protective bag too.
Sporty style but with golf-specific performance
Specifications
Protection: 100% UVA, UVB, and UVC protected
Frame/Lens colours: Interchangeable Polarized, Iridium and Photochromic options available
Material: Lightweight O Matter frame
Reasons to buy
+
Subtle yet stylish look
+
Robust and lightweight
+
Excellent lenses at this price point
Reasons to avoid
-
Less expensive lens options do lack performance
This pair are simple and sporty. The more subtle looks compared to some other Oakley offerings will likely be preferable to the many golfers who favour a more traditional aesthetic style.
They're extremely light, the fit is very comfortable, and you will quickly forget you're wearing them. The lenses are effective from bright harsh sunlight to milkier conditions. You still maintain a sense of depth and perspective and it's easy to read greens with them on as they maintain, and often enhance, the contrast of certain colours. They're pretty robust and come with a very solid case.
Oakley Radar EV Pitch Sunglasses
Excellent protection
Specifications
Protection: 100% UV
Frame/Lens Colors: 20+.
Material: Highly durable nylon-based material
Reasons to buy
+
Great looks and secure fit
+
Versatile and comfortable
Reasons to avoid
-
Some may prefer more traditional looking sunglasses
We are sure you agree these are as futuristic as it gets from an aesthetic point of view. That being said the technology is very modern and usable too. These come in a variety of different lenses and frames to suit your needs. Pretty much any sport you're playing these will be an ideal accompaniment and the Pitch lens shape maximises coverage of the upper face and the interchangeable coated nosepiece helps you customise your fit.
The lens features the Prizm technology which helps with any colour contrasting so, wherever you are on the course, everything will be pin sharp. These are suited for a medium to large adult fit.
For golfers that want to ultimate in colour contrast and detail
Specifications
Material: O Matter frame, Unobtainium earsocks and nosepads
Protection: 100% UV
Frame/Lens colours: 22 lens and colour options
Reasons to buy
+
Quality lenses that deliver colour, contrast and detail
+
Lightweight yet very robust
Reasons to avoid
-
Lacks off course versatility
The aesthetics of the Radar EV Path sunglasses certainly grab your attention with the bright white frames, almost iridescent purple/orange lenses and futuristic shaping likely to split opinion and certainly won't go unnoticed.
The PRIZM lenses live up to the promise of enhancing colour, contrast and detail, which is essential for golf, particularly on and around the greens. The slightly larger size of the lenses gives good peripheral visions and they also reduce glare and keep your eyes safe from harmful UV rays.
The Oakley Radar EV Path provide everything you need from a pair of golf sunglasses. The lenses enhance your view of the course while protecting your eyes, and the lightweight, robust and comfortable frames are ideal for sporting activity.
Oakley Mercenary Sunglasses
Cutting-edge tech
Specifications
Protection: Only polarized model gives UV protection
Frame/Lens Colors: 12
Material: Sports performance frame with O-Matter material
Reasons to buy
+
Great looking model
+
Versatile
Reasons to avoid
-
No UV protection aside from polarized model
Mercenary blends fashion with cutting-edge technology designed to assist the golfer. It's a lightweight, minimalist design with a larger lens for wider field of view. Although the Mercenary is available in various frame and lens combination, we found the best lenses for the course to be the Prizm and Prizm Dark Golf.
Prizm technology fine tunes vision for specific sports and environments. Prizm Golf and Prizm Dark Golf help players see changes in grass texture by improving the contrast between various shades of green.
That really helps you pick out the contours and see the lines on the putting surface. So realistically then they could help you hole more putts and if that doesn't warrant inclusion in this best golf sunglasses list, I don't know what will.
A British, affordable pair that comes with interchangeable lenses
Specifications
Protection: UVA & UVB
Frame/Lens colors: Frame 4, Lenses 4
Material: Polycarbonate frame
Reasons to buy
+
Lightweight but robust frame
+
Comfortable, secure fit
+
Choice of four lens colours
Reasons to avoid
-
Included pouch offers limited protection
-
Slightly hazy view in bright light
Sunglasses can cost a small fortune but in the Sunwise Evenlode Black, you've got the option of a pair that ticks a lot of boxes for the fraction of the price. The wraparound design looks slick and offers all around protection from the sun plus they're noticeably lightweight. They're extremely versatile too because of the three additional colours of lens that come included, so you're essentially getting four pairs in one. Our pair came fitted with the Smoke mirror lenses (category 3) for use in strong light and testing in bright, low-level sunlight we appreciated what they offered. There are also Clear lenses (category 0) for clear conditions, Yellow lenses (category 1) for low light and Orange lenses (category 2) for medium light, so can adapt the sunglasses to suit the conditions you're about the face.
Oakley Flak 2.0 Sunglasses
Popular frame design
Specifications
Protection: 100% UV filtering
Frame/Lens Colors: 20+
Material: Stress-resistant O-Matter material
Reasons to buy
+
Often regarded as one of the best Oakley sunglasses ever
+
Comfortable and lots of color combinations
Reasons to avoid
-
Some may prefer a wider one-piece lens
One of Oakley's most popular models, the Flak 2.0 features High Definition Optics that provides superior optical clarity and razor-sharp vision at every angle. Oakley's Prizm lens technology also fine-tunes vision that comes into its own when you're on the course and reading greens, for example.
The matte black frame, which looks great, pairs well with a black iridium lens which prevents direct glare and heat. Speaking of the frame it is constructed with Oakley's O Matter material accompanied by Unobtanium ear socks and nose grips for no slip grip. To put it simply, the sport-friendly Flak 2.0 sunglasses are technologically terrific.
Sunwise Equinox White Sport Sunglasses
Great for any weather
Specifications
Protection: 100% UVA/UVB protected
Frame/Lens Colors: 4
Material: Lightweight and robust polycarbonate
Reasons to buy
+
Lenses for all light conditions
+
Good optical quality
Reasons to avoid
-
Limited peripheral coverage
The best golf sunglasses don't have to cost an arm and a leg. This fantastic value option from Sunwise has colour coded interchangeable lenses covering all weather conditions, so you'll always be prepared come wind, rain or shine.
The clear lenses (category 0) are for clear conditions, the yellow lenses (category 1) for low light, orange lenses (category 2) for medium light, and finally the red platinum lenses (category 3) are for strong light.
Sunwise has also made them durable, light, water-resistant, impact-resistant, and another excellent feature is the flat arms profile which makes these perfect for wearing under a cap.
Ray-Ban RB2140 Original Wayfarer Classic Photochromic Sunglasses
Iconic sunglasses brand ideal for off-course wear
Specifications
Protection: 100% UV filtering
Frame/Lens Colors: Lots of lens colors.
Material: Acetate
Reasons to buy
+
Classic design
+
Built to last
Reasons to avoid
-
Sportier versions for the golf course available
You can't shop for sunglasses without considering Ray Bans and one of the brands iconic designs is the Wayfarer. Since its initial design in 1952, Wayfarer Classics gained popularity among celebrities, musicians, artists and those with an impeccable fashion sense.
We think this particular model can transition to the golf course too because these polarized Wayfarers look great and perform great too with a lightweight and durable frame as well as lenses that will stop your eyes straining.
Oakley Holbrook Metal Sunglasses
Off-course versatility
Specifications
Protection: 100% UV protection
Frame/Lens Colors: 20+.
Material: O-Matter stress resistant frame
Reasons to buy
+
Lightweight sheet metal frame
+
Plenty of frame/lens options
This is a classic look from one of the market leaders. They've taken all the popular features in this best-selling style and crafted it into a lightweight frame so they're both comfy and uber stylish. There is an interior stem pad which improves the grip so there's no need to constantly readjust and the plutonite lenses offer 100 per cent protection filtering out any harmful light.
From a visual perspective, Oakley has knocked it out of the park with these too. This is because the lenses feature Oakley's high definition optics that meet the very high standards for eye protection from all possible UV light and impacts.
Under Armour Octane Wrap Sunglasses
Sturdy frame design
Specifications
Protection: 100% UVA, UVB, and UVC protected
Frame/Lens Colors: 2
Material: ArmourFusion built with high grade injected polyamide
Reasons to buy
+
Simplistic design
+
Top-notch protection
Reasons to avoid
-
Can be a bit dark for some
Under Armour might not yet be a household name in the eyewear market but these Octane Wrap sunglasses are a quality piece of kit. They're fitted with ArmourSight lenses, which have been engineered for superior optical clarity and impact resistance.
The ArmourFusion frames are built with a high-grade injected polyamide for maximum strength whilst the AutoGrip self-articulating temples conform to your unique head shape without discomfort. As usual with Under Armour, another top-quality product.
Oakley Holbrook Mix Sunglasses
Sharp and clear vision
Specifications
Protection: 100% UVA, UVB, and UVC protected.
Frame/Lens Colors: 20+
Material: Stress resistant O-matter material
Reasons to buy
+
All day comfort
+
Excellent grip
Reasons to avoid
-
Better models out there for smaller faces
These seriously stylish Oakleys feature the company's patented High Definition Optics, which eliminates distortion to give you clearer, sharper, and more accurate vision. They'll look great both on and off the golf course.
Capturing the lens shape of Holbrook, this Mix edition recrafts the best-seller with enhancements that include stainless steel temples, the sure grip of Unobtanium interior stem pads which increase grip even more in wet conditions and lightweight O Matter center. Oh, and they also come with a 2-year warranty.
Maui Jim Cliff House Aviator Sunglasses
Stand out from the crowd
Specifications
Protection: UV protection coating
Frame/Lens Colors: 4 but customizations available
Material: MauiPure
Reasons to buy
+
Lightweight yet sturdy
+
Classic look with futuristic choice in lenses
Reasons to avoid
-
Perhaps better for off the golf course
Based in Maui, Hawaii, the company began selling sunglasses on the beach nearly forty years ago, and has grown its collection from seven styles to over 125. Because of Maui Jim's colourful beginnings, the company prides itself on enhancing the world's true vivid colours in detail – great for us golfers who frequently find ourselves staring out over lush green fairways.
The Cliff House model - which gets its name from a stunning location on the Big Island - are classic sunglasses that come with polarized lenses that offer bright, clear views everywhere you look. Its PolarizedPlus2 lenses eliminate 99.9% of glare, while reducing light from above and below, allowing your eyes to relax as well.
Oakley Gauge 8 Black Sunglasses
Minimalist design
Specifications
Protection: 100% UVA, UVB, and UVC protected
Frame/Lens Colors: 6
Material: Lightweight C-5 alloy
Reasons to buy
+
Comfortable and not overbearing
+
Good model for those wanting aviator design
Reasons to avoid
-
Better models for the athletes out there
A new chapter in Oakley's heritage of wire frame innovation, Gauge 8 is a lightweight C-5 alloy design with the genius of Mono Shock hinges and the classic-meets-contemporary styling of pilot shades with angular lenses.
They also feature Prizm technology lenses which provide unprecedented control of light transmission resulting in colors precisely tuned to maximize contrast and enhance visibility. As you can tell, we're big fans, are you?
How we test golf sunglasses
With every golf product we review, not just sunglasses, we are committed to giving key insight into how products actually perform out on the golf course as well as off it too. With sunglasses that means seeing how they help whilst playing, but also how versatile they are to be used in other areas of life too.
We should also mention that no manufacturer can pay for a good review, instead we tell it how we see it.
Things to consider when buying golf sunglasses
There are several factors to be wary of when looking at buying new golf sunglasses and below are the ones we consider to be the most important.
Clarity/tint - There are obviously several types of lens and tints that can be beneficial to different people and their eyes. Many brands have their own proprietary lens technology, such as the PRIZM by Oakley. These designs are created to bring out the colors of the golf course and help players see the ball better against grass and sky.
From a tint perspective, have a think about which color you would prefer because they do different things. For example;
Rose Copper: Sunglasses with a rose copper tint are perfect for the putting green as they remove yellow and red tones from the color green. Therefore this can help players read breaks and how the grains sit on the green. Contours are also seen more clearly.
Brown/amber: Contrast is important for golfers and lens with a brown or amber tint will work the best for this. These will even help your distance vision by improving the grass contrast as well as the sky so that you can see the ball clearly as it travels through the air. They also work very well in cloudy weather and in low light.
Gray and Green: Usually these may not be that ideal golf golf but they may help those who have light sensitive eyes.
Lens Quality - Linking with the above point, the quality of the lenses themselves is important too because good ones will give better clarity of vision on the fairways and greens. They should also help with the below factor too...
Strength/durability - Golf sunglasses have to be able to deal with some wear and tear that can occasionally come from the game. Transporting them around in the golf bag, dropping them, and other things can occur so be sure to go for a design that is durable and strong when needed.
Of course given the varying styles of golf sunglasses now, some will be stronger than others and some designs will be made from stronger materials so this is something to be wary of. The good thing is no longer are strong designs massive and chunky, as the growth in technology has allowed super-lightweight models to be sturdy too.
We definitely recommend models that are scratch, impact and possibly water resistant too.
Comfort - If you are going to have sunglasses on all day they have to be comfortable. The materials used have to feel soft and yet also grippy especially on those areas around the nose and ears. Let's face it, you won't keep them on if they are uncomfortable so it is worth trying some models on before you buy.
Style - As we mentioned above, there are lots of different styles of golf sunglasses now. From classic designs to aviators, to retro models and sporty glasses, there is a design for everyone. Additionally many of them are incredibly versatile too so if you want a pair to use off the golf course, have a think about a style that can work anywhere.
Budget - Some models cost more than others so people should also think about price. Some cheaper models will do the job nicely but then there are also premium models for those who want to spend a little more.
FAQs
How do I clean golf sunglasses?
Most models these days come with a handy little cloth that we recommend using to clean the lenses every so often. Importantly, when you do so, hold the sunglasses by the frame and wipe the lenses so they are clear.
Which lenses are best for golf?
A high-quality, strong, durable lens is best for golf and when it comes to the best color we recommend reading a bit further on.
Which color lens is best for golf?
We have found there are a couple of good colors for golf when it comes to lenses. As far as putting on the green goes we recommend Rose Copper as they help players read breaks and how the grains sit on the green. When the ball is in the air then brown/amber tints are better because they improve grass contrast as well as the sky. This makes the ball easier to see when it is in the air.
Which professional golfers wear golf sunglasses?
A lot of professional golfers wear sunglasses out on the golf course these days, chief among which is Henrik Stenson who actually has his own sunglasses company.
Some other Tour professionals that do so are Adam Scott, Justin Rose, Rickie Fowler and Garrick Higgo.
We hope you enjoyed this guide on the best golf sunglasses.
A golfer for most of his life, Sam started playing the game to prove he was the best player out of his father and two brothers.
He quickly became a golf equipment expert and has always been the one family and friends come to for buying advice, and spends a lot of his time putting golf gear, apparel and shoes to the test.
He is a graduate of Swansea University where he studied History and American Studies, and he has been a part of the Golf Monthly team since February 2018. He also previously worked for World Soccer and Rugby World magazines.
A jack of all trades across print and digital formats, Sam now spends most of his time testing and looking after golf gear content for the website. He also oversees all Tour player content as well.
Unfortunately, Sam is not a member of any club at the moment but regularly gets out on the golf course to keep up the facade of having a handicap of five.
Sam is currently playing:
Driver: Titleist TS3
Fairway Wood: TaylorMade M5 (15 degrees), Nike Covert Tour 2.0 (19 degrees)
Irons (4-PW): Titleist AP2
Wedges: Titleist Vokey SM7 54˚, 58˚
Putter: Scotty Cameron Circa 62 #6