Best Golf Net 2022: Get The Perfect Set-Up At Home
Want to practise your golf swing at home? Check out the best golf nets to help you hone your game...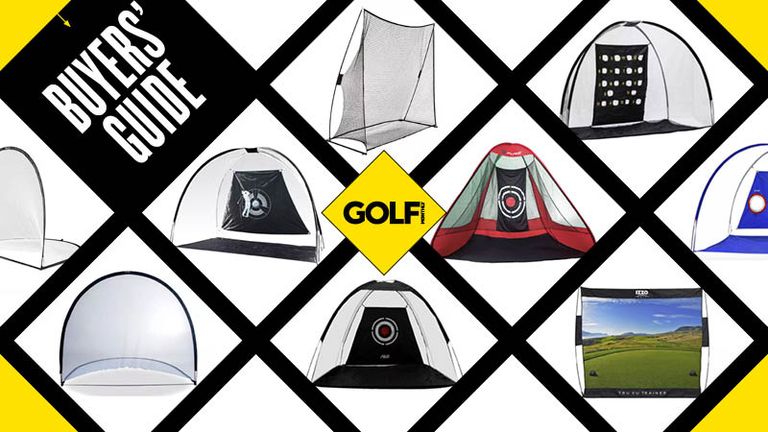 (Image credit: Golf Monthly)
Contributions from
Golf Monthly Newsletter
Golf tips and expert instruction, golf club reviews and the latest golf equipment.
Thank you for signing up to Golf Monthly. You will receive a verification email shortly.
There was a problem. Please refresh the page and try again.
Best Golf Net: Get The Perfect Set-Up At Home
The golf swing is all about repetition and the best way to hone your own swing is to practise it as much as you can. That makes a golf net one of the best golf accessories (opens in new tab) that you can buy, especially if you don't have access to a local practice facility or it's a trek to the local driving range.
Whether you've got a garden, a large spare room with high ceilings or a garage, golf nets can be used in a range of different places and they give you the perfect chance to work on your game when the range might be shut or in the evenings. Some will also be very easy to set up and store away, while some may be more permanent fixtures. Many of the models below will also pair up perfectly with the best golf mat (opens in new tab) too.
Best Golf Net - Get The Perfect Set-Up At Home
Links Choice Practice Net
Ideal for full shots
Specifications
Dimensions (ft): 7x10x5
Material: Metal
Reasons to buy
+
You can hit any shot
+
Will last for years
+
Target included
This is a hard wearing and sturdy structure that will allow you to work on all aspects of your game. So, if you want to hit 100 drivers without the fear of something going awry, this is great.
An artificial turf mat is provided to hit balls off so you don't have to hammer the lawn and a target sheet gives you an element of focus to work on your flight and direction as well as absorbing a lot of the impact so will last for years.This is 7 feet tall, 10 feet wide and 5 feet deep so there is scope to hit plenty of shots and there is a built-in ground sheet so balls don't escape and go all over the place.
Amazon Basics Portable Practice Net
Best For Easy Set-up
Specifications
Dimensions (m): 2.44 x 2.44, 2.13 x 2.13, 3.05 x 2.13
Material: Metal
Reasons to buy
+
Large hitting area
+
Durable, easy to construct
You can practise anywhere with this Amazon Basics model. It has a construction similar to other models on this list but is made from durable metal and fibreglass giving it a degree of sturdiness and toughness. It is also conveniently portable because it can be easily set up and taken down, and then stored away in the handy carry bag.
We found it to stand up to sustained use in those longer sessions, for every single club in the bag which cannot be understated in its importance. There are three sizes available at the moment, starting with 2.44 meters x 2.44 meters, 2.13 x 2.13, and finally 3.05 x 2.13.
PGM Full Swing Indoor/Outdoor Golf Practice Net Black
Light And Water Resistant
Specifications
Dimensions (m): 3 x 2.4 x 2
Material : Fibreglass
Reasons to buy
+
Addition of the mat is very handy
+
Large target will help shots start on-line
The PGM net is 3m wide and a very quality piece of kit. The net features a target to focus on, which should help you start your golf shots online. It comes with a zip-close carry case for when travelling with it or storing away.
A huge benefit with this net is that it comes with a heavy-duty, durable astroturf hitting mat featuring a driving range-style tee, so you can easily practice hitting drivers without worrying about buying your own tees. Also if you really want to take your practice to the next level, take a look at some of the best golf launch monitors (opens in new tab) on the market as well so you can further enhance your understanding.
PGA Tour Pro Driving Net
Best Target Net
Specifications
Dimensions (m): 3 x 2.14 x 1.5
Material: Nylon
Reasons to buy
+
Targets are great
+
Addition of driving and chipping tips an added bonus
This fibre-glass net is over 3m wide and over 2m tall and is an official licensed product of the PGA Tour. It's easy to assemble and has a very handy target section where you can practice hitting to specific areas. It says 'lob', 'chip' and 'pitch' and these are useful for that but other shots too.
Perhaps if you're practising high draws, aim for the lob or if you're working on your low fades, aim for the chip section. Don't worry about the strength of this net either, because it is made from a lightweight and yet strong fibreglass frame, whilst the durable nylon sheet dampens the balls impact, and gathers them up nicely. On top of all this, the net comes with PGA Tour Academy Driving & Chipping Tips to help you score lower.
SKLZ Home Driving Range Kit
Best For Easy Storage
Specifications
Dimensions: 2 x 2
Material: Fibreglass, polyester
Reasons to buy
+
Folds away nicely
+
Simple design
Reasons to avoid
-
Not as heavy duty as others in this list
When it comes to practicing at home, not many of us have a lot of space to put a large net in the back garden or in the garage. Therefore some of us need something that can be folded away quickly, easily, and doesn't take up a lot of room. This is where this SKLZ kit comes in.
The Practice net utilises tent technology for quick assembly and the kit also comes with a dual surface mat so you can simulate different lies, and flight impact golf balls so the kids can have a go too without breaking anything.
Izzo Golf- Links Course Tru Vu Trainer Net
Visually Stimulating
Specifications
Dimensions (m): 2.2 x 2.2
Material: Polyester
Reasons to buy
+
Visual aid looks good and works as a brilliant target
+
Easy to set up and take down
Reasons to avoid
-
Not the best for beginners, could easily be missed with a shank!
This unique net from Izzo gives you some great visuals to picture yourself on an actual golf course. The net claims to be a training aid and a piece of art too, and it certainly will be very pleasing on the eye to some.
The golf course picture is a great visual target. It's a square shape at just under 2.3m high and wide and is easily portable too. It also comes with a nylon carry case.
Longridge Full Swing Indoor/Outdoor Golf Practice Net
Great for fine-tuning your aim
Specifications
Dimensions (cm): 305w x 213h x 151d
Material : Metal
Reasons to buy
+
Great for aim
+
Carry bag included
Reasons to avoid
-
Maybe not the sturdiest
-
No mat included
This works well as a driving/iron practice net as well as a chipping net given that it comes with an optional 18-hole target sheet. So you can work on your chip and runs as well as those awkward flop shots.
The net is easy to assemble so you can be hitting shots within minutes and easy to take down and use anywhere. The built-in ground sheet keeps everything in place and this could be a great addition to any garden.
Pure 2 Improve Pop-up Triangle Practice net
Great for ease of use
Specifications
Dimensions (inches): 118 x 71 x 79
Material: Nylon
Reasons to buy
+
So easy to use
+
Looks great
This cool and striking triangle-shaped net is a fun and easy way to practise your golf. It featured a pop-up design so you can keep it in the back of the car and unleash it when the urge takes you to hit a few balls and it can be put up/taken down in seconds.
This comes with four pegs to secure it to the ground and a carry bag for ease of transportation. There is also a target to fine-tune your aim whatever club you're hitting. It's not the biggest so you might not want to stand too far away if you've got a little shank in the locker!
Excellent Wide Net
Specifications
Dimensions (m): 3 x 2
Material: Foam
Reasons to buy
+
Sturdy and stable while being great to practice in both indoors and outdoors.
+
Compact to store and easy to assemble.
Reasons to avoid
-
A little flimsy when using full powered shots with a drive
We recently featured this net in 'The Edge (opens in new tab)' a compilation of 50 products that will give you the edge to get better at golf. It warranted inclusion because it can be easily assembled and folds away into a compact carry bag. It measures six feet high, 10 feet wide and six feet in depth, providing a large and sable footprint either indoors or outdoors.
The frame is made up of strong yet lightweight fibreglass pipes while the net is constructed of a blend of high-density nylon and polyester. It also comes with a mat so you don't damage your floor or your garden lawn. We should mention that full-blooded driver shots may bring about some slight flimsiness but we found on the whole it performed well.
Saplize Golf Practice Net with Hitting Mat
Best For Warranty
Specifications
Dimensions (m): 3 x 2.1
Material: Oxford
Reasons to buy
+
Good value featuring wide range of targets and a mat
+
6 months warranty for net, 12 months warranty for parts
Reasons to avoid
-
Slightly more complicated to set up than some
Despite the product picture, this is actually a high-quality net and should definitely be one to consider. It is large, measuring over 3 metres in height and 2 metres in width.
It comes with four very distinctive targets for you to mix up your practice. The addition of a mat with a tee is great to avoid damaging your floor or lawn and allows drivers to be hit. It also comes with a carry case and six soft balls.
Pure 2 Improve Golf Practice Net
Incredibly Convenient
Specifications
Dimensions (m): 2.4 x 2.1
Material : Fibreglass and polyester
Reasons to buy
+
Quick and easy to set up
+
Well priced
Reasons to avoid
-
No targets and could easily be missed by beginners
Like some of the other nets we have mentioned, this Pure 2 Improve model is also incredibly convenient thanks to a design that allows it to fold away to pretty much nothing.
That being said it still has a heavy duty construction thanks to the combination of polyester and fibre glass materials. It's very simple to set up and comes with a carry bag if you ever want to take it somewhere with you.
What to consider when buying the best golf net
Buying a golf net is quite the commitment because you are bringing the game of golf home with you! Therefore it is not the kind of decision to make on a whim. As such here are some of the factors we think you should consider before purchasing.
What are you practising? - If you want to just work on your chipping then a small chipping net will suffice and it is totally unnecessary to get a very large model. Whereas if you want a net to work on your swing, ball-striking, alignment and things to that nature, then a large scale design is what you will need.
Size - Linking with the above point, be aware of how much space you have because this will then inform which net will fit. That means getting the tape measure out and checking the product measurements to make sure you get a design that is right for you and your practice area.
Strength - If you are going to be hitting drivers into the net then it needs to be strong and capable of dealing with the weather too if it is outside. Therefore have a look at product specifications and look for barometers of strength and durability like corrosion resistance, metal construction and nylon nets.
Convenience - Do you want to be able to fold your net away easily and conveniently? If so then there are models above for you, like the Amazon Basics Portable Practice Net. However this can limit how strong and durable the net can be so there is some trade-off here.
Budget - When it comes to our final factor, budget, then we can simply say there there are golf nets at every price point above so it is worth knowing how much you want to spend on a net.
FAQ's
Are golf hitting nets worth it?
Golf nets are worth it for any golfer looking for a relatively inexpensive and convenient way to practise. Many people bought golf nets during the Covid-19 pandemic as a way of getting a golfing fix at home and we have found some models can actually be used for other sports too so in that regard they are definitely worth it and they can be great fun with the kids.
Are backyard golf nets safe?
The internet is full of practice shots gone wrong so shop wisely. We are confident the models above are safe as we have made note of the materials used and how they are made - both factors you should research as well. Also, in terms of setting up your net, read the instructions properly, make sure everything is fastened correctly, and also set it up in a way that will help avoid accidents. For example have the net set up away from the house or anything valuable, and make sure you have enough room to properly swing the club.
How much room do you need for a golf net?
Measure out how much room you have in your garden or at home. Be sure to take into account the space needed for height, width, and depth as well because the net will extend outwards when a golf ball is hit into it. Obviously be as specific as you can because some brands give their measurements in feet, whilst others do so in meters so be aware of this.
If you liked this guide on the best golf net, be sure to let us know. Also for more handy practice tools then check out our best golf training aids (opens in new tab) guide too.
Mark has worked in golf for over 20 years having started off his journalistic life at the Press Association and BBC Sport before moving to Sky Sports where he became their golf editor on skysports.com. He then worked at National Club Golfer and Lady Golfer where he was the deputy editor and he has interviewed many of the leading names in the game, both male and female, ghosted columns for the likes of Robert Rock, Charley Hull and Dame Laura Davies, as well as playing the vast majority of our Top 100 GB&I courses. He loves links golf with a particular love of Royal Dornoch and Kingsbarns. He is now a freelance, also working for the PGA and Robert Rock. Loves tour golf, both men and women and he remains the long-standing owner of an horrific short game. He plays at Moortown with a handicap of 6.