Best Golf Net 2023: Get The Perfect Set-Up At Home
Want to practise your golf swing at home? Check out the best golf nets to help you hone your game...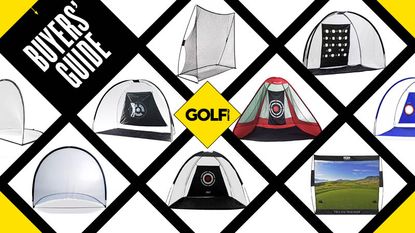 (Image credit: Golf Monthly)
Get the Golf Monthly Newsletter
Thank you for signing up to Golf Monthly. You will receive a verification email shortly.
There was a problem. Please refresh the page and try again.
Best Golf Net: Get The Perfect Set-Up At Home
The golf swing is all about repetition and the best way to hone your own swing is to practice it as much as you can. That makes a golf net one of the best golf accessories that you can buy, especially if you don't have access to a practice facility nearby or if it's a trek to the local driving range.
Whether you've got a garden, a large spare room with high ceilings or a garage, golf nets can be used in a range of different places and they give you the best chance to work on your game when the range might be shut or in the evenings. Some will also be very easy to set up and store away, while some may be more permanent fixtures, but what should be applicable to the best nets, is they need to be convenient. The best models are also strong and durable, whilst the full hitting designs should also be large enough that you can hit a variety of clubs ranging from the wedges to the driver. The best smaller practice nets, the ones for chipping and shorter shots, should also be quick and easy to store away, and durable as well. Many of the models we've used, tested and set out below achieve these points and will also pair up perfectly with the best golf mat and some of the best golf tees too.
Best Golf Net - Get The Perfect Set-Up At Home
Why you can trust Golf Monthly Our expert reviewers spend hours testing and comparing products and services so you can choose the best for you. Find out more about how we test.
Top pick
Amazon Basics Portable Practice Net
Dimensions (m): 2.44 x 2.44, 2.13 x 2.13, 3.05 x 2.13
Material: Metal
+ Large hitting area
+ Durable
- No hitting mat
You can practice anywhere with this Amazon Basics model. It has a construction similar to other models on this list and is made from durable metal and fiberglass giving it a degree of sturdiness and toughness. It is also conveniently portable because it can be easily set up and taken down anywhere you like and then stored away in the handy carry bag.
We found it to stand up to sustained use in those longer sessions, for every single club in the bag, which cannot be understated in its importance. Practice lofty sand wedge shots, or even low stingers with your fairway woods with this excellent offering. There are three sizes available at the moment.
Best for all sports
Hit Run Steal Heavy Duty Golf Hitting Net
Dimensions (m): 3 x 2.1
Material: Fiberglass, nylon
+ A large net that is great for driving
+ Very durable
- Does require a reasonable amount of space
Looking for an extra large net for your back garden? Well we think this might be the product for you! This heavy-duty offering is a durable, long-lasting and excellent shot stopper that will catch all the the big drives you will throw at it.
What's even better about it is how lightweight and portable this net is and comes with a durable carry bag too, meaning it's easy to throw in the back of your car or your shed! But that aside, this net is still very sturdy, and you'll feel very comfortable unleashing some of the best drivers for distance on this net. In fact it is a net you can use for other sports as well such as baseball or even American football kicking practice.
Best for wide base
Links Choice Practice Net
Dimensions (m): 2.14 x 3 x 1.51
Material: Metal
+ You can hit any shot
+ Will last for years
+ Target included
- You'll need some space
This is a hard-wearing and sturdy structure that will allow you to work on all aspects of your game. So, if you want to hit 100 drivers without the fear of something going awry, this is great.
An artificial turf mat is provided to hit balls off so you don't have to hammer the lawn and also comes with a target sheet gives you an element of focus to work on your flight and direction as well as absorbing a lot of the impact. That also means the net will last for years.
The net is 7 feet tall, 10 feet wide and 5 feet deep so there is scope to hit plenty of shots from your wedges to your long irons and there is a built-in groundsheet so balls don't escape and go all over the place.
Best for mat
PGM Full Swing Indoor/Outdoor Golf Practice Net Black
Dimensions (m): 3 x 2.4 x 2
Material: Fiberglass
+ Addition of the mat is very handy
+ Large target will help shots start on-line
- Not the cheapest
The PGM net is 3m wide and a very quality piece of kit. The net features a target to focus on, which should help you start your golf shots online. It comes with a zip-close carry case for when travelling with it or storing away.
A huge benefit with this net is that it comes with a heavy-duty, durable astroturf hitting mat featuring a driving range-style tee, so you can easily practice hitting drivers without worrying about buying your own tees. Also if you really want to take your practice to the next level, take a look at some of the best golf launch monitors on the market as well so you can further enhance your understanding.
Best for targets
Dimensions (m): 3 x 2.14 x 1.5
Material: Nylon
+ Targets are great
+ Additional driving and chipping tips
- Doesn't come with a mat
This fiberglass net is over 3m wide and over 2m tall and is an officially licensed product of the PGA Tour. It's easy to assemble and has a very handy target section where you can practice hitting to specific areas. It says 'lob', 'chip' and 'pitch' and these are useful for that but other shots too.
Perhaps if you're practicing high draws, aim for the lob or if you're working on your low fades, aim for the chip section. Don't worry about the strength of this net either, because it is made from a lightweight and yet strong fiberglass frame, whilst the durable nylon sheet dampens the impact of the ball, and gathers them up nicely. On top of all this, the net comes with PGA Tour Academy Driving & Chipping Tips too. Why not pair it up with one of the best putting mats to hone in on all aspects of your golfing game.
Best visual aid
Izzo Golf Links Course Tru Vu Trainer Net
Dimensions (m): 2.2 x 2.2
Material: Polyester
+ Visual aid looks good and works as a brilliant target
+ Easy to set up and take down
- Not the best for beginners, could easily be missed with a shank!
This unique net from Izzo gives you some great visuals to picture yourself on an actual golf course. The net claims to be a training aid and a piece of art too, and it certainly will be very pleasing on the eye to some. Tee up some of the best drivers in the game and strike the ball into the fairway where you want it to land.
The golf course picture is a great visual target. It's a square shape at just under 2.3m high and wide giving you plenty of room to find your target. It is easily portable too and comes with a nylon carry case that can be used for storage and transported anywhere you want.
Best for storage
SKLZ Home Driving Range Kit
Dimensions (m): 2 x 2
Material: Fibreglass, polyester
+ Folds away nicely
+ Simple design
- Not that heavy duty
When it comes to practicing at home, not many of us have a lot of space to put a large net in the back garden or in the garage. Therefore some of us need something that can be folded away quickly, easily, and doesn't take up a lot of room. This is where this SKLZ kit comes in.
The net utilizes tent technology for quick assembly and the kit comes with a dual surface mat so you can simulate different lies, and flight impact golf balls so the kids can have a go too without breaking anything.
Best for ball strikers
Pure 2 Improve Pop-up Triangle Practice net
Dimensions (m): 3 x 2 x 1.8
Material: Nylon
+ So easy to use
+ Looks great
- Needs some securing
This cool and striking triangle-shaped net is a fun and easy way to practice your golf. It featured a pop-up design so you can keep it in the back of the car and unleash it when the urge takes you to hit a few balls and it can be put up/taken down in seconds.
This comes with four pegs to secure it to the ground and a carry bag for ease of transportation. There is also a target to fine-tune your aim with whatever club you're hitting. It's not the biggest so you might not want to stand too far away if you've got a little shank in the locker!
How we test golf nets
When it comes to testing golf nets, our comprehensive methodology revolves around, as you would expect, playing a lot of golf. We feel putting golf products to the test on the golf course, on the range and in practice is the best way to find out how usable and well-designed these golf accessories really are.
On that note, we feel it is particularly important to use all golf nets in different conditions, whether that be rain, wind, hot or cold, to give a clear idea on the durability, shot-stopping power and how easy it is to set each net up. We also looked to use the nets in our gardens, our garages and even inside our living rooms. The final point we should mention is no manufacturer can buy a good review. This is because our testing team tells it how it is and we seek to be as insightful and honest as possible.
How to choose a golf net
Buying a golf net is quite the commitment because you are bringing the game of golf home with you! Therefore it is not the kind of decision to make on a whim. As such here are some of the factors, we think you should consider before purchasing.
What do you want to practice?
If you want to just work on your chipping, then a small chipping net will suffice and it is totally unnecessary to get a very large model. Whereas, if you want a net to work on your swing, ball-striking, alignment and things to that nature, then a large-scale design is more appropriate for your needs.
Size
Linking with the above point, be aware of how much space you have because this will inform which net will fit. That means getting the tape measure out and checking the product measurements to make sure you get a design that is right for you and your practice area.
Strength
If you are going to be hitting drivers into the net, then it needs to be strong and capable of dealing with the weather too if it is outside. Therefore have a look at product specifications and look for barometers of strength and durability like corrosion resistance, metal construction and nylon nets.
Convenience
Do you want to be able to fold your net away easily and conveniently? If so then there are models above for you, like the Amazon Basics Portable Practice Net. However, this can limit how strong and durable the net can be so there is some trade-off here that you should be aware of.
Budget
When it comes to budget, there are golf nets at every price point above so it is worth knowing how much you want to spend on a net. Generally, the more expensive nets tend to be the larger, more durable nets that come with all the bells and whistles.
While a golf net can seriously improve your game, why not also take a look at our guides on the best putting mats, best golf training aids and best golf putting aids to help you improve all parts of your game.
FAQs
What is the best practice net for golf?
From our experience there are a umber of models that can lay claim to this title. Models such as the Links Choice Practice Net or Amazon Basics Portable Practice Net for example. A common theme among the best models is they are strong, easy to assemble and disassemble, are the perfect size for the space you want to fill, and don't break the bank.
How much room do you need for a golf net?
Measure out how much room you have in your garden or at home. Be sure to take into account the space needed for height, width, and depth as well because the net will extend outwards when a golf ball is hit into it. Obviously be as specific as you can because some brands give their measurements in feet, whilst others do so in meters so be aware of this.
What is the best size for a golf net?
The best size for a golf net depends on a few things. To start how much room do you have? We recommend measuring the area you have in mind thoroughly in terms of depth, height and width so you can then find the best net for that space. Additionally the best size for you will depend on what you want to work on. If you want to work on full swings with the driver, we recommend the strongest, widest models, whereas if you just want to work on chipping, then a smaller model will be the best model for you.
Are golf hitting nets worth it?
Golf nets are worth it for any golfer looking for a relatively inexpensive and convenient way to practise. Many people bought golf nets during the Covid-19 pandemic as a way of getting a golfing fix at home and we have found some models can actually be used for other sports too so in that regard they are definitely worth it and they can be great fun with the kids.
Are backyard golf nets safe?
The internet is full of practice shots gone wrong so shop wisely. We are confident the models above are safe as we have made note of the materials used and how they are made - both factors you should research as well. Also, in terms of setting up your net, read the instructions properly, make sure everything is fastened correctly, and also set it up in a way that will help avoid accidents. For example have the net set up away from the house or anything valuable, and make sure you have enough room to properly swing the club.
Get the Golf Monthly Newsletter
Tips on how to play better, latest equipment reviews, interviews with the biggest names and more.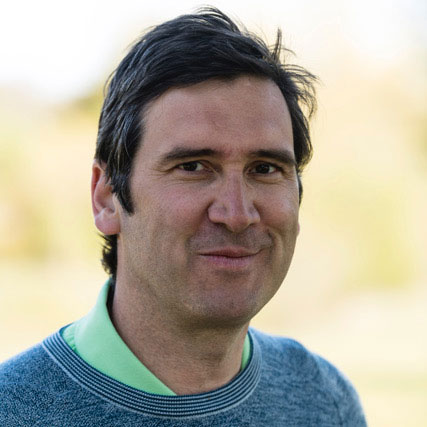 Mark has worked in golf for over 20 years having started off his journalistic life at the Press Association and BBC Sport before moving to Sky Sports where he became their golf editor on skysports.com. He then worked at National Club Golfer and Lady Golfer where he was the deputy editor and he has interviewed many of the leading names in the game, both male and female, ghosted columns for the likes of Robert Rock, Charley Hull and Dame Laura Davies, as well as playing the vast majority of our Top 100 GB&I courses. He loves links golf with a particular love of Royal Dornoch and Kingsbarns. He is now a freelance, also working for the PGA and Robert Rock. Loves tour golf, both men and women and he remains the long-standing owner of an horrific short game. He plays at Moortown with a handicap of 6.