Best Golf Clubs Under $500 2023
Check out the best golf equipment you can pick up for under $500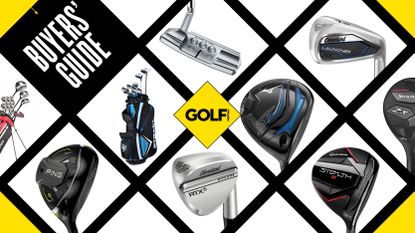 (Image credit: Future)
Best Golf Clubs Under $500
If you have been on any golf retailer sites, it should be reasonably clear that golf clubs can be very expensive. However, believe it or not, this doesn't have to be the case because there are high-quality clubs out there which won't break the bank.
This is where this guide comes in! Firstly, we have done a lot of thorough testing to see which are the best golf clubs money can buy for less than $500. Why this number you may ask? Well, it's primarily down to the fact that it is more realistic for most golfers to have that kind of money to spend on golf clubs compared to $1000 and above.
We also chose this number because, across all sections of clubs, from package sets, to drivers, to irons, $500 is a price for which you can still get very, very good models. If we went any lower in price, we would find it harder to recommend a good set of irons for example, because the cheaper you go in that section, the more likely the performance will diminish.
Below, we have taken a look through the best models for under $500 but, if you are looking for a specific aspect, why not also check out our best budget drivers, best budget irons, or even the best cheap putters.
Best Golf Clubs Under $500
Why you can trust Golf Monthly Our expert reviewers spend hours testing and comparing products and services so you can choose the best for you. Find out more about how we test.
Package Sets
Specifications
Clubs: Driver, fairway, hybrid, 6-SW, putter
Reasons to buy
+
Complete set
+
Includes a decent stand/cart bag
Reasons to avoid
-
Not the best grips
-
No putter cover
Starting with package sets under $500, our first selection is the MacGregor CG3000. The brand has a long and distinguished history in golf, and yet, its clubs don't cost a lot of money compared to others.
The CG3000 is an entry level set, with the 13° driver, low profile fairway and hybrid designed in such a way that they're easy to hit. Meanwhile, the irons (steel and graphite options are available) feature an undercut cavity to keep the centre of gravity low and deep, so golfers should find them easier to launch.
The irons do have a fairly thick top line but, having played a few rounds with them, we don't think they're too intrusive. They are forgiving as well, and they go the distance. You also get a mallet putter and a cart/stand bag, so there is great value on offer here.
Specifications
Clubs: Driver, fairway, 4-hybrid, 5-hybrid, 6-SW, putter
Reasons to buy
+
Forgiving, high launching irons and driver
+
Plenty of distance throughout the entire set
+
Lightweight and spacious carry bag
Reasons to avoid
-
Basic putter lets the set down
-
Hybrids are fitted with steel shafts so are not so easy to launch
One of the best golf club sets on the market, you get a lot for your money with the Strata Men's Golf Package Set. Firstly, there are 11 clubs to choose from, as well as a nine piece set, and both feature a range of irons and hybrids.
The number of clubs means you can add more to the set, such as a lob wedge or sand wedge, with the overall performance very impressive. The particular stand-out came in the driver and iron department, with both aspects providing plenty of forgiveness and confidence-inspiring looks when you take the address position.
Although the putter is perhaps the only downside, you do also get a lightweight stand bag to hold all of your clubs. Along with the accessibility, there are a lot of pockets available which means you can store your necessities.
Reasons to buy
+
Modern looks
+
Nice distribution of clubs
Reasons to avoid
-
Some may want a more forgiving putter
Our final set in this guide is from Wilson, the Prostaff SGI, which is a set you should consider if you are new to the game. The clubs in the set are large and forgiving, whilst the heads inspire confidence via thick top lines.
We begin with the lower portion of the bag, with the putter feeling very solid off the face. There is also a handy alignment aid on top to help with accuracy and, moving up to the wedges, both have a wide sole to help get out of a range of different lies.
Featuring a 10.5° driver, three wood, hybrid, 6-iron to sand wedge and an excellent putter to match, the cost is another plus as it comes in at an attractive price point, something which will appeal to those who are new to the game of golf.
Drivers
Specifications
Lofts: 9°, 10.5° & 12.5°
Adjustable Hosel: Yes
Stock Shafts: Callaway (BB23) RCH 45 Graphite, RCH 55 Graphite, RCH 65 Graphite
Left Handed Option: Yes - 9° & 10.5°
Reasons to buy
+
Superb distance
+
Draw-bias technology works
+
Hot, powerful feel
+
Very forgiving off the face
Reasons to avoid
-
Glossy crown will not be for all tastes
The Big Bertha name is arguably the most iconic when it comes to the driver category, with the original driver being launched over 30 years ago. For 2023, we see yet another offering that delivers plenty of power and assistance off the tee for any club golfer struggling with a slice.
When we first picked up the driver, we instantly noticed how light it was and the aesthetics, which are sleek and classic. Although the glossy finish may divide opinion, it has a classic 'V' alignment logo that frames the ball nicely against the club face and, what's more, it has an extra-large face that sits upwards, with the big footprint extremely inviting at address.
Performance-wise, the Big Bertha is crammed with technology which works really well to provide a great all-round performance. In our testing, we felt it was one of the best drivers for slow swing speeds due to how easy it was to get the ball airborne. The particular standout though is how it straightened up the ball flight. This is easily one of the best drivers for slicers, with the use of A.I. technology working well to optimise the large club face on this driver to improve the speed and spin.
Specifications
Lofts: 9° & 10.5°
Adjustable Hosel: Yes
Stock Shaft: Aldila Ascent Red 50
Left Handed Option: Yes - 9°
Reasons to buy
+
Powerful feel at impact
+
Impressive consistent playability
+
Classic head shape
Reasons to avoid
-
May not suit low spin players after a more compact shape
Mizuno has introduced an array of new features to maximise the potential of the ST-Z 230, with the development coming in the shape of a new CORTECH Chamber that encases a stainless-steel weight with elastomeric TPU. In testing, and through impact, it delivered a very powerful, lively sensation.
Distance-wise, it was extremely solid, with a high launch and ample spin putting it in a comfortable window during testing. What really stood out though, to us, was the playability, even on off-centre strikes it still had that high launch and a good amount of distance. Certainly, this puts it in the most forgiving driver category.
Aesthetically, we also loved the way the ST-Z 230 looks, with the Mizuno-blue finish on the sole (which highlights the CORTECH Chamber), making it look high-tech and premium. This only adds to the shelf appeal and the performance on offer.
Specifications
Lofts: Carbon head - 9˚, 10.5˚ & 12˚ Titanium head - 9˚, 10.5˚ & 13˚
Adjustable Hosel: Yes
Stock Shafts: Carbon head - Fujkura Ventus Blue - Titanium head - Project X HZRDUS Smoke Red RDX
Left Handed Option: N/A
Reasons to buy
+
Premium looks
+
Dense, satisfying feel at impact
+
Stable and forgiving off-center
Reasons to avoid
-
Initial ball speed fell short of 2023 marquee launches
-
Hosel settings aren't visible when secured
The new Dynapower driver is one of the most adjustable drivers ever created by Wilson and is available in both Carbon and Titanium head options. The carbon model is designed for the slightly better player - we've even seen it in the hands of new signing Kevin Kisner out on Tour - and features, as the name suggests, sizeable carbon fiber panels on the sole and crown to make the weighting of the head more efficient.
Although it was slightly shorter than other premium models on the market, such as the TaylorMade Stealth 2 and Callaway Paradym, it was only marginal. However, this driver is built more to help those who hook the ball and, in our testing, it certainly delivered on its promise of a neutral to slight fade shot shape bias, toning down our tester's draw shape nicely.
There really is a lot to like about the Wilson Dynapower Carbon driver - it's comfortably among the best Wilson golf clubs you can buy and, with a fitting, we believe you will be able eke out the full potential of this club, with the appealing price tag making it excellent value for money.
Fairways
Specifications
Lofts: 15°, 16.5°, 18°, 21°, 24°
Reasons to buy
+
Superb alignment design
+
Extremely high launch
+
Powerful sound and feel
Reasons to avoid
-
Lack of customization through a bonded head
When it comes to fairway woods, they can be the hardest club in the bag to hit. However, TaylorMade has branded the Stealth 2 a 'cheat code', with a refined look featuring a clean carbon gloss crown. In our eyes, this fairway wood boasts shelf appeal and a premium look, making it one of the best TaylorMade fairway woods to date.
At address, the fairway wood inspired confidence via the club sitting fairly shallow and, when we struck the ball, it did indeed have a high trajectory. Where it stood out was the forgiveness on offer, with poorly struck shots off the bottom and toe still finding ample distance and flight. The Stealth 2 is easily one of the most forgiving fairway wood options of 2023.
The last point which we were extremely pleased with was the versatility. Not all fairway woods work well from poor lies but, in the case of the Stealth 2, it came loaded with power, with the V Steel sole design offering tremendous turf interaction through damp first cuts of rough.