Sam Burns What's In The Bag?
We take a look inside the bag of multiple-time PGA Tour winner, Sam Burns.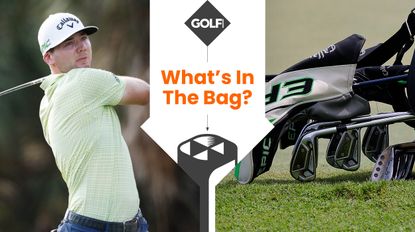 (Image credit: Golf Monthly)
Sam Burns What's In The Bag?
After earning his PGA Tour card for 2019, Sam Burns has been on a progressive rise through golf's world rankings, cracking the top-100 at the start of 2021 and making it into the world's top-10 just a year later. He joined the winner's circle on the PGA Tour in 2021 at the Valspar Championship and Sanderson Farms Championship. He go his 3rd and 4th wins in 2022 as well. Now regularly featuring at the top of the leaderboard on the PGA Tour, we take a look at what the young American has in his bag.
Sam Burns What's In The Bag?
Driver
Callaway Rogue ST Triple Diamond
Starting at the top of the bag, Burns looks to have recently switched from his Callaway Epic Speed driver to a Callaway Rogue ST Triple Diamond model. This seems to be the model most professionals are using, and despite having not tested it, we have tried out the Rogue ST Max (opens in new tab). It is a worthy follow up to the impressive original Rogue and Mavrik models, seemingly delivering high levels of stability and consistency while maintaining competitive distance. The overall look is more premium while the performance will appeal to a range of player types as well.
Fairways
Callaway Mavrik Sub Zero
Currently, Burns is using a Callaway Mavrik Sub Zero three-wood (opens in new tab) which has 15.5 degrees of loft. In our testing we thought it looked easy to hit while also appearing to be able to get the ball up in the air easily. The compact shape remains inviting to the eye while the full-length white grooves highlight face alignment really effectively. You can see the standard Mavrik looks a little larger than the Sub Zero model and has white grooves in the heel and toe to help frame the ball centrally.
Hybrid
Callaway Apex UW
A new addition to the bag in 2022 is a Callaway Apex UW hybrid (opens in new tab). The club has been finding its way into several players' bags at the moment and it isn't hard to see why. Phil Mickelson was involved in its development and joined other Callaway staffers in calling for a "go to" club that better players can count on from the tee, fairway, or rough.
Irons
Callaway Apex TCB
Shifting to the irons, Burns uses a set of Callaway Apex TCBs (opens in new tab) which go from four-iron down to A-wedge. It's only recently that Burns has introduced an Apex TCB pitching wedge, previously using a Callaway MD5 Jaws Raw which had 46 degrees of loft. The shafts in Burns' irons are the Project X Rifle 6.5, a shaft which the young American has used for many, many years, with his irons apparently sitting a degree upright. The A-Wedge is a reasonably new addition and is a rare club to see. Speaking about the club to GolfWRX, Burns said; "I think it was just a better transition from the irons into the wedges, and also the A-wedge is just a little bit better through the turf. I was looking for a little more consistency, and those clubs provide that very well … I think there's more forgiveness in those for sure than with the other wedges."
Wedges
Callaway Jaws MD5
We get to the scoring section of the bag now with some of the best wedges (opens in new tab) on the market. Armed with a 56-degree and 60-degree MD5's, both models feature a 10 bounce and S grind, with his 60-degree a 12 bounce with an X grind. Thanks to a new microfeature, the Jaws MD5 (opens in new tab) adds spin on an array of shots, particularly pitches and chips. This provides more confidence and therefore more aggression, increasing the likelihood of saving shots.
Putter
Odyssey O-Works Black 7S
The final club in the American's bag is an Odyssey O-Works 7S putter, which, just like a number of other clubs in Burns' bag, has been in for a while. Burns has apparently worked a lot on different models and clubhead shapes, but, being the most personal club in the bag, the O-Work 7s has remained the flatstick of choice.
Ball
Callaway Chrome Soft X
The golf ball of choice for Burns is the Callaway Chrome Soft X (opens in new tab), one of the most reliable and best balls on the market. Designed for players with high swing speeds and low spin rates, it features a larger inner core and outer-core, which is infused with graphene to help provide higher launch conditions and lower spin. It is used by likes of Xander Schauffele and US Open champion, Jon Rahm (opens in new tab).
Apparel/Shoes
TravisMathew
Burns has also switched his apparel and shoes too for 2022. He had been using adidas but now wears TravisMathew apparel, a Callaway owned brand. His shoe model is the Cuater Ringer.
Full Specs
Driver: Callaway Rogue ST Triple Diamond (10.5 degrees at 10.3, 6 GB, 60.2 lie) with Fujikura Ventus Blue 7 X shaft
4-wood: Callaway Mavrik Sub Zero (17 degrees at 15.5) with Fujikura Ventus Black 8 X shaft
Hybrid: Callaway Apex UW (21.6 degrees) with Fujikura Ventus Blue 8 X shaft
Irons: Callaway Apex TCB (4-AW) all with Project X 6.5 shafts
Wedges: Callaway MD5 Jaws Raw (56-10S, 58-12X at 60) all with True Temper Dynamic Gold Tour Issue S400 shafts
Putter: Odyssey O-Works 7S
Ball: Callaway Chrome Soft X
Apparel: TravisMathew
Shoes: Cuater