Best Golf Trousers 2023
To help you look your best, we've compiled our list of the best golf trousers.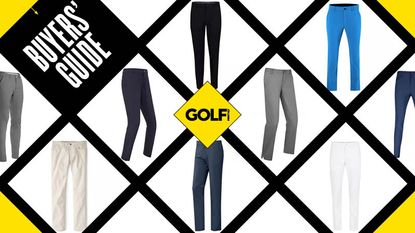 (Image credit: Golf Monthly)
Best Golf Trousers: Quick Menu
A good pair of trousers probably won't save you shots, but they do have their subtle advantages, from comfort to flexibility. What's more, golf brands dedicate their resources to designing practical golf touches, so you get nice detail that you might not find with a pair of generic high street trousers. Not only that but the materials and fabrics used by modern brands are specifically created to keep you comfortable and dry, whilst retaining a sense of style.
Some brands also seek to make trousers as versatile as possible too so they can be used both on and off the golf course. So acknowledging all of that, we have created a guide on some of the best golf trousers currently on the market. Additionally, if you want to complete a new outfit, we also recommend checking out some of our other buying guides too - such as the best golf tops or best golf polos.
Best Golf Trousers
Why you can trust Golf Monthly Our expert reviewers spend hours testing and comparing products and services so you can choose the best for you. Find out more about how we test.
Autumn/Winter Trousers
State & Liberty Athletic Fit Stretch Tech Chino
Sizes: Waist 29" to 40"
Colors: Seven (Navy, Olive, Light grey, Mid-Khaki, White, Black, Charcoal)
+ Very stretchy
+ Sturdy construction
+ High quality garment
- Leg length is (deliberately) short
The Athletic Fit Stretch Tech Chino is something a little different to any other golf pants that I have worn before. Firstly, they are incredibly stretchy! Whilst they are very much a slim fit, clingy pant, this stretch makes them seriously comfortable.
They are on the thick side which may not be to everyone's preference but once again the thickness is mitigated by the flexibility of the Tech Chino. I would consider ordering a longer leg length than you ordinarily might if you don't like the exposed ankle look as they are designed as a slightly cropped golf pant.
With seven really strong color options, you'll have no problem finding the right color to compliment the top half of any outfit.
Adidas Go-To Five Pocket Trousers
Sizes: 28-44W, 30-34L
Colors: 5
+ Very comfortable and stretchy
+ Look great and versatile
- Tapered legs not for everyone
These might just be my new favorite golf pants. They are a smart and comfortable option for golfers out on the course, but I also think they are versatile enough to be worn just about anywhere. Flexibility comes from the excellent stretchy fabric and you can really move easily in them playing different shots.
Additionally the overall lightweight feel was nice and makes these the ideal pair of pants to use during the summer months. We also enjoyed the classic styling with the adidas logo above the right back pocket and speaking of pockets, I like how deep they are on these pants. There are four nice colors available with loads of sizes too which is great to see.
Under Armour ColdGear Infrared Tapered Trousers
Sizes: 30-42W, 30-36L
Colors: 3
+ Water resistant
+ Infrared technology
- Loose fit may not please everyone
The Under Armour ColdGear Infrared Tapered Pants are a great option for those who like to do battle with the course on a cooler day. The infrared technology on the inside of these trousers is incorporated into a soft lining that not only provides great comfort but also insulates these pants superbly well. They remain extremely lightweight considering the additional technology, and the fluorine-free water repellent technology allows water to seamlessly fall off these pants if you find yourself caught in a shower. The 4-way stretch on these pants means mobility is not restricted and you can still make an athletic swing while remaining warm and dry. Arguably the best thing about these winter trousers is the fleece lined pockets that means your hands can stay nice and warm while on the course.
Sizes: 30-40W, 30-34L
Colors: 2
+ Very warm but also breathable
+ Good water resistance
- Have a baggy fit
The Puma Warm Trousers are great for those colder days with a splash of rain around. With their water repellent fabric they will keep you dry in showers making sure you stay comfortable during your rounds. Also with UPF 50 protection you will also be kept safe from the Sun's harmful rays should the weather be nice. The Warm Trousers have a fleecy lining helping to keep you warm, including in the pockets, but they are still breathable should the temperature creep up a bit making these a great year round trouser come rain or shine. In testing we found these trousers to do exactly as expected. It was a wet but sunny day, they stayed dry but without overheating. They have a nice fit with some stretch in the fabric. All in all these Warm Trousers will really help you out in the unpredictable weather.
Sizes: 30-40W, 29-33L
Colors: 3
+ Lightweight
+ Understated design
- No button-down pocket so scorecard may fall out
The Judson golf pants are extremely lightweight and are made with a stretch fabric, meaning they offer excellent freedom of movement for both walking and swinging a club. They offer an athletic fit but do not feel clingy, and that's speaking as someone who can often find pants tight around the thighs.
There is a branded inner gripper on the waistband meaning my polo shirt never came loose, even during the swing. There are pockets both front and back and an extra scorecard pocket on the back right, although this isn't zipped or buttoned meaning you have to be careful not to lose the card when bending over. There are three colours on offer so they should be able to work with most outfit choices.
Crew Clothing Competition Golf Trousers
Sizes: 30R - 40R
Colors: 1
+ Excellent fit and movement
+ Thin, lightweight material
- Performance material reduces versatility for off course looks
The Crew Men's Competition Golf Trouser is a really nice all round piece. They are not too heavy nor too flimsy, they are a definite all year round option for the course. The Competition trouser is made from a 92% polyester 8% elastane split and they give a really nice feel and freedom of movement. The fit is pretty regular, they don't cling to the leg or flap around independently and the Crew logo around the left pocket is a really nice touch. Whilst they are slightly limited in terms of sizing with only regular lengths available and also color with Navy being the only offering, what you do get is a well made, great looking trouser that is extremely comfortable. We particularly enjoyed the active-stretch technology which genuinely added to the comfort of these trousers.
Sunderland Morzine Showerproof Trousers
Sizes: 32-42W, 29-33L
Colors: 1
+ Solid waterproof protection
+ Lightweight and well made
- No warm lining
For those golfers who don't want to put outer rain pants on, these Morzine pants from Sunderland are a great alternative. They are wind and showerproof thanks to the advanced 3-layer bonded stretch polyester that incorporates a waterproof membrane, and yet I think they still felt breathable too because I didn't get too hot. That being said, on those colder days I do think the lack of a warmer thermal lining would be missed, and I think the lack of color choice is a small negative too. But outside of those points these pants performed very well, the protection was solid, they felt lightweight and yet felt durable and well made too. I also think for a pair of pants that can be used in a variety of conditions, the $112 price tag offers some value as well.
Macade Golf Travis Stretch Trousers
Sizes: 30-38W, 30-36L
Colors: 3
+ High quality feel
+ Great fit and movement
- May be a little too fitted for some
The Travis Stretch Trouser from Macade is a really premium feeling piece. We tested the Basil Green color way and received a number of compliments from strangers on these! The fabric has a great combination of being lightweight enough to provide great movement but also dense enough to convince you of their durability. Be warned, the fit is very slim so will not please everyone, but the stretch qualities of the trouser make them a lot more comfortable than many slim fit offerings. Some high quality detailing with logos and the sticky inner waistband to help keep your shirt in place are indicative of real quality and attention to detail. If you like a slim fit performance trouser, then these should be very high up on your list to try.
Callaway Water Resistant Thermal Trousers
Sizes: 30-40W, 30-34L
Colors: 3
+ Added warmth without having to layer up with waterproof trousers
+ Comfortable and classic-looking
- May prove too warm to wear too often
The first thing you'll notice is the thickness of the material courtesy of the fleecy lining. It comes as a bit of a surprise but, of course, that's what these trousers are all about – added warmth in a bitter north wind without you needing to don your waterproof trousers over the top of your normal ones. The feel of the material is somewhere between those two due to their water-resistant properties. They boast a classic, simple look, ample pocket space, and a waistband with a hint of stretch should you put on a pound or two over winter. You'll need to check the weather forecast carefully to know when it's going to remain cold enough to need these, but some of us prefer to be slightly too warm than too cold and these trousers are definitely more for the former.
Nike Repel Utility Trousers
Sizes: 28-42W, 30-34L
Colors: 1
+ Supreme comfort and warmth
+ Velvet-lined pockets with extra storage included
- Some people might prefer a tighter fit from knee to waist
The Nike Repel Utility Trousers may not be the lightest pair on the market, but they're still supremely comfortable to wear around the golf course all day and in the clubhouse afterwards. We found them to be incredibly warm - even on windier days - negating the need for any kind of base layer while the water-repellent fabric ensured legs stayed dry too. The tapered fit from knee to ankle has been designed perfectly, although some people might want a slightly tighter fit from knee to waist. We found them to fit like jogging bottoms, but when they look as smart and polished as they do, this could be the ideal combination. The pièce de résistance was the velvet-lined side pockets which contained another small slot perfect for tees, ball markers, or golf pencils.
FootJoy ThermoSeries Trousers
Sizes: 30-40W, 30-34L
Colors: 2
+ Repels water effectively
+ Added warmth ideal for winter
- Could be restrictive if worn under waterproof trousers
Made from a woven fabric, these are thicker than most golf trousers but still stretch nicely with the movement of the golf swing.
We liked the simple styling and fit which creates a classic look and can happily be worn with a range of different garments on the upper body. However, what impressed us most was how the fabric repels water. They might not be fully waterproof but they will prevent you from getting too wet. With the right sweater, these will offer plenty of warmth and allow you to enjoy your golf.
Sizes: 32-40 inch waist, 29-33 inch leg
Colors: 4
+ Very unfussy, sensible design
+ Modern cut with eye-catching detailing
- Slightly baggy fit
Stuburt continues its run of affordable, yet stylish garments with these functional Urban trousers. Anyone looking for an all-rounder type pair of trousers will not be disappointed, these trousers have ample pockets, shirt grippers on the inside of the waist, which means that shirts will struggle to become untucked, and a split in the bottom hem makes them fit comfortably over shoes.
We did find that the cut was very comfortable but may be a little baggy for some who may like a more fitted look. Overall a very strong and reliable performer that would last anyone who purchased them well.
Ping Vision Winter Trousers
Sizes: 30-44
Colors: 2
+ Great comfort
+ Extremely warm
- Slightly too warm in milder temperatures
The Ping Vision Winter Trousers are an exceptional garment that will keep your legs nice and warm during the coldest of weathers. They're extremely comfortable with a lovely amount of stretch and even come with a handy, secret zipped pocket inside the right hand pocket.
They're definitely an extremely warm pair of trousers and do exactly the job you'd hope from them, although they are definitely too warm for mild days so cannot be worn in the summer and shoulder seasons. They come in two colorways, black or navy, which is nice but some may want a grey or beige version too as they are a terrific item from Ping.
Spring/Summer Trousers
G/FORE Tour 5 Pocket Trousers
Sizes: 30-42
Colors: 2 (Stone; navy)
+ Slim yet flattering fit
+ Stretchy material maximises mobility
+ Five pockets for ample storage
- Only two color options
While G/FORE are best known for some of the eye-catching designs featured on some of the best G/FORE golf shoes, these trousers deliver an understated look with a comfortable fit. It ensures excess material will not be a distraction in the wind and are neither restrictive either. We liked the G/FORE logo on the rear pocket, with these coming with five pockets in total. You're able to separate your items around the spacious pockets if you want. We loved the stone colorway these pants come in, and feel they will be some of the best golf pants for summer. You'll then want to swap to the navy option to hide any splashes of dirt.
Bonobos Performance Link Trousers
Sizes: 28-46
Colors: 9
+ Premium model that performed
+ Color choice
- Pockets could have been bigger
A brand you would've seen worn by the likes of Justin Rose, Bonobos is a company that often makes shirts which stand out from the crowd. However, this is not the case with these pants which are available in nine subtle colors. Constructed from a very soft and comfortable fabric, they allow for great freedom of movement and the fabric also provides UV resistance that allows them to be worn in hot conditions. What's more, they have moisture-wicking and quick drying properties, if you do get caught in an unexpected shower.
Under Armour Drive Trousers
Sizes: 30-44
Colors: 6
+ Lightweight and comfortable
+ Water resistant
- Nope, we've got nothing
Under Armour has become a go-to brand for golf trousers from Jordan Spieth down to amateur players. With models like the Drive, it is not hard to see why.
Constructed from a high-performance fabric, they are light, durable and come with Storm technology to repel water away nicely. They can deal with trips to bushes, heather and other troublesome flora as well which is vital for a good pair of trousers lasting a long time. They come in six nice colors, and not only can you get them in the regular design above, but also Tapered Fit, and Five-Pocket designs as well. The range in sizes is a good element to note too.
True Linkswear All Day Hybrid Jogger
Sizes: S-XXL
Colors: 5 (Charcoal, Black, Coffee, Lunar, Olive)
+ Comfortable, stretchy fabrics
+ Full-length legs buck cuffed jogger trend
- Drawstrings have a tendency to come undone easily
The All Day Hybrid Jogger, an Editors Choice winner, embodies an athletic jogger fit at the waist but features a regular, full-length pant styling at the bottom, rather than the cuffed bottom you see on other jogger styles. It has a slim, relaxed fit while the materials offer four-way stretch and are stain and water-resistant.
They have a cotton-like look and feel and the elastic waistband provides the sort of comfort you'd expect from loungewear, let alone a pair of golf pants. If you want the look and feel of a jogger on course but don't like the cuffed styling at the ankle, this is the perfect option for you.
Peter Millar EB66 Performance Five-Pocket Trousers
Sizes: 30-44
Colors: 13
+ Stretchy and extremely comfortable
+ Good color choice
- Premium price but you get what you pay for here
Peter Millar makes premium golf attire and these EB66 trousers are no exception. Available in an astounding thirteen excellent colors, and plenty of different sizes, they are lauded for the unique combination of technical features, like two-way stretch, moisture management and easy care, with a weekend-ready five-pocket design. They received a five-star rating in our review as a result. The fabric felt lovely and when we were faced with a variety of lies and stances, the trousers stretched and moved perfectly. The trousers feel like a premium product and we love the little details on them.
Read our full Peter Millar EB66 Trousers review
FootJoy Performance Tapered Fit Trousers
Sizes: 30-42
Colors: 6
+ Lightweight fabric is comfortable to wear
+ Modern fit, No ironing required
- Not as wearable off-course
FootJoy make some of the best golf shoes and apparel in the game and these Performance Tapered Fit trousers continue that trend. The simple color options mean that any of them can be worn with a range of different t-shirts and mid-layers. These trousers are very lightweight which makes them ideal even if the temperature heats up.
For us, the only downside was the technical fabric places you firmly on the golf course and as such are less versatile than a more traditional chino that we'd wear off course as well. They allow for a comfortable fit whilst still allowing for movement and breathability because of the nylon fabric. The anti-microbial technology differentiates this pair further too as does the color choice.
Adidas Ultimate365 Tapered Trousers