Best White Golf Shoes 2023
Looking for the best white golf shoes to compliment your golf attire? You're in the right place...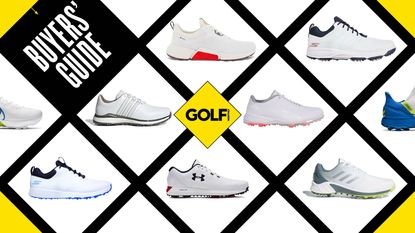 (Image credit: Future)
Best White Golf Shoes
White golf shoes are probably the most common color golf shoe out there. They're a classic style and will go with pretty much any outfit you like to wear out on course. But, there are so many white golf shoes, which ones are best?
Well, we are here to help and in this guide, we'll be walking you through some of the best white golf shoes currently on the market. We think white golf shoes are best used in the summer or in any sort of dry conditions as there's much less mud around to stain the bright white colors. Of course, we've got a guide to the best black golf shoes (opens in new tab)too if you're after a warhorse on your feet to play during the muddier winter months.
Our guide is separated into the best spikeless shoes (opens in new tab), best spiked shoes (opens in new tab) and best women's shoes (opens in new tab) that all come in white. Of course, most of these models also come in different colorways, but we've highlighted our favourites that come predominantly in white.
Best White Golf Shoes
Spikeless White Shoes
Bolder in terms of aesthetics than you will find elsewhere in the range, the FootJoy FUEL golf shoe aims to combine those modern, athletic looks with the high level golf-specific performance you'd expect from one of the best golf shoes of 2022.
The synthetic upper might not have the refined look of the premium leather alternatives like the Premiere Series but the benefit is how hard wearing it is. We tested the white, blue and grey colourway and thought it was an incredibly versatile option that could be worn with trousers and shorts, in all seasons.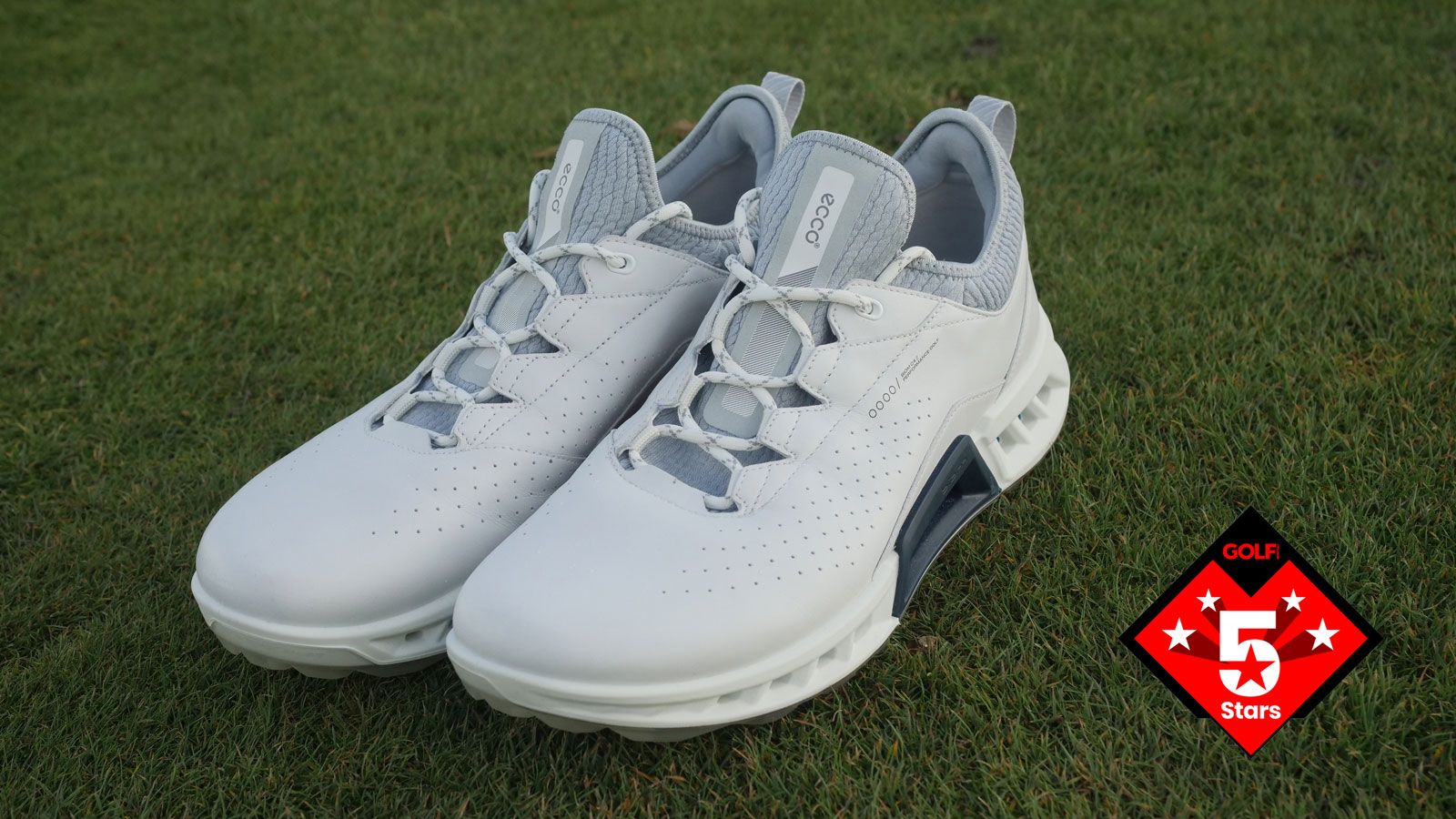 One of the most technology-packed spikeless golf shoes we've tested this year, the Ecco Biom C4 seriously impressed us with its overall comfort, grip, style and breathability. It's built nicely on the foundations of the excellent Biom H4, which carries over into 2022, but the new sneaker-style has won our hearts from a style perspective, and the performance is there to match.
The Biom C4 uses Ecco's Exhaust Grid technology that scoops fresh air towards the sole of the foot to keep it cool. This, combined with Gore-Tex surround and breathable Ortholite insole makes this the most breathable shoe we've tested in 2022 by some stretch. Another excellent touch from Ecco is that the insole is removable to allow for more width in the shoe. This will make the Biom C4 suitable for those with wider feet and there was still the same amount of comfort and cushioning with the first insole removed.
I's certainly a step in the more athletic direction for an Ecco shoe, and we think this aesthetic move will attract golfers of all ages into Ecco shoes - we think these are some of the best looking golf shoes this year
The distinctive design of Duca del Cosma is back with the Elpaso model, but it's not a case of all style and no substance. Featuring a breathable and soft Arneflex insole, which is basically memory foam coated in cow leather, the foot is well cushioned, while the microfibre upper is waterproof, making it a versatile shoe.
Available in two stylish colour options with contrasting piping on both, this is a shoe for wearing on and off the course.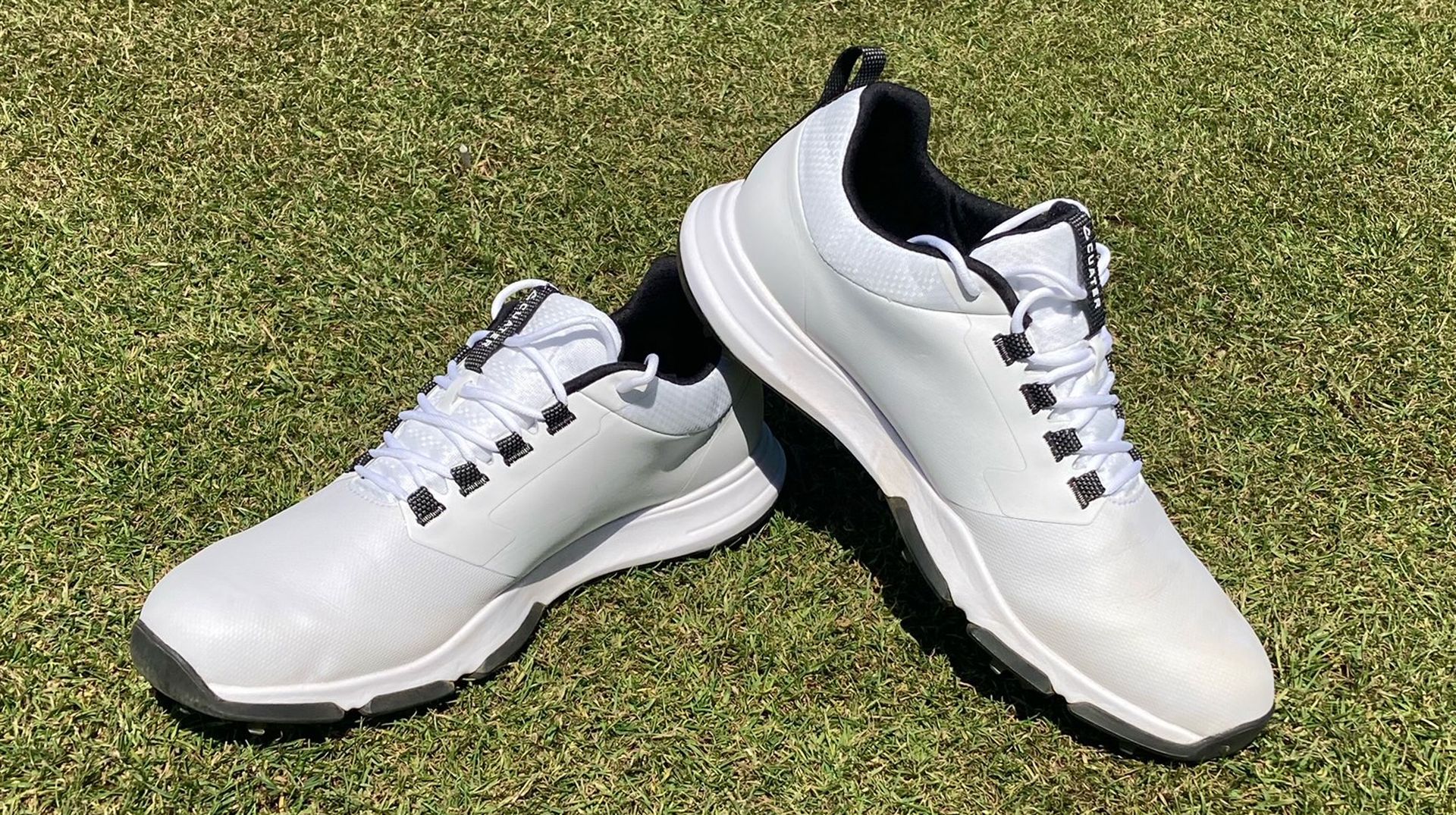 Worn by PGA Tour players Jon Rahm (opens in new tab) and Sam Burns (opens in new tab), the Cuater Ringer shoes are one of the best-looking and most comfortable golf sneakers money can buy. We loved the sporty and modern design of the Ringer, which isn't plastered with brand logos or text and provides a trendy yet smart look if you're thinking of combining them with shorts or trousers.
The Ringer is also brilliant for comfort and stability and features in our best golf shoes for plantar fasciitis guide (opens in new tab), making these a great pair of shoes for any golfer who struggles with foot pains. The fit is secure from heel to toe and we found the cushioning inside the shoe also very soft.
The one drawback we noticed was that the shoe didn't offer that much breathability. However, that means the shoe is waterproof and its outsole material will keep your feet dry on wetter days. As for its grip, the shoe features Softspikes Pivix cleats which give great traction on the turf, locking into the grass while you play your shots.
The Gallivanter is about as classic a golf shoe silhouette as you can get. A low profile that represents a brogue-style of shoe, the Gallivanter looks the part and performs it too. Firstly, they are an extremely comfortable pair of shoes. As you'd expect from one the best golf shoes, the traction levels are also very impressive, and the premium leather feels as good as it looks and the textured pebble grain finish is eye catching and easier to clean than I thought they'd be.
The cushioned footbed that features lots of small raised 'nubs' provides a wonderful massage – a sensation that takes a little getting used to, but after a short while you really begin to appreciate it. The beauty of the Gallivanter is that you can mix this classic silhouette with some really eye catching colours. If you scroll through the gallery of images above you'll see the extent of the colours on offer. Fancy something really traditional? There's the Onyx Black colour. Fancy something bolder? Try the camo print outsole. There's a style for everyone here. Other variations include the a debossed version with the G/FORE skull printed across the shoe, the Camo Knit or the Cap Toe.
This sporty new golf shoe is a stylish yet functional offering from the Japanese golf giant Mizuno. While Mizuno aren't best known for producing golf shoes this is a fantastic product that has a classy leather finish which makes it great for any player looking for comfort and style. It also comes in a BOA option, for those players looking for a little more comfort on the front of their shoes but both come in the style of a running shoe and offers great grip on the course. Comfort-wise, this shoe offers great support to your ankles and we really enjoyed the fit when we tested it out on the course.
This shoe is fully waterproof and features a durable grip outsole that provides 236 points of contact with the ground, so is not to be overlooked in this list.
Skechers' Go Golf Elite Tour SL shoe also comes with a low-profile sole, meaning golfers will feel close to the ground, but that doesn't come at the cost of comfort, which is provided by the lightweight Ultra Go cushioning and Goga Max insole.
The flexibility of the outsole also makes these very easy to wear and they offer trainer-like comfort but with enough structure to provide you with a stable base to hit from.
Admittedly there may be a slight trade-off with breathability here but the positives definitely outweighed the negatives here.
Founded in 2015 by Reebok alumni Marcus Wilson and Michael Schaeffer, Nobull has become a huge name in the world of CrossFit with many athletes using the brand, which will is also the title sponsor for the CrossFit Games. But the brand are now making their way into the golf market with this stylish golf sneaker that can provide a very athletic and sporty look to your outfit.
The shoes textured and breathable material makes it a great summer sneaker, but we would advise against wearing this sneaker in wetter and muddier conditions as it will slip and slide underfoot and isn't totally waterproof. That being said, the comfort levels on this shoe are through the roof and the spongy outsole provided great cushioning underfoot. In dryer conditions, the grip on the sole of the sneaker certainly gave us enough traction off the floor and that made this overall, a very impressive debut golf shoe.
Spiked White Shoes
In our opinion one of the best spiked shoes to be released in 2022, the adidas Tour360 22 golf shoes immediately impressed us when we tried them out on course. The upper features a premium rich leather which is 100 percent waterproof and you also get a one-year waterproof warranty as well which gives good peace of mind. adidas has also incorporated recycled materials into the design to continue the brand's goal of ending plastic waste.
The shoe mimics the natural shape of the foot and accommodates the movement of the foot in all directions, even throughout the golf swing. The Tour360 22 also has cleats directly injected into the base of the shoe which provide excellent grip with a low profile look. It also means you won't ever have to worry about losing spikes ever again.
The headline with these spiked shoes is all about stability through the golf swing. The shoe has a super supportive insole and we could feel how still and stable our feet and ankles were throughout the golf swing.
This technology in the insole means these shoes are incredibly comfortable out of the box and took us very little time to break in. The full-grain leather upper is soft and breathable too meaning this shoe will be as comfortable during the height of summer as they will be in the depths of winter.
The new Hovr Drive 2 addresses the specific needs of golfers, supporting your feet during the very specific movement of the golf swing. As much as we may not think it, the golf swing is a highly athletic movement and we all need the right equipment and grip on our feet to aid those movements.
As such, the Hovr Drive 2 has applied the science of biomechanics in the design on its outsole to develop rotational, horizontal, vertical and internal traction. The most convincing of this traction comes from the new 3D moulded heel cup construction, which effectively creates a vacuum around the heel, locking it in for incredible levels of stability. Alongside working on the four dimensional traction in the Hovr Drive 2, Under Armour has introduced a new upper silhouette which is much sleeker than previous models. The upper has been brought closer to the foot to help increase the locked-in feeling created by the heel cup and outsole while making for a more dynamic looking silhouette.
Two years in the making and designed to provide golfers with a high-performance shoe that is extremely lightweight and comfortable, the ZG21 from adidas is straight onto our list as it is comfortably one of the best golf shoes of recent times.
It weighs just 13 ounces, making it 20 per cent lighter than adidas' Tour360 XT shoe and lighter than many of its competitor's models.
As well as the renowned Boost technology, the new Lightstrike cushioning, which has been used in other sports, provides comfort and stability throughout the swing. The four-layer upper is waterproof, while the ultra-thin TPU outsole features strategically placed cleats to optimise traction.
adidas used heat-map studies to target the specific areas where stability is needed most, and whilst we're not experts on where spikes should go, we can attest to the excellent levels of grip and support this shoe offers.
The Nike Infinity Tour shoes were inspired by Brooks Koepka (opens in new tab)'s habit of chipping and putting in Nike running shoes, and as such they are designed to provide speed and comfort to golfers, leveraging maximum energy return from the ground up.
Nike borrowed design inspiration from other sports (running, basketball) to create a golf shoe that is as comfortable as they come, and yet still gives stability, weather protection and also look great too.
We found the foam padding to offer excellent comfort, but it is noticeably tight around the Achilles to stabilise the heel so be prepared for that when trying them on or testing them. This may take a bit of time to get used to, as does the long tongue section.
There is no doubt though that they feel more like a performance golf shoe rather than a trainer that's been adapted for golf, whilst the stretchy skin also helps keep out water as well.
For more of the best Nike golf shoes (opens in new tab), be sure to have a read of our specific guide on the current range.
While Cole Haan doesn't offer its OriginalGrand Tour golf shoes in dedicated wide sizes, in our testing these shoes did run a bit on the wide side. Combine that with everything else they have to offer golfers and that's what they landed a spot in this guide. Of course, what stands out about these shoes is their classic style, which by design or not is an homage to traditional golf shoes of years past.
But the OriginalGrand Tour has more to offer than just style, as it also scores high marks in terms of performance. These shoes offer excellent traction, they're stable and supportive, and they're also waterproof. We did find during our testing that there was a modest break-in period, but after that they delivered plenty of comfort as well.
If you want a spiked waterproof leather upper shoe then the Go Golf Torque Pro brings this to the course with the usual Skechers comfort. Full grain leather is combined with the synthetic upper and Skechers Waterproof Membrane Protection to keep your feet dry.
The flexible traction sole features a 'Dynamic Diamond' design with 7 replaceable Softspikes to ensure that you have as much grip as possible. The comfort comes from the Ultra Go midsole and GOGA Max insole combining to provide cushioning. An excellent all round shoe with some flashes of colour from the sole brightening up the understated styling.
Women's White Golf Shoes
Danish company Ecco has done it yet again with its latest iteration of the Biom Hybrid shoe. One of the first things we noticed was the premium feel on offer, with the leather upper and foam inlay delivering out-the-box comfort that is virtually unmatched. It is undoubtedly one of the best golf shoes of 2021 and likely beyond.
Of course, it's also hard to miss the vibrant TPU inserts on either side of the midsole. We love this feature as it strikes a perfect balance when it comes to modern aesthetics that have a broad audience appeal. And the same colours stand out on the outsole.
On the course, the grip of the three-section outsole impressed, while there is good stability on offer where it's needed most: around the midfoot and heel. This gave us a solid base from which to swing from any lie.
Should you get caught in the rain, this shoe will keep your feet completely dry and it also comes in a range of colours. All this comes at a price but we think it's well worth it.
As you can tell we are big fans of the men's Gallivanter golf shoes and the same can be said of the women's model too. The stunning full grain pebble leather makes them ooze refinement and will set off any outfit in a seriously classy manner.
We also loved the feel when walking. The triple-density memory foam sole gives your feet a massage as you glide about the fairways. This is because it has an incredible deep pattern on it which practically acts as a reflexology session. Importantly this sole is also removable and washable too. The important thing to note here is they can come up quite small so we would recommend going up a size.
FootJoy's latest shoe release lives up to the reputation the brand has created for itself. Making a splash in both the women's and men's sphere, the launch of the Premiere Series was one of the most hotly anticipated in recent memory.
Straight away, we loved the overall look as it reminded us of the old FootJoy Classics. And in the white and blue colourway we were in shoe heaven. Just feeling the leather upper out of the box is enough to know the upcoming experience is going to be an enjoyable one.
In saying this, with a product as classic-looking we did anticipate a blister on the first outing. However, the stability and OrthoLite FitBed ensure the main sensation is one of extreme comfort. When playing, we found the elements on the outsole - lots of multi-directional traction points and seven cleats - delivered grip in all conditions.
How we test golf shoes
Our golf shoe testing methodology (opens in new tab) revolves around putting models to the test over a number of rounds and in different conditions. This is so we can gain a better idea of overall performance in terms of factors like grip comfort, grip, stability, waterproofing and how they actually look on the golf course. Each of the shoes listed above has been personally used by a member of the Golf Monthly team while our writer Dan Parker (opens in new tab) heads up all shoe reviews.
This is the best way of testing a golf shoe as using it in the real world over a number of weeks allows us to see how they perform when variables change like weather, ground conditions, different stances and lies, and so on.
We think this also gives us information on the little details as well like which brands come up small or large, which models start to rub a bit too much after 36 holes, which designs can be used off the golf course and for the drive home? We are very comprehensive in our tests to the point where we will regularly attend product launches and meet with the manufacturer's R&D experts to understand the new technology. That isn't to say manufacturers can buy a good review though, as all our reviews are made by golfers, for golfers.
What to consider when purchasing golf shoes
Golf shoes come in many different shapes and have a ton of different features. From waterproofing outer shells to different grip styles, there is a lot to consider when purchasing your next pair of golf shoes. For that reason, we've put together a list of handy tips that you need to consider when purchasing your next pair of golf shoes. Check them out below!
1. Spiked or spikeless?
The best golf shoes above are split into spiked (or cleated) and spikeless designs and there are pros and cons of each. Spiked golf shoes offer better grip and stability but don't sit as low to the ground as spikeless models.
Spikeless golf shoes offer off-course versatility. They are perfect for driving in the car to the golf course, playing a round, and then driving home again because they are usually light and comfortable, but most won't offer as much traction as a spiked shoe.
2. Waterproofing
If you live somewhere that gets a lot of rain then a waterproof shoe is a must. The best designs will keep your feet bone dry however if you play golf in glorious sunshine most of the time, then you may view other factors as more significant.
Many players choose to have one pair for winter and another, lighter pair for summer to keep them fresh and suit different requirements.
3. Getting the right fit
When picking out golf shoes getting the right fit is important because otherwise blisters can build up. Or your feet may slide around inside, which limits your stability.
When trying a pair on for the first time, listen for the 'whoosh' sound when you slide your feet in - that's the sound of all the air leaving the shoe to confirm it is the correct size, but do a walking test to be sure. They shouldn't pinch anywhere, nor should your feet be moving around inside.
When it comes to the right fit it is also worth considering different laces. Normal laces are good for most but for some golfers, BOA laced shoes provide more convenient fastening and shouldn't loosen during the course of a round, but are usually a tad more expensive.
4. Comfort and support
Similar to getting the right fit, you need to get a shoe that is going to give you ample comfort and support during your round. As you'll be walking a long way in these shoes, it is vital that you get a pair that will give your ankles, feet and knees the best level of support possible. Look for shoes that have padded out soles and are cushioned on the inside, to give your feet a spongey ride.
5. Styling
Thankfully modern golf shoe design has seen many brands not just create traditional, classic-looking shoes, but also modern styles that can be used off the golf course too. Therefore it is important to think about what your shoes look like and what style suits you. Whatever you like or dislike, there is something for everyone these days.
Why not add a bit of extra style to your golf shoe game and grab a pair of the best golf sneakers or one of the best black golf shoes (opens in new tab).
FAQs
Can you wear any shoes to play golf?
You technically can wear any shoes to play golf but golf shoes are absolutely recommended if you want to improve as a player, or if you're playing at a more traditional golf club. It's always wise to check the dress code of the club you're thinking of playing at before you arrive, just so you know what to expect.
Are heavier golf shoes better than lighter ones?
Not necessarily. Heavier golf shoes can be a little more robust, offer greater padding and stability as you walk around the course. The problem is they can be a little clunky, so if you do like to carry your bag, the added weight on your feet may make it harder to walk. Plus there is a lot of supportive technology crammed into some of the best lightweight golf shoes on the market, so depending on your preference, try both kinds before you buy!
Are golf shoes the same as turf shoes?
No. Turf shoes are specifically designed for athletes playing baseball and soccer on artificial grass pitches. These are not the same as spineless golf shoes which are built to help give golfers better stability, comfort and traction on grass surfaces when playing their shots.
Dan is a Staff Writer and has been with the Golf Monthly team since 2021. Dan graduated with a Masters in International Journalism from the University of Sussex and primarily looks after equipment reviews and buyer's guides, specializing in golf shoe and golf cart reviews. Dan has now tested and reviewed over 30 pairs of golf shoes for the website and magazine with his current favorite pair being the Ecco Biom C4. A left-handed golfer, his handicap index is currently 8.5 and he plays at Fulford Heath Golf Club in the West Midlands. His best day in golf so far was shooting 76 at Essendon Golf Club on his first-ever round with his Golf Monthly colleagues. Dan also runs his own cricket podcast and website in his spare time.
Dan is currently playing:
Driver: Ping G425 Max
Fairway: Ping G425 Max
Hybrid: Ping G425
Irons: Ping i59 (4-PW)
Wedges: Ping Glide Forged Pro
Putter: Wilson Staff Infinite Buckingham
Ball: TaylorMade TP5 Pix