Best Golf Jumpers 2022
Browse our selection of the best golf jumpers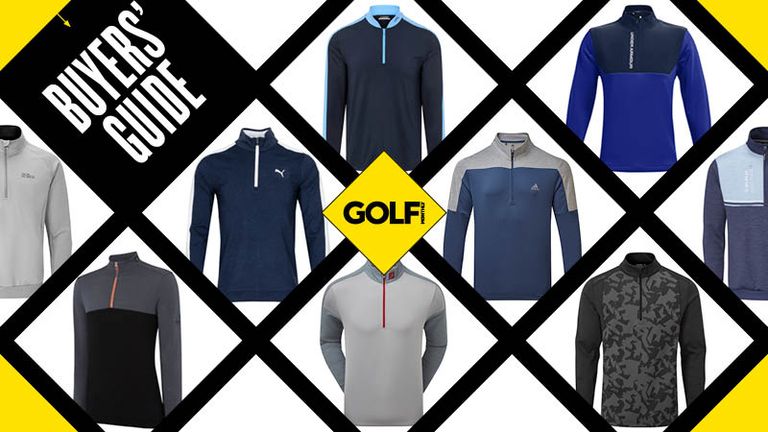 (Image credit: Golf Monthly)
Golf Monthly Newsletter
Golf tips and expert instruction, golf club reviews and the latest golf equipment.
Thank you for signing up to Golf Monthly. You will receive a verification email shortly.
There was a problem. Please refresh the page and try again.
Best Golf Jumpers
We all have our favourite golf clothing because golf is a game supposed to be played in all weathers. When the sun comes out we have our favourite shorts; when the rain hits we have the best golf waterproofs (opens in new tab) to deal with it. And many of us also have a favourite jumper or sweater that gets used the most when it gets chilly on the links.
However, that old favourite might be in need of an upgrade, especially when you consider the performance you might be missing out on. A good golf jumper is worth it's weight in gold, whether it's a 1/4 or 1/2 zip, lambswool or merino, short sleeved or long, it's an essential piece of clothing that you're guaranteed to get regular use from for a few years. Importantly, many garments these days are constructed with modern and technologically advanced fabrics to make sure they are stretchy, warm, water repellent, durable and also look great. Most brands design golf jumpers that fit into all of these areas so to narrow down your choice, below we have highlighted some of the best golf jumpers currently on the market.
If you need more golf gear garments then be sure to have a read of our guides on the best golf tops (opens in new tab) and best golf wind jackets (opens in new tab).
Best Golf Jumpers - Best Golf Sweaters
Specifications
Sizes: S-2XL
Colors: 4 (Blue, Black, Grey, Navy)
Reasons to buy
+
Super soft fabric
+
Athletic look
Reasons to avoid
-
Not as protective in the wind
Puma's Cloudspun fabric is one of the softest you can find on a golf garment and is great for layering up on a cold day. It has been used here and as a result this is a warm, incredibly soft and well fitting midlayer for those who prefer a more athletic look on the golf course.
It has a number of little touches as well, the best of which is the drawstring cord that allows you to adjust the fit at the bottom of the garment as you please. Available in four colors, this looks as good off the course as it does on it.
Specifications
Sizes: S-2XL
Colors: 2 (Charcoal, Twilight)
Reasons to buy
+
Super smart and stylish
+
Good quality and fit
Reasons to avoid
-
Not a performance fabric
G/FORE does athletic and trendy very well – but the brand also knows how to do smart. The Interior Striped Quarter Zip sweater is just that, and whilst it's not as versatile as many of the other garments in the range, it does what it sets out to do – that is make you look sharp and fashionable.
This classic quarter zip design benefits from the brand's usual attention to detail and quality, and if you're looking for a premium sweater, with just a hint of something different about it, this could well be the garment for you.
Specifications
Sizes: S-3XL
Colors: 6 (Black, Navy, Grey, Royal Blue, Pewter, Orange)
Reasons to buy
+
Good versatility
+
Very stretchy fabric
Oscar Jacobson boasts a rich heritage, which dates back over a hundred years. The brand describes its design philosophy as "Scandinavian simplicity combined with the inspiration of Italian tailoring and British textile tradition."
This mid-layer has a great fit and the fabric is super stretchy to allow for no resistance in the golf swing. The fabric is high quality, as you'd expect with OJ clothing, and the premium feel and looks means it should be a part of your wardrobe for a long time.
Specifications
Sizes: S-2XL
Colors: 5 (White, Black, Blue, Turquoise, Green)
Reasons to buy
+
Made from 100% recycled fabric
+
Good selection of colours
Reasons to avoid
-
Lightweight nature means it isn't the warmest
Adidas describes this top as a 'golf pullover for lightweight layering' which seems to sum it up quite well. The 100% recycled polyester pique fabric is pretty much weightless and slides onto a polo or t-shirt with ease.
It worked very well indeed as an extra layer and underneath larger tops or jackets. Because of how lightweight and thin it is, we think when the temperatures drop there are more suitable models to go for out there, such as the adidas Cold.Rdy 1/4 Zip Pullover. But if a polo is not enough, then this adidas model is excellent.
Oh and we love all the different colors you can get of the sweatshirt too.
Ping Farrell Sweater
Specifications
Sizes: S-2XL
Colors: 3 (White, Blue Surf, Asphalt)
Reasons to buy
+
Extreme comfort
+
Chest pocket
Reasons to avoid
-
Only three colors and they may not appeal to everyone
The Farrell Zip Neck sweater offers up super comfort when wearing with an extremely soft inner lining and a stretch material. It's thin and lightweight so won't keep you warm in the coldest months but is a great layer for those chilly days. The breast zip pocket could be handy but we didn't see much use for it and would have preferred two pockets for our hands, but either way it is still a nice addition.
The cuffs are elasticated so fit very well and the bottom of the garment has an adjustable elasticated fit if it is too loose for you. Again we didn't feel this was completely necessary but it shows Ping has tried to make this stand out. The color options are nice but we'd like to see some more, especially a red version.
Specifications
Sizes: S-2XL
Colors: 5 (White, Blue, Navy, Iceberg, Navy/Blue)
Reasons to buy
+
Blend of style and performance
+
Soft feel
Reasons to avoid
-
Not much protection from the elements
This JL midlayer is a great look for on or off the course and blends style and performance. It looks great in several colors whilst it also blends style and performance. The stretchy fabric is great for playing golf in and it is super soft to the touch.
Frustratingly, it doesn't provide much protection from the wind and rain, but we think this is a great looking midlayer if you know the weather will stay dry throughout your round.
Specifications
Sizes: S-2XL
Colors: 3 (Charcoal, Grey, Navy)
Reasons to buy
+
Plenty of warmth
+
Not too bulky
Reasons to avoid
-
Some might prefer a more lightweight option
One of the warmest jumpers in this list, the FootJoy Ribbed Chill-Out Xtreme is great for golfers who prioritise warmth out on course. The warmth is provided by a soft fleece lining, that also does a decent job of keeping the wind out.
The jumper has a simple, classic look but the ribbed arms and collar add some smart, modern styling. The grey version we tested features a red FJ logo and zip to inject some colour into the top.
Overall it is perhaps a bit heavy and overly warm for the summer months when you want a lightweight mid-layer type of top, but in the winter it is an excellent option.
Specifications
Sizes: S-2XL
Colors: 3 (Black, Navy, Estate Blue)
Reasons to buy
+
Warm yet breathable
+
Good protection from the wind and light rain
Reasons to avoid
-
Bulkier than some jumpers
If you're going to play all-year round, your golf wardrobe is going to need to contain a few mid layers. The Peter Millar Weld Hybrid will keep you nice and warm, and given the brand considers every important detail, you can be sure that this premium garment will keep you comfortable and focused on your golf.
For us we think it is the perfect midlayer because it gave us great protection in wind and some light rain - ideal for autumnal or winter golf. Additionally it had a multitude of nice little touches that really elevate the garment. The zips are a good quality and the presence of pockets is welcome here, despite the chest pocket perhaps being a bit redundant. That being said it still looks stylish.
Under Armour Storm Evolution Daytona 1/2 Zip
Specifications
Sizes: S-2XL
Colors: 6 (Grey, Royal, Academy, Black, Navy, White)
Reasons to buy
+
A top performer
+
Cutting edge construction and technology
Reasons to avoid
-
Ribbed arm design won't be for everybody
This is the type of top you can keep on all day which explains its inclusion on this best golf jumpers list. Under Armour's Storm Evolution Daytona is an insulated garment with Storm technology which repels water without sacrificing breathability.
It is also wind resistant and shields you from the elements – designed to adapt to the temperature keeping you warm when its cold and cool when the temperature increases. Constructed with a natural stretch that allows you to move freely providing the optimum comfort when you swing, we also think it looks great in several different colours. It unquestionably performs well in keeping you warm but if you want to go one step further be sure to have a read of our best waterproof golf jackets guide too.
Specifications
Sizes: S-3XL
Colors: 6 (Bluebell, White, Red, Black, Green, Navy)
Reasons to buy
+
Extremely warm and comfortable
+
Looks great
+
Loads of colour options
Reasons to avoid
-
Depending on your build, you may need to size up
Another model that performed well during testing was the Galvin Green Dwight. It feels really soft and premium when on and provides exceptional insulation, perfect for the cold-weather golf. This is thanks to the thermal nubs on the inside which trap heat to ensure the wearer stays as cosy as possible when the temperature drops. it didn't hinder the swing either because it is made from a stretchy fabric.
In terms of looks, we really enjoyed the design. In particular, the contrast between the main body, sleeve design and chest panel makes this a really stylish product. The chest panel also features a pocket which could house a scorecard or other small items. It's available in lots of different colours as well so there will be something for everyone.
Stuburt Reynolds Midlayer
Specifications
Sizes: S-3XL
Colors: 3 (White, Slate, Black)
Reasons to buy
+
Really stylish
+
Great value
+
Material is breathable and windproof
Perhaps a lesser-known brand to golfers, this is not a garment to be overlooked because it is a solid performer. It kept our tester warm and the wind away, and then when it got hotter it didn't feel like we were getting to hot or sweaty.
The lack of side pockets is a small negative but it is more of a midlayer so this is not surprising. The material is stretchy so the fit was very comfortable, whilst we also enjoyed the different colors on offer, ranging from the understated black and grey option, to the midnight and white model which would standout a little more.
Specifications
Sizes: S-2XL
Colors: 3 (Red, Grey, Navy)
Reasons to buy
+
Sustainability in its construction
+
Comfortable
+
Lightweight
+
Stylish

Reasons to avoid
-
Sizes come up a touch small
Ocean Tee has really made a name for itself over the last couple of years by producing quality golf apparel and doing so in an environmentally-friendly way. The Manta is no exception.
It is 100% plastic-free, made from responsible fabrics and constructed using sustainably-sourced materials. Made from 100% Merino wool, it provides premium performance and comfort, as well as being naturally biodegradable. It's also quick-drying and boasts anti-odour and water-resistant properties.
Indeed our testing revealed it was hard to criticise this mid-layer. The sizing does tend to come up a touch small, so that's something to be wary of, but beyond that, it's only positives. The flexibility is excellent and it's clearly been designed to be functional and look good. It's really soft, comfortable and lightweight, to the point you don't really notice you're wearing it.
Glenmuir Balcomie Sweater
Specifications
Sizes: S-2XL
Colors: 3 (Light Grey, Navy, Bordeaux)
Reasons to buy
+
Soft cotton is comfortable
+
Lightweight layering option
The Balcomie is a long sleeve sweater with a solid metal YKK half zip that acts as a great mid layer to keep you cool, warm and dry. The 100% cotton design feels soft and well made and is hypoallergenic, anti-bacterial and anti-odour. It is also lightweight and can be easily folded into a bag without coming out crumpled. The Balcomie did not get sweaty at all as the Active Smart fibre fabric regulates temperature changes well to release excess heat for breathability and to keep you warm on a cool day.
The cable knit design brings classic style subtly to a modern design and the ribbed cuffs and hem created a snug fit. There are contrast stripes on the collar and cuffs, which add a touch of flair, but may not appeal to all. If you want to make your shirt stand out then the Glenmuir personalisation service can embroider text, flags or images on the back or sleeve too.
Farah Hayes Midlayer
Specifications
Sizes: S-2XL
Colors: 4 (Regatta Blue, Farah Blue, Teal Hue, Black)
Reasons to buy
+
Range of light and dark colors
+
Very comfortable and breathable
+
Superb range of movement
Reasons to avoid
-
Design makes it not the most eye-catching
There is a lot to like about this Hayes Midlayer, with its comfort, breathability and range of movement out on the course giving you so much confidence and freedom to really go after every shot. Also featuring a Farah branded zip puller, it has very good temperature control capabilities which means in colder and windier climates, like the early morning start at our testing day, you can keep warm and loose.
The Hayes does feature a curved chest and hem lines which, according to the brand, 'creates a subtle but different look along with the stripe detail zip'. However, although it comes in four different colors, it isn't the most stylish midlayer, nor does it stand out like some of the other garments on the market. It is a superb performer though and definitely one that works well out on the course.
Lyle & Scott Player Knitted Crew
Specifications
Sizes: S-2XL
Colors: 2 (Navy, Pink)
Reasons to buy
+
Neck design of the jumper keeps the polo collar tucked
+
Simple design is very classic
+
Fantastic fit which doesn't restrict movement
Reasons to avoid
-
Not many colors available
If I had to choose a midlayer/jumper, my personal choice would be a simple pullover. There is something about the simplicity of the style. The Golf Player Knitted Crew is a superb garment, with the overall fit being neither too tight and restrictive nor too loose and baggy. Another impressive aspect is the fit around the neck.
Sometimes, I find that the collar of the polo pops out of a jumper, but with the Crew Neck, it doesn't. The garment keeps the collar firmly in place and doesn't cause any distraction throughout the swing. The only negative is the lack of colors, with only Navy and Free Pink being available. However, this is only a small blip on what is a fantastic performing midlayer/jumper.
ProQuip Pro-Tech Midlayer
Specifications
Sizes: S-3XL
Colors: 6 (Azure Blue, Black, Blue Fog, Fuschia, Navy, Porcelain)
Reasons to buy
+
Looks great in several colors
+
Adds warmth
Reasons to avoid
-
Fabric is designed to be quite tight so some will be put off by this
Our final selection to make it into this best golf jumpers guide is the Pro-Tech midlayer from ProQuip. A great looking top in several colors ranging from black, to pink, to the azure blue we tested, it is extremely comfortable and stretchy. We were also very pleased with the warmth on offer because given the lightweight fabric we were expecting a compromise here but this was not the case. It is an excellent midlayer to deal with the cold and works well underneath another jacket too. The one small thing to note is the fabric itself is designed to be quite tight so we would recommend trying on different sizes to see what is comfortable for you.
How we test golf jumpers
We test golf jumpers in the same manner as we do all other pieces of golf apparel and equipment - comprehensively. In relation to jumpers, we put them to the test out on the golf course to see if the design works as it should when having to play in different conditions and play different shots. This is a good way of seeing if a model interferes with the swing at any point too. We would then try and use the jumper off the course as well to see if they are versatile enough to be worn anywhere. The final point we wanted to mention here is no manufacturer can pay for a good review because our thorough testing team tells it how it is.
What to consider when buying a jumper
What are some of the things to consider when buying a golf jumper or sweater? Let's take a look.
Type - What we mean here is what type of golf jumper are you after? Do you want a thick sweater to help you deal with the colder outings on the golf course, or want a thin midlayer with stretchy properties? Knowing what you want the jumper to do is important so have a think about this to help narrow your search.
Material - Linking with the above point, knowing what you are after will help you decide what material to go for. The fleece models above will keep the cold at bay whilst ones with more spandex in them will help you move easier and won't restrict the golf swing in any way. Additionally we have found the models with cotton in them are often the best for wearing out and about as well, and they are very easy to wash.
Movement - One of the big things around golf jumpers is freedom of movement and whether they can restrict or negatively impact the swing. Ultimately this comes down to making sure you get the right size because you don't want something that is too baggy which could catch your hands during the swing, and you don't want something too tight either because that will restrict the swing. As such, we would recommend trying on models and taking swings in them to see if you still offer the same range of movement.
Looks - This is an important factor to consider. Do you want to stand out or just have a more understated look? We think there is something for everyone above.
Versatility - This is another important thing to consider. Do you want to use the jumper just on the golf course, or be able to use it anywhere? Many of the models above can do both which is a good way of getting more for your money.
Budget - Finally be aware of your budget so you can find a top that fits into it nicely. Importantly there are models above which come with premium, and value price points so there is something for everyone.
We hope you enjoyed this guide to the best golf jumpers. For more buying advice, check out the Golf Monthly website.
A golfer for most of his life, Sam started playing the game to prove he was the best player out of his father and two brothers.
He quickly became a golf equipment expert and has always been the one family and friends come to for buying advice, and spends a lot of his time putting golf gear, apparel and shoes to the test.
He is a graduate of Swansea University where he studied History and American Studies, and he has been a part of the Golf Monthly team since February 2018. He also previously worked for World Soccer and Rugby World magazines.
A jack of all trades across print and digital formats, Sam now spends most of his time testing and looking after golf gear content for the website. He also oversees all Tour player content as well.
Unfortunately, Sam is not a member of any club at the moment but regularly gets out on the golf course to keep up the facade of having a handicap of five.
Sam is currently playing:
Driver: Titleist TS3
Fairway Wood: TaylorMade M5 (15 degrees), Nike Covert Tour 2.0 (19 degrees)
Irons (4-PW): Titleist AP2
Wedges: Titleist Vokey SM7 54˚, 58˚
Putter: Scotty Cameron Circa 62 #6