Best Golf Sweaters 2023
When the temperature drops on the golf course we all need a garment that can help which is why we've collated our favorite golf sweaters here.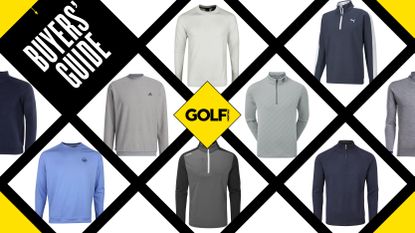 (Image credit: Golf Monthly)
Best Golf Sweaters
Golf is an outdoor activity and as a result a good sweater is an absolute must have. We all need something to slip over our golf polo to keep us warm when needed and whether it's a 1/4 or 1/2 zip, lambswool or merino, short sleeved or long, it's an essential piece of clothing that you're guaranteed to get regular use from for a few years.
So what makes a good golf garment, especially for those winter rounds? Well many garments these days are constructed with modern and technologically advanced fabrics to make sure they are stretchy, warm, water repellent, durable and also look great. Most brands design golf sweaters or mid-layers that fit into all of these areas so to narrow down your choice, below we have highlighted some of the best golf sweaters currently on the market. If you need more golf gear garments then be sure to have a read of our guides on the best golf tops and best golf wind jackets.
Best Golf Sweaters - Best Golf Jumpers
Why you can trust Golf Monthly Our expert reviewers spend hours testing and comparing products and services so you can choose the best for you. Find out more about how we test.
Castore Soft Shell 1/2 Zip Mid Layer
Sizes: XS - XXL
Colors: 2 (Navy; Black)
+ Ample warmth and wind protection
+ Subtle yet stylish design
+ Plenty of flex in the fabric
- Comes up quite large/baggy
The Castore Soft Shell 1/2 Zip Mid Layer is a stylish and smart top that will keep you warm and comfortable on the golf course. It strikes a great balance giving you plenty of mobility to move through your swing while also fitting nicely around the waist, chest and arms. It is also very lightweight and will attract plenty of looks on the golf course.
We loved the subtle Castore branding again gives this top a really premium look. It is up there with some of the best Castore clothing on the market and offers up a slightly looser fit that many golfers will enjoy that fits nicely over a few thinner layers without it restricting your movements on the course.
Galvin Green Daxton Insula Mid Layer
Sizes: S-XXXL
Colors: 9 (Red; Grey; Green; Navy; Red; Light Blue; Blue; Pink)
+ Brilliant at keeping you warm
+ Super stretchy
+ Very stylish
- Fit comes up a little tight
A fantastic looking top that comes in nine different colors, offering up something to suit the tastes of every golfer, this mid layer will keep you warm and dry on cold outings on the golf course. The Daxton Insula demonstrates that brands can produce warming clothing with lightweight materials. But it is not restrictive either and offers plenty of comfort and stretch as you swing through your swing. It's one of the most comfortable mid layers we've ever worn and really looks the part too, coming in five colors to suit all tastes. Galvin Green produce some of the best designer golf clothes on the market and this is a fantastic looking option we know many players will enjoy.
Puma Cloudspun T7 1/4 Zip Midlayer
Sizes: S-2XL
Colors: 4 (Blue, Black, Grey, Navy)
+ Super soft fabric
+ Athletic look
- Not as protective in the wind
Puma's Cloudspun fabric is one of the softest you can find on a golf garment and is great for layering up on a cold day. It has been used here and as a result this is a warm, incredibly soft and well fitting mid-layer for those who prefer a more athletic look on the golf course. It's by no means the most windproof mid-layer we've tested, but it provides a decent amount of protection on a brisk day on the links. It has a number of little touches as well, the best of which is the drawstring cord that allows you to adjust the fit as you please.
Read our full Puma Cloudspun T7 1/4 Zip Midlayer review
G/FORE Quarter Zip V Neck Sweater
Sizes: S-2XL
Colors: 1 (Heather Grey)
+ Suitable to wear on and off the course
+ Beautiful soft feel
- Dry clean only
G/FORE does athletic and trendy very well – but the brand also knows how to do smart. The V Neck sweater is just that, and whilst it's not as versatile as many of the other garments in the range, it does what it sets out to do – that is make you look sharp and fashionable. What we really like about it is the elevated neckline, which just gives it a point of difference – plus you have those stripes on the wrist which we liked but may divide opinion.
Made with ultra soft, plaited merino wool, this sweater feels wonderfully comfortable and a worthy inclusion on this list.
Read our full G/FORE Quarter Zip V Neck Sweater Review
Oscar Jacobson Darwin Mid Layer
Sizes: S-3XL
Colors: 4 (Navy, White, Lunar Grey, Teal)
+ Stretchy material
+ Extremely lightweight
- Not waterproof
Oscar Jacobson boasts a rich heritage, which dates back over a hundred years. The brand describes its design philosophy as "Scandinavian simplicity combined with the inspiration of Italian tailoring and British textile tradition." Take this Darwin mid layer as an example of this. In testing we nylon/elastane material because it is incredibly stretchy. You can pinch the soft material with your fingers and get a sense of this before you pull it on – it offers a wonderful feel. It means the garment works with your golf swing and is super comfortable to wear.
Read our full Oscar Jacobson Darwin Mid Layer Review
Adidas Core Crew Sweatshirt
Sizes: XS-2XL
Colors: 3 (Grey, Green, Hemp)
+ Very smart and comfortable sweater
+ Softness of the fabric
- Slightly tight around the neck
As far as golf sweaters go, this Core Crew model from adidas ticks all the right boxes. We have often noticed sweaters designed for warmth can be tight and constricting because they are trying to keep the heat in, but this is definitely not the case here. With a soft terry loop texture on the outside, and a brushed fleece interior, it feels really warm and comfortable, whilst it also stretches nicely when moving around.
Admittedly the collar around the neck can be ever so slightly tight but otherwise it does not feel constricting. On that note we also really like the cuffed sleeves and hem which gives a stay-put fit. Finally it comes in three colors - Hemp, Grey, and Green, that will look good twinned with any of the best golf trousers.
Sizes: S-2XL
Colors: 3 (White, Blue Surf, Asphalt)
+ Extreme comfort
+ Chest pocket
- Only three colors and they may not appeal to everyone
The Farrell Zip Neck sweater offers up super comfort when wearing with an extremely soft inner lining and a stretch material. It's thin and lightweight so won't keep you warm in the coldest months but is a great layer for those chilly days. The breast zip pocket could be handy but we didn't see much use for it and would have preferred two pockets for our hands, but either way it is still a nice addition.
The cuffs are elasticated so fit very well and the bottom of the garment has an adjustable elasticated fit if it is too loose for you. Again we didn't feel this was completely necessary but it shows Ping has tried to make this stand out. The color options are nice but are limited and we think we'd like to see some more, especially a red version.
Sizes: S-2XL
Colors: 5 (White, Blue, Navy, Iceberg, Navy/Blue)
+ Blend of style and performance
+ Soft feel
- Not much protection from the elements
This JL midlayer is a great look for on or off the course and blends style and performance. It looks great in several colors whilst it also blends style and performance. Frustratingly, it doesn't provide much protection from the wind and rain, but we think this is a great looking midlayer if you know the weather will stay dry throughout your round.
But overall it is a stylish, lightweight mid layer that provides an element of warmth required on mild days as well as extreme levels of stretch to maximize movement and comfort. The small JL logos also add a touch of class as well.
Read our full J Lindeberg RY Mid Layer Review
FootJoy Diamond Jacquard Chill-Out Sweater
Sizes: S-2XL
Colors: 4 (Grey/Charcoal, Navy/Red, Black/White, Blue/White)
+ Classic, stylish look
+ Fabric is lightweight and flexible
- Color options may be too simple for some
This top can be worn either as a midlayer, under a waterproof, or as an outer layer on cold, dry days. The diamond stitch patterns makes for a smart, modern look, albeit the color options are all fairly simple.
What impressed us most about this sweater was the warmth it provided without being too big and bulky. It's a lightweight garment (you'd be able to store it in your golf bag without adding much unwanted heft) but it also offers a cosy feel that can easily be worn with a base layer and a polo shirt underneath.
Peter Millar Cradle Performance Crewneck
Sizes: S-2XL
Colors: 7+
+ Performance fabric offers warmth
+ Very versatile - looks great on and off course
- Some may find it too understated
In an era where mid layers are dominated by hoodies and quarter zips the timeless style of the Peter Millar Cradle Performance crewneck actually offers something different and with this garment being a modern performance fabric rather than a wool you're getting the best of both worlds.
As with most Peter Millar garments, this item of clothing is very versatile and suitable for wearing on and off the course. It looks particularly smart with a pair of chino style trousers or shorts but it's also great for lounging around the house! There are also plenty of colorways to choose from which means there's something for everyone
Under Armour Storm Evolution Daytona 1/2 Zip
Sizes: S-2XL
Colors: 6 (Grey, Royal, Academy, Black, Navy, White)
+ A top performer
+ Cutting edge technology
- Ribbed arm design not for all
This is the type of top you can keep on all day which explains its inclusion on this best golf sweaters list. This model is an insulated garment with Storm technology which repels water without sacrificing breathability.
It is also designed to adapt to the temperature keeping you warm when its cold and cool when the temperature increases. Constructed with a natural stretch that allows you to move freely providing the optimum comfort when you swing, we also think it looks great. It unquestionably performs well in keeping you warm but if you want to go one step further be sure to check out some of the best waterproof golf jackets too.
Sizes: S-2XL
Colors: 4 (Regatta Blue, Farah Blue, Teal Hue, Black)
+ Range of light and dark colors
+ Very comfortable and breathable
- Design makes it not the most eye-catching
There is a lot to like about this Hayes Midlayer, with its comfort, breathability and range of movement out on the course giving you so much confidence and freedom to really go after every shot. Also featuring a Farah branded zip puller, it has very good temperature control capabilities which means in colder and windier climates, like the early morning start at our testing day, you can keep warm and loose.
The Hayes does feature a curved chest and hem lines which, according to the brand, 'creates a subtle but different look along with the stripe detail zip'.
Galvin Green Chester Sweater
Sizes: S-3XL
Colors: 2 (Grey Melange, Navy Melange)
+ Very comfortable and looks great
+ Can be worn off the course
- Need to take care when washing
This is not a garment we would immediately associate with Galvin Green; rather, it's more of an old-school sweater that adds terrific variety to the brand's apparel line-up. The Chester is made with sustainable merino wool that feels premium as soon as you put it on. It's not a full zip top but delivers lots of stretch to move with your body as you move, whatever the activity.
It's only available in two colors but both are understated and classy and can be worn away from the course in a range of settings. Despite being quite a lightweight product, when on the course, it provides enough warmth as temperatures drop. The fit is natural but that doesn't mean to say it's baggy in any way.
Oscar Jacobson Warwick Sweater
Sizes: S-XXL
Colors: 5 (Teal, Navy, Blue, Grey, Royal)
+ Excellent look
+ High end material
- Easily shows creases if not cared for
Another luxurious product from Oscar Jacobson is this Warwick Sweater made from Merino wool. The garment itself is a fairly simple design, with a quarter zip as well as rib knit hem, cuffs and collar. The biggest plus point is the beautiful wool used which is soft and very comfortable to wear. The only issue with it is that you do need to be attentive with how you care for it, not only washing at the correct temperature but also drying it so that it won't fall out of shape.
The wool will show up what shirt is being worn underneath it, a thinner more modern fabric doesn't not stand out as much as a thicker polo. A really excellent product that has a premium price point to match.
Stuburt Active Tech Fleece
Sizes: M-XXL
Colors: 4 (Black, Chamray, Navy, Grey)
+ Very warm
+ Not bulky
- Tight to body
Stuburt has clearly put in some good work in this product, however immediately as we tested this there were issues. For what is described as a fleece the garment is really quite tight fitting. Any thicker material polo would be uncomfortable to wear under the top. It feels tight around the arms, and unless you have a very athletic build it is quite unflattering.
However, the top looks to have been designed with layering up at the forefront of the mind, there were certainly no issues when a waterproof jacket was added over the top. The color and design are also pleasing to the eye, and if you were to try one out and find it good for your body shape then it would be an excellent and good value purchase.
Callaway High Gauge Aquapel Sweater
Sizes: S-XXL
Colors: 2 (Black Lichen, Peacoat)
+ Good stretch properties
+ Water repellent
- Only two color options
This is a good looking sweater boasting impressive technology and innovation. It features Nanotex Aquapel which means the garment is water repellent and breathable but also fluorocarbon free making it eco-conscious to boot. It's extremely stretchy which makes it very comfortable to wear and ideal as a mid-layer. You will easily fit a base layer and polo shirt underneath and not feel constricted. The thermal properties are good and further functionality is provided by the side zip pockets which, as well as providing storage, are great for keeping your hands warm.
Sizes: S-2XL
Colors: 3 (Navy; Grey; Red)
+ Extremely soft and comfy
+ Made from recycled materials
- Slim fit may not suit every golfer
Ocean Tee Manta mid layers are made from 100 percent Merino wool which is firstly naturally biodegradable but is also one of the most comfy materials you can wear on the course. And having worn this product ourselves and tested it over a number of rounds, we can certainly vouch for that. The material is soft and warming and stretches to the movements of your swing. While this is a slim fit fleece, it may not be the best fit for every golfer, but it delivers a very smart look, thanks to the exceptional detailing on the fleece. It's also 100 percent plastic free.
Sizes: S-2XL
Colors: 3 (Mid Grey, Navy, Black)
+ Warm and comfortable design
+ Cashmere infused section feels great
- Bit heavy for summer wear
The Glenmuir Lawrie sweater is cotton based throughout most of the garment, with a section across the chest that is infused with cashmere. This makes it feel great to the touch and offers a bit more warmth than most summer sweaters in natural rather than man-made fibres.
The rest of the Lawrie sweater feels robust and the different toned sections and choice of three colors gives a lot of classy looking options. The quarter-zip design is ideal for cooler months as the heavier cotton material is treated to repel water and comes with a good strong YKK zip.
Lyle & Scott Player Knitted Crew
Sizes: S-2XL
Colors: 2 (Navy, Pink)
+ Simple design is very classic
+ Fantastic fit which doesn't restrict movement
- Not many colors available
The Golf Player Knitted Crew is a superb garment, with the overall fit being neither too tight and restrictive nor too loose and baggy. Another impressive aspect is the fit around the neck.
Sometimes, I find that the collar of the polo pops out of a sweater, but with the Crew Neck, it doesn't. The garment keeps the collar firmly in place and doesn't cause any distraction throughout the swing. The only negative is the lack of colors, with only Navy and Free Pink being available. However, this is only a small blip on what is a fantastic performing midlayer.
TravisMathew Cloud Sweater
Sizes: S-XXL
Colors: 4 (Red, Black, Grey, Blue)
+ Extremely comfortable
+ Stretch properties
- No pockets
Travis Matthew is renowned for producing subtle and stylish golf wear and this sweater delivers exactly that. A single color with small logo on the chest, it's understated and offers a neat yet relaxed fit.
It's a versatile layer with a fleece lining. It's roomy enough that you could fit layers beneath and snug fitting enough that a jacket can over the top. Stretch properties mean the freedom of movement is good and a sturdy quarter zip means you can fasten up to provide more protection from the elements. The soft collar is comfortable against your neck. It's a good-looking and functional garment that works off the course as well as on.
ProQuip Pro Tech GML-03 Midlayer
Sizes: S-3XL
Colors: 6 (Black, Blue Fog, Navy, Porcelain, White, Vallarta Blue)
+ Works well as a midlayer
+ Feels nice and thick
- Not fans of ProQuip logo on arm
How often have you used a mid-layer that really doesn't seem to work underneath a jacket or hoodie on the golf course? You needn't worry about that here as the GML-03 from ProQuip works excellently as an extra layer of warmth and comfort on those colder days. It is made from 100% polyester which feels very soft on the skin and very thick too without any bulk. We also liked the stretch of the fabric and the variety in color choice is an added bonus as well. The only thing that held it back for our tester was the ProQuip branding on the arm because that limited its versatility off the golf course.
Nike Tiger Woods Knit Golf Sweater
Sizes: XS-2XL
Colors: 5 (Red; Purple; Cream; Black; Gray)
+ High-quality materials
+ Superb comfort and style
- Not durable
Nike is well known for producing high-quality sports apparel, but it becomes clear that the brand has exceeded itself when pulling on the Tiger Woods Men's Knit Golf Jumper. Made from a blend of premium merino wool and polyester, it features a stretchy mesh stripe down the spine, which gave us a great range of movement and kept us well aerated on the course. It also features a ribbed stitching pattern under both arms that helps players stretch and extend their arms in their swing. The jumper is very cosy to wear unlike many other wool pullovers.
Reflo Marmara Crew Sweater
Sizes: XS-XXL
Colors: 3 (Cloud, Navy & Black)
+ Can swing unrestricted
+ Made from recycled plastics
- Some evidence of fabric 'bobbling'
You won't find many traditional pieces in the Reflo range; rather, this UK sports and leisurewear brand produces your more athletic type of garment. Utilizing Flo-Fit technology, the Marmara is actually designed to stretch with your workout, but this casual piece, which is also ultra-breathable, is really comfortable to wear on the golf course.
When you pull it on for the first time, you instantly get that premium feel – it's smooth and buttery soft, and this is despite the fact that it's made from recycled plastics, one of the brand's unique selling points. It's also lightweight and can deal with light rain.
How we test golf jumpers
We test golf sweaters in the same manner as we do all other pieces of golf apparel and equipment - comprehensively. In relation to sweaters, we put them to the test out on the golf course to see if the design works as it should when having to play in different conditions and play different shots. This is a good way of seeing if a model interferes with the swing at any point too. We would then try and use the sweater off the course as well to see if they are versatile enough to be worn anywhere. The final point we wanted to mention here is no manufacturer can pay for a good review because our thorough testing team tells it how it is.
What to consider when buying a sweater
What are some of the things to consider when buying a golf sweater? Let's take a look.
Type
What we mean here is what type of golf sweater are you after? Do you want a thick sweater to help you deal with the colder outings on the golf course, or want a thin midlayer with stretchy properties? Knowing what you want the garment to do is important so have a think about this to help narrow your search.
Material
Linking with the above point, knowing what you are after will help you decide what material to go for. The fleece models above will keep the cold at bay whilst ones with more spandex in them will help you move easier and won't restrict the golf swing in any way. Additionally we have found the models with cotton in them are often the best for wearing out and about as well, and they are very easy to wash.
Movement
One of the big things around golf sweaters is freedom of movement and whether they can restrict or negatively impact the swing. Ultimately this comes down to making sure you get the right size because you don't want something that is too baggy which could catch your hands during the swing, and you don't want something too tight either because that will restrict the swing. As such, we would recommend trying on models and taking swings in them to see if you still offer the same range of movement.
Looks
This is an important factor to consider. Do you want to stand out or just have a more understated look? We think there is something for everyone above.
Versatility
This is another important thing to consider. Do you want to use the sweater just on the golf course, or be able to use it anywhere? Many of the models above can do both which is a good way of getting more for your money.
Budget
Finally be aware of your budget so you can find a top that fits into it nicely. Importantly there are models above which come with premium, and value price points so there is something for everyone.
FAQs
What is a golf jumper?
A golf jumper is a garment of clothing that is usually worn over the top of a golf polo shirt, and it is designed to offer warmth out on the golf course. Around the world these garments are called slightly different things, for example in the United States a golf jumper would probably be called a golf sweater.
We hope you enjoyed this guide to the best golf sweaters. For more buying advice, check out the Golf Monthly website for more advice on things like the best golf hoodies, best golf vests and best golf base layers.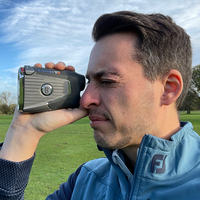 From clubs, balls and tees, to essential sportswear and fitness products, keep it affordable with a little help from our promo and coupon codes.
A golfer for most of his life, Sam is a Senior Staff Writer for Golf Monthly.
Working with golf gear and equipment over the last six years, Sam has quickly built outstanding knowledge and expertise on golf products ranging from drivers, to balls, to shoes.
He combines this knowledge with a passion for helping golfers get the best gear for them, and as such Sam manages a team of writers that look to deliver the most accurate and informative reviews and buying advice. This is so the reader can find exactly what they are looking for.
Sam now spends most of his time testing and looking after golf gear content for the website, whilst he is also responsible for all content related to golf apparel.
He also oversees all Tour player content as well so if you need to know what clubs Tiger or Rory has in play, Sam is the person to ask.
Unfortunately, Sam is not a member of any club at the moment but regularly gets out on the golf course to keep up the facade of having a handicap of five.
Sam's What's In The Bag:
Driver: Titleist TS3 (9 degrees)
Fairway Wood: Callaway Paradym (15 degrees), Nike Covert Tour 2.0 (19 degrees)
Irons (4-PW): Titleist AP2
Wedges: Titleist Vokey SM7 54˚, 58˚
Putter: Scotty Cameron Phantom X 5.5
Ball: Srixon Z-Star Diamond
Shoes: G/FORE Gallivanter/Nike Air Zoom Infinity NEXT%/Cuater The Ringer/adidas Tour 360 22