Best Women's Golf Shorts 2023
Here is our guide on some of the best women's golf shorts out there.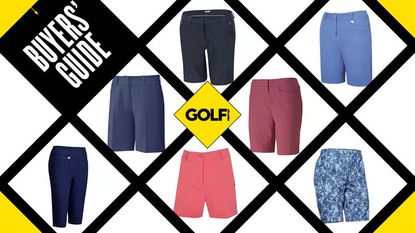 (Image credit: Golf Monthly)
Best Women's Golf Shorts
Women's golf fashion has improved massively in the last ten years. As manufacturers are starting to pay more attention to modern styles and designs, there are more options available to women players now than there ever has been. While golfers have traditionally worn trousers (opens in new tab) on the course, there will always be room in the wardrobe for a pair of golf shorts. They are a classic item of clothing that can always be matched with the best golf polos (opens in new tab) and worn happily on and off the golf course. Comfort is at the heart of the latest designs and this is provided through the use of lightweight fabrics that possess stretch technology, moisture management and UV protection.
We are all different shapes and sizes, but there is a pair of shorts to suit any figure because they come in a variety of lengths and fits. For that reason, in this guide, we're bringing you a selection of the best women's golf shorts that you'll certainly want to take a look at. Plus, if you want to complete your look, then be sure to check out our guide on the best women's golf shirts (opens in new tab) and best women's golf hats (opens in new tab) too.
Best Women's Golf Shorts
Why you can trust Golf Monthly Our expert reviewers spend hours testing and comparing products and services so you can choose the best for you. Find out more about how we test.
Adidas 7-Inch Women's Golf Shorts
Sizes: 6-18
Colors: 3 (Black, White, Indigo)

+ Lightweight
+ Comfortable
- Relaxed fit may not be to everyone's taste

Made in a lightweight stretch fabric with a high waistband, these shorts offer a relaxed fit. They are not too snug and have roomy comfort through the hips and thighs. There are two front slip-in pockets and back welt pockets for golf tees and any other accessories that you might want close to hand, and even a secret ball pocket on the hip below the waistband. Check out our guide on some of the best golf balls (opens in new tab) you could use in tandem with these shorts.
Ping Verity Ladies Golf Shorts
Sizes: XS-XL
Colors: 2 (Navy; Black)

+ Stretchy material
+ SensorCool technology
+ Very comfortable
- Only comes in two colors
Comfort and mobility are combined in the Ping Verity Shorts. Made from a stretchy material, these shorts are an excellent purchase and will also help you look the part on the course. These shorts also feature Ping's SensorCool technology (opens in new tab) which is a nifty piece of design-work that holds moisture movement, meaning it can draw perspiration away from your skin, keeping you cool and dry in hot climates. These shorts also crease-resistant meaning they'll always keep you looking fresh on the course.
Golfino Sofia Bermuda Women's Golf Shorts
Sizes: 6-16
Colors: 2 (Navy, Silver Grey)

+ Offers great freedom of movement
+ Quick drying fabric
+ Protects from harmful UV rays
- Longer length may not be for everyone

For women that prefer a slightly longer length, these slim-fit Bermuda shorts are a great option. They are lightweight, breathable and stretchy for freedom of movement and all-around comfort. The fabric is also quick drying and protects against the sun's harmful rays. There is no shortage of pockets; there are five in total including a handy coin pocket, plus a Golfino ball marker is a bonus but you could also store one of the best golf ball markers (opens in new tab) in this coin pocket.
Puma Pounce Bermuda Women's Golf Shorts
Sizes: 6-18
Colors: 5 (Black; White; Peacoat; Rose Wine; Blue)

+ Great to coordinate with an outfit
+ Excellent comfort
+ Moisture wicking technology
- Could have better pockets

Coordinate any polo shirt in your wardrobe with a pair of these Puma shorts that come in a choice of five colors with a 9.25" inseam. Designed in a stretch fabric with pockets back and front, the material features dryCELL technology that draws sweat away from the skin for a cool and comfortable round, and women will appreciate the half elasticated waistband for added comfort and better freedom of movement.
Galvin Green Noi Women's Golf Shorts
Sizes: 6-18
Colors: 4 (Sandstone, Navy, White, Azalea)

+ Stretchy, breathable fabric
+ Quick drying
+ Paneled zip
- Some may not like the fit of these shorts

The stretch, breathable and quick-drying fabric of the Noi shorts has a soft and superior feel with UV protection 20+, allowing women to enjoy 18 holes in complete comfort. Designed with an ultra-feminine cut, they have front and back pockets, belt loops and a paneled zip fly, along with small details such as metal buttons with the Galvin Green symbol embossed on them. And if you like Galvin Green as a brand, why not head over to our best women's golf clothes (opens in new tab) guide where we showcase some of the best Galvin Green clothing on the market.
J Lindeberg Gwen Micro Stretch Ladies Golf Shorts
Sizes: 26-29
Colors: 4 (Rose; Pink; Navy; White)

+ Stretchy waistline
+ Water repellent
+ Breathable
- Does not come with UV protection

The J Lindeberg Gwen is an excellent pair of shorts for hot days on the course. These are a flattering addition to this list that come in a regular fit and feature a mid-rise waistline. The shorts are made from a breathable, fast-drying material that is water repellent. That means they will keep you cool and dry on the course. And if you're the type of golfer who likes to fill their pockets with tees and balls, don't fret. They also come with two well-placed pockets at the front, which give ample space for storing tees and golf balls.
Callaway Chev Pull-on City Shorts II
Sizes: 6-22
Colors: 2 (Peacoat; Caviar)

+ Excellent comfort
+ Flattering fit
+ UV Protection provided
- Maybe too long for some golfers

These pull-on shorts in a length of 62cm have a deep elasticated waist and combined with stretch fabric, women will enjoy a comfortable and flattering fit. In addition to stretch technology, the shorts feature Callaway's Opti-Dri moisture management system and UV protection. There are two front pockets and two discreet back pockets to hold a scorecard and glove, and belt loops so you can accessorize with one of our best golf belts (opens in new tab).
Under Armour Links Printed Women's Golf Shorts
Sizes: 6-18
Colors: 2 (Blue; Pink)

+ Comfortable inner waste band
+ Plenty of pockets
+ Water repellant
- Striking pattern not for everyone

Comfort is key and the four-way stretch and lightweight fabric of these shorts allow women to move comfortably in every direction as the waistband has inner elastic to ensure a perfect fit. Designed in a striking pattern and with four pockets, these high-performing shorts also feature Under Armour's Storm technology that repels water without sacrificing breathability. These are such good all-around shorts that we featured them in our generic best women's golf clothes (opens in new tab) guide.
Green Lamb Talia Bermuda Women's Golf Shorts
Sizes: 8-20
Colors: 1 (Black and White)

+ Comfortable material
+ Provides great mobility
+ Features a tee pocket and plenty of room for accessories
- Styling may be too traditionalist for some

The best women's golf shorts can help players stand out from the crowd, which is exactly what these Talia Bermudas do because of their attractive gingham check pattern. Comfort and ease of movement is provided through the four-way stretch fabric and deep waistband, whilst multiple pockets including a tee pocket allow ample room for the best golfing accessories (opens in new tab). Silver logo rivets on the pockets and Lamb embroidery on one of the back pockets are a nice touch.
Daily Sports Magic City Pull-on Women's Golf Shorts
Sizes: 6-18
Colors: 5 (Midnight Blue, Navy, Black, Beige, Grey)

+ Easy to pull on and take off
+ Great for mobility
+ Ample storage pockets
- Fit might be too much for some

There is good reason why these shorts are called Magic. They are made in a super stretch fabric that pull-on with ease and then sit nicely on your waist with maximum support for a modern and flattering look. Styled with side splits at the hem, along with two deep open pockets at the front and two welt pockets at the back, these are a wardrobe staple for women.
Abacus Cleek Women's Golf Shorts
Size: 6-20
Colors: 3 (White, Black, Navy)

+ Stylish design
+ Comfortable
+ Moisture wicking, breathable fabric
- Only comes in three colors

Women will look and feel good in the Cleek stretch shorts as they combine comfort, style and functionality. This is thanks to the wicking and cooling fabric that keeps you cool on warm days and a blend of stretchy materials that allow you to swing without any restricted movement. These shorts are a regular fit and offer enough room to move and they come with two pockets both front and back. Pair these up with one of the best women's golf shirts (opens in new tab) and you'll certainly look the part on the course.
Ping Selena Women's Golf Shorts
Sizes: 6-20
Colors: 2 (Navy; Stone)

+ Crease resistant material
+ Easy to wear
+ Cooling and breathable fabric
- Only comes in two colors

The Selena shorts are designed with a straight leg and made in a lightweight, stretch fabric. We like the fact that the material is crease resistant, making them easy to wear and maintain. Ping's Sensorcool technology allows moisture movement to keep women cool and comfortable on the golf course, and with two front and two back pockets, these shorts offer functional performance. Why not match these up with one of the best women's golf hats (opens in new tab)?
How we test women's golf shorts
Here at Golf Monthly, our testing for women's golf shorts is built upon a comprehensive process (opens in new tab) combined with the knowledge and expertise of the entire Golf Monthly test team, headed up by Katie Dawkins (opens in new tab) and Alison Root (opens in new tab), who lead all female golf equipment reviews. As far as the specific procedure goes, prior to testing, the team will usually attend product launches and meet with the manufacturer's R&D experts to understand the new technology in each product.
When it comes to testing golf shorts, we head out to the course to try each pair of shorts on over a number of rounds on the UK's best courses. We look to try to use each item in as many different conditions as possible to give us the best feel of how each pair of shorts performs in sun, rain and snow. We think it is vitally important to do both and continue to test the shorts so they have been comprehensively put to the test in many different conditions. It should also be mentioned that manufacturers cannot pay for a good review and we make our conclusions from the testing and our experiences.
What to consider when purchasing a pair of women's golf shorts
There is a lot to consider when purchasing a new pair of golf shorts but we have some handy tips on several things you need to look out for to make sure you make the best purchase possible for you.
1. Size
The first thing to consider is the size and fit of the shorts that you're buying. Obviously, you don't want your shorts to be too tight as that will restrict your movement on the course, preventing you from playing your best golf. Pick a size that looks good, isn't too loose fitting, but also gives you a full range of movement.
2. Colors
As golf styling is becoming more modern, brands are designing clothes that have a wide variety of colors, designs and fabrics that suit every golfer. From bright colorways to traditional patterns, there are plenty of colored shorts available to you, so pick the one you like the most.
3. Mobility
This is a vital consideration for any golfer as if you're constricted in your mobility then you're going to struggle to perform a full swing. Look for a pair of shorts that isn't too tight-fitting, but are also made of stretchy fabrics that can expand with your movements.
4. Breathability
Particularly if you're playing in warmer climates a breathable pair of shorts that can keep you feeling fresh and aerated on the course is important to helping you stay cool and play your best golf. There's nothing worse than being hot and uncomfortable during your round, so for that reason, look to buy clothes that can keep you well ventilated.
5. Waterproofing and UV protection
You never know when you'll get rain, snow or sun on the golf course, so it's always best to plan ahead to ensure you're ready to play in any condition possible. For that reason, buy clothing that is durable and resistant to the elements. Water-resistant and UV-protecting shorts can be purchased at most local golf shops and can be an important piece of equipment to have to shelter you from the elements.
Some of the best golf clothes (opens in new tab) on the market provide players with a stylish look have practical features that can be used on the golf course. For more advice on what to wear on the course, take a look at our guides on the best women's golf polos (opens in new tab), best women's golf pants (opens in new tab) and the best women's golf shirts. (opens in new tab)
FAQs
Can you wear shorts on the golf course?
You can, depending on the club you're playing at and the tournament you're playing in. It's likely that most clubs and tournaments have no issue with players wearing shorts during their round. But there are more traditional events and clubs that require players to wear trousers.
Are golf shorts supposed to be long?
Not necessarily. You can get shorts that come down to below your knees but most golf shorts will typically finish above your knees, giving you more mobility to walk around the course.
Can ladies wear leggings to play golf?
Yes, leggings are generally considered an appropriate piece of attire to wear to play golf in. But you may want to check the course dress code before you turn up wearing leggings.
Alison Root has over 25 years experience working in media and events, predominantly dedicated to golf, in particular the women's game. Until 2020, for over a decade Alison edited Women & Golf magazine and website, and in addition to writing, overseeing all content and developing industry relationships, she was the go-to voice for TV and radio to comment on breaking women's golf stories. Alison is also the Editorial Director of Glorious, the new digital platform devoted to elevating women's sport and that includes golf! She is a 14-handicap golfer (should be better) and despite having had the fantastic opportunity to play some of the best golf courses around the world, Kingsbarns in Scotland is her favourite.