Best Golf Tops
Looking for the best golf tops? Here we have taken a look at the options on the market and come up with a list of our favourites.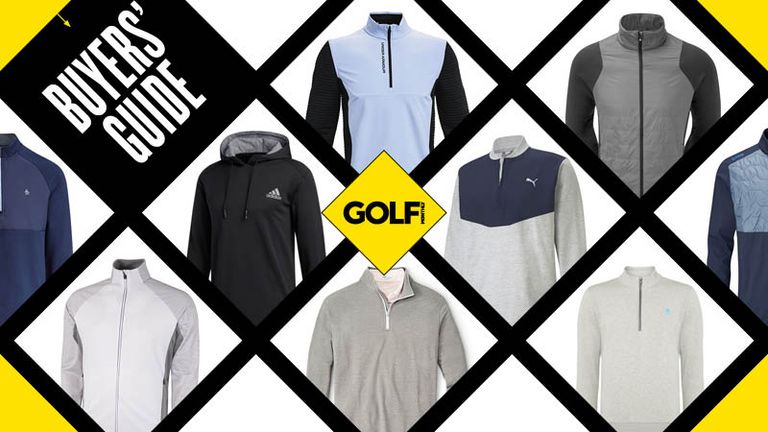 (Image credit: Golf Monthly)
By Sam Tremlett
Best Golf Tops
We all know how invaluable a good golf top can be out on the golf course, especially if you play in a climate of ever-changing weather conditions.
We need a good layer with us when out on the golf course, to keep us warm, comfortable, and as a good protector against the wind and rain.
For the fashion conscious amongst us, it has to look good too.
Fashion aside, a good golf top needs to be light and breathable because playing golf is hard enough without having to worry about a cumbersome piece of clothing that restricts the swing.
Of course the word 'top' implies anything to be worn on the top half of the body, however we have taken it to mean garments to be worn over polo shirts and under specifically designed waterproofs.
So bearing that in mind, below we have taken a look at some of our favourite jackets, jumpers, hoodies and vests that act as the best golf tops to be worn on the golf course.
Alternatively if you are looking for something else in the golf apparel sector, take a look at some of our other buyers guides too - such as the best waterproof golf jackets, best golf polos or the best golf trousers.
Best Golf Tops
Jackets
Reasons to buy
+Retains heat nicely +High quality performance
Reasons to avoid
-Waterproof needed if playing in hard rain
Building on from the popular Quilted Jacket, FootJoy has introduced the Hybrid Jacket which seeks to be the perfect top to wear on the golf course. It's quilted woven panel gives protection from the cold by retaining heat against the body and the water resistant finish repels light rain away nicely.
The design also enables you to swing freely and two more nice features are the convenient pockets and high-collar for added wind and cold weather protection.
We only wish there were more diverse colours to choose from.
Reasons to buy
+Soft, stretchy, stylish, breathable, comfortable+Very effective at taking away the chill on cold days
Reasons to avoid
-Comes up quite small in terms of sizing.
A good golf top has to keep the cold at bay, and the Dominic from Galvin Green is one of the best on this list at doing so.
It is also very soft and stretchy which we found to be important because during testing it can come up a little small in terms of sizing. That being said the give in the fabric meant we got a tailored, snug fit which wasn't actually hindering movement at all.
As far as looks go we absolutely loved it. Testing in the white/sharkskin colourway (there are two others available), we enjoyed the subtle striped pattern down the arms and colour blocking down the sides. Two front pockets provide much-needed refuge for your hands on cold days.
Galvin Green also make some of the best golf waterproofs anywhere so if you want to go that one step further be sure to have a read of our guide on protective golf apparel.
Reasons to buy
+Stretchy fit+Elasticated, cuffed wrists+Two zippered pockets
Reasons to avoid
-Not fully waterproof
We found this jacket from Ping to deliver on all fronts, with the garment offering up great warmth, lots of comfort and certainly some shower-proof qualities.
Only the chest panel is water resistant, however, so you will get soaked if you are playing when the heavens open.
If you're experiencing some light drizzle then the Dover jacket will keep you nice and dry.
The two front zip pockets are excellent and should keep your valuables safe in light rain as they are built into the front, quilted section.
At around $100/£85, the jacket offers great value as it's of high quality and can be worn for years to come.
Reasons to buy
+Incredibly warm and soft+Excellent protection from the wind
Reasons to avoid
-Not fully waterproof, but can withstand a light rain shower
If you're after a warm, premium golf wind jacket it's hard to look past this offering from Puma.
The Cloudspun fabric gives added weight and warmth to the jacket, while the Primaloft Quilting retains the heat and provides some good protection from the wind.
These two technologies work fantastically together and it kept us at very comfortable temperature throughout 18 holes.
Reasons to buy
+Comfortable and well fitting+Supreme warmth
Reasons to avoid
-Comes up a little large making sizing difficult to predict
During our testing, this jacket from adidas provided a comfortable fit thanks to the combination of the nylon and elastane dobby.
It really moved well on a variety of shots and didn't make a lot of noise which is something that can be a real annoyance with some jackets.
The star feature for us was the warmth on offer. The core section of the jacket is filled with duck down and feathers, both of which really help keep your body heat in. Having also tested the jacket on a very windy day, it offers great protection against the elements.
Stuburt Evolution Reflective Jacket
Specifications
Sizes: S-XL
Colours: 3 (Peacock, Midnight, Black)
Reasons to buy
+2-year waterproof guarantee+Lightweight and breathable
Reasons to avoid
-Not any sizes available above XL
Versatile half zip waterproof jacket which is lightweight, breathable and looks great with contrast colours across the chest and arms as well as reflective detailing.
It has a waterproof rating of 5000M with a 2-year guarantee for added peace of mind.
Jumpers
Reasons to buy
+Very warm+Made from sustainable fabrics
Reasons to avoid
-Styling won't be for all
Hit the clubhouse or the course in this thick, textured cotton-blend sweater that is soft and versatile enough to wear anytime and still offer quick-drying performance on the course.
It features adidas' Doubleknit fabric to be soft and quick-drying, and it's also made with a Soft knit that is designed to have a slight stretch.
We also think what truly separates this sweatshirt is the focus on sustainability. This, along with the Go-To collection from adidas, is made from recycled content, which is part of the brand's goal of using 100 percent recycled polyester in all of its products by 2024.
Puma Cloudspun Stlth 1/4 Zip Pullover
Reasons to buy
+Good versatility on and off the course+Low profile collar
Reasons to avoid
-Limited protection from severe weather
A top that can be used on and off the golf course – it also featured in our best golf jumpers guide – Puma has delivered extra soft feel and good performance here thanks to the Cloudspun fabric which has moisture wicking capabilities along with four-way stretch.
Not only is it a good top for when the cold weather moves in but it also works a nice layer in the sun as it is UV-resistant as well.
There are plenty of stylish colour choices to go for, but we tested and enjoyed the grey and navy model. The modern low collar is a nice touch from Puma too and we think this midlayer looks as good off the course as it does on it.
Specifications
Sizes: S-XXXL
Colours: 3 (full zip) 5 (1/2 zip)
Reasons to buy
+Tour proven performance+Windproof
Reasons to avoid
-Fit is quite large
An ultra-warm mid-layer by Under Armour, this top has a brushed interior and a smooth, fast, drying exterior thanks to Storm technology, which repels water without sacrificing breathability.
It's quite lightweight but it does provide an impressive amount of warmth, thanks to the ColdGear Technology, which has hollow fibres that trap heat but with less weight than solid fibres.
We also liked the overall design of this top in both the 1/2 and full zip models so have a think about which design you want to go in terms of length of zip.
Reasons to buy
+Plenty of warmth+Not too bulky
Reasons to avoid
-Some might prefer a more lightweight option
One of the warmest jumpers in this list, the FootJoy Ribbed Chill-Out Xtreme is great for golfers who prioritise warmth out on course.
The warmth is provided by a soft fleece lining, that also does a decent job of keeping the wind out.
The jumper has a simple, classic look but the ribbed arms and collar add some smart, modern styling.
The grey version we tested features a red FJ logo and zip to inject some colour into the top.
Inesis Cold Weather Fleece Sweatshirt
Reasons to buy
+Fleece fabric feels nice and warm+Stretchy and not restricting
Reasons to avoid
-Lacks any wow factor
As far as good value on a golf top goes this Inesis option is right up there. For less than £30 you can get a top that keeps you warm thanks to the fleece fibres which trap air.
This fleece also makes it comfortable and windproof too whilst there are also water-repellent panels on the shoulders. Did we mention it is also stretchy and doesn't hamper movement too?
FootJoy Camo Floral Half Zip Top
Reasons to buy
+Very soft fabric construction+Modern, athletic fit
Reasons to avoid
-Camo design won't be for everyone
If you want great performance with a design that stands out, then look no further. This midlayer features a solid colour body with a unique camofloral design on the sleeves, shoulder and collar.
The garment material is super smooth, lightweight and it is made from an easy to care for ProDry polyester fabric with just the right amount of stretch which will allow a tremendous amount of free movement for the wearer.
TravisMathew Stopover Pullover
Reasons to buy
+Works well as a mid-layer+Versatile on or off course
Reasons to avoid
-Questionable elemental protection
We are fast becoming fans of TravisMathew because the brand makes some of the best designer golf clothing anywhere.
Take this pullover top for example. It would look right at home on and off the course and is made from a four-way stretch, wrinkle resistant and supremely comfortable fabric that makes it very easy to wear all day.
Hoodies
Adidas Cold.Rdy Hoodie
Reasons to buy
+Fantastic warmth on offer+Stylish, modern design
Reasons to avoid
-Traditionalists will be put off
We think the best golf tops have their own style and this hoodie is a case in point.
Gone are the days where hoodies aren't allowed on golf courses so take full advantage of that with this smart, comfortable and soft garment with Cold.Rdy technology which insulates and manages moisture to make sure you are prepared to play. One of the best golf tops on this list that symbolises the current game of golf.
Reasons to buy
+Very stylish+Ultimate on/off course garment
Reasons to avoid
-Not a genuine performance fabric, meaning little protection from the elements
Although not constructed from a true performance fabric – we're talking more comfort and style with this garment – we found this hoodie did a great job of keeping our body warm on those occasions when there was just a bit of chill in the air.
On a really cold day, you might want to wear something over the top, and if it warms up, you'll need to remove it.
On a similar note, and just like with many of the other G/FORE garments we've tested, we found the sleeve length to be spot on, so at no point did we find ourselves distracted and having to play around with excess or baggy material in our eye line.
Hoodies are the newest trend in golf fashion and this example hits all the right notes.
Reasons to buy
+Versatile enough to be worn anywhere and works well with polos and midlayers +Warm and comfortable.+

Reasons to avoid
-Pockets are on the small side
This adidas hoodie keeps you warm in cool conditions with its COLD.RDY design.
There's a cinch the drawcord on the hood for extra protection and the comfy cotton blend has built-in stretch for full range of motion.
We think it offers good value because it is so versatile, and the combination of warmth, comfort, and use of recycled polyester really elevates this garment in our eyes.
Castore Garcia Hoodie
Reasons to buy
+Protection against the elements+Versatile design
Reasons to avoid
-Not many colour options
A relatively new brand making waves in the golfing world is Castore, a company that also outfits the McLaren Formula One team.
One of the best pieces in the 2021 range is this Garcia hoodie. It has been made using a unique fabric which is both wind and water resistant - while retaining that soft stretch jersey handle with a high degree of flexibility.
A lightly brushed interior feels great to wear, while signature Castore branding is featured on the front.
Very few golf hoodies have such well-rounded elemental protection, making this one stand out from the crowd.
Under Armour Storm Sweaterfleece Hoodie
Reasons to buy
+Good value+Water repellent
Reasons to avoid
-Quite a high collar
The Under Armour Storm SweaterFleece Hoodie is a good example of making hoodies understated and therefore perfect for what could be the strictest of dress codes. It offers a stylish and casual aesthetic without limiting the technical specifications which often differentiates Under Armour from every other brand.
Constructed with Under Armour Storm tech, the hoodie is water repellent and retains excellent levels of breathability. The soft brushed fleece interior adds to the comfort.
We also think it works perfectly as a midlayer, and an outer layer so it is incredibly versatile.
Vests
Reasons to buy
+Lightweight yet warm+Not too bulky+Great colour choices
Reasons to avoid
-Perhaps too warm to wear over a jumper or midlayer
The first thing you notice when you take it out of the packet is just how light it is. It really does weigh next to nothing. 'Featherlight' would not be an exaggeration.
Put it on and walk a few paces and you'll quickly realise that its capacity to keep your upper body unbelievably warm knows no bounds.
Any padded garment risks being bulky to store, but that's not an issue here as the Anton gilet folds down very compactly for storage in the main pocket of your golf bag.
It's also available in four colour options so you can match it to a number of styles already in your wardrobe.
Reasons to buy
+Quilted warmth+Keeps you dry in a light rain shower
Reasons to avoid
-Can't wear another layer on top
The Cloudspun fabric on the side of this gilet is incredibly soft and has a real premium feel to it. As for it's main task - keeping you warm - the quilted front and back are excellent.
The front and back of the vest utilises Puma's Primaloft Gold Quilting and it is both warm and windproof - ideal for autumn or winter golf days.
It's a great layering piece, but we found it slightly too large to put a further jacket over the top of it.
FootJoy Hybrid Vest
Reasons to buy
+Excellent protection from all elements+Waterproof
Reasons to avoid
-High collar
This vest is made from stretch jersey lined jersey fabric with quilted woven panels for body heat retention and comfort and water resistant DWR finish for protection from light rain.
The woven section cut in over shoulders for added freedom of movement while the extended high collar provides added wind and cold weather protection.
Galvin Green Louie Interface-1 Full Zip Bodywarmer
Reasons to buy
+Fabric and padding creates soft, comfortable feel+Vest design gives great range of movement
Reasons to avoid
-Premium price will deter some
A premium golf apparel brand, Galvin Green has been making some of the best golf tops for just over three decades now and this Louie is no exception. It features the Interface-1 technology which aims to give optimum protection and ultimate comfort in lots of different weather conditions, whilst also being breathable and made from a stretchy fabric to aid the golf swing, not hamper it.
It is completely windproof and benefits from Galvin's proprietary soft-shell fabrication which has been specifically designed to block any wind whilst also offering water resistance.
Overall we think it is ideal for golfers who want to remain warm on those chilly spring and autumn days, but don't want to have to wear full waterproofs, and also keep a good range of mobility.
For more models like this, check out our guide on the best golf vests too.