Best Golf Tops 2022
Looking for the best golf tops? Here we have taken a look at the options on the market and come up with a list of our favorites.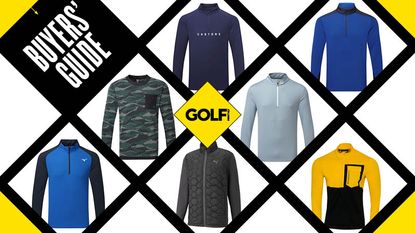 (Image credit: Golf Monthly)
Best Golf Tops
We all know how invaluable a good golf top can be out on the golf course, especially if you play in a climate of ever-changing weather conditions. We need a good layer with us when out on the golf course, to keep us warm, comfortable, and as a good protector against the wind and rain. For the fashion conscious amongst us, it has to look good too.
Fashion aside, a good golf top needs to be light and breathable because playing golf is hard enough without having to worry about a cumbersome piece of clothing that restricts the swing. Of course the word 'top' implies anything to be worn on the top half of the body, however we have taken it to mean garments to be worn over polo shirts and under specifically designed waterproofs. So bearing that in mind, below we have taken a look at some of our favorite golf tops.
Alternatively if you are looking for something else in the golf apparel sector, take a look at some of our other buyers guides too - such as the best golf rain jackets, best golf polos or the best golf trousers.
Best Golf Tops
Why you can trust Golf Monthly Our expert reviewers spend hours testing and comparing products and services so you can choose the best for you. Find out more about how we test.
Adidas Texture Print Crew Sweatshirt
Sizes: XS-2XL
Colors: 3 (Green, Black, Hemp)
+ Very soft and warm
+ Environmental construction
- The print will divide opinion
Right out of the gate, the camo-esque print on this sweater will divide opinion and our tester was definitely not sure about it. But it actually grew on him over time, whilst there are so many other little elements to this sweater which make it an excellent product.
Made with 100% recycled polyester polar fleece, it has the environment at the heart of its design, and this material feels so soft and warm, without any of the bulk or heaviness that can come from fleece tops. In fact the lightness of this top has to be felt to be believed.
It also has good elastic cuffs, a water repellent coating, comes in sizes ranging from XS-2XL, and is available in three different colors, with the model pictured being the most subtle of the three.
FootJoy ThermoSeries Hybrid Jacket
Sizes: S-2XL
Colors: 2 (Charcoal, Navy)
+ Keeps you very warm in cold conditions
+ Excellent mobility and super stylish
- Drawstring at the rear can be distracting
For golfers aiming to play through the winter months, the ThermoSeries hybrid jacket looks to be a compelling mid-layer option. First, the warmth on offer is outstanding and it promotes mobility in the swing too via the stretchy sleeves which have a stylish woven tire finish to them. The other nice touch you'll notice is the adjustable collar, which can loosen or tighten via the elasticated cord positioned at the back
For such a warm garment, it's weight (or lack of it) is a noticeable plus point. It's also pretty thin despite the woven quilted sections on the front, which means you can combine it easily with other layers underneath. Finally we enjoyed the styling as well and it is the kind of top you will use both on and off the course with ease.
Under Armour Storm SweaterFleece Zip
Sizes: S-XXL
Colors: 6 (Black, Gray, Navy, Petrol Blue, Blue, Red)
+ Supremely comfortable
+ Great styling
- Zip pocket difficult to open
This is easily one of Under Armour's best looking and most impressive products in the current range for the colder months. The Storm SweaterFleece offers up supreme comfort with a soft, stretchy fit in all areas that really is a joy to wear both on the course and away from it. Once you try it on, you'll not want to take it off.
It's packed with technology too - surprisingly it repels water, which you wouldn't think when you see it and put it on. We love the styling with the two-tone colorway and the zipped chest pocket is a very handy addition, although it is nigh-on impossible to open with one hand due to the material folding in on you. A minor and rare con of this superb garment, which is very well priced. It also comes in five different colorways, so golfers who enjoy this can purchase multiple variants that all look great and different from each other.
Sizes: S-XXXL
Colors: 4 (Black, Stormcloud, Quarry, Blue)
+ Very warm
+ Water resistant
- No pockets
The Marshall midlayer from Ping will keep you nice and warm on all but the coldest days, and it has also been engineered to be water resistant, too. The fit is perhaps on the snug side so if you like a looser-fitting garment then we'd recommend sizing up, but on the whole it does fit well thanks to some in-built stretch. That stretch helps it feel very easy to flex in when hitting golf shots.
The bottom cuff can be adjusted tighter around your waist, which is a nice touch. We also loved the texture of the polyester print and the added detailing around the wrists, which matches the zip and collar colors. In total, the Marshall comes in four colors with black, gray and two blue options. There are no pockets to speak of unfortunately, one of the only real drawback of this excellent golf fleece.
Puma Cloudspun WRMLBL Jacket
Sizes: S-XXL
Colors: 2 (Black, Navy)
+ Incredibly warm and soft
+ Excellent wind protection
- Not fully waterproof, but can withstand a light shower
If you're after a warm, premium golf windbreaker it's hard to look past this offering from Puma. The Cloudspun fabric gives added weight and warmth to the jacket, while the Primaloft Quilting retains the heat and provides some good protection from the wind.
These two technologies work fantastically together and it kept us at very comfortable temperature throughout our testing. We also really liked the drawstring at the waist which can be adjusted very easily, and we always like a jacket to come with good pockets.
Read our full Puma Cloudspun WRMLBL Jacket review
(opens in new tab)
Sizes: S-XXL
Colors: 2 (Navy, Grey)
+ Classic premium styling with a twist
+ Performance fabric offers warmth and is easy care
- More color options would be welcome
G/Fore are perhaps best known for eye-catching designs with attitude and while this midlayer has a lot of style it's at the more understated end of the brand's collection and will appeal to a wider range of golfers. There's still touches of flair though - notably the brand's signature 'Daytona' tri-color stripe details on the zippers and the rubberized Circle Gs logo on the neck.
Even though this is a low key design it's an exceptional technical garment. The super stretchy material allows total freedom in your swing and it also offers a lot of warmth thanks to the luxurious 'mossed' interior. Also worth highlighting is the perfect arm and body length.
J Lindeberg Methis Mid Layer
Sizes: S-XXL
Colors: 3 (Yellow, Red, Purple)
+ Extremely mobile
+ Surprisingly warm
- No safe color options
If you're looking to stand out on the course this off-season while attempting to play your best, then look no further than the Methis half zip. It comes in three bold color options but this top is by no means style and no substance. It's one of the most stretchy mid layers you'll ever try, which means it doesn't matter that the fit is more snug than most too.
It really moves with you as you swing while keeping the majority of the cold temperatures at bay. On very chilly outings, you'll need to add a base layer or sweater but the Methis combined with a polo shirt will suffice on most days. As well as being super stretchy, it's also very stylish.
Oscar Jacobson Trent Tour Mid Layer
Sizes: S-3XL
Colors: 2 (Blue, Black)
+ Good versatility
+ Very stretchy fabric
- Not one for wet weather
Oscar Jacobson boasts a rich heritage, which dates back over a hundred years. The brand describes its design philosophy as "Scandinavian simplicity combined with the inspiration of Italian tailoring and British textile tradition."
This mid-layer has a great fit and the fabric is super stretchy to allow for no resistance in the golf swing. The fabric is high quality, as you'd expect with OJ clothing, and the premium feel and looks means it should be a part of your wardrobe for a long time.
Read our full Oscar Jacobson Trent Tour Mid Layer review
Callaway Heather Stripe Sweater
Sizes: S-XXL
Colors: 4 (Dark Navy, Black Heather, Mazarine Blue, Dark Lichen)
+ Good Thermal protection
+ Multiple color options
- No side pockets
This sweater is packed with technology. It's extremely lightweight, yet a thermal layer helps keep you warm in testing conditions. It features Opti-Dri which is designed to wick away moisture to keep you dry and it also showcases Callaway's Swing Tech which provides reduced restriction and extra stretch to allow you to swing freely.
It's a stylish sweater with eye-catching heather stripe. The soft, thermal layer makes it very comfortable if you wear with just a polo, but room to move means it will also work well as a mid-layer with a base layer or lightweight sweater underneath.
Stuburt Active Tech Mid Layer
Sizes: S-3XL
Colors: 3 (Black, French Navy, Slate Grey)
+ Breathable
+ Lightweight
- Not very fashionable for off course
Stuburt continues to work to make its products more fashionable, and this mid-layer is no exception, with a contrast chest and back panel that gives the product an almost camo feel. The reflective Stuburt badge is something that will not appeal to everyone, but it is a standout feature.
This mid-layer is clearly a golf product and not one that you would think would be worn out to the pub. However it is a very solid performer, with thermal and windproof properties, and it easily fits over thin or thick polo shirts, while also being quite comfortable under a waterproof jacket. The price of the product is also one that will appeal to many.
FootJoy ThermoSeries Mid Layer
Sizes: S-XXL
Colors: 3 (Grey/Stone, Charcoal/Grey, Navy/Slate)
+ Very lightweight
+ Moves in tune with the golf swing
- Would have to be worn with multiple layers on a cold day
This is a stylish, half-zip mid-layer which works well during the changing seasons. It is easily light enough to store in your golf bag without adding any real extra weight and the half zip design makes it easy to put on/take off during the round.
We really liked the modern dotted styling which looks great in all three available color options. The grey and stone version (pictured here) works particularly well with navy trousers creating a smart, modern look for the course.
This isn't designed to offer maximum protection from the cold but when the temperature is particularly low, it will sit neatly underneath an outer layer without restructuring your range of movement. The cuffs are nicely fitted, preventing any unwanted material from interfering with your grip.
Lyle & Scott Lightweight Wide Stripe Midlayer
Sizes: XS-XXL
Colors: 3 (Navy, Retro Blue, Black)
+ Stylish looks means it can be worn on-and-off the course
+ Stretch fabric allows for great freedom of movement
- Thin material wouldn't suit cold or windy conditions
Firstly, the Midlayer features in a range of colors to match many outfits out on the golf course. However, it is also away from the course that it has a host of advantages, with the simple wide stripe design making it a suitable garment for an evening out.
The most notable factor though is how lightweight and stretchy it is, with the dynamic stretch giving you so much freedom of movement throughout your golf swing. It is let down slightly though by its thin material, which is also pretty much see-through.
Although, this may not be an issue as you wouldn't choose to wear it on a windy, wet winter's day, it can be slightly limiting as to when you can wear it. Overall though, it is a superb midlayer that will not hinder your performance or your style.
Peter Millar Thermal Flow Microfleece Half Zip
Sizes: S-2XL
Colors: 5 (Black, Navy, Estate Blue)
+ Lightweight performance fabric offers a lot of warmth
+ Looks good on and off course
- More versatile mid layers offer rain protection
Fleeces seem to have taken a bit of a back seat when it comes to performance fabrics used for golf clothing but this Thermal Flow Microfleece showcases its benefits. This half zip features a stretch performance fabric that provides maximum warmth and comfort but allows an unrestricted swing.
There are two side pockets that are suitable for tees, ball marker and pencil. Available in 5 colors from black and blue to a really eye-catching Lilly Pad green. One thing to highlight is that the fit is snug. If for example a medium in Classic Fit Peter Millar is normally perfect for you then you may need to go up to a size large.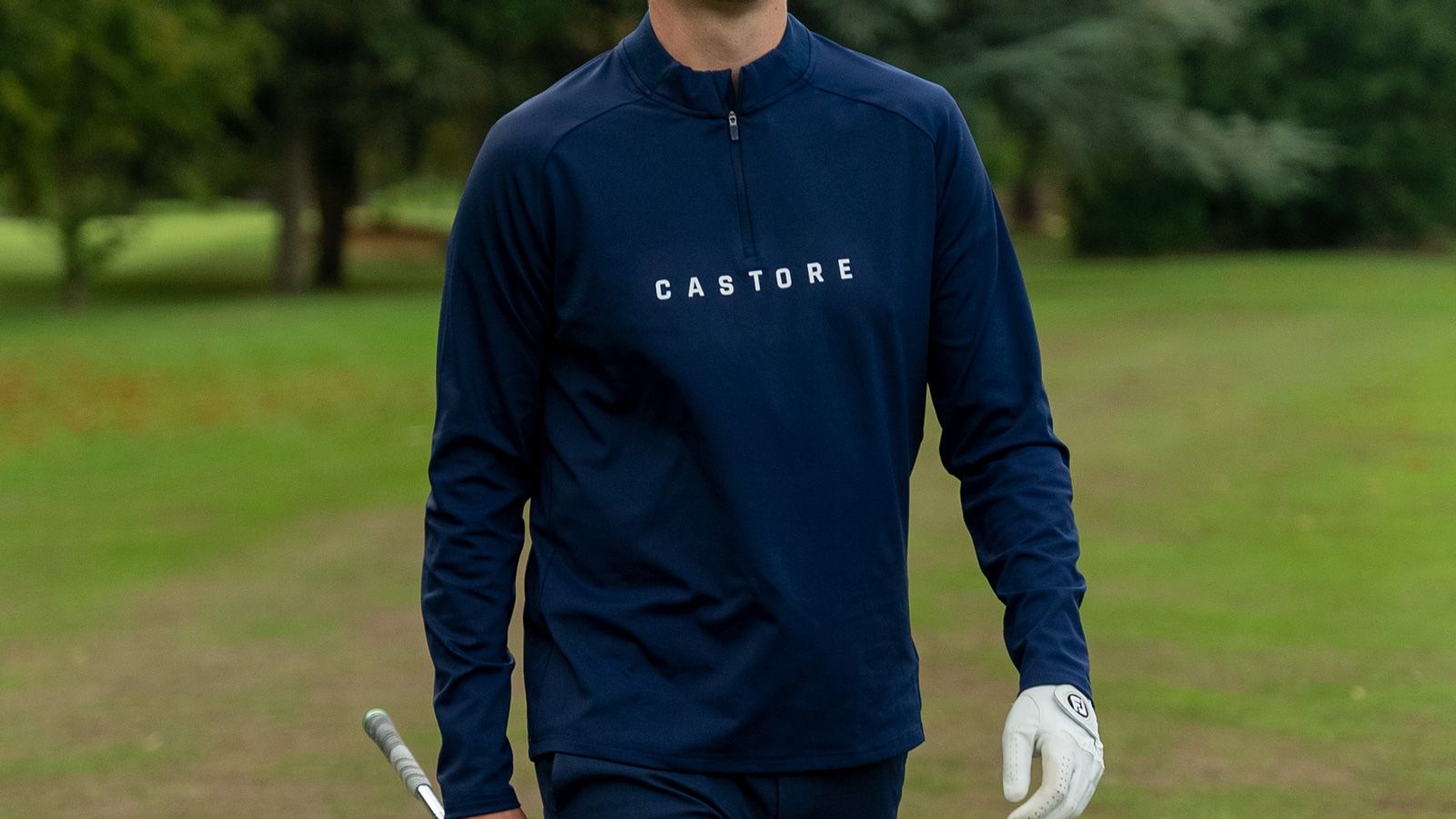 Castore Peacoat Golf Vita Mid Layer
Sizes: XS-XXL
Colors: 3 (Peacoat, Azure, Mist)
+ Snug, tailored fit
+ Ergonomic rib collar for comfort
- Bold styling
This soft and stretchy mid layer has clearly been designed with the golfer in mind. The fit is snug yet the material has a substantial amount of give in it, so as to not impede your range of movement in any way. It's comfortable thanks to the ergonomic rib collar and the fabric has an element of water resistance to it, meaning you won't have to reach for the waterproofs during a light shower.
The Castore graphic across the chest is bold and won't be to everyone's taste, although we quite like it as a point of difference in the market. This is a highly appealing mid layer at a great price from a new brand seemingly taking the sports world by storm.
(opens in new tab)
Original Penguin Golf Heritage Track Jacket
Sizes: S-XXL
Colors: 1 (Navy)
+ Stylish jacket can be worn on and off course
+ Water repellent coating
- Sporty styling will put some off
One of the brand's producing golf clothing that can just as happily be worn away from the course is Penguin. Its Heritage Track Jacket is a perfect example. The full zip design, stretch zip collar and sleeve colors all combine to create a modern-looking garment that works just as well on and off the course.
The stretchable fabric works well with the golf swing and it is nicely fitted around the cuffs to prevent any interference when you grip the club. What's more the fabric itself has a water repellant coating that should help to keep you dry. We also like the warmth and versatility on offer here.
Sizes: S-2XL
Colors: 4 (Blue, Grey, Olive, Purple)
+ Smart look and feel
+ Flexible and good for all seasons
- Lack of elastic at base of body can lead to a loose/shapeless look
As a winter top, this comfortable ¼-zip has a surprisingly thin feel to the material but still offers warmth and comfort. It is distinguished by the black back and upper sleeves which go well with the choice of four main colors for the front. The un-elasticated cuff and base offer a relaxed fit, and this contrasts well with the more athletic fit round the torso.
There is a subtle Mizuno logo front and back, and I found that despite the snug upper-body fit, there was no hindrance on my swing. The styling drew compliments from my playing partners, and the thinness of the material means it can easily be teamed with a combination of base-layer, shirt and/or over-top.
(opens in new tab)
Sizes: S-XXL
Colors: 4 (Black, Navy, Light Grey, Navy Camo)
+ Stylish and warm mid layer
+ Excellent flexibility through the swing
- Could be more windproof
The Glenmuir Forth mid layer golf top is an ideal garment for wearing over a polo shirt and under a wind or waterproof top. The style is an athletic fit and the 10% elastane stretches to give it excellent flexibility throughout the swing.
The padded section on the chest and back of the shoulders adds a greater degree of warmth as it might have been nice to see this extended over a greater area so the Forth top could be worn by itself on windy days.
As it is, the polyester body has been treated with a water repellent finish, but is not particularly wind proof, hence why the Forth is more of a layering top.
Chervo Tini Half-Zipped Turtleneck
Sizes: S-2XL
Colors: 5 (White, Light Blue, Blue, Green, Black)
+ Classy feel to the fabric both inside and out
+ Comfortable fit around the neck even when zipped right up
- Not overly keen on the style or feel of the elasticated wrist cuffs
Described as a half-zipped turtleneck, this top certainly delivers comfort plus warmth beyond what you might expect from quite a thin-feeling fabric. This comes via Chervo's Pro-Therm fabric technology, with the brushed feel to the inside no doubt contributing on the warmth front. Sometimes garments like this can feel a little uncomfortable in the neck department when zipped all the way to the top, especially for those with a little more chin than they would ideally like!
But there was no issue here and yet our only minor gripe would be the feel of the slimline elasticated wrist cuffs.
Crew Clothing Bunker Tech Mid Layer
Sizes: XS- XXXL
Colors: 2 (Navy Blue/Grey)
+ Stretches with your body as you swing
+ Sporty fit, can be worn with layers on top
- Styling may be too simple for some
A thermal mid layer is an important staple for any golfer's wardrobe. If you're looking for a lightweight one to store in your bag and wear as the temperature changes, Crew Clothing has a classic option to consider.
The Bunker Tech mid layer is made from a technical, polyester and elastane blend that is incredibly lightweight and stretches with your body as you swing. The simple styling makes it hugely versatile - we tested the grey version which would happily go with a range of different colored trousers or shorts.
This might not offer a huge amount of warmth on its own but it is light enough (and well fitted enough) to be worn under an outer layer without becoming too bulky and restricting your golf swing.
Sizes: S-XXL
Colors: 3 (Navy; Grey; Red)
+ Extremely soft and comfy
+ Made from recycled materials
- Slim fit may not suit every golfer
OCEANTEE's Manta midlayers are made from 100 percent Merino wool which is firstly naturally biodegradable but is also one of the most comfy materials you can wear on the course. And having worn this product ourselves, we can certainly vouch for that. The material is soft and warming and stretches to the movements of your swing.
While this is a slim fit fleece, it may not be the best fit for every golfer, but it delivers a very smart look, thanks to the exceptional detailing on the fleece. It's also 100 percent plastic free, and is a great option for any player conscious about reducing their carbon footprint.
Farah Golf Conley Quarter Zip Pullover
Sizes: S - XXL
Colors: 4 (Dusky Blue, Regatta Blue, Farah Teal, Dark Shadow)
+ Great heat control capabilities
+ Mix of materials/patterns make for a really smart look
- Does sometimes ride up during swing
The Conley Quarter Zip from Farah Golf features a polyester and cotton mix, which you can see in an almost half and half design on the front of the midlayer. We think it's very smart and, thanks to the ribbed collar, cuffs and hem, it fits snuggly without restriction.
The only slight negative is that, occasionally, if you go all-out on full shots, it does ride up sometimes, but when it has been worn a few times, it performs superbly as it stays put and doesn't move. What's more, it is very breathable; this is thanks to the quarter zip, which also features a sturdy rubber Farah logo grip, making it easy to adjust to the releavant length depending on whether you want to keep warm or cool down.
How we test golf tops
We test golf apparel (opens in new tab) in the same way we test all golf equipment, by using products properly. In relation to tops this means putting them to the test out on the golf course to see if the design is well thought out, if the garment interferes with the swing in any way, and simply if the top is actually usable. We would also wear the tops off the golf course as well because versatility to use a garment anywhere is a great way to get value for money. The final point we wanted to mention here is no manufacturer can pay for a good review because our thorough testing team tells it how it is.
What to consider when buying a golf top
There are several factors to consider when it comes to buying a golf top and here we have listed them.
Type - What we mean here is what type of golf top are you after? It is a vague term that means covering the top half of the body and as such we have listed jackets, hoodies, vests and jumpers in this guide. Each type of top offers something a little bit different in terms of performance, feel and look so before going any further down the buying road, have a think about this.
Additionally we also mean in relation to when you want to wear the top because some models above will be better for the summer, some will be better for the winter so have a think about when you will wear the top and what you want it to do.
Material - Linking with the above point, knowing what you are after will help you decide what material to go for. The fleece models above will keep the cold at bay whilst ones with more spandex in them will help you move easier and won't restrict the golf swing in any way. Additionally we have found the models with cotton in them are often the best for wearing out and about as well, and they are very easy to wash.
Movement - One of the big things around golf tops is freedom of movement and whether they can restrict or negatively impact the swing. Many don't like hoodies because the hood flies around during the swing, and others think vests constrict the arms a touch. The hood flying around is a common point made by people. As such, we would recommend trying on models and taking swings in them to see if you still offer the same range of movement.
Looks - This is an important factor to consider. Do you want to stand out or just have a more understated look? We think there is something for everyone above.
Versatility - Do you want to be able to use the top anywhere from the golf course to the pub to at home? This is an important factor if you want to get more for your money.
Budget - Finally be aware of your budget so you can find a top that fits into it nicely. Importantly there are models above which come with premium, and value price points so there is something for everyone.
FAQ's
What is the best golf clothing?
There is no doubt that there are countless brands out there that make high-quality golf clothing and when it comes to the best this can relate to big brands like adidas, Puma and Under Armour, as well as smaller ones like TravisMathew, Stuburt and Oscar Jacobson. What should be acknowledged is different clothing does different things so depending on when and where you are using the clothing, the best models will help deal with whatever you are facing. For example if you are faced with bad weather, the best waterproofs will help you on the course.
We hope you enjoyed this guide on the best golf tops and for more golf apparel content check out the Golf monthly website.
Also take a look at our guides on the best, jumpers, hoodies and vests for the golf course as well.
A golfer for most of his life, Sam is a Senior Staff Writer for Golf Monthly.
Working with golf gear and equipment over the last five years, Sam has quickly built outstanding knowledge and expertise on golf products ranging from drivers, to balls, to shoes.
He also loves to test golf apparel especially if it a piece that can be used just about anywhere!
As a result he has always been the one family and friends come to for buying advice and tips.

He is a graduate of Swansea University where he studied History and American Studies, and he has been a part of the Golf Monthly team since December 2017. He also previously worked for World Soccer and Rugby World magazines.
Sam now spends most of his time testing and looking after golf gear content for the website. He also oversees all Tour player content as well.
Unfortunately, Sam is not a member of any club at the moment but regularly gets out on the golf course to keep up the facade of having a handicap of five.