Best Golf Tops 2023
Looking for the best golf tops? Here we have taken a look at the options on the market and come up with a list of our favorites.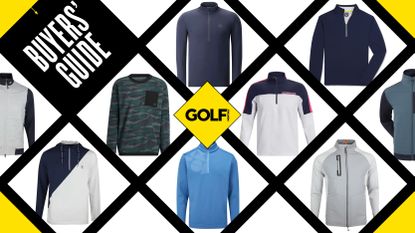 (Image credit: Golf Monthly)
Best Golf Tops
We all know how invaluable a good golf top can be out on the golf course, especially if you play in a climate of ever-changing weather conditions. We need a good layer with us when out on the golf course, to keep us warm, comfortable, and as a good protector against the wind and rain. For the fashion conscious amongst us, it has to look good too.
Fashion aside, a good golf top needs to be light and breathable because playing golf is hard enough without having to worry about a cumbersome piece of clothing that restricts the swing. Of course the word 'top' implies anything to be worn on the top half of the body, however we have taken it to mean garments to be worn over polo shirts and under specifically designed waterproofs. So bearing that in mind, below we have taken a look at some of our favorite golf tops.
Alternatively if you are looking for something else in the golf apparel sector, take a look at some of our other buyers guides too - such as the best golf rain jackets, best golf polos or the best golf pants.
Best Golf Tops
Why you can trust Golf Monthly Our expert reviewers spend hours testing and comparing products and services so you can choose the best for you. Find out more about how we test.
Adidas Elevated Quarter Zip Pullover
Sizes: XS-2XL
Colors: 4
+ Classic looking style
+ The ideal mid-layer
- Touch tight making sizing important
Adidas regularly gets the quarter zip right and this latest version continues that theme. It is a very versatile top that has sustainable construction at its core and a well thought out design that lends itself to a lot of usage.
I think it works well as a thin layer on those warmer days and teams up perfectly with another larger garment on those colder days as well. It is worth saying it does offer a pretty tight fit and whilst there is a bit of stretch, I would probably recommend going up one size if you want a touch more room. But overall it looks great, feels good on the skin and has enough sizes and colors to keep a lot of people happy.
G/FORE Hooded Luxe Quarter Zip Mid Layer
Sizes: S-2XL
Colors: 2
+ Understated but stylish design
+ Moisture wicking
- No pockets
Made with added stretch fabric for maximum mobility, this hooded quarter zip mid layer from G/FORE is an ideal garment to wear under a jacket or gilet in the winter, while also providing an excellent option over a polo for those cooler evenings or autumn days when you need something light to keep out the chill. We were impressed with the comfort factor and the stretch qualities, while the moisture wicking properties make this an ideal item to have in your golf bag regardless of the time of year. The lack of pockets is a slight drawback but not an issue when paired with the excellent G/FORE Repeller Gilet.
Nike Tour Essential Golf Jacket
Sizes: XS-4XL
Colors: 2
+ Surprisingly warm
+ Totally noninvasive
- No hood
The first thing to note with the Nike Tour Essential Men's Golf Jacket is how surprisingly warm it was despite being made up of such a thin and lightweight water-repellent fabric. We were only wearing this on top of a polo, and a particularly windy day felt like a mild summer evening. The second huge positive to note was that it looked tailored but at no point did it restrict any kind of movement in the upper body, thanks to the slightly stretchy material.
The incredibly large pockets will split opinion, as will the double pulley zip. The lack of hood does hold it back slightly, but overall it is still a high-quality jacket which is excellent value for money.
Macade Slate TX Air Mock Neck
Sizes: S-XXL
Colors: 1
+ Modern, contemporary look
+ Thin, lightweight material
- Not overly warm
Macade Golf are producing some really cool crossover fashion pieces and the Slate TX Air Mock Neck sweater is certainly one of them. The sweater is extremely thin and lightweight which is ideal for those autumn days where one layer is not quite enough but a thicker sweater might be too much.
The Slate TX Air Mock Neck sweater is constructed from 70% viscose and 30% nylon. Because of how thin it is, coupled with the extreme stretchiness, it provides great freedom of movement throughout the swing. The retro blocks on the shoulders look super cool and we loved the unusual centered logo on the chest. The fit is certainly athletic, it sits very close to the body, but as it is so stretchy your normal size will probably work just fine.
Callaway Midweight Textured Quarter Zip Fleece
Sizes: S-XXL
Colors: 4
+ Eye-catching look
+ Nice and warm
- Loose-fitting wrist cuffs
When you turn up at a Golf Monthly test day and several colleagues comment on what you're wearing, you know the brand has either got it spectacularly wrong or spot on. We're pleased to say it was very much the latter here, certainly with regard to the stylish 'oatmeal' option. The textured fabric is different and looks good especially with the navy accents. A big plus is that it's comfortably warm without being too warm – so plenty of days when you could wear it. The loose-fitting cuffs might not suit those with shorter arms, and we did pick up a couple of pulled threads on visits to the woods and bushes, but that may have been more down to carelessness on our part.
Crew Clothing Champion Golf Half Zip Sweatshirt
Sizes: S-XXXL
Colors: 1
+ Extremely comfortable and flexible
+ Versatile on and off the course
- Some may find a little heavy
The Crew Clothing Champion Golf Half Zip sweatshirt is made from 89% polyester and 11% elastane which provides great movement. As well as the movement, there is also a nice structure to this mid layer with a reassuring thickness that definitely keeps the cold at bay. We particularly liked the slightly weightier waistline which helped to stop the sweatshirt riding up annoyingly on our follow through.
The fit is pretty regular, not too figure hugging but certainly not loose, which makes it a pretty versatile piece which would look just as good with a pair of jeans in the evening as it does on the course. The construction feels very high quality as you would expect from a company such as Crew. This half zip mid layer would make a nice addition to any wardrobe.
Lyle & Scott Golf Overlay Knit Jumper
Sizes: XS - XXL
Colors: 2
+ Plenty of stretch
+ Minimalist design is very smart
- Limited colors
This combines Lyle & Scott's Merino wool blend for the body and synthetic material panelling for the chest and shoulders to create a really smart and stylish piece. In testing, the main stand-out was the stretch, specifically around the shoulders and back, which allowed for plenty of freedom of movement.
I felt the sleeves were slightly baggy but, when pushed up the forearm, they did seem to keep in place throughout. What's more, the 1/4 Zip design meant that the temperature and breathability was exceptional, with the overall look suggesting it could be worn both on and off the course.
Sizes: S-3XL
Colors: 3
+ Very soft and comfortable top
+ Graphic print looks cool
- Waist adjusters
The Elevation midlayer from Ping is a favorite of ours, it made our Editor's Choice list, for several reasons. To start the brushed fleece was extremely comfortable in testing and it stretched nicely throughout the swing as well. The cuffs felt comfortable on the wrists or forearms, whilst the collar felt soft and in no way irritable around the neck.
The design itself, which is inspired by the Ping Split golf ball, looks cool and has a nice texture to it, although we aren't sure if this top has much versatility because of the print. We also weren't big fans of the waist cuff adjusters which were a little fiddly.
Sizes: S-2XL
Colors: 2
+ Smart look that's incredibly versatile
+ Lightweight and stretchy fabric
- Some may prefer a more athletic fit
If you are looking for a lightweight midlayer, FootJoy has a new HYPR garment that's available in two simple color options, navy and grey. The fit is fairly traditional and as you'd expect, the lightweight fabric is noticeably stretchy. In fact the first thing you'll notice about this quarter-zip is how lightweight it is. Whilst you might not want to wear it as an outer layer on a cold day, it can easily fit beneath a heavier sweater or waterproof without adding too much bulk and restricting your swing. Overall for me, this is an ideal garment to leave in the golf bag during the summer months, whilst the simple styling adds versatility.
Sizes: S-XXXL
Colors: 4
+ Impressive warmth
+ Soft and stretchy material aids movement and comfort
+ Stylish, modern design
- Look of the back pads won't please all
This warm and stretchy pullover will serve you well on those chilly early morning outings. This is thanks to Galvin Green's impressive Insula fabric, which traps warmth from the body very extremely to keep you warm while also being breathable.
Pads on the back and shoulders help with this while also providing some extra protection for those that like to carry their bag. The fit is pretty snug, but the movement in the material means you can swing unrestricted, and the design of the cuffs means they stay in place and won't be a distraction. You get a lot for your money here given how stylish and versatile this mid layer is.
Under Armour Storm Midlayer Half Zip
Sizes: S-XXL
Colors: 6
+ Four-way stretch
+ Water repellent
- Can run a touch loose
The Under Armour Storm Midlayer Half is one of the most versatile of its kind. The brushed fabric provides great warmth on those colder days, meaning you don't have to worry about feeling restricted in too many layers. The zip allows for easy removal if you get too warm and the four-way stretch allows for the golfer to move athletically when on the course.
This midlayer won't look out of place off the course and doubled up well as a gym sweater for myself. There are multiple color options, allowing you to choose either a bold or classic colorway. Storm technology repels water while also remaining extremely breathable even in warmer weather.
Puma Cloudspun WRMLBL Jacket
Sizes: S-XXL
Colors: 2
+ Incredibly warm and soft
+ Excellent wind protection
- Not fully waterproof, but can withstand a light shower
If you're after a warm, premium golf windbreaker it's hard to look past this offering from Puma. The Cloudspun fabric gives added weight and warmth to the jacket, while the Primaloft Quilting retains the heat and provides some good protection from the wind.
These two technologies work fantastically together and it kept us at very comfortable temperature throughout our testing. We also really liked the drawstring at the waist which can be adjusted very easily, and we always like a jacket to come with good pockets.
Read our full Puma Cloudspun WRMLBL Jacket review
Castore Soft Shell 1/2 Zip Mid Layer
Sizes: XS - XXL
Colors: 2
+ Ample warmth and wind protection
+ Subtle yet stylish design
+ Plenty of flex in the fabric
- Comes up quite large/baggy
Substantial enough to offer excellent protection from the elements while also feeling quite lightweight, it strikes the balance golfers are looking for, this new mid layer from Castore is a fantastic option for any golfer looking for a lightweight and smart top that will attract plenty of looks on the golf course.
We loved the subtle Castore branding again gives this top a really premium look. It is up there with some of the best Castore clothing on the market and offers up a slightly looser fit that many golfers will enjoy that fits nicely over a few thinner layers and looks great under one of the best golf rain jackets.
Travis Mathew Cloud Quarter Zip 2.0
Sizes: S-3XL
Colors: 5
+ Extremely comfortable
+ Versatility to wear anywhere
- Runs slightly long on length
The Cloud quarter zip 2.0 is one of the softest and most comfortable quarter zips on the market. It features an extremely soft fleece fabric that remains extremely breathable. The Cloud 2.0 has a modern fit, one that is not too tight, yet not baggy and acts as a stylish option for a cool day on the course.
The Cloud quarter zip 2.0 optimizes what the Travis Mathew golf range is about, clothing that is performance enhancing, yet stylish enough to be worn anywhere. This quarter zip is fairly light for how much warmth it provides and we are fans in particular of the enclosed zip and simple logo detailing. A mainstay in The Masters champion Jon Rahm's tournament attire.
Sizes: S-XXL
Colors: 2
+ Classic premium styling with a twist
+ Performance fabric offers warmth and is easy care
- More color options would be welcome
G/Fore are perhaps best known for eye-catching designs with attitude and while this midlayer has a lot of style it's at the more understated end of the brand's collection and will appeal to a wider range of golfers.
There's still touches of flair though - notably the brand's signature 'Daytona' tri-color stripe details on the zippers and the rubberized Circle Gs logo on the neck.
Even though this is a low key design it's an exceptional technical garment. The super stretchy material allows total freedom in your swing and it also offers a lot of warmth thanks to the luxurious 'mossed' interior. Also worth highlighting is the perfect arm and body length.
J Lindeberg Quilt Hybrid Jacket
Sizes: S-XXL
Colors: 6
+ Stylish
+ Comfortable fit
- The fit may not be for everyone
A J.Lindeberg masterpiece. Put this jacket on and you can feel the quality of this hybrid jacket. With a quilted front designed to retain warmth and the freedom of a mid-layer bonded together this jacket makes it easy for you to move through your swing without hinderance. It fits snug around your arms so there is no excess material gets in the way but also offers plenty of room around the torso for you to layer up. It comes with two zip-up pockets that not only offer a convenient place to store things, but are a great place to keep your hands warm on those chilly summer mornings. A jacket that can be worn on and off the golf course.
Oscar Jacobson Lockhart Mid Layer
Sizes: S-2XL
Colors: 3
+ Soft and wearable anywhere
+ Tasteful and premium styling
- Cut lines won't be to everyone's taste
If you're looking for a stylish, premium and refined second layer, it's hard to look past the Oscar Jacobson Lockhart Mid Layer. It's an elegant garment and one that wouldn't look out of place off the golf course, which is a real indicator of quality and versatility. Made from almost 50 per cent cotton, it feels the part as well.
The quarter zip is waterproof, too, and the fabric is both moisture wicking and breathable. As such, it can be worn all year round, but is most at home on a crisp autumn or spring day or a balmy summer afternoon. The cut line on the chest looks a little peculiar, but it's a minor criticism.
FootJoy ThermoSeries Hybrid Jacket
Sizes: S-2XL
Colors: 2
+ Keeps you very warm
+ Excellent mobility and super stylish
- Drawstring at the rear
For golfers aiming to play through the winter months, the ThermoSeries hybrid jacket is a compelling mid-layer option. First, the warmth on offer is outstanding and it promotes mobility in the swing too via the stretchy sleeves which have a stylish woven tire finish to them. The other nice touch you'll notice is the adjustable collar, which can loosen or tighten via the elasticated cord positioned at the back
For such a warm garment, it's weight (or lack of it) is a noticeable plus point. It's also pretty thin despite the woven quilted sections on the front, which means you can combine it easily with other layers underneath. Finally, we enjoyed the styling as well.
Peter Millar Merge Elite Hybrid Jacket
Sizes: S-2XL
Colors: 3
+ Lightweight but offers good protection from the elements
+ Exceptionally comfortable
- Not fully waterproof
This is an update to the Hyperlight Merge jacket that we gave an Editor's Choice award to and a refreshed design, new colors and a zippered chest pocket make a great product even better. The jacket is made from a premium performance fabric and it offers superb comfort and lightweight warmth. It's wind and water-resistant and although you might need to pull on a fully waterproof jacket when the heavens really open.
As with the previous version, the Elite's sleeve length was perfect - no annoying bunching up of material when standing over a shot.
Original Penguin Color Block Wind Jacket
Sizes: S-2XL
Colors: 1
+ Versatile to be used anywhere
+ Excellent all round performer
- Not fully waterproof
To put it simply, I love this wind jacket because it makes transitioning from the course to just about anywhere else seamless. Admittedly it isn't fully waterproof, but having tested it in different conditions, it does deal with light showers and wind very well. The stretchy double layer fabrication provides some solid protection and the adjustment features, and hood section, are easy to adjust. I really like the color blocked look to it although some more colors are needed. As I briefly mentioned, its versatility is probably its biggest plus point whilst it feels extremely well made too. Finally it feels lightweight and can be worn over sweaters or other golf tops easily without restricting your movement.
Mizuno Breeze T-Stripe Quarter Zip
Sizes: S-XXL
Colors: 5
+ Lightweight, comfortable
+ Subtle styling
- Material may feel too synthetic
The Mizuno Breeze TStripe ¼ Zip is a lightweight yet warm mid-layer which packs away neatly in the bag when the temperature rises. It is available in five colors and the combination of 82% Polyester and 18% Spandex means it is as flexible as you need it to be when swinging a club. The collar is nice and snug when zipped up t