Best Golf Rain Gloves 2022
Here we run through the very best golf rain gloves on the market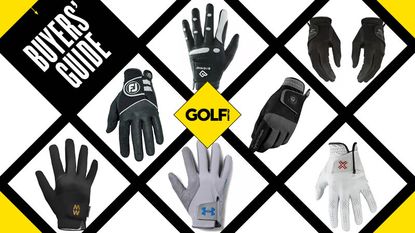 (Image credit: Golf Monthly)
Golf Monthly Newsletter
Golf tips and expert instruction, golf club reviews and the latest golf equipment.
Thank you for signing up to . You will receive a verification email shortly.
There was a problem. Please refresh the page and try again.
Best Golf Rain Gloves
Golfing in wet weather is challenging, particularly when your grips get soaked and holding on to the club is like trying to hold on to a bar of soap. To counter that, you need equipment to come to your aid, and some gloves have been specifically designed to help here. Some of the best golf rain gloves actually grip better on the club when wet and can really help you to stay in control.
This is thanks to a variety of technologies and materials used by brands and the best models really help take the uncertainty out of playing golf in the rain. Additionally we think the top designs feel comfortable, stretch nicely when needed, and also a degree of style as well because if you are wearing it on the course, you still want it to look good right?
What then are the best golf rain gloves? We've reviewed and tested them and have selected our favorites below to help you decide which will suit your rainy-day requirements. Alternatively, if you're looking to stock up on gloves for all seasons, have a look at our ultimate guide to the best golf gloves (opens in new tab) on the market. Or if you want gloves to deal with the cold, then read our guide on the best golf gloves for winter. (opens in new tab)
Best Golf Rain Gloves
Our top pick
Sizes: S-XL
+ Quick drying
+ Available as a pair
- Won't keep hands overly warm
FootJoy has long been an industry leader in terms of glove design and technology and the FootJoy RainGrip glove showcases their expertise. It's one of the best golf rain gloves out there. The autosuede knit palm provides tremendous grip in the wet. In fact, the wetter it gets, the better the grip. We found that, if you're playing in the rain, it's a good idea to get the palm of the RainGrip a little wet before you even start to maximize grip.
It's very comfortable for a wet weather glove, lightweight and neat fitting with stretch properties meaning it hugs the hand nicely. The QuikDry knit fabric has been designed not only to be quick drying, as the name suggests, but also breathable and flexible. The FootJoy RainGrip is available either as a single glove or a pair and if you want to see the comprehensive FootJoy glove range, take a look at our guide on the best FootJoy golf gloves as well.
TaylorMade Rain Control Glove
Top grip performance
Sizes: S-XL
+ Excellent grip
+ Durable
- Only in pairs
The TaylorMade Rain Control Gloves are sold in pairs. They deliver exceptional grip and a good degree of warmth in wet weather. They really do provide a good deal of extra confidence in challenging conditions as you can swing with confidence that the club isn't going to end up following the ball down the fairway.
The micro fibre material is flexible and durable and the use of strong Nylon fabric contributes to these being extremely long-lasting gloves. Despite the performance, the feel is also pretty good – they're only 45mm thick, so certainly don't feel cumbersome on the grip.
Cobra StormGrip Rain Glove
Modern look
Sizes: S-XL
+ Excellent grip in wet weather
+ Index finger is touch screen compatible
- No ball marker attachment
These gloves come as a pair but you can, of course, choose to just wear one if you prefer. They work well as a pair though and the fit and feel is excellent. They're sleek and comfortable and feel on the grip is not compromised.
The grip provided by the StormGrip suede fabric is excellent and we found performance improved when they get wetter. A nice touch is that the index finger is touch screen compatible so you can operate an electric trolley, GPS device or your phone without having to take them off.
Overall the Cobra StormGrip ticks a lot of boxes if you're in the market for a solid golf rain glove – durable, comfortable, good fit, good grip, and good looks. A good product.
Under Armour Storm Rain Glove
Best to stand out
Sizes: S-2XL
+ Good breathability
+ Lightweight
- Limited protection from colder conditions
Sold in pairs, the Under Armour Storm rain glove is a stylish accessory as well as a highly practical one. The textured palm construction delivers excellent levels of grip in the rain while the Under Armour Storm technology repels water without sacrificing breathability. The seams have been taped to further emphasize the sleek finish.
We found the fit to be neat and the feel is excellent. Unless the weather gets super cold, you can pretty much do everything you need to on course with these gloves on. Without doubt these are among the best golf rain gloves on the market right now.
Tour-influenced design
Sizes: One size fits all
+ Superb, versatile fi
+ Excellent control
- Kangaroo leather not as soft as cabretta
Developed in conjunction with Austrian Tour pro Marcus Brier, Zoom gloves are one-size fits all and have been engineered to fit like a second skin. With FLEXX-FIT technology, essentially a Lycra-style section on the back that incorporates a mix of flex zones to fit the contours of a golfer's hand, it does just that.
The back of the glove is stretch Lycra while the palm is kangaroo leather - highly durable and delivering excellent grip in wet conditions. We like the fact that the glove's structure is such that it doesn't lose its shape, even when it gets wet. It's a solid item of equipment.
Bionic AquaGrip Wet Weather Glove
Highly technical design
Sizes: S-2XL
+ Ergonomically designed
+ Good value
- Not the best looking glove
The Bionic AquaGrip glove boasts a unique design. Not only does it deliver excellent grip in wet conditions, but it's also ergonomically constructed to mimic the human hand. Bionic gloves are designed by a leading orthopedic hand surgeon to deliver the ultimate grip on a golf club.
Anatomical Relief Pads have been strategically placed into the glove to eliminate the natural peaks and valleys of the human hand, to provide an even surface in which to place the grip of the club. This means grip strength is increased without the need to grip harder. The fingers feature a pre rotated cut while Lycra patches over the knuckles further increase mobility.
We found this to be an extremely comfortable glove offering very good freedom of movement. Grip is good in wet weather and the construction seems solid and hard wearing.
All-rounder
Sizes: S-2XL
+ Quick drying
+ Great feel from suede palm
- Small collar around wrist
These quick-drying gloves perform superbly well in wet and colder conditions. The tour-proven microfibre suede palms will actually generate greater levels of grip as they get wetter.
The gloves are flexible and comfortable to wear and the closure tab ensures a close and comfy fit. There's good breathability, so they are also effective in warmer wet weather. We're impressed by how durable these gloves are – a great piece of equipment to keep in the bag.
MacWet Climatec Wet Weather Golf Glove
Best versatile model
Sizes: XS-2XL
+ Superb grip in wet conditions
+ Windproof
- No ball marker attachment
MacWet's Aquatec material is up there with the very best, making it a superb rain glove. Designed to be worn as a pair, they deliver exceptional grip in some of the worst conditions imaginable, giving golfers confidence that the club won't slip when the heavens open. In addition, the gloves are water resistant, wind proof and fleece lined on the back to help keep your hands warm in cooler weather.
One of the great qualities of the MacWet gloves is their durability. They'll easily last a full winter season and beyond. They're comfortable to wear, quick drying and they look sleek and stylish to boot. Another bonus is that these gloves can be used for other outdoor activities that require grip in wet conditions – fishing, horse riding or cycling for instance.
Superior feel
Sizes: S-XL
+ Buttery soft feel
+ Classic golf glove look
- Other models offer better wet weather protection
This innovative glove from Payntr golf is designed to offer the best of two sides of glove performance – the feel of leather with protection from the weather. It's constructed from an ultra-thin Cabretta leather for a soft and buttery, tour-inspired feel and a precise fit. But, with the incorporation of a hydrophobic coating, it also repels water and offers excellent grip in challenging weathers.
Other technologies include an ergonomically designed closure tab, strategic x-shaped perforation patterns to maximize flexibility and moisture-wicking, stretch elastic on the back of the hand for enhanced comfort and fit.
How we test golf gloves
In terms of testing golf gloves (opens in new tab) we should say our process is similar to all the other golf gear reviews we produce in that manufacturers cannot pay for a good review, and we tell it how we see it.
We seek to try and be as comprehensive as possible in testing and reviewing the product which means we have used it over a number of rounds, in different conditions, because this often gave us great insight into things like durability, fit, quality and so on. This is especially important when testing golf rain gloves because this means unfortunately having to play golf in bad weather!
We should say that everyone in the Golf Monthly team are golfers at a variety of levels which we feel gives an honesty and integrity to the reviews we produce.
What to consider when buying golf gloves
You may not think the golf glove is that important compared to other pieces of equipment however it really is, after all, it is the only part of the body that remains connected with the club throughout the swing. So what are the things you need to think about when looking into purchasing a new golf glove? Well below are some factors and pieces of advice to consider.
Which hand?
For the beginners out there, a golfer who plays right-handed will typically wear a golf glove on their left hand. This is because the left hand is the lead hand in the swing provided the player has a conventional grip. Golfers who play left-handed typically wear a glove on their right hand.
Related: Which Hand Do You Wear A Golf Glove On? (opens in new tab)
Type
First things first, know what type of glove you want. You may be after premium leather model which will perform totally differently to a synthetic one. Chances are if you are on this guide you will be looking for a wet weather model. These do different things and more importantly feel different so have a think about what you like to feel when wearing a golf glove and choose accordingly.
Material
The material will also be important too. The top premium leather models are designed to feel soft whilst also giving you good feel of the grip during the swing. Whereas the wet weather designs are all about protection. As such they are made from fabrics that offer more grip the wetter they get.
Fit
We can hear you asking how should a glove fit? Well the golf glove should feel like a second skin with no excess material either across the palm of the hand or at the end of the fingers. Make sure there's a snug fit across the palm and there's no loose material at the end of the fingers. But you also don't want a glove to be so tight that it feels like it's cutting off the blood supply. You should be able to stretch your fingers and make a ball with your fist without the glove pulling or over-stretching.
FAQ's
Are rain golf gloves worth it?
If you play a lot of golf in the rain, then yes proper rain gloves are definitely worth it. If your grip is compromised during wet weather then how can you expect to hit good golf shots? After all, your hands are the only things touching the golf club during the swing so it makes sense to have as much grip as possible, which is exactly what rain golf gloves are designed to offer. They have been specifically made to offer more grip the wetter they get so you can focus on the shot at hand, not losing your grip.
Is there a waterproof golf glove?
There are very few waterproof golf gloves out there because wet weather golf gloves have been designed to offer more grip the wetter they get. As such we cannot say they are waterproof, but instead they have the ability to manage moisture so you can play better.
We hope you enjoyed this guide on the best golf rain gloves. For more buying advice check out the Golf Monthly website, such as the best golf umbrellas.