Best Golf Vests
Our look at the best golf vests, gilets or bodywarmers you can buy this year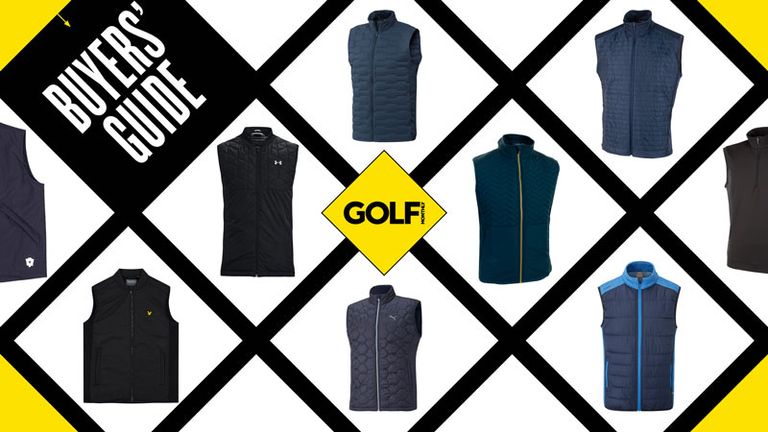 By Sam Tremlett
Best Golf Vests
For some golfers, a padded mid layer can feel bulky and cumbersome to swing in, so a vest provides a very good alternative.
Whether you call them vests, gilets, bodywarmers or gaitors, they are one of the best golf tops you can go for because they free the arms, and provide the appropriate amount of warmth on milder days when a normal golf jumper might be too much.
There are a range of styles on offer, with some being thick and padded for extra warmth, while others are lighter and thinner to just take the edge off that winter chill.
Think about what you would need the most and let that influence the type of golf vest you buy. We're confident you'll find what you're looking for in our showcase of the best golf vests below.
Additionally, be sure to have a look at some of our other guides too if you want garments to keep you sheltered and warm - such as the best golf jumpers or best golf waterproofs.
Best Golf Vests - Best Golf Gilets
Reasons to buy
+Quilted warmth+Can keep you dry in a light rain shower
Reasons to avoid
-Too large to wear something over the top
The Cloudspun fabric on the side of this gilet is incredibly soft and has a real premium feel to it. As for it's main task - keeping you warm - the quilted front and back are excellent.
The front and back of the vest utilises Puma's Primaloft Gold Quilting and it is both warm and windproof - ideal for autumn or winter golf days.
It's a great layering piece, but we found it slightly too large to put a further jacket over the top of it.
Reasons to buy
+Well padded, helping you maintain warmth
Reasons to avoid
-Sizing was a bit awkward
The Glenmuir Bute gilet is thicker and has more padding than the slimmer Glenmuir Sheil and is more suited to winter golf.
As well as being more padded the Bute also looks more bulky thanks to the bonded padded zones on the front, which could be a little more stylish.
The fabric uses Glenmuir's Storm Bloc protection to keep the wind and light showers out. How useful shower protection is I am not sure given that there are no sleeves, but for those who want to put it over lightweight rain jacket then this might be important.
Reasons to buy
+Lightweight yet very warm+Not too bulky+Great colour choices
Reasons to avoid
-Perhaps too warm to wear over a jumper or midlayer - best suited to just a polo underneath.
The first thing you notice when you take it out of the packet is just how light it is. It really does weigh next to nothing. 'Featherlight' would not be an exaggeration.
Put it on and walk a few paces and you'll quickly realise that its capacity to keep your upper body unbelievably warm knows no bounds.
Any padded garment risks being bulky to store, but that's not an issue here as the Anton gilet folds down very compactly for storage in the main pocket of your golf bag.
It's also available in four colour options so you can match it to a number of styles already in your wardrobe.
FootJoy Hybrid Vest
Specifications
Sizes: S-2XL
Colours: Three
Reasons to buy
+Excellent warmth protection+Has added protection from the rain
Reasons to avoid
-High collar could be distracting during the swing
This vest is made from stretch jersey lined jersey fabric with quilted woven panels for body heat retention and comfort and water resistant DWR finish for protection from light rain.
The woven section cut in over shoulders for added freedom of movement while the extended high collar provides added wind and cold weather protection.
Ping Norse S2 Reversible Vest
Reasons to buy
+Effective at keeping out chills+Reversible design boosts versatility
Reasons to avoid
-Only one choice of colour
A cleverly reversible vest that is essentially two styles in one, which you can then match with different outfits and colour combinations. It is engineered to provide warmth without weight in cold weather utilising Primaloft Gold with Cross Core throughout.
Stuburt Evolution Padded Gilet
Reasons to buy
+Water repellent+Thermally insulated
Reasons to avoid
-Quiet design
This vest uses a water repellent outer fabric, combined with lightweight padded thermal insulation to deliver a versatile warm gilet.
The stretch panels on the side of the garment deliver enhanced movement and practical waist pockets and chest pocket complete the look of this understated gilet.
Oscar Jacobson Rowland Vest
Specifications
Sizes: S-XXL
Colours: 2 (Black, Navy)
Reasons to buy
+Full protection from the elements+Lightweight
Reasons to avoid
-Not many colour options
This OJ gilet is made with lightweight technical softshell stretch fabric which offers great movement as well as weather protection.
Ribbed elastic neck and pipping detail create a contemporary finish and it's available in two colours and plenty of sizes.
Adidas Cold.RDY Vest
Specifications
Sizes: XS-2XL
Colours: Two
Reasons to buy
+Warm and comfortable+Front pockets add convenience
Reasons to avoid
-Traditional styling may not suit younger audience
The insulated construction holds heat in, while the sleeveless design gives you full range of motion as you swing to help maximise distance in colder temperatures. We like the quilted design as it adds an element of sophistication to the vest while still providing modern-day performance.
We also really like the Cold.RDY hoodie as well which featured in best golf hoodies guide.
Galvin Green Louie Interface-1 Full Zip Bodywarmer
Reasons to buy
+ Fabric and padding creates soft, comfortable feel\+Vest design gives great range of movement
Reasons to avoid
-Premium price will deter some
A premium golf apparel brand, Galvin Green has been making some of the best golf tops for just over three decades now and this Louie is no exception. It features the Interface-1 technology which aims to give optimum protection and ultimate comfort in lots of different weather conditions, whilst also being breathable and made from a stretchy fabric to aid the golf swing, not hamper it.
It is completely windproof and benefits from Galvin's proprietary soft-shell fabrication which has been specifically designed to block any wind whilst also offering water resistance.
Overall we think it is ideal for golfers who want to remain warm on those chilly spring and autumn days, but don't want to have to wear full waterproofs, and also keep a good range of mobility.
Under Armour Storm Evolution Daytona Vest
Reasons to buy
+Wind and water protection+Awesome technology
Reasons to avoid
-Design aesthetic may put some off
Under Armour's Storm Evolution Daytona is an insulated golf vest with Storm technology which repels water without sacrificing breathability. It is wind resistant to shield you from the elements and has been designed to adapt to temperature thereby keeping you warm when it is cold, and cool when it is warm.
This technology does not hinder breathability or stretch either thanks to the fabric which adds comfort throughout the swing.
Kjus Retention Vest
Reasons to buy
+Clever construction+Good colour choice
Reasons to avoid
-Subtle design doesn't stand out
We have become big fans of Kjus gear because of the overall quality and look of the garments it produces. The Retention Jacket made our best golf tops guide and we like this Vest version too. It is made from 100% mechanical stretch polyamide that is windproof, stretchy and extremely lightweight.
Light insulation material at the front of the vest is cleverly paired with a four-way stretch fabric on the back, keeping you warm without ever restricting your swing movement.
Original Penguin Lightweight Puffer Vest
Reasons to buy
+Versatile+Warm pockets
Reasons to avoid
-Puffer design may put some off
Made from 100% nylon, this jacket looks great just about anywhere whether you find yourself on the golf course or off it. Its plain weave fabrication provides extra durability, and we particularly liked the mock collar which kept the wind off the neck well. It also has a water-repellent coating to keep rain at bay and the warm pockets are an excellent feature.
TravisMathew Keep On Keepin On Vest
Reasons to buy
+Simple aesthetic+Works nicely for warmth
Reasons to avoid
-Bit bland
With Jon Rahm wearing TravisMathew gear, the brand is growing fast and it is not hard to see why given the quality. Take this vest for example. It would look right at home on and off the course and is made from a four-way stretch, wrinkle resistant and supremely comfortable fabric that makes it very easy to wear all day. We found it to cocoon the body nicely in warmth.
Greyson Iroquois Vest
Specifications
Sizes: S-XXXL
Colours: Two
Reasons to buy
+Premium feel+Hidden chest pocket
Reasons to avoid
-Black and Navy colours a touch bland
The Iroquois Vest is made with a blend of scholler soft shell fabric to keep you warm and for a full range of motion on the golf course. It is moisture wicking, dries quickly and also has been treated with an anti-microbial finish too which is a nice touch.
Decathlon Inesis Ultralight Sleeveless Down Jacket
Specifications
Sizes: S-XXXL
Colours: Four
Reasons to buy
+Stylish and versatile+Has two inner pockets and two front zipped pockets
Reasons to avoid
-A touch bulky when put on
An ultralight sleeveless down jacket with ethically sourced down and feathers, one of the warmest natural materials. The cord inside the inner pocket allows you to secure the pouch to avoid losing it.
Mizuno Windlite Gilet
Specifications
Sizes: S-XXXL
Colours: Three
Reasons to buy
+Stylish and versatile+Good value
Reasons to avoid
-Quite thin feeling
This Windlite Gilet from Mizuno is extremely lightweight and thin but provides a water repellent finish coupled with ample warmth and wind protection. Given its construction, it can fit in the tightest of spaces in your luggage or golf bag, and it benefits from Mizuno's 4-way stretch technology so you can move in any direction easily.
Two discreet pockets will gobble up your hands or any golf paraphernalia you may carry.
Callaway Golf Swing Tech Quilted Vest
Reasons to buy
+Thin yet warm+Adjustable drawstring creates a tailored fit
Reasons to avoid
-Lacks shelf appeal
lightweight full zip quilted puffer vest featuring a two way zip; inner storm cuff design; side pockets and a drop tail back hem.
Glenmuir Thurso
Specifications
Sizes: S-XXL
Colours: Four
Reasons to buy
+Wind and water resistant finish+Fleece-lined collar boosts comfort
Reasons to avoid
-Neutral design lacks wow factor
This sleeveless jacket is constructed with Storm Bloc water and wind resistant performance polyester insulated with heat-efficient down. Stretch sides and shoulder panels make sure that, even fully zipped up, you have all the freedom of movement you need. It also has a fleece-lined collar and chin guard, lockdown zip puller, zipped side pockets and useful inner chest pocket.
Galvin Green Denzel
Reasons to buy
+Soft and stretchy+Surprisingly warm given how thin it is
Reasons to avoid
-Graphic on the chest is a touch garish
The second Galvin Green model on this list of the best golf vests, the Denzel is a supremely soft and stretchy garment with excellent thermal insulation properties, offering maximum breathability enabling the release of excess heat and moisture. Ideal intermediate layer for under a Galvin Green Gore-Tex or Interface jacket.
Mizuno Move Warmer Gilet
Specifications
Sizes: S-XXL
Colours: Four
Reasons to buy
+Strategic stretch point maximise movement+Double zip for added convenience
Reasons to avoid
-Shiny finish won't be to everyone's taste
Strategic stretch points in the Move Warmer material are anatomically-engineered for a full range of golf-specific movements. Warmth, total flexibility and added style with a new collarless design makes this the perfect outer-layer.
We hope you enjoyed this guide on the best golf vests. For more buying advice why not take a look at the best golf wind jackets or the best golf shorts in case the weather gets warm.
Peter Millar Hyperlight Fuse Hybrid Gilet
Specifications
Sizes: S-XXL
Colours: Three
Reasons to buy
+Added warmth thanks to the arms+Extra pockets and two way zip closure
Reasons to avoid
-White arms susceptible to getting dirty quickly
The Fuse Hybrid Gilet is made from a premium performance fabric that offers remarkable comfort and an added layer of warmth.
The exterior is wind-resistant and features four-way stretch for optimal mobility and protection from the elements during active endeavors.
Finished with a two-way zip front closure and one zip chest pocket.
Peter Millar Flex Adapt Windcheater Gilet
Specifications
Sizes: S-XXL
Colours: Three
Reasons to buy
+Added warmth thanks to the arms+Extra pockets
Reasons to avoid
-Arms might restrict the swing versus a conventional gilet
This vest is engineered from the most flexible high-performance fabric we've ever worked with. Four-way stretch provides ultimate mobility and comfort on the course, while cutting-edge construction allows the fabric to naturally adapt to conditions—blocking wind when idle and opening up for optimal airflow when in motion.
Finished with a soft, brushed mock collar and a half-zip closure with built-in zipper garage.
Galvin Green Dalton Gilet
Reasons to buy
+ Warm but breathable+Subtle but effective design
Reasons to avoid
-Only available in two colours
Galvin Green clothing is synonymous with classy styling and excellent warmth - this gilet certainly delivers on both.
This half-zip body warmer uses Insula fabric which combines exceptional breathability with thermal regulation to keep you warm out on course.
While it's not a fully waterproof, it will keep you dry in a sharp shower and the fabric dry exceptionally quickly.
This gilet is also one of Galvin Green's sustainable options - using sustainable and materials and labels throughout - whilst also being a very competitively priced gilet for one of this high quality.
Glenmuir Shiel Men's Zip Front Rib Padded Gilet
Specifications
Sizes: S-XXL
Colours: Three
Reasons to buy
+ Lightweight+Incredibly warm
Reasons to avoid
- Not water resistant
This offering from Glenmuir is similar to the Bute gilet, but is made from a softer lighter fabric.
You do lose the water resistance in this gilet, but if you wear it under a waterproof top, you'll find this keeps you very warm out on course.
Stretch fabric and ribbed panelling at the sides ensures complete freedom for body movement even while the gilet is fully fastened.
This zip-fronted men's gilet has Storm Bloc protection, and is shower, wind and cold-defying.
The Shiel golf gilet is constructed with a lockdown zip, chin guard and storm guard, plus two convenient zipped side pockets and a further inner pocket at the chest.
Adidas Frostguard Vest
Reasons to buy
+ Stylish on and off the course+Duck down padding keeps you extra warm
Reasons to avoid
-Only available in Navy or Black
For chilly days on the course, layer up in this adidas golf vest.
Down insulation warms your on the front and back of the garment where you need it the most, while your arms stay free to follow through on your swing.
The stretchy fabric features bonded seams to keep the heat in and a water-repellent finish for added weather protection from light rain.
The versatile style transitions easily to your post-round activities and we think this gilet will look as good of the course as it does on it.
Ping Dover Vest
Specifications
Sizes: S-XXXL
Colours: Five
Reasons to buy
+Stylish on and off the course+Available in loads of striking colours
Reasons to avoid
-Only available in Navy or Black
The Sensor platform from PING is an innovative performance fabric technology system designed to ensure that every garment is worn and is specifically engineered to respond to the body's requirements and demands of the game, maximising playability whatever the conditions.
The Dover vest features Sensorwarm, which is wind resistant, water resistant and thermal. The thermal layers trap warm air and resist wind-chill, keeping you warm with minimal weight. Breathable fabrics are used to ensure warmth with complete stretch and comfort.
It's also available in five striking or neutral colours depending on your style.
Under Armour Storm Evolution Daytona Vest
Specifications
Sizes: S-XXL
Colours: Three
Reasons to buy
+Lightweight and stretchy fabric+Regulates body temperature
Reasons to avoid
-Not waterproof
The Under Armour Storm technology used in this Daytona Vest repels water without sacrificing breathability, making this vest one you can keep on all day no matter the weather conditions.
If you're teeing off on an early autumn morning for example, this garment will keep you nice and warm and then regulate your temperature as they day wears on and the weather warms up slightly.
Breathable insulation paired with lightweight, smooth spacer fabric for just the right amount of warmth and just the right time.
Under Armour CG Reactor VLAP Golf Vest
Reasons to buy
+Lightweight and stretchy fabric+Regulates body temperature
Reasons to avoid
-Not waterproof
Much like the Daytona vest, this Under Armour gilet uses Storm technology to help regulate your body temperature depending on the weather.
It has added ColdGear Reactor intelligent insulation which adapts to any activity for non-stop comfort & total versatility and adds another layer of warmth for golf in even the coldest conditions.
Lofty insulation with quilting that traps heat, but still allows air to flow so you don't overheat and the smooth ripstop woven fabric paired with lightweight stretch-woven fabric for both durability & mobility.
With two zipper pockets on each side, this is a pretty complete golf gilet.
Lyle & Scott Golf Gilet
Reasons to buy
+Water resistant – can withstand light rain+Thermal insulation
Reasons to avoid
-Only available in one colour
This padded gilet is a brilliantly balanced piece of golf wear suitable for every weather condition imaginable.
This gilet is water and wind-resistant with thermal insulation thanks to the PrimaLoft thermal fabric, which keeps you protected through the cold and wet days.
It is also created from a breathable material so it is just as well suited for when the sun comes out.
Sounder Low Light Gilet
Reasons to buy
+Sustainable fabrics+Water repellent
Reasons to avoid
-Fits larger than some
Sounder's Low Light Gilet is made in England from eco-Cambric British Millerain fabric - a 100% cotton material with an environmentally friendly water-repellent finish and a 100% cotton lining.
The design covers everything that you need keep on playing through the cooler months - wadding to keep you warm from dawn to dusk, with chest pocket and two deep front pockets for scorecards, keys, balls, tees and hands when required. A two-way zip allows you to keep things loose enough for a full swing of the club.
Pro Quip Therma Gust Gilet
Reasons to buy
+Available in five stylish colours+Excellent value
Reasons to avoid
-Heavier fabrics
The Therma range is ProQuip's latest design in windproof winter golf clothing that combines a lightweight quilted polyester outer shell with ultra-warm Thinsulate lining. The back and side panels have been woven with a power stretch fabric that responds to the torque created during the swing.
They are finished with a micro-fleece lined collar for added warmth and a handy inner zipped pocket for storing a scorecard or glove.
This is one of the best golf vests at this RRP and one we think packs a bigger punch than its price suggests.
For all the latest from the golf world, follow our social media channels Facebook, Twitter and Instagram
Have you thought about taking out a subscription to Golf Monthly magazine?
Subscriptions are available in both print and digital editions through our official online shop Magazines Direct and all postage and delivery costs are included.
Golf Monthly is packed with all the information you need to help improve your game.
Take your game to the next level with tips, drills and advice from top Tour Pros and the UK's top coaches.
Impartial in-depth reviews of the latest equipment will ensure you buy the best whatever your budget
If you are looking to venture away with friends Golf Monthly will give you plenty of ideas of where to play and stay.
A golfer for most of his life, Sam started playing the game to prove he was the best player out of his father and two brothers.
He quickly became a golf equipment expert and has always been the one family and friends come to for buying advice, and spends a lot of his time putting golf gear, apparel and shoes to the test.
He is a graduate of Swansea University where he studied History and American Studies, and he has been a part of the Golf Monthly team since February 2018. He also previously worked for World Soccer and Rugby World magazines.
A jack of all trades across print and digital formats, Sam now spends most of his time testing and looking after golf gear content for the website. He also oversees all Tour player content as well.
Unfortunately, Sam is not a member of any club at the moment but regularly gets out on the golf course to keep up the facade of having a handicap of five.
Sam is currently playing:
Driver: Titleist TS3
Fairway Wood: TaylorMade M5 (15 degrees), Nike Covert Tour 2.0 (19 degrees)
Irons (4-PW): Titleist AP2
Wedges: Titleist Vokey SM7 54˚, 58˚
Putter: Scotty Cameron Circa 62 #6