Best Golf Vests 2023
Our look at the best golf vests or bodywarmers you can buy this year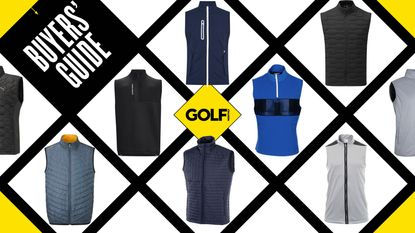 (Image credit: Future)
Best Golf Vests
For some golfers, a padded mid layer can feel bulky and cumbersome to swing in, so a vest provides a very good alternative. Whether you call them vests, gilets, body warmers or gaiters, they are one of the best golf tops (opens in new tab) you can go for because they free the arms, and provide the appropriate amount of warmth on milder days when a normal golf jumper might be too much.
There are a range of styles on offer, with some being thick and padded for extra warmth, while others are lighter and thinner to just take the edge off that winter chill. Think about what you would need the most and let that influence the type of golf vest you buy. Additionally there are lots of different designs out there as well with most brands looking to offer something that differentiates them from the competition.
We're confident you'll find what you're looking for in our showcase of the best golf vests below. Additionally, be sure to have a look at some of our other guides too if you want garments to keep you sheltered and warm - such as the best golf jumpers (opens in new tab) or best golf waterproofs (opens in new tab).
Best Golf Vests - Best Golf Gilets
Why you can trust Golf Monthly Our expert reviewers spend hours testing and comparing products and services so you can choose the best for you. Find out more about how we test.
Puma Cloudspun WRMLBL Vest
Sizes: S-XXL
Colors: 2 (Blue & Black)
+ Quilted warmth
+ Can keep you dry in a light rain shower
- Too large to wear something over the top
The Cloudspun fabric on the side of this gilet is incredibly soft and has a real premium feel to it. As for it's main task - keeping you warm - the quilted front and back are excellent.
The front and back of the vest utilizes Puma's Primaloft Gold Quilting and it is both warm and windproof - ideal for autumn or winter golf days. It's a great layering piece, but we found it slightly too large to put a further jacket over the top of it.
Under Armour Storm Daytona Gilet
Sizes: S-XXL
Colors: 4 (Navy, Grey, Black, Blue)
+ Very comfortable
+ Water repellent
- No pockets
The Storm Daytona Vest from Under Armour gives you a water repellent vest for when it's slightly chilly out on the golf course and maybe a bit drizzly too. It looks fantastic and smart, especially in the navy we tested and adds that extra bit of warmth you might need on top of your polo shirt or midlayer. It's a little tricky to get on and off due to a reflective, elasticated cuff at the bottom so it's probably not a garment you want to be taking on and off again in changing weathers. The Storm Daytona vest is unfortunately without pockets - not even a breast pocket - which is another thing it lacks versus its competitors, with many golf vests boasting at least two hand pockets.
(opens in new tab)
Sizes: S-XXL
Colors: 1 (Navy)
+ Stretchy materials offers warmth and comfort
+ Easy to swing in
- Only one color option
The vest (or gilet) is now a staple of every brand's golf collection thanks to the versatility it offers keeping your core warm while allowing freedom in the swing and G/Fore's Repeller is a brilliant example of best in class design. It's very lightweight but offers a lot of warmth and protection from the wind while the stretchy material ensures a snug fit but does not impair movement. The magnetized front pockets are really clever and keep the lines of the jacket very clean and the full zip is super high quality. The most discreet of circle Gs logos above the left hand pocket is the only sign this a G/Fore garment. The only drawback is it's only available in navy blue so won't combo with black trousers which are an autumn winter staple.
Sunderland of Scotland Anton
Sizes: S-XXL
Colors: 6+
+ Lightweight yet very warm
+ Not too bulky
- Perhaps too warm to wear over a jumper or midlayer
The first thing you notice when you take it out of the packet is just how light it is. It really does weigh next to nothing. 'Featherlight' would not be an exaggeration. Put it on and walk a few paces and you'll quickly realize that its capacity to keep your upper body unbelievably warm knows no bounds. Any padded garment risks being bulky to store, but that's not an issue here as the Anton gilet folds down very compactly for storage in the main pocket of your golf bag. It's also available in four color options so you can match it to a number of styles already in your wardrobe.
FootJoy ThermoSeries Hybrid Vest
Size: S-XXL
Colors: 2 (Navy, Grey)
+ Lightweight yet warm
+ Good, modern fit
- Only two, quite simple color options
The FootJoy ThermoSeries Hybrid vest is an ideal garment for those golfers in search of winter warmth without any restrictions to the golf swing. We were surprised by how light it was, especially given the amount of protection from the cold you get. The insulated body fabric creates a comfortable, cosy feel.
This has a very smart, classic look which is available in two basic color options. We thought it was well fitted without being too athletic and preventing you from wearing multiple layers underneath. It has two pockets at the front and a stretch panel on the back that should work with your body as you move.
Mizuno Breath Thermo Move Down Gilet
Sizes: S-XXL
Colors: 3 (Black, Grey & Red)
+ Flattering fit
+ Snug without being restricting
- Limited range of colors
Our first reaction on putting on this gilet was just how comfortable and snug it feels. And while the obvious side-effect of this would tend to be some restriction in movement, especially during the swing, this is certainly not the case here. It takes full advantage of Mizuno's Breath Thermo technology, also used in their running apparel, to keep you warm but not sweaty. According to Mizuno, this turns your perspiration into body warming heat, ideal for golf in the winter or a cool wind. The downy interior traps air for additional warmth, and the whole thing is remarkably light making it no bother to store in your bag when it's not required. A winner both on functionality and looks.
Sizes: S-XXL
Colors: 2 (Navy & Black)
+ Lightweight and windproof
+ Zippered pockets
- Slightly tight across chest
Galvin Green's Leroy vest is a little underwhelming at the unboxing but don't let that fool you. It has a plain style and only comes in two colors but it really complements a winter outfit when on, while performance elsewhere is excellent. It provides plenty of warmth and protection from the elements. We also liked the handiness of the full zip and the two pockets included. The main criticism in terms of performance is that it is a little tight across the chest and doesn't offer much in the way of stretch to minimize the impact. With that in mind, we would suggest sizing up. It comes in at quite a lofty price point but for that you're getting one of the best golf vests available.
Sizes: XS-XXL
Colors: 2 (Navy & Black)
+ Stylish on and off course
+ Duck down padding keeps you extra warm
- Quite bulky
For chilly days on the course, layer up in this adidas Frostguard Vest. Down insulation warms you on the front and back of the garment where you need it the most, while your arms stay free to follow through on your swing. The stretchy fabric features bonded seams to keep the heat in and a water-repellent finish for added weather protection from light rain. The versatile style transitions easily to your post-round activities and we think this gilet looks as good off the course as it does on it. The lack of color choice is slightly limiting and it is quite a bulky vest compared to other models, but our tester loved it, especially when pairing it up with a hoodie.
Sizes: S-XXL
Colors: 3 (Nautical Blue, Navy & Purple)
+ Keeps out the wind
+ Elasticated drawstring hem for a better fit
- Front materials rustles a lot
This gilet may not offer the warmth of others, but it offers a minimalist feel while still boasting plenty of fit and performance enhancing features. You'll notice the front section is made from a slightly thicker Ripstop fabric, which protects against the wind, while the rear section is made from a soft and stretchy material for freedom of movement. It's a combination that genuinely adds to the playability, ably assisted by the elasticated drawstring hem, which keeps it nice and tight to the body. We're also a big fan of the inclusion of front zipped pockets, providing a convenient place to store things like balls or tees or simply somewhere to rest your hands on chilly mornings when waiting to tee off. We admit, it is on the pricey side of the spectrum, but in terms of lightweight performance and visual appeal, we think you'll struggle to find a better option.
Nike Therma-FIT Victory Golf Gilet
Sizes: S-4XL
Colors: 3 (Purple, White & Green)
+ Stylish design
+ Excellent fit and lightweight
- Color options won't suit all
The Nike Therma-FIT Victory Gilet is a comfortable and warming mid-layer that we felt could be worn just with a t-shirt or with a jumper underneath. It is made of a stretchy, lightweight material that expands with your body's movements and we were impressed with how much mobility it offered. Unlike many of the best golf jackets, we enjoyed playing with our arms free in this vest, as it enabled us to twist and reach far back in our back swing. On the shoulders, Nike has cleverly added a nylon layer of material which will help keep your shoulders dry if it starts to rain on the course. The gilet is also very versatile and would work well also as a general sports gilet too.
(opens in new tab)
Glenmuir Cairn Gilet Vest
Sizes: S-3XL
Colors: 3 (Navy, Black, Grey)
+ Lightweight and gives plenty of freedom
+ Good wind protection
- No zips on pockets
The Glenmuir Cairn gilet is a lightweight vest that is ideal for wearing on top of a mid-layer or sweater to block out wind and keep you warm. There are others styles of padded gilet that are heavier and therefore warmer, so the Cairn is in a different class of wind proofing. Glenmuir have also treated the polyester material to be water repellent, but given you have two holes on each side for your arms, that may be a moot point. There are two pockets around the waist which are a nice touch, but it would have been nice to see zips on them to hold items in. There are also two larger panel pockets on the inside, again without any zips, which could be useful if you are wearing the Cairn off course and need to carry larger items.
(opens in new tab)
Peter Millar All Course Gilet
Sizes: S-XXL
Colors: 4 (Balsam, Bordeaux, Grey, Black)
+ Offers a lot of warmth
+ Two way zip allows more freedom in the swing
- Limited choice of colors
This versatile gilet is a genuine on and off course garment. It's made with loose fill channel tube insulation that delivers what Peter Millar claims - warmth without weight. The gilet is water-resistant and windproof and features two decent sized side-zip pockets and a two-way zip front closure - a feature as undoing a little of the bottom zip can help give you a little more freedom in the swing. One thing to highlight is that the fit is snug. For example if you are a medium in Classic Fit Peter Millar you may need to go up to a size large to make it comfortable and allow you to wear a polo and a mid layer underneath.
TravisMathew Interlude Puffer Vest
Sizes: S-XXL
Colors: 2 (Black, Mood Indigo)
+ Highly versatile garment
+ Great thermal qualities
- Zips up on wrong side
Like everything TravisMathew makes, this Puffer Vest offers subtle and casual style and is highly wearable off course as well as on. It's extremely lightweight and provides excellent warmth thanks to the quilted finish. The side pockets are a useful addition to keep your hands warm, as well as to store accessories.
It zips up the other way round to most manufacturers which takes a bit of getting used to but, the fastening is sturdy as is the garment overall thanks to the use of a rip-stop fabric.
4-way stretch technology allows for excellent freedom of movement and enhanced comfort.
Oscar Jacobson Hodgson Padded Gilet
Sizes: S-3XL
Colors: 3 (China Blue, Black & Navy)
+ Desirable design
+ Versatile on and off course
- Not a very forgiving fit around the stomach
This is a fabulous option if you are after an outstanding look both on and off the course. This gilet has everything you need, from a fashionable quilted body that provides warmth and protection from the wind, to handy zippered pockets to be able to keep all your golf course essentials. For those who don't have the most athletic build, it certainly won't hide away your waistline but will keep you comfortable and warm. We felt it complemented the other products in the Oscar Jacobson line well but would go well with many mid-layer and polo options.
Sizes: S-3XL
Colors: 2 (Blue, Black)
+ Reversible
+ Wind and water resistant
- Once reversed, there are no pockets
The Norse S4 vest from Ping is fairly unique in the sense that it is fully reversible, meaning you get a gilet that comes in two separate colors. You either get a black or blue option, or a grey or yellow one. It is a nice feature but unfortunately once reversed there is only one small chest pocket with a cheap-feeling zip and no hand pockets. The main hand pockets also feel quite cheap and want to come out when you take your hands out. The vest is supremely comfortable and surprisingly warming, and it does a great job of keeping you warm and dry as it is wind and water resistant. It feels lovely around the neck when fully zipped up, which really helps to store warm air. It's also extremely lightweight and can be packed down into the inside pocket to be stored very easily.
Stuburt Evolution-Tech Padded Gilet
Sizes: S-3XL
Colors: 3 (Black, French Navy & Slate Grey)
+ Eye-catching design
+ Lightweight
- Slightly restrictive to the swing
This gilet is one that works well with the other products within the Stuburt range, particularly the long-sleeve polo. The gilet is lightweight and has some very handy side pockets, so ideal for holding tees, pitch repairer etc. The Stuburt reflective logo on the left-hand breast certainly stands out but looks a little like a name badge. If you were to wear this to the local shops it could lead to you being asked for assistance! Our biggest issue with the product is that the product is relatively tight and does feel quite restrictive when swinging. The length of the product is pleasant, so going up a size may help with the restrictive issues, but then also may be too baggy. A product that may be better suited for those of an athletic build.
Callaway Premium Puffer Vest
Sizes: S-XXL
Colors: 2 (Caviar, Malibu Blue)
+ Great thermal properties
+ Useful side pockets
- Limited stretch properties
A warm vest or gilet is an essential for all winter golf wardrobes. This excellent offering from Callaway does a great job of keeping the vital organs warm whilst the arms are free to swing with no restrictions.
It's made from recycled materials and the Primaloft insulation delivers a great combination of warmth and softness whilst also repelling water. It's a robust garment with a sturdy zipper. It's comfortable to wear and the snug finish around hem and sleeves helps to keep the elements at bay. We also like the zip pockets and eye-catching design too. An ideal garment in colder, drier conditions.
(opens in new tab)
Sizes: S-XXL
Colors: 1 (Grey)
+ Smart, understated style
+ Premium materials and feel
- Liner can rustle during the swing
Lots of golfers would rather wear a golf vest or gilet before having to pull on anything with sleeves – they just offer that unrestricted feeling, and they're usually nice and light. Because of its microfiber lining (which does offer warmth and blocks out wind well), the Dunes Vest from G/FORE is weightier compared to a lot of other golf vests on the market.
So if you have a preference for super-lightweight materials, this is maybe not the garment for you. Smart yet sporty, the luxurious Dunes vest offers a clean look and provides good warmth in chilly conditions thanks to an internal microfiber liner.
How we test golf apparel
We test golf apparel (opens in new tab) in the same way we test all golf equipment, by using products properly. In relation to vests this means putting them to the test out on the golf course to see if the design actually works and if it sets out what it is designed to do. We would also wear the vests off the golf course as well because versatility to use a garment anywhere is a great way to get value for money. The final point we wanted to mention here is no manufacturer can pay for a good review because our thorough testing team tells it how it is.
What to consider when buying a golf vest
So what are some of the factors you need to consider when trying to find the right waterproof golf jacket for you? Let's take a look.
Protection
A good vest will help you in the wind and cold. The best models stop the wind penetrating the fabric and making your core cold, and also have nice features like fleece lined pockets to give you some respite from the poor conditions.
Freedom of movement
However, despite offering protection good models have to be the right weight and allow freedom of movement during the swing and when walking on the course. Ultimately, the best golf vests stretch and move with the body, whilst allowing the arms to swing freely as well. Acknowledging this we would recommend trying some models on first to see how they fit and feel when walking around and when making swings.
Color
If you are wearing it, you have to like what it looks like. Vests don't have to be boring and dull anymore either because now there are designs for all fashion senses. It is just a case of picking a design and color you like.
Budget
Finally be aware of your budget so you can find a vest that fits into it nicely. Importantly there are models above which come with premium, and value price points so there is something for everyone.
FAQs
Can you play golf in a vest?
Definitely. Vests are a very functional piece of golf attire because the lack of sleeves allow total freedom of movement in the arms. Additionally they can be excellent at keeping you warm when it gets cold, and your body at the right temperature if you don't want to have to don larger waterproofs or bigger sweaters.
How should a golf vest fit?
A golf vest shouldn't not be too tight in that it feels constricting, and not too loose that it feels like it may impede the golf swing. The best of way of walking this fine line is to try models on. Length wise it should go down just past the belt buckle of your pants/trousers.
What is the difference between a vest and a gilet?
In golfing attire, a vest and a gilet are basically the same thing, a sleeveless jacket. Different parts of the world use different words here, for example in the United States they use gilet, whilst in the United Kingdom, use of the word vest is more common.
We hope you enjoyed this guide on the best golf vests. For more golf apparel buying advice, why not have a read of our posts on the best waterproof golf jackets (opens in new tab), or best golf hoodies (opens in new tab).
A golfer for most of his life, Sam is a Senior Staff Writer for Golf Monthly.
Working with golf gear and equipment over the last five years, Sam has quickly built outstanding knowledge and expertise on golf products ranging from drivers, to balls, to shoes.
He also loves to test golf apparel especially if it a piece that can be used just about anywhere!
As a result he has always been the one family and friends come to for buying advice and tips.

He is a graduate of Swansea University where he studied History and American Studies, and he has been a part of the Golf Monthly team since December 2017. He also previously worked for World Soccer and Rugby World magazines.
Sam now spends most of his time testing and looking after golf gear content for the website. He also oversees all Tour player content as well.
Unfortunately, Sam is not a member of any club at the moment but regularly gets out on the golf course to keep up the facade of having a handicap of five.