Best Golf Towels 2023
Do your clubs need a good scrub? Take a look at our pick of the best golf towels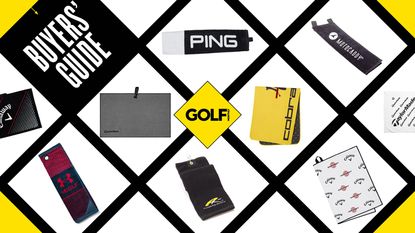 Best Golf Towels
Every golfer needs a towel. Whether its wet or muddy, a towel is one of the best and most useful golf accessories you can have in your bag. A good towel helps keep your clubs clean, especially in muddy conditions, and always comes in handy when wiping down your shoes, grips or anything else you may encounter during your round.
A golf towel can come in all different shapes and sizes. Whether you want a large multi-functional towel or a smaller tri-fold one you can clip on your bag, there is a towel out there for every golfer's desires. Interestingly, advancements in golf technology have meant that golf towels have come a long way since the days you might have just thrown something in from your bathroom cabinet. The technology used in some of the market's best golf towels is quite astounding and can help you keep your equipment clean and dry while on the course.
Remember how your clubs used to perform when you bought them, all that spin and confidence that they inspired? Well, here's your first step to getting them back to that condition. Below we've set out a list of some of the best golf towels that money can buy. Plus, be sure to have a read of some of our other golf gear guides, like our best golf bags guide, or our best golf tops guide.
Best Golf Towels
Why you can trust Golf Monthly Our expert reviewers spend hours testing and comparing products and services so you can choose the best for you. Find out more about how we test.
Titleist StaDry Performance Towel
Size: 17" x 17"
Clip: Yes
+ Groove cleaner included
+ Waterproof membrane keeps the inside dry
- Expensive
Titleist is well known for producing some of the best quality golf equipment on the market. You only have to look to some of the best golf bags the brand makes to see this. And the quality on offer in their products becomes even more evident when looking at the features on offer in the Titleist StaDry Performance Towel. It features Titleist's patented StaDry material which helps the towel dry quickly when it gets wet.
The towel's sheared velour terry exterior helps the towel get into all the gaps in your golf clubs. And if you're really looking to make sure you scrub every last piece of mud off your clubface, it also comes with a groove cleaner and a hub patterned microfiber interior.
Team Golf NCAA Embroidered Golf Towel
Size: 16" x 22"
Clip: Yes
+ Have your favorite team on your bag
+ Soft and foldable towel
- Not the highest quality
What better way to show your colors than on your golf towel? This high-quality NCAA team towel looks fantastic resting on the side of your bag and will help to strike up some major talking points on the course. Whether you support the Alabama Crimson Tide or follow the Wisconsin Badgers, this towel has you covered.
While this 100 per cent cotton towel is aesthetically brilliant, it ticks the practicality box too, featuring a checkered scrubber design that will help you clean your clubs. If you like showing off your team colors on the golf course, then why not pair this towel up with a novelty golf club head cover with your team's name embroidered on it.
Size: 21" x 16" (5" in width when folded)
Clip: Yes, sash can be attached to a bag
+ Velour front
+ Folds up nicely
- Some may want something more substantial
Whether you need to clean your hands or your clubhead, this option from Ping is a soft and ergonomic towel you can use to help you keep your equipment and your person nice and dry on the golf course. As it's name suggests the Ping Tri-Fold Towel is an ideal, year-round towel that can be folded up, into three segments and clipped to your bag.
That makes it the perfect towel for any golfer who doesn't like to have too many baggy items hanging from their bag, but still wants an easy-to-access towel that will keep your equipment dry. The towel itself is made from 100 per cent cotton and is extremely soft and absorbent, making it great if you need to wipe your hands or your golf club grips.
Size: 39" x 14"
Clip: No but comes with built in hanger
+ Great for cleaning golf clubs
+ Built in hanger
- Yellow does stand out
Pay homage to Rickie or Lexi with this striking towel from Cobra. The dashing yellow has always stood out from the crowd, so if you like to make a statement on the course, why not clip this to your bag.
Coming in at a very good price, the Cobra Players Towel is a handy microfiber accessory that is designed to soak up moisture and dry quickly. Whether your drinks bottle has spilled in your bag or your umbrella is starting to leak on your clubs, this towel will mop up any spillage and dry very quickly so that you can use it again and again during your round.
Size: 18" x 40"
Clip: No
+ Lightweight
+ Nice design
- No clip or loop on the towel
Nike have been producing some of the most trendy golf apparel on the market for years, and this towel certainly fits the line up of one of the most stylish on the market.
While a white golf towel may not be for everyone, this offering packs some great features in terms of performance being a large towel made from a soft and absorbant microfiber material that will safely clean your clubs. Because it is so large, you can use this towel simultaneously on the course for both wet and dry equipment.
Size: 24" x 42"
Clip: No
+ Soft and absorbent
+ Large towel
- In your face design
As seen on the PGA and European Tours, this TaylorMade tour towel is huge at 24" x 42" and made from a soft Terry cotton material. It is a great multi-purpose towel you can keep in your bag to dry anything from your forehead to the grip on your golf clubs.
Though the design may not be for everyone here, this towel will fit nicely in the large pocket of your golf bag and can be easily washed when you're finished using it. If you play with TaylorMade irons why not complete the full look and grab this towel to go with your clubs.
Size: 20.5" x 6.7"
Clip: Yes
+ Textured section for more aggressive cleaning
+ Very cool design
- Colors may not match your bag
Under Armour are known for producing high-quality golf equipment that is packed full of technology and this product is no different.
This trifold Under Armour towel features two different sections - a plush section for water absorption or polishing, and a textured section for cleaning loose dirt or mud and scrubbing patches for the tougher, dried-on dirt. It comes with an open loop for easy attachment if you already have a clip to use.
Motocaddy Deluxe Trolley Towel
Size: 6" x 10"
Clip: No but can be attached to cart
+ Works well for trolley users
+ Very soft
- Lacks shelf appeal
Motocaddy produce some of the best electric trolleys on the market. Each of their products are designed to the highest standards, offering durability, quality and ergonomic designs that will help players perform on the course. But the same too can be said about their Deluxe Towel. It easily clips onto your golf cart or bag for easy access when you need it but will not drag on the ground or get caught in the wheels. It's 6" x 10" x 7" in size and is made from 100 per cent soft and absorbing cotton.
PowaKaddy Velour Tri-Fold Towel
Size: 17" x 19"
Clip: Yes
+ Perfect texture
+ Easy to clip on to your bag
- Brass connector looks cheap
Keeping with the push carts theme, if you're a PowaKaddy user then this will match your cart perfectly. The trifold design on this towel is perfect for those looking for an option that doesn't take up too much space.
The towel is made from a soft, high-quality velour and features an easy-hanging brass clip you can use to attach the towel to either your bag or trolley. This towel is very absorbent too and because it is so soft, it can be a great tool in warmer climates too if you're a golfer who suffers from sweaty hands.
Size: 16" x 21"
Clip: Yes
+ Solid performer
+ Ergonomic clip
- Bit of a bland design
If you're a fan of the trifold design then this Callaway towel will be for you. Callaway produces some of the best and most durable golf equipment on the market and that is no different with this golf towel.
It's a classic design made from absorbent cotton that will look sleek on your bag. It's machine washable too for after those muddy days.
Mile High Life Tri-fold Golf Towel
Size: 20" x 15"
Clip: Yes
+ Amazing value
+ Very durable
- Quality lacking when compared to others
Coming in with around 14 different color options here, this towel will certainly bring a bit of pazazz to your golf look. The Mile High Life Tri-fold Golf Towel is also a very cheap option and but is durable, thanks to its excellent waffle microfiber design.
That makes it much more effective than cotton and its tri-fold design also means it doesn't take up too much room.
Wilson Staff Trifold Towel
Size: 16" x 21"
Clip: Yes
+ Elegant design
+ Very absorbent
- White shows dirt easily
Pair your Wilson Staff clubs or bag with this towel, available in white and black. It's a trifold design so very functional and small and comes with a clip for easy attachment to your bag.
The towel is made of light absorbent microfiber material which can be used to soak up water and debris on your golf clubs. It is also super soft too, which means it makes a great addition to any golf bag.
How we test golf towels
Here at Golf Monthly, our highly experienced team of testers play a lot of golf in different conditions throughout the year. Most of the Golf Monthly team have been working in the golf industry for more years than they care to remember, so have a wealth of experience to offer. Through our rigorous testing procedures, our collective goal is to test every kind of golf product on the market as soon as it becomes available to us to put it through its paces on the course, the practice ground, the short-game area and the driving range.
We want to get an idea of how each product performs in all areas of the game so we can tell you what its strengths and weaknesses are, thus enabling you to make an informed choice about your next purchase. Specifically, when it comes to the best golf towels we try and assess the difference between each towel in different conditions, whether that's rain or snow. Ultimately no manufacturer can buy a
How to choose a golf towel
As the best golf towels come in all different shapes and sizes, there are plenty of things to consider when purchasing your next towel. That can make buying a golf towel a difficult choice. But we have set out below a list of considerations we think you should keep in mind before you purchase your next golf towel.
1. Size
Size is a big factor to consider when picking a golf towel as this can affect the weight of your club bag but it can also mean you've got more towel to use on the course. Depending on your preferences as a player, a golf towel can come in a variety of sizes from large to very small, but the best towels on the market are without a doubt the tri-fold towels that can be fanned out or folded down into an ergonomic and easy to carry shape.
2. Material
Your golf towel will come in handy for various uses, so it is important to pick a towel made from a durable, absorbent material that will remove moisture and mud away from your clubhead or your golf club grip. It's also wise to think about the texture of the towel too. That can help you get into the grooves of your club heads but also help the towel dry faster.
3. Clips and storage
Being able to clip your towel and store it on your bag quickly and easily for efficient use while you're out on the golf course is perhaps one of the most critical factors on this list that you need to consider. As nobody likes faffing around on the course, being able to clip your towel to your bag will save you bags of time!
4. Color
While there are some great white options on the list above, if used correctly, these towels will fade and discolor over time depending on how much mud you get on them. We would say it is wiser to zgo for a darker color towel, which can hide mud stains much better.
5. Durability
Durability is something you need to keep in mind when buying any piece of golf equipment. To ensure your money goes the distance, But as you will be using your golf towel to clean equipment, your shoes and perhaps even wet benches out on the course, poorly designed towels can sometimes break down thanks to repeated use. For that reason, try to buy a towel that is made from only the best materials and will last for a long time.
While having a golf towel is an important addition to your golf bag, you may also want to think about upgrading your golf wardrobe to prepare you for wet weather golf. For that reason, why not check out our guides on the best waterproof golf jackets, best waterproof golf shoes and best golf rain gloves.
FAQs
Are golf towels important?
Are clean clubs important? You'd be mad not to invest in a microfiber towel that gets to work on those grooves and keeps your clubs looking shiny and something like new. Look at the boys and girls on tour, a towel is never far from every turn whether it is cleaning their clubs or balls. Get used to using a towel more and you'll get yourself into some better habits.
How often should I use a golf towel on my clubs?
Realistically, if you want to get the most out of your golf clubs you should dry them with a towel after every shot. Sometimes that isn't possible for amateur golfers, so drying them after each round or every couple of shots is also a good way to ensure your clubs can get a solid connection on the ball.
Can I use my golf towel to wipe my shoes down?
Yes, absolutely. You can use your golf towel for a number of uses, not just for your golf clubs. Towels are versatile and offer great drying and cleaning properties that can be used on muddy shoes, bags and even clothing.
Get the Golf Monthly Newsletter
Tips on how to play better, latest equipment reviews, interviews with the biggest names and more.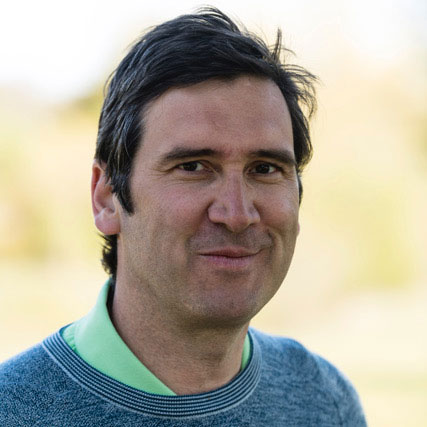 Mark has worked in golf for over 20 years having started off his journalistic life at the Press Association and BBC Sport before moving to Sky Sports where he became their golf editor on skysports.com. He then worked at National Club Golfer and Lady Golfer where he was the deputy editor and he has interviewed many of the leading names in the game, both male and female, ghosted columns for the likes of Robert Rock, Charley Hull and Dame Laura Davies, as well as playing the vast majority of our Top 100 GB&I courses. He loves links golf with a particular love of Royal Dornoch and Kingsbarns. He is now a freelance, also working for the PGA and Robert Rock. Loves tour golf, both men and women and he remains the long-standing owner of an horrific short game. He plays at Moortown with a handicap of 6.