Best Lightweight Golf Jackets 2023
Check out some of our favorite lightweight golf jackets, that'll keep you well protected from the elements without the bulk.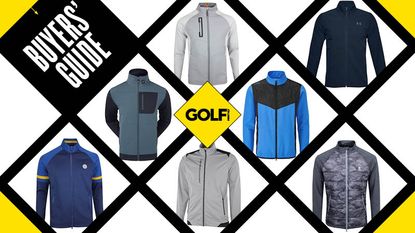 (Image credit: Golf Monthly)
Best Lightweight Golf Jackets
There's nothing worse than getting caught in the rain on the golf course. Trying to play golf when you're soaked through is a nightmare, and speaking from experience, it pays to be prepared. From our perspective, having a lightweight waterproof jacket is an essential item that every player should have in their wardrobe. While the best golf rain jackets (opens in new tab) deliver excellent warmth and protection, they can sometimes be a bit heavy, clunky and unnecessary if you're just playing through a light shower.
For that reason, it's good to have a go-between that you can store in your golf bag and pull out whenever the rain comes down. That's where a lightweight golf jacket comes in handy, with these options keeping you both warm and dry on the course without any bulk or weight that can hinder the golf swing. In fact, many of our favorite options included in this guide are both great for the golf course, but can also be used out and about in your daily life. They all blend style and performance to help you look smart and stay dry in whatever you're up to. So, if you're looking for a new lightweight golf jacket, check out some of the excellent options included on the list below. If you're after something a little more robust though, then we've got plenty of other fantastic jackets on our guides to the best golf waterproofs (opens in new tab) and the best golf rain gear (opens in new tab).
Best Lightweight Golf Jackets
Why you can trust Golf Monthly Our expert reviewers spend hours testing and comparing products and services so you can choose the best for you. Find out more about how we test.
FootJoy ThermoSeries Hybrid Jacket
Sizes: S-2XL
Colors: 2 (Charcoal, Navy)
+ Keeps you very warm in cold conditions
+ Excellent mobility and super stylish
- Drawstring at the rear can be distracting
For those wanting to play through the winter months, the ThermoSeries hybrid jacket looks to be a compelling mid-layer option. Cold weather is a real killer for your morale on the course and the warmth on offer here is simply outstanding. It promotes mobility in the swing too via a stretchy pair of sleeves which delivers a stylish woven tire finish to them. It also comes with an adjustable collar, which can be loosened or tightened via the elasticated cord at the back.
For such a warm garment, its most noticeable plus point is how lightweight it is and it's very thin too despite the woven quilted sections on its front.
Puma Cloudspun WRMLBL Jacket
Sizes: S-XXL
Colors: 2 (Black, Navy)
+ Incredibly warm and soft
+ Excellent wind protection
- Not fully waterproof, but can withstand a light shower
If you're after a warm, premium golf windbreaker it's hard to look past this offering from Puma. The Cloudspun fabric gives added weight and warmth to the jacket, while the Primaloft Quilting retains the heat and provides some good protection from the wind. The quilting also looks fantastic and gives a very trendy look on the course.
These two technologies work fantastically together and it kept us at very comfortable temperature throughout our testing. We really liked the drawstring at the waist which helped us loosen and tighten the jacket and really enjoyed the pockets on offer here too!
Read our full Puma Cloudspun WRMLBL Jacket review
(opens in new tab)
Original Penguin Golf Heritage Track Jacket
Sizes: S-XXL
Colors: 1 (Navy)
+ Stylish jacket can be worn on and off course
+ Water repellent coating
- Sporty styling will put some off
One of the most versatile brand's that we feel very comfortable wearing away from the course is Penguin. Its Heritage Track Jacket is a perfect example of a piece of golf clothing that looks fantastic blended with a pair of jeans and sneakers.
The full-zip design, stretch-zip collar and sleeve colors all combine to create a modern-looking garment.
The stretchable fabric works well with the golf swing and it is nicely fitted around the cuffs to prevent any interference when you grip the club. What's more the fabric itself has a water repellant coating that should help to keep you dry in light rain showers, but is perhaps not the best option for torrential downpours.
Under Armour Storm Revo Jacket
Sizes: Small-XXL
Colors: 3 (Blue, Navy, Grey)
+ Can be worn on and off the course
+ Good warmth
- Only three color options
A stylish, warm and protective jacket, the Revo is an excellent windbreaker and waterproof that looks good both on and off the course. Testing this jacket was a dream and we thoroughly enjoyed the mobility it provided us in our golf swing. As we've come to expect with Under Armour, the brand delivers quality in all the products they produce and that is certainly visible here. If you like this coat then you should also take a look at our guide on the best Under Armour golf shoes (opens in new tab).
It has three zipped pockets to keep all of your valuables safe and protected from the elements. The fit is just as you'd hope so we'd recommend going for your usual size. It comes in blue, navy and grey and looks great when twinned with a pair of chinos or smart golf trousers.
(opens in new tab)
Peter Millar Merge Elite Hybrid Jacket
Sizes: S-2XL
Colors: 3 (Blue Poppy, Grey, Balsam)
+ Lightweight but offers good protection from the elements
+ Exceptionally comfortable
- Not fully waterproof
This is an update to the Hyperlight Merge jacket (opens in new tab) that we gave an Editor's Choice award to in 2022 (opens in new tab) and a refreshed design, new colors and a zippered chest pocket make a great product even better. The Merge Elite is made from a premium performance fabric and delivers a lightweight feel but superb warmth. It is both wind and water-resistant and delivers ample protection against most showers.
As with the previous version, the Elite's sleeve length was perfect - not too long, that it would bunch up on your arm over a shot but not too short either that it would restrict your swing. It is suitable for on and off course wear and is one of the most versatile garments we've tested.
(opens in new tab)
G/FORE Camo Performer Jacket
Sizes: S-2XL
Colors: 2 (Black, Grey)
+ Lightweight
+ Luxurious feel and camo styling
- Water resistant, not waterproof
G/FORE are known for making products that really stand out and this Camo Performer jacket is a highlight on this list. That being said we do think it does have some restraint given the camo design is not an all over print, with the sleeves boasting just a plain grey colorway.
That aside, the super soft, luxurious material is both lightweight and provides good warmth in chilly conditions. It is brilliant at keeping out the wind for that reason. The jacket is water resistant and features 'AquaGuard' waterproof zippers, but it's not designed to keep out the heavy stuff. If that's your number one priority, we recommend taking a look at the best golf rain jackets (opens in new tab).
Read our full G/FORE Camo Performer Jacket Review
Sizes: S-3XL
Colors: 3 (Sharkskin/Black; White/Navy; Navy/White)
+ Stylish
+ Water repellent and warm
- On the expensive side
This is one of our favorite full-zip garments and we expect it to be very popular among golfers this winter and beyond. It looks excellent and can be paired with pretty much any outfit to deliver a smart look. The fit is nice too, with its sustainable material delivering a very sleek design but isn't restricting. It's easy to put on and take off, while it's a sleek product, meaning it won't take up much storage space.
When on the course it provides plenty of warmth and protection from the elements. Galvin Green says it's windproof and water repellent, which is what we found when testing. It's easily the sort of product that can become a staple of a golfer's wardrobe and their casual wear too. It comes in three colors, all of which are suitable for wear away from the course.
Ocean Tee Beluga Waterproof Jacket
Sizes: S-2XL
Colors: 2 (Blue, Grey)
+ Environmentally conscious construction
+ Design looks modern without being over the top
- Sizes can come up a touch small
We have been fans of OceanTee for a while now and this is set to continue with the Beluga Waterproof jacket. It's made from GRS certified recycled polyester and nylon giving it an environmentally sustainable plus point and the performance from a protection standpoint is good too.
Taped and seam-sealed, the Beluga is 100% water and windproof and is quiet too, which is a big bonus throughout the golf swing. It does have a fair amount of stretch, but size wise the jacket is an athletic/slim fit, so if you're in between sizes we'd recommend going with a size up. Overall we felt it ticked all the boxes for a winning waterproof golf jacket.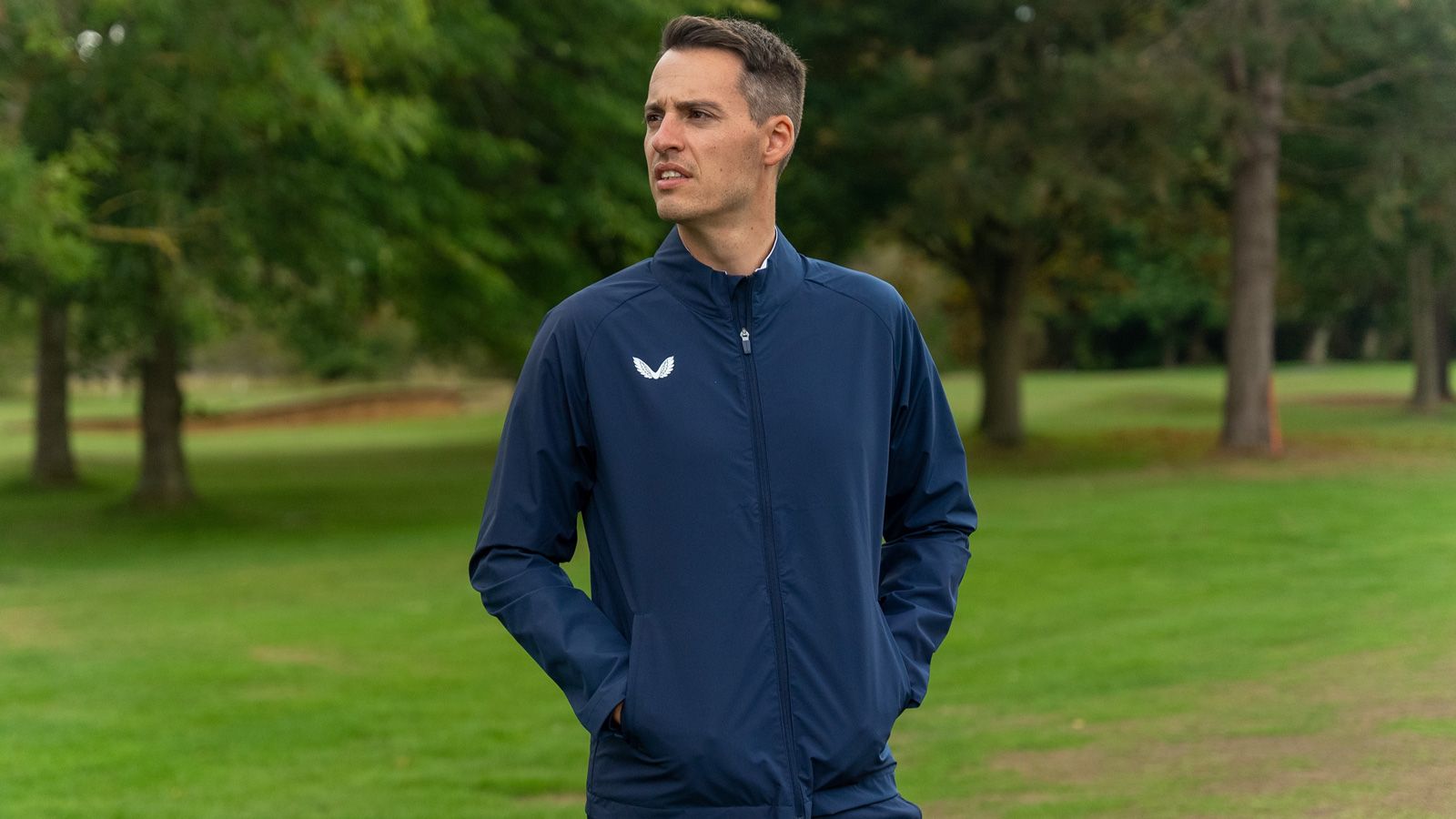 Castore Golf Zip Through Jacket
Sizes: S-XXL
Colors: 1 (Navy)
+ Clean, versatile design
+ Thin, lightweight material
- Not overly warm
The best golf waterproof jackets need to offer protection while being playable and the Castore Golf Zip Through jacket does an excellent job of this. The premium feel of the moisture-wicking fabric is excellent to the touch and once the main zip is fastened, the lightweight and minimalistic feel becomes more obvious.
The fabric is thin, meaning your swing won't feel restricted but it also means it will not provide the warmth many of the best golf jackets deliver. That being said, layers can easily be added underneath. The tailored fit means excess material doesn't intrude and the smart, clean styling means it can be worn easily away from the course. It lacks the customization options some of the best waterproof jackets offer, like Velcro cuffs or an elasticated hem, but this didn't seem to detract from the playing experience.
(opens in new tab)
Mizuno Nexlite Flex Jacket
Sizes: S-2XL
Colors: 5 (Coral Red, Black, Deep Navy, Grey, Lime)
+ Waterproof but lightweight
+ Breathable construction and therefore not sweaty
- Thin material and vents might not offer great cold/winter protection
This is an excellent and very good-value waterproof jacket that takes up very little space in the bag. Better still, it offers great protection from the rain with Mizuno's advice that it is water-resistant to 2,000m. We were impressed with its extremely lightweight and flexible material and the Velcro straps on the cuffs and back along with a toggle on the collar allow you to adapt the fit perfectly.
Any concerns about a restricted swing are alleviated by the stretchiness of the material which this year has been increased by 15%. Nobody wants to play in the rain, but this jacket is the perfect and unobtrusive companion allowing you to concentrate on your golf while staying warm and dry.
Nike Storm-Fit ADV Jacket
+ Sleek design
+ Provides excellent warmth
+ High-quality stretchy material
- Might not be the most waterproof jacket
As jackets go, this is an excellent, lightweight windbreaker that will protect you through the winter months. It doesn't boast as many bells and whistles as other jackets on this list might, but the Nike Storm-Fit ADV is a very stylish option and provides ample protection on those cold winter days on the course.
Nike produces some of the finest athletic apparel in the sports industry and this jacket is no different. It's made from a stretchy polyester that feels great to the touch, but also provides excellent mobility in your swing, allowing you to move freely and rip through your shot. It boasts a seam sealed zipper that helps to keep water out and feels very comfortable with a few extra layers underneath. It also features an elastic waistline and velcro cuffs, which you can customize to suit your comfort preferences.
Ping Norse S4 Zoned Jacket
+ Great comfort
+ Cuffed wrists
+ Water and wind resistance
- Not a fan of the styling
- Only comes in two colors
The Ping Norse S4 Zoned jacket is extremely warm, very comfortable to wear and flexible, plus it has been designed to be water resistant. It's a full zip design with two excellent zipped hand pockets that are fleece-lined. There's plenty of stretch to it so it's very easy to play golf in. We're big fans of this jacket and love the arms in particular, which are extremely thin but surprisingly warm.
The Norse S4 Zoned jacket is remarkably warm for what is a lightweight, thin garment - it's seriously impressive. Some golfers may find themselves getting an awful lot of wear out of it, off the golf course too. The only downsides we'd pick out would be the styling - a one-color all over look would have been preferred and unfortunately it only comes in two different colorways.
Oscar Jacobson Laguna Quarter-Zip Jacket
+ Very lightweight
+ Wind and water resistant
- Would need an additional mid-layer for very cold temperatures
This is an ideal lightweight jacket to have stored in your golf bag for when the weather turns sour on the course. It is perhaps one of the most lightweight offerings on this list, meaning you'll barely notice it's in your bag as you walk around the golf course. It does come as a pull-over jacket, which may not be to the tastes of some players, but for us was a fantastic option, delivering both warmth and mobility in the swing.
There is some excellent tech in this too, with it's elasticated cuffs and hem and a very pleasant fleece inside collar. It would be fair to say that at this price point there may be more that some would be looking for in a jacket, but this is a clear top performer for what it promises - which is wind and water resistance in a lightweight jacket.
How we test
When it comes to testing lightweight jackets (opens in new tab), and indeed all apparel, our ethos and methodology revolves around putting the gear on, and using it out on the golf course, in different conditions. Obviously to test waterproofing we game the apparel in wet conditions, and we have also gone to extreme measures before, like pouring water all over the jackets to test how seam-sealed they are.
We think the best way of actually testing golf products is to use them thoroughly on the golf course, over a number of rounds, but we also try them off the golf course too because some models are extremely versatile. We then use these experiences to create reviews and buying advice content. Speaking of which we should make very clear, no manufacturer can buy a good review from us, we tell it how we see it.
How to choose a golf jacket
So what are some of the factors you need to consider when trying to find the right lightweight golf jacket for you? Let's take a look.
1. Waterproofing
Obviously the most important thing is waterproofing. If a jacket doesn't keep the rain at bay, regardless of strength and duration, then it isn't worth having. Thankfully pretty much all of the models above will protect you from the rain in excellent fashion largely because they have been designed specifically for that purpose.
In terms of specifics, when doing your research be aware of the phrase 'water resistant' because this does not mean the jacket is completely waterproof, and also check if jackets have been seam-sealed because this is usually a great barometer of how waterproof a jacket is. We would also recommend checking if some models have a waterproof warranty, as well as having a look at our best golf rainwear (opens in new tab) guide.
2. Protection
A good waterproof jacket will also help you in the wind and cold too. The best models stop the wind penetrating the fabric and making your core cold, and also have nice features like fleece lined pockets to give you some respite from the poor conditions.
3. Color
If you are wearing it, you have to like what it looks like. No longer are golf rain jackets drab and boring to look at because now there are designs for all fashion senses. It is just a case of picking a design and color you like.
4. Freedom of movement
With all this protection, occasionally rain jackets can be large and cumbersome but in modern golf design this is no longer the case. Most really good models stretch and move with the body freely so that your swing isn't hindered despite having a few layers on.
5. Budget
Finally be aware of your budget as the best golf jackets don't come cheap! Importantly, we've listed several models above that come at both premium and value price points so there is something for everyone.
If you're perhaps looking for something more substantial for those torrential days on the course, then why not check out our guides to the best golf rain jackets (opens in new tab), best golf windbreakers (opens in new tab) and the best golf rain gear (opens in new tab).
FAQ's
Should I always carry a lightweight golf jacket in my bag?
It is advisable to carry a lightweight waterproof golf jacket in your bag as you never know when the weather will turn on the course. While you may be concerned about that weighing your bag down, there are plenty of options in this guide that way next to nothing and are unnoticeable in your bag.
What makes a good golf jacket?
There are several elements to a good golf jacket, with the first being warmth. A jacket needs to deliver warmth and protection from the elements otherwise you'll get soaked and uncomfortable on the course. Next is flexibility. It needs to provide you with comfort and a full range of movement. And the last is being lightweight - no body want's to be weighed down by heavy golf gear.
Can you play golf in a padded down jacket?
Yes you can! Some of the options in this guide are padded, yet you may want to be careful when playing in padded down jackets. These can have a tendency to rip as their material can be quite fragile. For that reason I'd personally avoid playing in down jackets, despite the warmth they can deliver.
A golfer for most of his life, Sam is a Senior Staff Writer for Golf Monthly.
Working with golf gear and equipment over the last five years, Sam has quickly built outstanding knowledge and expertise on golf products ranging from drivers, to balls, to shoes.
He also loves to test golf apparel especially if it a piece that can be used just about anywhere!
As a result he has always been the one family and friends come to for buying advice and tips.

He is a graduate of Swansea University where he studied History and American Studies, and he has been a part of the Golf Monthly team since December 2017. He also previously worked for World Soccer and Rugby World magazines.
Sam now spends most of his time testing and looking after golf gear content for the website. He also oversees all Tour player content as well.
Unfortunately, Sam is not a member of any club at the moment but regularly gets out on the golf course to keep up the facade of having a handicap of five.