Best Golf Windbreaker 2023
When the weather turns and wind is howling, these windbreakers will help keep out the cold.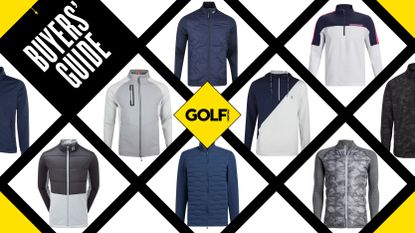 (Image credit: Golf Monthly)
Best Golf Windbreaker
Comfort on the golf course is key to playing your best. When you are out in the elements for four hours, it's crucial that you maintain a consistent body temperature, feel protected from the weather yet are able to swing freely, no matter what the conditions throw at you. That makes having the best golf waterproofs for you vitally important.
When the wind gusts hard, as it often does on the course, you need something to protect you from the squalls. Of course the best golf rain jackets can deliver here but you don't necessarily need, or want, to don full waterproofs in windy conditions, rather to find a garment designed specifically to counter the breezes. As such here we look at some of the best golf windbreakers that are on the market. These will protect you from the breeze but still help you maintain a consistent core temperature and swing with freedom. How is this achieved? Well most brands use fabrics and materials, as well as clever bits of technology, to keep the wind and cold out. Additionally the best models seem to offer different looks and designs as well so every fashion sense is catered for. Let's get to the list and if you want more garments to deal with the cold, check out our guides on the best golf sweaters and best golf hoodies as well.
Best Golf Windbreaker - Best Golf Wind Jackets
Why you can trust Golf Monthly Our expert reviewers spend hours testing and comparing products and services so you can choose the best for you. Find out more about how we test.
Galvin Green Armstrong Jacket
Sizes: S-XXXL
Colors: 6
+ Thin and stretchy fabric
+ Keeps water and wind out
- Doesn't offer warmth on cold outings
Updated for 2023 with some fresh colors and stylish details, this lightweight Gore-Tex waterproof jacket continues to impress.
Not only does it keep water and wind at bay with consummate ease, but it also has those important design details that ensure you can swing in total comfort - notably the Velcro cuffs, three zipped pockets and the elasticated drawstring at the waist, which creates a tailored fit.
The thin Paclite stretch material ensures you're able to swing unimpeded and also allows you to fold it away compactly for easy storage. Perhaps most importantly, it's up there as one of the best-looking golf rain jackets around, so you'll look and feel like a million dollars strolling the fairways, even when the heavens open.
Peter Millar Winter Wind Gust Jacket
Sizes: S-XXL
Colors: 2
+ Super-flexible, lightweight jacket that still provides plenty of protection
+ Flattering shape and style
- No internal pocket
In recent years, the need for golf to have its very own clothing styles and patterns has diminished. There is now greater demand for apparel that can be used in a wider setting, and Peter Millar has been a key player in this.
The Winter Wind Gust Jacket is a perfect example, one that can be worn and enjoyed anywhere. Its comfort comes from a thin, gridded, fleecy interior which weaves its magic without adding to the bulk, and the material has a 4-way stretch and is water-resistant.
I can easily wear this over a polo shirt or a mid-layer, or potentially even under a waterproof jacket. I have been a golfer for 40 years, and it is a real pleasure to find clothing that I can enjoy playing in, but which doesn't label me as a golfer.
Original Penguin Print Windbreaker
Sizes: S-XXL
Colors: 2
+ Lightweight material
+ Stylish and funky design
- Too tight for some
The Penguin quarter zip windbreaker is super lightweight and fit for purpose. As soon as you pull it on you can feel the quality of the material used. Despite its lightweight and thin appearance the windbreaker is able to keep you nice and toasty without you having to wear much more than a t-shirt underneath. My suggestion would be to go one or two sizes bigger than you normally would if you plan on wearing layers underneath.
It has two front pockets which surprised me at how soft they were to put your hands in, great for keeping the extremities warm. The funky penguin pattern on the exterior is too good to hide.The design of this windbreaker doesn't restrict golfers during their swing. This is another penguin design that is perfect for on and off the golf course.
G/FORE Performer Nylon Jacket
Sizes: S-2XL
Colors: 2
+ Front shell provides good protection
+ 4-Way Stretch back and sleeves
+ 2-Way front zipper
- Limited color choice
The Performer by G/Fore is a lightweight & versatile jacket that can be worn all year round. It combines an insulated soft nylon front shell with a mossed interior tech interlock for warmth, while the 4-way stretched back and sleeves ensure great comfort and mobility.
The jacket also features a 2-way front zipper and two interior pockets. This is a premium jacket at a premium price but we were very impressed with how it performed on the golf course. The shell provided warmth while the stretch material in the back and sleeves really allows for great freedom when swinging the club.
Sizes: S-XXXL
Colors: 4
+ Excellent protection
+ Ideal for light showers on colder days
+ Versatile, stylish design
- Quite loose fitting
The Leonard is the perfect golf top for those that play in some of the worst weather but don't enjoy the feel of a waterproof jacket. The warmth comes from the padded middle section while the Interface-1 fabric on the arms provides the freedom of movement as well as the protection from the elements. In fact, water beads off the arms extremely quickly barely leaving any trace behind, although the same isn't quite true of the center section.
The mesh pockets are comfortable and convenient and also have zips to keep items secure. The fit comes up larger than other garments in Galvin Green's range, which works if you want to combine it with other layers underneath, but might mean it looks baggy unless you go down a size.
Nike Tour Essential Golf Jacket
Sizes: XS-4XL
Colors: 2
+ Surprisingly warm
+ Totally noninvasive
- No hood
The first thing to note with the Nike Tour Essential Men's Golf Jacket is how surprisingly warm it was despite being made up of such a thin and lightweight water-repellent fabric. We were only wearing this on top of a Nike Floral Polo, and a particularly windy day felt like a mild summer evening. The second huge positive to note was that it looked tailored but at no point did it restrict any kind of movement in the upper body, thanks to the slightly stretchy material.
The incredibly large pockets (big enough to fit a pint glass with room to spare) will split opinion, as will the double pulley zip. The lack of hood does hold it back compared to some of its rivals, but overall it is still a high-quality jacket which is excellent value for money.
Peter Millar Merge Elite Hybrid Jacket
Sizes: S-2XL
Colors: 3
+ Lightweight and comfortable
+ Good protection from the elements
- Not fully waterproof
This is an update to the Hyperlight Merge jacket that we gave an Editor's Choice award to in 2022 and a refreshed design, new colors and a zippered chest pocket make a great product even better. The jacket is made from a premium performance fabric and it offers superb comfort and lightweight warmth. It's wind and water-resistant and although you might need to pull on a fully waterproof jacket when the heavens really open.
As with the previous version, the Elite's sleeve length was perfect - no annoying bunching up of material when standing over a shot. Suitable for on and off course wear this is one of the most versatile garments we've tested.
Ping Norse S4 Zoned Jacket
Sizes: S-XXXL
Colors: 2
+ Great comfort
+ Water and wind resistance
- Only comes in two colors
The Ping Norse S4 Zoned jacket is extremely warm, very comfortable to wear and flexible, plus it has been designed to be water resistant. It's a full zip design with two excellent zipped hand pockets that are fleece-lined.
There's plenty of stretch to it so it's very easy to play golf in. We're big fans of this jacket and love the arms in particular, which are extremely thin but surprisingly warm.
The Norse S4 Zoned jacket is remarkably warm for what is a lightweight, thin garment - it's seriously impressive. Some golfers may find themselves getting an awful lot of wear out of it, off the golf course too.
Mizuno Breath Thermo Down Jacket
Sizes: S-XLL
Colors: 3
+ Smart and modern look and feel
+ Excellent protection from the cold
- Not so good in the wet
Golf fashion has happily moved away from being instantly recognizable as just golf, and this excellent and very comfortable jacket is a prime example. It is 100% polyester, and therefore weighs little, but nonetheless delivers plenty of punch in protecting you from the elements and keeping you warm. It uses Mizuno's Breath Thermo technology which is designed to absorb moisture from the body - your sweat - and use it to generate heat.
The downy padding in both the body and the sleeves creates more warmth, but is just the right thickness to make you feel protected from the cold without limiting your movement, especially your swing, or feeling too chunky.
Adidas Frostguard Full Zip Padded Jacket
Sizes: S-XXXL
Colors: 3
+ Comfortable and well fitting
+ Supremely warm
- Comes up a little large so getting the right sizing can be tricky
During our testing, this jacket from adidas provided a comfortable fit thanks to the combination of the nylon and elastane dobby. It really moved well on a variety of shots and didn't make a lot of noise which is something that can be a real annoyance with some jackets.
The star feature for us was the warmth on offer. The core section of the jacket is filled with duck down and feathers, both of which really help keep your body heat in. Having also tested the jacket on a very windy day, it offers great protection against the elements.
Read our full Adidas Frostguard Full Zip Padded Jacket review
Puma Nordic DWR Golf Jacket
Sizes: S-XXL
Colors: 1
+ Warm in cold conditions, especially in the wind
+ Comfortable to wear, even over other layers
+ Not restrictive
- Not much waterproofing
First things first, the Nordic jacket is a great performer in windier and colder weather, with the windCELL technology working its magic to protect us against the most extreme conditions.
What particularly impressed us in testing was how the Nordic jacket fitted over other layers we had on, with pull toggles at the waist and Velcro adjustment on the sleeves providing a snug fit that didn't restrict movement in our swing.
Read our full Puma Nordic DWR Golf Jacket review
FootJoy Hybrid Insulated Jacket
Sizes: S-XXL
Colors: 2
+ Warm without being too bulky
+ Two front pockets
- Not as transferrable off the course
By far the most striking feature here was the sheer level of warmth on offer. The Insulated fabric is a little heavier than you will find elsewhere but does a great job of keeping out the cold.
The fit was roomy enough to wear multiple layers underneath but for the most part, we suspect that might not be necessary. It might not be quite as versatile as one of the best golf waterproofs or best golf tops but if you regularly play on cold days, this could become a valuable part of your golfing wardrobe. We also really like the look of this jacket but it is questionable whether it can be used off the golf course.
Read our full FootJoy Hybrid Insulated Jacket review
Under Armour Storm Windstrike Half Zip
Sizes: S-XXL
Colors: 3
+ Windproof material
+ Excellent mobility
- Neon pink stripes
The Storm Windstrike ½ zip is close to the ultimate lightweight jacket if you're expecting showers or a breeze while on the course. The ½ zip makes this jacket easy to layer on top of a jumper and take on and off. Under Armour Storm technology helps repel water while also remaining extremely breathable for those days where it's humid yet rain is forecast. I was particularly impressed with the Storm Windstrike ½ zip, due to the four-way stretch and new back design, which allowed for excellent range of motion. Under Armour has opted for more of a loose cut finish with this item, which again makes it ideal to put on over a golf jumper, yet it fits tight enough to not impede your swing.
G/FORE Camo Performer Jacket
Sizes: S-2XL
Colors: 2
+ Lightweight
+ Luxurious feel and camo styling
- Water resistant, not waterproof
G/FORE are known for making products that really stand out and this Camo Performer jacket is a case in point. That being said we do think it does have some restraint given the camo design is not an all over print.
The super soft, luxurious material is lightweight, but provides good warmth in chilly conditions and is brilliant at keeping out the wind. The jacket is water resistant and features 'AquaGuard' waterproof zippers, but it's not designed to keep out the heavy stuff. If that's your number one priority, we recommend taking a look at the best waterproof golf jackets.
Read our full G/FORE Camo Performer Jacket Review
TravisMathew Interlude Puffer Jacket
Sizes: S-XXL
Colors: 3
+ Understated style
+ Warm and comfortable
- Not waterproof
Travis Matthew produces street-inspired golf wear that will look as good out and about as out on the fairways. This puffer jacket is the perfect example. It's durable and lightweight with 4-way stretch to maximize freedom of movement and allow you to swing easily. It's a full-zip jacket that's easy to put on and take off and the quilted finish delivers excellent thermal properties.
It's machine washable which is a major boost and it's wrinkle resistant. The micro rip-stop fabric means it's built to last. This is a very versatile jacket that will keep you warm and comfy in a variety of tougher conditions.
Original Penguin Color Block Wind Jacket
Sizes: S-2XL
Colors: 1
+ Versatile to be used anywhere
+ Excellent all round performer
- Not fully waterproof
To put it simply, I love this wind jacket because it makes transitioning from the course to just about anywhere else seamless. Admittedly it isn't fully waterproof, but having tested it in different conditions, it does deal with light showers and wind very well. The stretchy double layer fabrication provides some solid protection and the adjustment features, and hood section, are easy to adjust. I really like the color blocked look to it although some more colors are needed. As I briefly mentioned, its versatility is probably its biggest plus point whilst it feels extremely well made too. Finally it feels lightweight and can be worn over sweaters or other golf tops easily.
J Lindeberg Quilt Hybrid Jacket
Sizes: S-XXL
Colors: 6
+ Stylish
+ Comfortable fit
- The fit may not be for everyone
A J.Lindeberg masterpiece. Put this jacket on and you can feel the quality of this hybrid jacket. With a quilted front designed to retain warmth and the freedom of a mid-layer bonded together this jacket makes it easy for you to move through your swing without hinderance. It fits snug around your arms so there is no excess material gets in the way but also offers plenty of room around the torso for you to layer up. It comes with two zip-up pockets that not only offer a convenient place to store things, but are a great place to keep your hands warm on those chilly summer mornings. A jacket that can be worn on and off the golf course.
Sizes: S-XL
Colors: 2
+ Lightweight
+ Zip pockets
- Arms on short side
Farah's Parker jacket is a quarter-zip windbreaker that is a solid, lightweight layer to wear on those windy or chilly days on the golf course. It's not waterproof, which is a shame but it will certainly keep you dry during short spells of light rain. The minimal styling is nice and we like the subtle Farah 'F' logos throughout.
We love that it comes with two zip pockets and overall it's a very comfortable garment to wear. There's a good amount of stretch to it around the neck and on the wrist cuffs, although they are fairly tight. It's very nice to play golf in due to the stretch properties and overall is a good value windbreaker.
Nike Storm-Fit ADV Jacket
Sizes: XS-4XL
Colors: 2
+ Sleek design
+ Provides excellent warmth
- Might not be the most waterproof jacket
An excellent lightweight jacket that will protect you through the winter months, the Nike Storm-Fit ADV is a great option if you're looking for a coat that is going to keep you sheltered from the wind and rain. Nike produces some of the finest athletic apparel in the sports industry and this jacket is no different.
It's made from a stretchy polyester that feels great to the touch, but also provides excellent mobility in your swing, allowing you to move freely and rip through your shot. This jacket boasts a seam sealed zipper that helps to keep water out and feels very comfortable with a few extra layers underneath.
Under Armour Storm Windstrike Zip
Sizes: S-XXL
Colors: 3
+ Water repellent
+ Good layer for when it's windy
- Snug fit
The thin and lightweight Storm Windstrike ½ zip is a fantastic layer to have when it starts raining or the cold wind gets up out on the golf course. It has been designed to repel water and keep the warmth in when it's windy and it does the job nicely.
We felt this was a more snug fit compared to some of Under Armour's other offerings, so if you are between sizes we'd definitely recommend sizing up. We also enjoyed the one large pocket which can be filled with hand warmers to keep your hands nice and warm in the winter months.
Original Penguin Heritage Water Repellent Track Jacket