Best Golf Windbreaker 2023
When the weather turns and wind is howling, these windbreakers will help keep out the cold.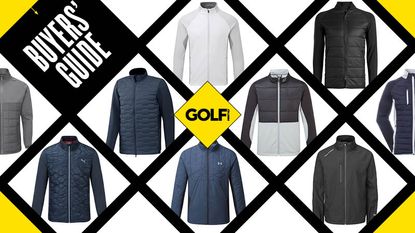 (Image credit: Golf Monthly)
Best Golf Windbreaker
Comfort on the golf course is key to playing your best. When you are out in the elements for four hours, it's crucial that you maintain a consistent body temperature, feel protected from the weather yet are able to swing freely, no matter what the conditions throw at you. That makes having the best golf waterproofs (opens in new tab) for you vitally important.
When the wind gusts hard, as it often does on the course, you need something to protect you from the squalls. Of course the best golf rain jackets (opens in new tab) can deliver here but you don't necessarily need, or want, to don full waterproofs in windy conditions, rather to find a garment designed specifically to counter the breezes. As such here we look at some of the best golf windbreakers that are on the market. These will protect you from the breeze but still help you maintain a consistent core temperature and swing with freedom. How is this achieved? Well most brands use fabrics and materials, as well as clever bits of technology, to keep the wind and cold out. Additionally the best models seem to offer different looks and designs as well so every fashion sense is catered for.
Let's get to the list and if you want more garments to deal with the cold, check out our guides on the best golf sweaters (opens in new tab) and best golf hoodies (opens in new tab) as well.
Best Golf Windbreaker - Best Golf Wind Jackets
Why you can trust Golf Monthly Our expert reviewers spend hours testing and comparing products and services so you can choose the best for you. Find out more about how we test.
Ping Norse S4 Zoned Jacket
Sizes: S-XXXL
Colors: 2 (Stormcloud, French Blue)
+ Great comfort
+ Water and wind resistance
- Only comes in two colors
The Ping Norse S4 Zoned jacket is extremely warm, very comfortable to wear and flexible, plus it has been designed to be water resistant. It's a full zip design with two excellent zipped hand pockets that are fleece-lined. There's plenty of stretch to it so it's very easy to play golf in. We're big fans of this jacket and love the arms in particular, which are extremely thin but surprisingly warm.
The Norse S4 Zoned jacket is remarkably warm for what is a lightweight, thin garment - it's seriously impressive. Some golfers may find themselves getting an awful lot of wear out of it, off the golf course too.
Mizuno Breath Thermo Down Jacket
Sizes: S-XLL
Colors: 3 (Black, Grey, Red)
+ Smart and modern look and feel
+ Excellent protection from the cold
- Not so good in the wet
Golf fashion has happily moved away from being instantly recognizable as just golf, and this excellent and very comfortable jacket is a prime example. It is 100% polyester, and therefore weighs little, but nonetheless delivers plenty of punch in protecting you from the elements and keeping you warm. It uses Mizuno's Breath Thermo technology which is designed to absorb moisture from the body - your sweat - and use it to generate heat.
The downy padding in both the body and the sleeves creates more warmth, but is just the right thickness to make you feel protected from the cold without limiting your movement, especially your swing, or feeling too chunky.
Under Armour Storm Revo Jacket
Sizes: Small-XXL
Colors: 3 (Blue, Navy, Grey)
+ Can be worn on and off the course
+ Good warmth
- Only three color options
The Revo could be your new go-to jacket that you wear on the golf course and almost everywhere else. It's stylish, very warm and keeps you protected from the rain and wind.
It has three zipped pockets to keep all of your valuables safe and protected from the elements. The fit is just as you'd hope so we'd recommend going for your usual size. We liked the stretch on offer, there's not too much but just the right amount and it's very easy to move and play golf in. It comes in blue, navy and grey.
Puma Cloudspun WRMLBL Jacket
Sizes: S-XXL
Colors: 2 (Black, Navy)
+ Incredibly warm and soft
+ Excellent wind protection
- Not fully waterproof, but can withstand a light shower
If you're after a warm, premium golf windbreaker it's hard to look past this offering from Puma. The Cloudspun fabric gives added weight and warmth to the jacket, while the Primaloft Quilting retains the heat and provides some good protection from the wind.
These two technologies work fantastically together and it kept us at very comfortable temperature throughout our testing. We also really liked the drawstring at the waist which can be adjusted very easily, and we always like a jacket to come with good pockets.
Read our full Puma Cloudspun WRMLBL Jacket review
FootJoy Hybrid Insulated Jacket
Sizes: S-XXL
Colors: 2 (Navy, Black)
+ Warm without being too bulky
+ Two front pockets
- Not as transferrable off the course
By far the most striking feature here was the sheer level of warmth on offer. The Insulated fabric is a little heavier than you will find elsewhere but does a great job of keeping out the cold.
The fit was roomy enough to wear multiple layers underneath but for the most part, we suspect that might not be necessary. It might not be quite as versatile as one of the best golf waterproofs or best golf tops but if you regularly play on cold days, this could become a valuable part of your golfing wardrobe. We also really like the look of this jacket but it is questionable whether it can be used off the golf course.
Read our full FootJoy Hybrid Insulated Jacket review
Adidas Frostguard Full Zip Padded Jacket
Sizes: S-XXXL
Colors: 3 (Black, Navy, Hemp)
+ Comfortable and well fitting
+ Supremely warm
- Comes up a little large so getting the right sizing can be tricky
During our testing, this jacket from adidas provided a comfortable fit thanks to the combination of the nylon and elastane dobby. It really moved well on a variety of shots and didn't make a lot of noise which is something that can be a real annoyance with some jackets.
The star feature for us was the warmth on offer. The core section of the jacket is filled with duck down and feathers, both of which really help keep your body heat in. Having also tested the jacket on a very windy day, it offers great protection against the elements.
Read our full Adidas Frostguard Full Zip Padded Jacket review
(opens in new tab)
Peter Millar Merge Elite Hybrid Jacket
Sizes: S-2XL
Colors: 3 (Blue Poppy, Grey, Balsam)
+ Lightweight but offers good protection from the elements
+ Exceptionally comfortable
- Not fully waterproof
This is an update to the Hyperlight Merge jacket that we gave an Editor's Choice award to in 2022 and a refreshed design, new colors and a zippered chest pocket make a great product even better. The jacket is made from a premium performance fabric and it offers superb comfort and lightweight warmth. It's wind and water-resistant and although you might need to pull on a fully waterproof jacket when the heavens really open.
As with the previous version, the Elite's sleeve length was perfect - no annoying bunching up of material when standing over a shot. Suitable for on and off course wear this is one of the most versatile garments we've tested.
G/FORE Camo Performer Jacket
Sizes: S-2XL
Colors: 2 (Black, Grey)
+ Lightweight
+ Luxurious feel and camo styling
- Water resistant, not waterproof
G/FORE are known for making products that really stand out and this Camo Performer jacket is a case in point. That being said we do think it does have some restraint given the camo design is not an all over print.
The super soft, luxurious material is lightweight, but provides good warmth in chilly conditions and is brilliant at keeping out the wind. The jacket is water resistant and features 'AquaGuard' waterproof zippers, but it's not designed to keep out the heavy stuff. If that's your number one priority, we recommend taking a look at the best waterproof golf jackets.
Read our full G/FORE Camo Performer Jacket Review
TravisMathew Interlude Puffer Jacket
Sizes: S-XXL
Colors: 3 (Black, Mood Indigo, Grey)
+ Understated style
+ Warm and comfortable
- Not waterproof
Travis Matthew produces street-inspired golf wear that will look as good out and about as out on the fairways. This puffer jacket is the perfect example. It's durable and lightweight with 4-way stretch to maximize freedom of movement and allow you to swing easily. It's a full-zip jacket that's easy to put on and take off and the quilted finish delivers excellent thermal properties.
It's machine washable which is a major boost and it's wrinkle resistant. The micro rip-stop fabric means it's built to last. This is a very versatile jacket that will keep you warm and comfy in a variety of tougher conditions.
Nike Storm-Fit ADV Jacket
Sizes: XS-4XL
Colors: Two (Black; Olive Grey)
+ Sleek design
+ Provides excellent warmth
- Might not be the most waterproof jacket
An excellent lightweight jacket that will protect you through the winter months, the Nike Storm-Fit ADV is a great option if you're looking for a coat that is going to keep you sheltered from the wind and rain. Nike produces some of the finest athletic apparel in the sports industry and this jacket is no different.
It's made from a stretchy polyester that feels great to the touch, but also provides excellent mobility in your swing, allowing you to move freely and rip through your shot. This jacket boasts a seam sealed zipper that helps to keep water out and feels very comfortable with a few extra layers underneath.
Under Armour Storm Windstrike Zip
Sizes: S-XXL
Colors: 3 (Black, Cruise Blue, Bauhaus Blue)
+ Water repellent
+ Good layer for when it's windy
- Snug fit
The thin and lightweight Storm Windstrike ½ zip is a fantastic layer to have when it starts raining or the cold wind gets up out on the golf course. It has been designed to repel water and keep the warmth in when it's windy and it does the job nicely.
We felt this was a more snug fit compared to some of Under Armour's other offerings, so if you are between sizes we'd definitely recommend sizing up. We also enjoyed the one large pocket which can be filled with hand warmers to keep your hands nice and warm in the winter months.
Original Penguin Heritage Water Repellent Track Jacket
Sizes: S-2XL
Colors: 2 (Blue, White)
+ Great on and off the course
+ Super stylish
- Better options out there to deal with rain
Original Penguin has constructed this Heritage jacket made with 30 per cent recycled polyester which come from plastic bottles. It has a full-zip closure which makes it easy for layering as this is not a jacket to be worn on its own if the heavens open.
Depending how much layering you are thinking of, this is quite roomy so you might want to consider dropping your usual size though the ribbed cuffs mean that it won't get in the way when you're swinging and, likewise, the collar will stay in place. This is also available in white which is quite striking and the pockets are roomy.
Oscar Jacobson Laguna Jacket
Sizes: S-XXXL
Colors: 2 (Navy, Black)
+ Very lightweight
+ Wind and water resistant
- Would need an additional mid-layer for very cold temperatures
This is an ideal lightweight jacket to have stored in your golf bag, would fold out easily and barely impact the weight you had on your back around the course. There is excellent tech with elasticated cuffs and hem and a very pleasant fleece inside collar.
It would be fair to say that at this price point there may be more that some would be looking for in a jacket, but this is a clear top performer for what it promises - which is wind and water resistance in a lightweight jacket.
Sizes: S-3XL
Colors: 3 (Sharkskin/Black; White/Navy; Navy/White)
+ Stylish
+ Water repellent and warm
- On the expensive side
This is one of our favorite full-zip garments and we expect it to be very popular among golfers this winter and beyond. The style is excellent, as is the fit. It's made with sustainable fabrics that are stretchy, allowing for great freedom of movement when swinging. It's easy to put on and take off, while it's a sleek product, meaning it won't take up much storage space.
When on the course it delivers plenty of warmth and protection from the elements. Galvin Green says it's windproof and water repellent, which is what we found when testing. It's easily the sort of product that can become a staple of a golfer's wardrobe. It comes in three colors, all of which are suitable for wear away from the course.
Sizes: S-2XL
Colors: 2 (Black, Navy)
+ Very warm and feels very well made
+ Ideal for dealing with wind
- The criss-cross design is an acquired taste
When the wind picks up we need a garment to block out those gusts so that our body stays warm and one of the best we have found is the aptly named Blizzard Jacket from ProQuip. It is a windproof, thermal jacket made from soft polyester which is filled with down and then treated with DWR (durable water repellent) for wind and rain resistance. The result is a very warm and comfortable jacket that has a bit of bulk to it but doesn't feel overbearing or overweight. We also particularly liked the stretchiness of the waist and the presence of a hood as well. Available in navy or black.
Sizes: S-3XL
Colors: 3 (Light Blue, Blue, Grey)
+ Incredibly light to both wear and carry
+ Comfortable to wear even when zipped right to the top
- Many will prefer full weather protection
Style is, of course, a matter of taste, but for us, this classy jacket really looks the part. It fits really well too – snug enough to prevent unwanted excess material in the arms and body yet loose enough to allow you to swing freely. The soft-touch, brushed inner fabric feels great and there is sufficient pocket space to store the things you may want to have about your person as you play. It remains comfortable to wear even when zipped right to top for maximum warmth and protection.
Yes, it's quite punchy for a jacket that isn't fully waterproof, but its style and looks mean it's comfortably versatile enough to wear away from the fairways too.
Sunderland Zermatt Padded Jacket
Sizes: S-2XL
Colors: 4
+ Good range of movement
+ Warmer than most
- Fabric can make a noise during the swing
The jacket is incredibly stylish and wouldn't look out of place off the golf course. All six of the color options are tasteful and it remains practical with three pocket offerings. It has made from high quality heat insulated materials which are best designed for the colder days; it even made me look forward to winter golf!
Easy to swing without the feeling of wearing too many layers. Will offer protection from rain showers but is not fully waterproof. Ideal for a cold drizzly day but not quite the full storm which we can often encounter on the course.
Read our full Sunderland Technical Padded Jacket review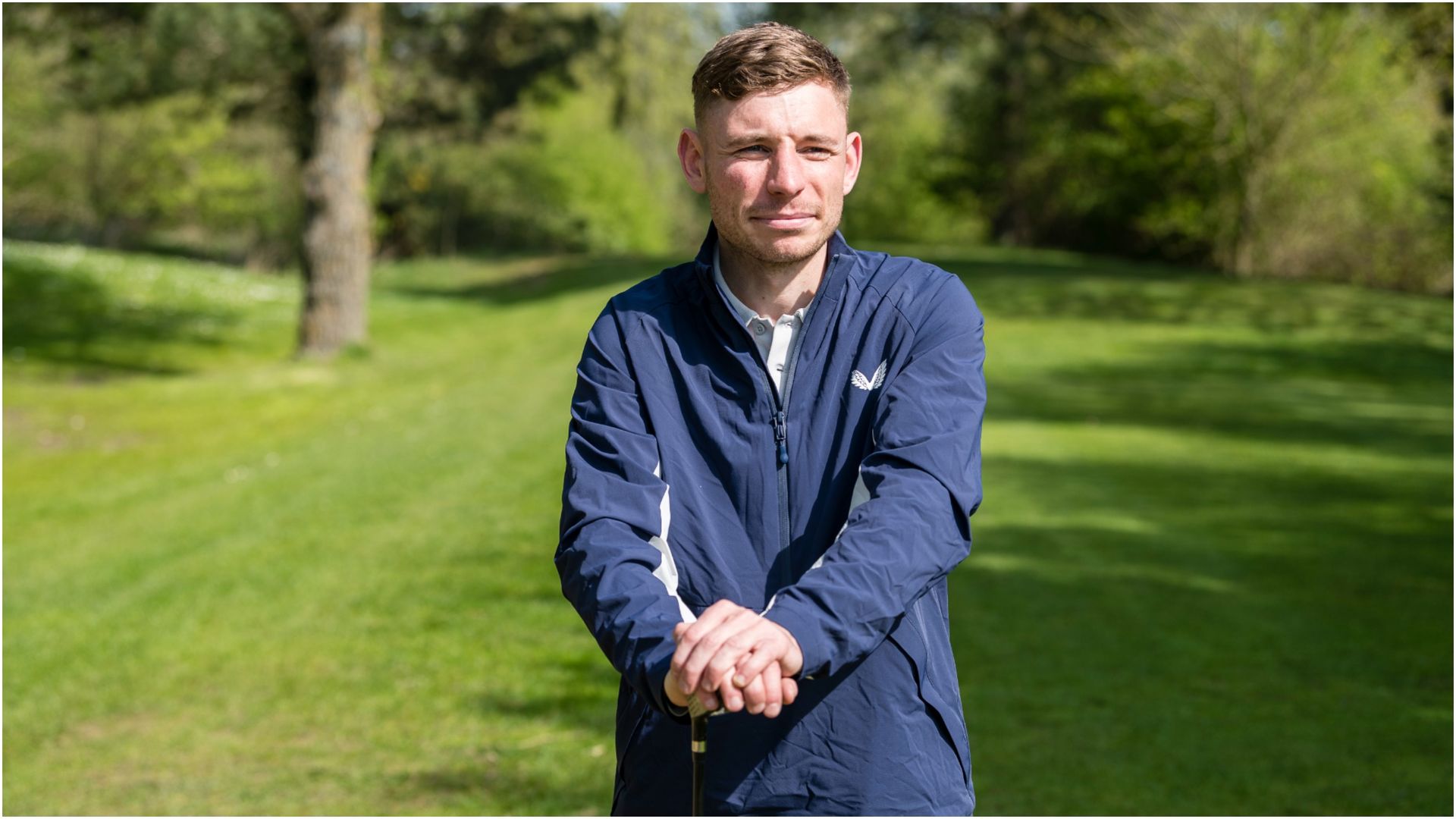 Castore Peacoat Lightweight Anorak
Sizes: XS-2XL
Colors: 1
+ Allows for a full range of movement
+ Solid protection from the elements
- Pocket might be slightly too large
Castore's Lightweight Anorak is a stylish, high-performance windbreaker that will help you stay protected from the elements while you're on the course. It features two cream-colored panels under the arms and down its sides, which are made of a stretchy elastane material that enables golfers to achieve a full range of movement in their swing.
The jacket's low tapered collar design allows you to easily twist and turn your neck and head when striking the ball and when unzipped, it reveals some smart branding on the lapel. It also features a large tubular pocket that spreads across the jacket's midriff and is sealed by two zips.
How we test golf apparel
We test golf apparel in the same way we test all golf equipment (opens in new tab), by using products properly. The best way to test windbreakers is by doing so out on the golf course to gauge how they deal with the wind, and how warm they keep the wearer. This testing often takes place over a few rounds so we can then see how the jacket has performed over time, in different conditions and how it performs when we have to play varying shots.
We would also wear the tops off the golf course as well because versatility to use a garment anywhere is a great way to get value for money. The final point we wanted to mention here is no manufacturer can pay for a good review because our thorough testing team tells it how it is.
What to consider when buying a golf windbreaker
Protection
This is the most important factor to consider really because a good wind jacket has to protect the wearer from the wind and the cold. The best models stop the wind penetrating the fabric and making your core cold, and also have nice features like fleece lined pockets to give you some respite from the poor conditions.
Waterproofing
Do you want the jacket to offer waterproof protection as well? Many of the models in this guide offer some kind of water repellent protection but if you want something for greater downpours, then we would recommend taking a look at the models in our best waterproof golf jackets (opens in new tab) guide, or maybe try investing in one of the best golf umbrellas (opens in new tab) as well!
Freedom of movement
With all this protection, occasionally jackets can be large and cumbersome but in modern golf design this is no longer the case. Most really good models stretch and move with the body freely so that your swing isn't hindered despite having a few layers on. Here we would recommend trying on models and making practice swings to see if you like the movement on offer.
Color
If you are wearing it, you have to like what it looks like. No longer are golf windbreakers drab and boring to look at because now there are designs for all fashion senses. It is just a case of picking a design and color you like.
Versatility
Do you want to be able to use the jacket anywhere from the golf course to the pub to at home? This is an important factor if you want to get more for your money and thankfully there are lots of model above that we feel can be used on and off the course.
Budget
Finally be aware of your budget so you can find a jacket that fits into it nicely. Importantly there are models above which come with premium, and value price points so there is something for everyone.
We hope you enjoyed this guide on the best golf windbreakers. For more buying advice, such as the best golf rainwear (opens in new tab) or best waterproof golf shoes (opens in new tab), see the Golf Monthly website.
A golfer for most of his life, Sam is a Senior Staff Writer for Golf Monthly.
Working with golf gear and equipment over the last five years, Sam has quickly built outstanding knowledge and expertise on golf products ranging from drivers, to balls, to shoes.
He also loves to test golf apparel especially if it a piece that can be used just about anywhere!
As a result he has always been the one family and friends come to for buying advice and tips.

He is a graduate of Swansea University where he studied History and American Studies, and he has been a part of the Golf Monthly team since December 2017. He also previously worked for World Soccer and Rugby World magazines.
Sam now spends most of his time testing and looking after golf gear content for the website. He also oversees all Tour player content as well.
Unfortunately, Sam is not a member of any club at the moment but regularly gets out on the golf course to keep up the facade of having a handicap of five.