Best Golf Rain Gear 2023
From jackets to pants, we take a closer look at the best golf rain gear currently on the market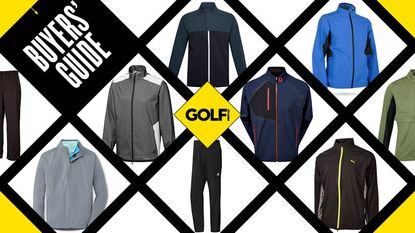 (Image credit: Golf Monthly)
Best Golf Rain Gear
Somewhere along the line, pulling on some golf rain gear didn't become such a pain. Years ago it was like wrapping yourself in a bin bag. However, the best golf rain gear don't just keep you extremely dry, but they are designed to help you swing unhindered. We wouldn't quite say it's ever a joy to reach for the golf rain gear, but today's technology-packed suits are not just more effective than ever at keeping us dry and comfortable while also looking the part on the fairways.
This is because the best models are lightweight, comfortable, warm, can be stowed away easily, and most importantly they give protection from the rain, wind and just about any other adverse weather condition when out on the golf course.
We've picked out a selection of the best offerings that are well worth checking out and we also recommend checking out our posts on the best golf wind jackets, and best golf base layers to truly complete your outfit and leave you best prepared for the wind and rain.
Best Golf Rain Gear - Best Golf Waterproofs
Why you can trust Golf Monthly Our expert reviewers spend hours testing and comparing products and services so you can choose the best for you. Find out more about how we test.
Best Golf Rain Jackets
Sizes: S-2XL
Colors: 2 (Navy/Black, Charcoal/Lime)
+ Extremely comfortable and warm
+ Able to withstand the worst the winter can throw at you
- Can get hot on the inside
The headline garment in FootJoy's HydroSeries range is this, the HydroTour. It comes with a premium price point but you undoubtedly get premium performance here starting with the waterproofing.
It has a three-panel construction and dual-sealed seams to stop any rain getting to your body and it also has a innovative feature called a DrySeal double collar system, which has a cinch cord on the inner layer to keep the rain out and two small holes on the outer layer that help the water run down the back of the jacket, thereby keeping the neck dry. (Oh and if this isn't enough, it also comes with a three-year waterproof warranty). The material itself felt premium and the styling looked good too.
Sizes: S-3XL
Colors: 2 (Black, Blue)
+ Competes with the best in terms of protection
+ Ventilated back is a nice touch
- Double zip can be a touch fiddly
Highly waterproof, breathable and lightweight, the Puma Ultradry jacket (opens in new tab) is a great garment at a very competitive price in this space. The material is lightweight enough to not make you too warm inside and waterproof enough to keep up to 10,000mm of rain out. At this price, such high quality material is hard to come by.
The best part about Ultradry jacket is that is has adjustable cuffs and zippered side pockets. The adjustable cuffs were especially useful in wet conditions where tightening the cuffs meant no rain could get in through to the arms. The side pockets are really comfortably placed to leave your hands in and the waterproof zippers mean you can keep accessories like balls, tees and pitch mark repairers dry.
Adidas Rain Rdy 2022 Jacket
Sizes: XS-2XL
Colors: 2 Full Zip (Black, Hemp)
+ Weather protection really top notch
+ Looks great and can be used anywhere
- Collar is quite high
A no-brainer inclusion in this best golf rain jackets guide, the adidas Rain.Rdy (opens in new tab) is an outstanding model to help you be prepared for any weather when out on the golf course. Specifically designed to deal with the worst conditions, you can get a full zip design (pictured), and a half-zip in a couple of different colors each.
We tested the black full zip and the protection was really up there with the best models on the market. It has a three layer design with a waterproof, breathable membrane that not only keeps out the rain and wind, but it is also very light, durable and stretchy. The jacket is also quiet when moving and we love a jacket with pockets too. Finally, looks wise it is very smart.
Nike Hypershield Rapid Adapt Jacket
Sizes: XS-4XL
Colors: 3 (Olive, White, Black)
+ 2 jackets in 1
+ Very good range in sizes
- The material is a little thick
Built with Hypershield fabric to block wind, water and provide a comfortable experience, this model is two jackets in one as the traditional jacket can be changed into a vest. The removable upper/arms are held in place with snap button closure points and whilst that sounds cumbersome, the HyperAdapt technology combines a vent along the back of the shoulders for extra mobility through your swing.
The material is a little thicker than some other rain jackets and water doesn't bead off overly quickly, but the HyperAdapt ventilation provides enough breathability and comfort. From an aesthetic perspective it certainly looks very smart and doesn't really look like a golf jacket which some will enjoy.
Galvin Green Action Jacket
Sizes: S-3XL
Colors: 4 (Navy, Iron Grey, Grey, Black)
+ Excellent lightweight waterproof protection
+ Great styling, fit and range of motion
- Premium price may be difficult for some to justify
One of two Galvin Green jackets to make this guide on the best golf rain gear, the Action (opens in new tab) from Galvin Green is right up there in terms of performance. It is lightweight, looks great, soft and comfortable, stretchy and the fit can be tailored nicely. The waterproofing and protection is also high-quality thanks to the GORE-TEX C-knit fabric.
Galvin Green has also implemented GORE-TEX 'Super Stretch' too which are a series of inserts on the jacket that provide extreme stretch in key areas like the back and elbows. The TECHSTEEL fabric also reinforces the shoulder and lower back areas too, making these sections more durable. This is particularly important for those bag carriers out there. There are four colors available in black, navy, iron grey and grey.
Inesis Men's Golf Waterproof Rain Jacket
Sizes: S-2XL
Colors: 4 (Black, Navy, Red, Green)
+ Comfortable and lightweight
+ Waterproofing was good in testing
- White band round pockets a trifle garish for some tastes
If you want an excellent value option in the rain jacket sector then this Inesis model could be one to consider. In testing out on the golf course, and in a power shower, the jacket proved to offer excellent waterproof protection.
The length of the jacket is such that it continues down over the top of any waterproof trousers thereby preventing any problems with any riding up on the jacket when stretching. We also liked the fact it didn't impede the golf swing and the four color options are solid. For such a modest price tag, this is a very solid option indeed if you need a garment for bad conditions on the golf course.
Under Armour Stormproof 2.0 Jacket
Sizes: S-2XL
Colors: 2 (Black, Blue)
+ Lightweight and stretchy
+ Styling is great
- Adjustable cuffs don't go tight enough
The level of research and development conducted by Under Armour is astounding and you can see the fruits of that labor in this Stormproof 2.0 Jacket (opens in new tab). It does feel very well made and has a very unique feel inside that gives you good peace of mind that no water will come through.
When we tested it over a number of rounds, we found it to be a functional garment that will keep you nice and dry when the heavens open. It is also very lightweight and stretchy for a good comfortable wear that comes up ever-so-slightly on the big side, so if you like a tighter fit we'd recommend sizing down. We also liked the warmth and breathability on offer.
Galvin Green Armstrong Jacket
Sizes: S-3XL
Colors: 5 (Grey, Black/Sharkskin, Navy/Lime, Navy/Blue, Navy/Red)
+ Easy to achieve a snug, comfortable fit
+ Modern design without being over the top
- Could feel softer to touch
Galvin Green's Armstrong is 100% waterproof thanks to a Gore-Tex Paclite stretch fabric construction, and importantly this fabric is also characterized by its lightness, breathability and also packability.
It feels like Galvin Green has truly thought about every little detail here with features like the partially elastic cuffs, chest width adjustment, repositioned side seam for optimum comfort and freedom of movement and water repellent zip fastenings. The fabrics used are also Bluesign approved which means harmful substances have been removed from the manufacturing process. Finally, design wise the jacket is available in five colors and looks modern without being over the top.
ProQuip StormForce PX7 Jacket
Sizes: S-3XL
Colors: 3 (Black, Surf Blue/Pewter, Black/Pewter)
+ High-quality protection
+ Lifetime waterproof guarantee
- Feels bulkier than other models
Building on the success of the PX5 and PX6 models, ProQuip has now introduced the PX7 which is the brand's highest specification and best-in-class men's rain jacket with a lifetime waterproof guarantee.
Available in three colors, the jacket has extreme waterproof protection, and yet still feels breathable. It does feel more bulky than other models on this list however when the conditions are really bad, this is no bad thing as it does not feel cumbersome and limiting during the golf swing. The swing silent technology is an added bonus too because it minimizes any noise during play.
(opens in new tab)
G/Fore Repeller Weather Resistant Jacket
Sizes: S-XXL
Colors: 1 (White)
+ Lightweight but offers warmth and protection
+ Washes well and gets back in pristine white
- Very easy to get dirty marks on it
This ultra stylish design that wouldn't not look out of place in a high fashion setting is actually an incredibly comfortable high performance golf jacket that does a great job of keeping you dry thanks to the water repellant DRY-TEX fabric and heat bonded seams. Wearing the jacket in winter where it's so easy to get mud and grime on your outfit is a little risky but the garment washes really well and in our experience comes out looking box fresh so long as you follow the care instructions. The magnetized front pockets are really clever and keep the lines of the jacket very clean and the full zip is super high quality. A really standout piece.
(opens in new tab)
Peter Millar Hyperlight Link 3L Jacket
Sizes: S-XXL
Colors: 3 (Navy, Balsam, White)
+ Lightweight, stretchy and offers exceptional protection
+ Subtle but eye-catching camo print design
- Some golfers don't like wearing a hood on the course
This jacket is available in three colors; Navy, Balsam (green) and the White. The white is by far the most eye-catching with its subtle camo design which while it won't appeal to everyone it undoubtedly dialed up the style factor and gave it a real on and off course credentials. When it comes to protection from wind and rain the Link 3L is the equal of anything on the market.
The three way stretch allows unrestricted movement but also good snug warm fit. One thing to note is that although this is a Classic Fit where I'm normally a medium I had to go up to a large to allow me to wear a mid layer underneath it. The hood wont be for everyone but we liked protection and versatility.
Sunderland of Scotland Valberg Jacket
Sizes: S-2XL
Colors: 4 (Grey, Black, Navy, Blue)
+ Well respected brand in terms of waterproofing
+ Clever design features
- Perhaps lacks versatility
We all hate garments that hinder our ability to swing properly especially when it is raining and we have to don the waterproofs. Thankfully this Valberg (opens in new tab) doesn't hinder anything because of its 4-way stretch panels, giving you all the freedom in the shoulders and arms that you need to achieve a consistent end-to-end swing path.
The two-layer jacket has excellent waterproof protection along with a mesh lining for breathability. A couple of really cool features are the fleece lined side pockets for those extra cold days, and the corded groove cleaner secured on the inside too.
Best Golf Rain Pants
Sizes: S-2XL
Colors: 1 (Black)
+ Look and perform as well as you'd want
+ Well-trusted technology
- More of a thin pant
The first pair of rain pants to mention are the Rain.Rdy's from adidas. As you would expect from the name, these pants are prepared for any weather because the Rain.Rdy technology helps block the water and wind, but at the same time they have a breathable feel to them.
There is also plenty of stretch for unrestricted movement. Another aspect of these pants that should be mentioned is they are made from a blend of polyester (73%) and recycled polyester poplin (27%).
Sun Mountain RainFlex Elite Pant
Sizes: S-3XL
Colors: 1 (Black)
+ Quiet during play
+ Breathable in all climates
- Getting the length correct can be challenging
Sun Mountain's RainFlex Elite rain pants have taken things up a notch from previous RainFlex iterations, increasing the waterproof/breathability rating from 8K/8K to 15K/15K, which means more protection and more comfort for the golfer.
Additionally, a new four-way stretch fabric has been utilized in the design to provide an increase in range of motion during the golf swing. RainFlex Elite rain pants are also quiet on the course, feature three pockets for storage or warming your hands, and the pants can be shortened by up to 2.5 inches to achieve the proper fit.
Sizes: S-3XL
Colors: 1 (Black)
+ High-quality rain protection
+ Lots of sizes
- Baggier leg design
The final model to make this guide are the Ultradry pants from Puma. They feature a fully seam-sealed stretch StormCell fabric that reduces weight, improves mobility and leaves you with an unhampered golf swing.
They are also 10k waterproof to keep you dry and comfortable when the rain starts, whilst the elastic waist, and the waterproof hand pockets are nice touches. Another excellent feature is how easy they are to get on and off wearing golf shoes thanks to the zippers on the legs. Given we have all been caught in sudden downpours before, this is not to be underestimated in its importance!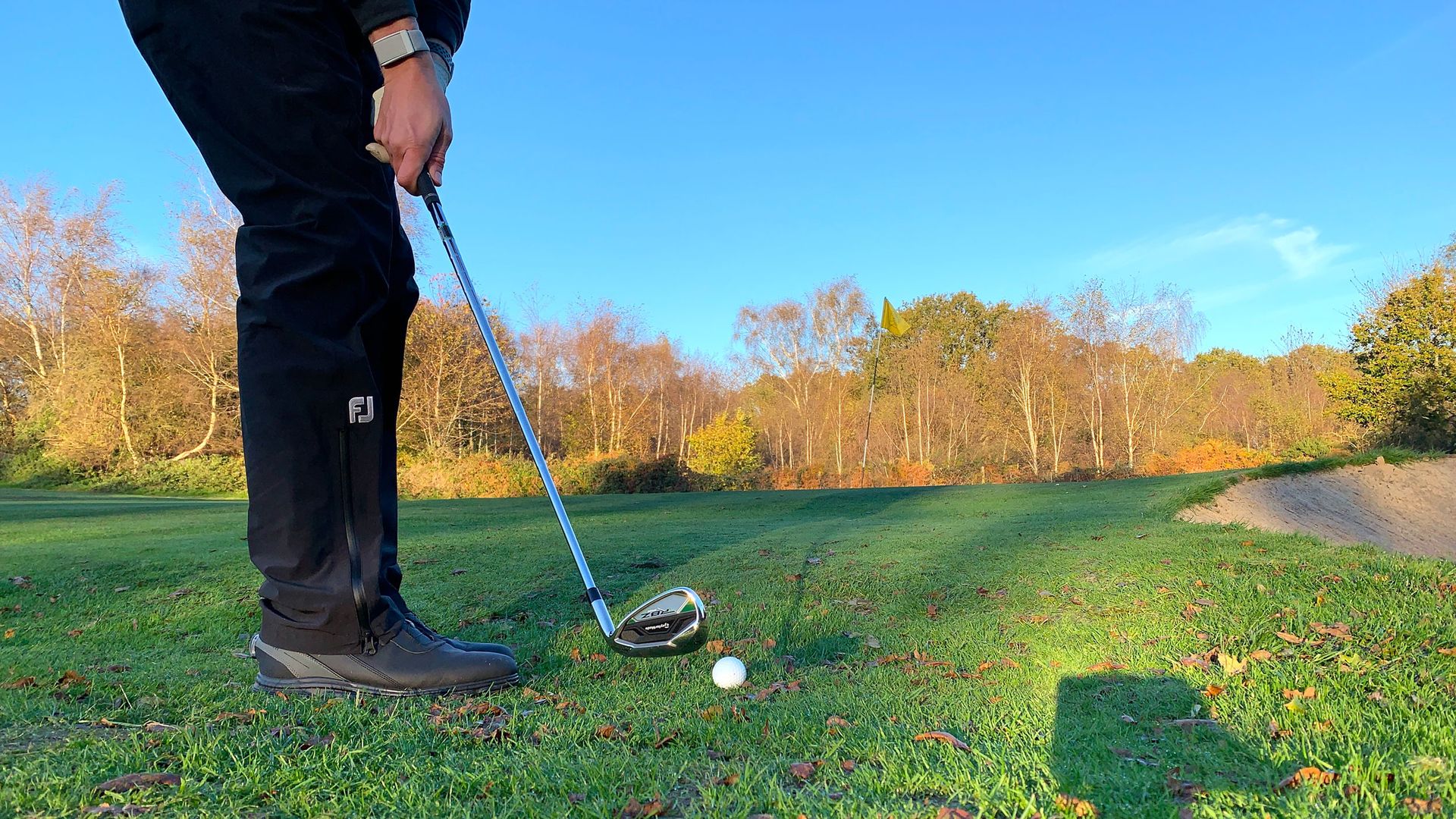 Sizes: S-2XL
Colors: 1 (Black)
+ Tapered fit looks great
+ Three-year waterproof warranty
- Some might prefer a more roomy fit
A new introduction this season from FootJoy, the HydroTour Rain Pants have been designed to help you compete in any weather conditions. Design features include 4-way stretch fabric, zippered leg closures and reach through pockets. The three-year waterproof warranty is a bonus too.
In our testing we also liked the fact they can either be worn over another pair of pants or on their own. As for waterproof protection, they performed really well in this department. Perhaps more impressive is the quality of the material - they certainly feel like a quality pair of waterproof pants. They are lightweight without being flimsy and they stretch with your body as you swing and walk.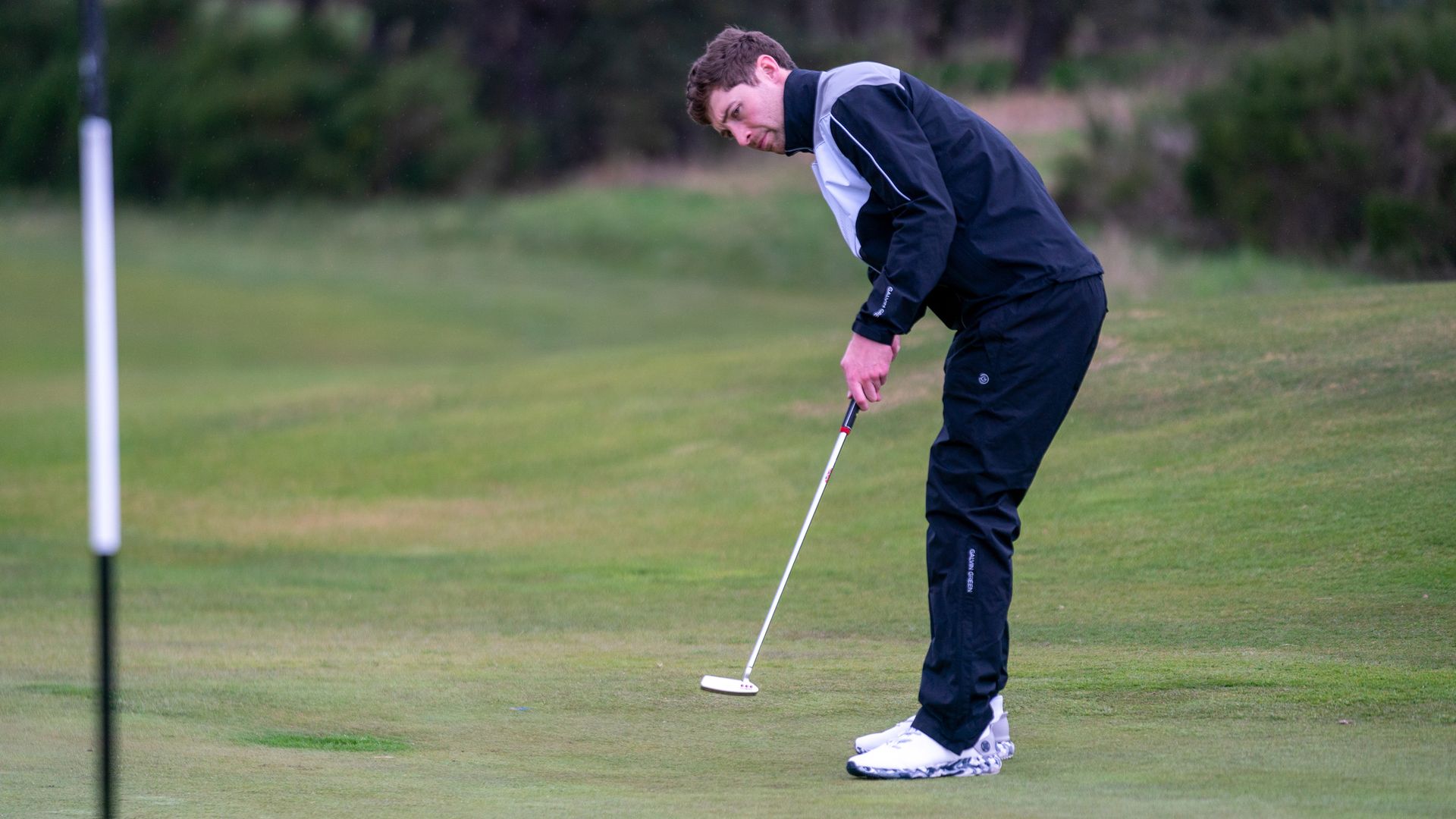 Sizes: S-4XL
Colors: 2 (Black, Navy)
+ High-quality protective fabric
+ Breathability
- To some these could feel a touch heavy
The best-selling pants Galvin Green makes, the Andy's provide excellent water and wind protection because of the seam-sealed construction and water repellent fabric. And yet they are breathable and comfortable too.
With an elasticated buttoned waist for a perfect fit, the Andy trouser features front pockets along with a back pocket. The base of the legs have also received a lot of attention as they can often take a lot of punishment as we go searching for balls in bushes, heather and such. As a result the legs have easy to use fasteners to adjust the width of the leg, and they are also made from an abrasion resistant fabric at the hem for top durability.
Rain Suit
Ram Golf FX Premium Waterproof Suit
Sizes: S-3XL
Colors: 2 (Black, Blue)
+ Extremely cheap
+ Keeps water at bay
- Baggy design limits style and can be distracting
The Ram FX waterproof suit won't be winning any style points but given the suit, comprising jacket and trousers, costs so little, there will be golfers to whom the proposition appeals. The jacket comes up considerably large so consider going down at least one size. Regardless, the fit is notably baggy, which helps with be able to swing unrestricted but means excess material tends to get in the way at times. That said, the Teflon outer layer and taped zips kept water out well when we tested it in a deluge and the Velcro cuffs create a more comfortable fit. The trousers follow a similar pattern to the jacket in terms of the styling, sizing and fit but there are some nice touches that boost the appeal, like zipped ankles for easy access when wearing golf shoes and the poppers at the pockets to keep items secure.
How we test golf rain gear
When it comes to testing golf rain gear, and all golf apparel, our methodology is quite simple really - we put the clothes on and put them to the test out on the golf course in different conditions. To test versatility, we also see how they perform off the golf course too.
On the links, this means playing golf in wet conditions, as well as windy rounds too so we can gauge how protected we are. That being said Mother Nature can be unpredictable so we have even gone so far as to pour water all over jackets and pants to test how seam-sealed they are as well.
This process usually takes place over a number of rounds and we then use these experiences to write reviews and buying advice content like this guide. Speaking of which we should make very clear, no manufacturer can buy a good review from us, we tell it how we see it.
What to consider when buying golf rain gear
When trying to find the best golf rain gear for you, what should you consider? Let's take a look.
Waterproofing and protection
This is the most important factor in rain gear because the garment you pick has to protect from the rain and wind properly. Importantly, we are confident all of the models above will protect you well but one thing we think you should be aware of are waterproof guarantees. Many of the models above, and the brand's that make them, will offer a guarantee on waterproofing so it makes sense to perhaps go for a model that has several years protection as a guarantee.
Freedom of movement
With all this protection, occasionally waterproof jackets can be large and cumbersome but in modern golf design this is no longer the case. Most really good models stretch and move with the body freely so that your swing isn't hindered despite having a few layers on. Additionally these jackets and pants have to provide comfort as well.
Color/style
This is not that relevant to waterproof pants as they always tend to be the same color but when it comes to jackets, as you can see above there are lots of colors and styles to choose from. Therefore have a think about whether you want to stand out on the golf course or have a more traditional style.
Additionally if you want to wear the jacket off the golf course, be aware of the styles that look good anywhere and perhaps don't go for a model that limits versatility.
Budget
Finally be conscious of how much you want to spend. We have included models above with premium price tags yes, but there are also models above with good value so anyone can find what they are looking for.
FAQ's
What is the best rain gear for golf?
The best rain gear for golf will be at the peak in terms of waterproof protection from the rain, as well as the cold and the wind. Additionally the best models allow for freedom of movement, are comfortable, and have different colors and designs to suit different people. Importantly, a lot of brands like FootJoy, adidas, Nike, Puma and more make high-quality jackets, pants and rain suits to help us golfers compete in bad weather.
How do I wash rain gear?
You can wash rain gear but given different brands and manufacturers use varying materials, it is vital you take note of the washing instructions on the label of the garment.
How long does waterproofing last?
This is a tricky question to answer because different models vary in length of waterproof performance. Some models over time will stop repelling water and start absorbing it, and we have found this can be solved in some cases by just washing the rain gear. However this will not solve the issue for all models and as such you should make not of the warranty of the product, or invest in a new rain suit.
What is the best golf waterproof?
There are lots of excellent models of golf waterproofs on the market at the moment. These can be from big brands like Nike, FootJoy and adidas, as well as smaller brands like Oscar Jacobson or Sunderland.
We hope you enjoyed this guide on the best golf rain gear, and for more gear for bad weather check out our guides on the best golf umbrellas, best waterproof golf bags (opens in new tab) and best golf rain gloves (opens in new tab).
A golfer for most of his life, Sam is a Senior Staff Writer for Golf Monthly.
Working with golf gear and equipment over the last five years, Sam has quickly built outstanding knowledge and expertise on golf products ranging from drivers, to balls, to shoes.
He also loves to test golf apparel especially if it a piece that can be used just about anywhere!
As a result he has always been the one family and friends come to for buying advice and tips.

He is a graduate of Swansea University where he studied History and American Studies, and he has been a part of the Golf Monthly team since December 2017. He also previously worked for World Soccer and Rugby World magazines.
Sam now spends most of his time testing and looking after golf gear content for the website. He also oversees all Tour player content as well.
Unfortunately, Sam is not a member of any club at the moment but regularly gets out on the golf course to keep up the facade of having a handicap of five.