Best Golf Umbrellas 2023
All golfers need a quality umbrella - make sure you stay dry on the course with these options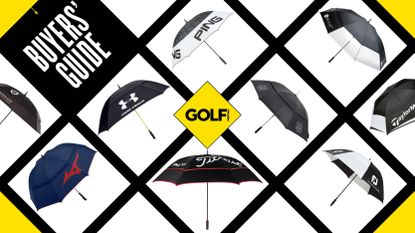 (Image credit: Golf Monthly)
Best Golf Umbrellas: Quick Menu
When the heavens open, having one of the best golf umbrellas at your disposal is essential. And nowadays, there is a fantastic amount of choice on the market to suit both your wallet and taste. You should see this as an investment for the next decade, one which is relatively small given how much rain most of us play golf in. The best golf accessories make life easier and, when the weather goes south, is there anything more important than an umbrella?
So what do the best models do? Well, the most important factor is protection from the rain (and sun) and we have found good models give a large canopy of cover. Additionally, they should help when the wind picks up and should be strong enough to deal with gusts as well so there are no comedy scenes of your umbrella doing tricks on the course. In this guide, we'll be walking you through some of the best golf umbrellas that money can buy. Alternatively, if you need more rainproof gear, then be sure to check out our guides on the best golf waterproofs, the best waterproof golf shoes and the best waterproof golf bags too.
Best Golf Umbrellas
Why you can trust Golf Monthly Our expert reviewers spend hours testing and comparing products and services so you can choose the best for you. Find out more about how we test.
The List
Popular out on Tour
TaylorMade 64" Double Canopy Umbrellas
Size: 64"
+ Tour proven performance
+ Auto open feature
- Only one color choice
The preferred umbrella of TaylorMade Tour players, the Double Canopy Umbrella is a worthy inclusion on this list. It has a convenient auto-open feature along with a lightweight yet strong fiberglass shaft. It also includes WindPro technology which helps deal with those windy days but we do wish there was more than one color to choose from.
Clever visual design
Motocaddy Clearview Umbrella
Size: 55"
+ Visibility
+ Compatible with trolleys
- More expensive than other models
Featuring two clear viewing panels to keep visibility at a premium whilst remaining dry. It extends to 65mm longer than a standard golfing umbrella and features an auto-open mechanism and extended handle length.
Motocaddy trolley users will be able to combine this with the Motocaddy Umbrella to build the ultimate trolley set up. Check out our best electric golf trolleys guide for more information on Motocaddy's offerings.
Top premium model
Galvin Green Tromb Umbrella
Size: 60"
+ Wind protection
+ UV protection
- Canopy not as large as others
This 60" storm-proof umbrella from Galvin Green has an extra strong frame and double layer top cover/pressure release vent. This is a premium model and will not come cheap, but it will keep you looking cool and fresh on the course. The umbrella can also be used as a parasol as it has UV protection for when you're playing in strong sunshine, but why not also invest in one of the best golf caps to help keep your eyes sheltered.
Best for the wind
Titleist Jet Black Tour Double Canopy Golf Umbrella
Size: 68"
+ Anti-inversion system
+ Durable
- Smaller handle
This umbrella has a 68-inch canopy and features a tour-inspired, double canopy design that will prevent the umbrella from blowing inside-out in high winds. It looks great and also comes with UV protection for those hot, sunny days on the course. You'll likely see many caddies on the PGA Tour walking the course carrying some of the best tour bags, sheltering their player with one of these umbrellas.
Excellent wide canopy
Sun Mountain 2021 68″ Auto Umbrella
Size: 68"
+ Premium detailing
+ Large footprint
- Different colors offer varied protection
This really is quite striking, either in the black or grey option. It has a double canopy and offers all sorts of protection in the wettest or hottest of conditions.The grey has a protection factor of 60+ while the black is 30+ so, if you are playing somewhere that is especially hot, then you will want to consider the grey. It has a rubber, slip-resistant handle that fits Sun Mountain bags and it has a huge 68" spread so even your golfing mates should be able to huddle up and get protected.
Best overall protection
UV-Blocker UV Protection Golf Umbrella
Size: 42"
+ Fantastic protection
+ Striking looks
- On the small side
This is a premium product that comes at a price. But this is pretty much a one-off purchase and it works great in either the sun or the rain. The striking top layer is made from silver Solarteck fabric, which reflects the UV rays, and reduces the temperature underneath the umbrella by up to 15 degrees. The blue underside absorbs any remaining UV rays, giving an overall UPF rating of 55+. That makes this a fantastic golf accessory that you need to have in your bag when things start to heat up on the course.
Fast fold system
Under Armour Golf Umbrella
Size: 68"
+ Great coverage
+ Easy up and down
- Green shaft a little garish
As we know with some of the best Under Armour golf shoes, the brand pack their products full to the brim with the latest sports science technology, and that is no different here. In this umbrella, Under Armour's Storm technology comes into its own, repelling water to protect you & your gear from the elements. It also has a 68" double canopy for increased coverage, and opening it up and shutting it down couldn't be easier.
Best for tall golfers
Big Max Aqua UV XL Umbrella
Size: 60"
+ Will suit taller golfers
+ Color selection
- Some may want a smaller model
This might sound a strange thing to say, and is maybe something that you might not have considered before, but this is ideal for the taller golfer. This has a 10cm longer shaft than usual so will suit those needing something a bit longer. It has an automatic function to save any faffing about, a soft grip and will protect you from even the most savage of showers. And when you need something when the weather is sweltering, it offers a UV protection for 50+ temperatures. This comes with an option of four color schemes.
Top double canopy model
FootJoy DryJoys Double Canopy Golf Umbrella
Size: 68"
+ Large 68″ size diameter
+ Robust frame
- Only one color available
A worthy inclusion on this list of the best golf umbrellas, the FJ DryJoys Golf Umbrella is huge at 68 inches and offers lightweight 100% waterproof protection with a soft handle designed for a strong, comfortable grip.
FootJoy are one of the most reliable brands in golf, with its golf gloves and shoes being some of the most reliable golf products on the market. The top canopy overlaps the bottom so as not to blow it inside out and it comes with a handy umbrella sheath for storage.
Very unique design
Size: 68"
+ Push button opening
+ Unique aesthetic
- At premium price point
This Ping tour style umbrella is huge in size at 68 inches and features a comfortable foam handle, simple release deployment and double canopy to allow airflow.
Undoubtedly you would have seen it out on Tour giving testament to the performance on offer. Pair this up with one of the best Ping golf bags and you'll look like a Tour professional out on the course.
For extreme weather
Callaway Shield Double Canopy Umbrella
Size: 64"
+ Grippy handle
+ Durable canopy
- May be a bit too big for some
Callaway produce some of the best golf bags in the game. But it seems Callaway have used their expertise producing these kind of bags to produce this fantastic golf umbrella that will help keep you dry and sheltered on the course. It is firstly extremely robust, thanks to its fiberglass shaft and ergonomic frame that will withstand all kinds of weather. It also features a non-slip handle that you can firmly grasp and hold when it gets breezy outside.
Specifications table
Swipe to scroll horizontally
| | |
| --- | --- |
| Model | Canopy size |
| TaylorMade 64" Double Canopy Umbrellas | 64" |
| Motocaddy Clearview Umbrella | 55" |
| Galvin Green Tromb Umbrella | 60" |
| Titleist Jet Black Tour Double Canopy Golf Umbrella | 68" |
| Sun Mountain 2021 68″ Auto Umbrella | 68" |
| UV-Blocker UV Protection Golf Umbrella | 42" |
| Under Armour Golf Umbrella | 68" |
| Big Max Aqua UV XL Umbrella | 60" |
| FootJoy DryJoys Double Canopy Golf Umbrella | 68" |
| Ping 68″ Tour Umbrella | 68" |
| Callaway Shield Double Canopy Umbrella | 64" |
How we test golf umbrellas
The quality of Golf Monthly's reviews and buyers guides is built upon a rigorous testing procedure as well as the knowledge and experience of the test team that has a sterling reputation in the industry, known for delivering the key points you want to know in a concise, easy-to-digest manner.
This procedure involves using the gear properly out on the golf course, in different conditions and on different types of golf course where applicable as well. We also test products in controlled environments as well to better enhance our knowledge on the performance. What should also be acknowledged is that no manufacturer can pay for a good review from us, because our testing team tells it how it is.
How to choose a golf umbrella
Golf umbrellas come in all shapes and sizes. While they are at their core, simple rain shelters, some brands like to put a few bells and whistles on their umbrellas, adding extra pieces of technology to help keep you well protected on the golf course. For that reason, there is a lot to consider when purchasing a standard golf umbrella and you can be a little overwhelmed by the choice if you're not used to these types of products. For that reason, we've decided to set out a few points to keep in mind below when purchasing your next golf umbrella.
Size of the canopy
Especially if you like to use a golf trolley or push cart, you may want to consider purchasing a larger canopy to completely protect yourself from the elements. But there is one caveat to that. Bigger umbrellas weigh more than smaller models, so be mindful of how much weight you want to carry in your bag for that added protection.
Double or single canopy umbrellas?
You may have seen above that we mention double and single canopy umbrellas and wondered, what's the difference? Well, double canopy umbrellas are specially designed for golfers and have two layers of material that are supposed to withstand the wind better than a single canopy umbrella. That is because they feature air vents that allow wind and rain to pass through the umbrella and stop drag from pulling the umbrella out of your hands.
Durability
Umbrellas aren't necessarily the golf equipment that you'll want to be spending all your money on, and for that reason, you'll want to ensure you're getting yourself a durable and hard-wearing umbrella that will help keep you protected from the elements. That means pick a product that has a strong shaft and has a canopy that won't tear easily.
UV protection
Umbrellas aren't designed to simply protect you from the rain. Many of the best golf umbrellas are designed to have built-in UV protection that will keep you shaded and well protected out on the course. Even though you might not think to carry around your umbrella on a hot day on the course, they can be a handy tool to have to stop you from getting sunburnt, particularly if they feature UV protective qualities.
Compactness
How well your umbrella folds up and fits into your bag can be the difference between a good umbrella and a bad one. Essentially, you're going to want to ensure that your golf umbrella fits neatly into your golf bag, without splaying material everywhere. Pick an umbrella that folds down nicely into a long oval shape and slots into your bag with ease. Some golf umbrellas even come with their own bag or pouch you can store them in, so look out for those offerings too.
For more of the best golf gadgets, take a look at our buyers guides on the best golf accessories and the best golf rain gear and waterproofs.
FAQs
What is a double-canopy umbrella?
A double canopy golf umbrella is a broad umbrella (specially made for golfers) with two layers instead of one. All other parts of a standard umbrella like the handle, shaft, springs, and runners also feature in these umbrellas and they offer great protection when the heavens open and you're storing your glove and towel under the umbrella.
Why is it important to carry a good golf umbrella?
The unpredictability of the weather is the bane of every golfer. But don't be unprepared when you step out onto the course. Make sure you have the right golf attire to ensure you stay warm, dry and most importantly, focused when you're playing golf. Having a good umbrella can seriously ensure you stay dry and comfortable enough to hit good, strong golf shots.
Are golf umbrellas the same as rain umbrellas?
Technically yes, but golf umbrellas are a little more sturdy and provide more shelter than a standard rain umbrella. They also tend to be a lot bigger so that they can shelter both you and your golf clubs.
Get the Golf Monthly Newsletter
Tips on how to play better, latest equipment reviews, interviews with the biggest names and more.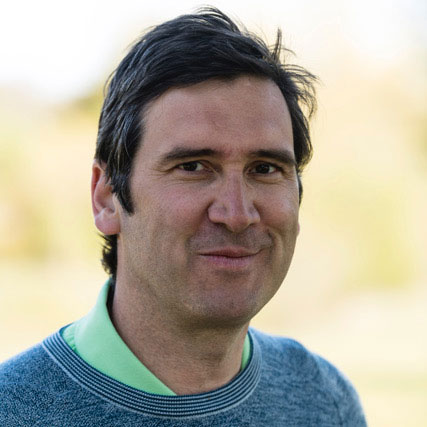 Mark has worked in golf for over 20 years having started off his journalistic life at the Press Association and BBC Sport before moving to Sky Sports where he became their golf editor on skysports.com. He then worked at National Club Golfer and Lady Golfer where he was the deputy editor and he has interviewed many of the leading names in the game, both male and female, ghosted columns for the likes of Robert Rock, Charley Hull and Dame Laura Davies, as well as playing the vast majority of our Top 100 GB&I courses. He loves links golf with a particular love of Royal Dornoch and Kingsbarns. He is now a freelance, also working for the PGA and Robert Rock. Loves tour golf, both men and women and he remains the long-standing owner of an horrific short game. He plays at Moortown with a handicap of 6.