Best Jordan Golf Shoes 2023
Check out this guide to the best Jordan golf shoes on the market.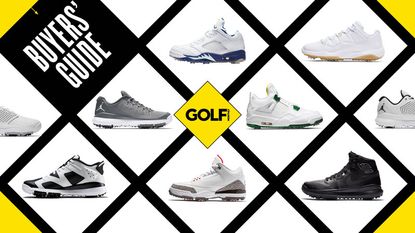 (Image credit: Golf Monthly)
Best Jordan Golf Shoes
As a brand, Nike is unsurpassed in sports. And over the years, many of the world's greatest athletes have worn sports apparel emblazoned with the famous Nike tick. From Tiger Woods to Serena Williams, their roster of athletes is perhaps the most illustrious on the planet. However, when most people think of Nike they think of the company's most iconic athlete, Micheal Jordan. And Jordan loves golf, which is why the Nike subsidiary brand, Jordan, expanded its Jordan Brand of sneakers into the golf realm a few years ago.
The Jordan Brand is probably the most unique in golf because like Jordan sneakers, they can quickly become collector's items. These limited edition releases certainly appeal to a different demographic of golfers, perhaps a group that hasn't always been welcome on the golf course. But because they are flashy and limited, they appeal to collectors as well, which often drives up the price on the secondary market.
The best Nike golf shoes (opens in new tab) are more readily available than Jordan golf shoes but they arguably don't have the same desirability as these rare offerings. What we have found is that the best golf shoes (opens in new tab) from Jordan might gain value that goes way beyond their performance or look on the golf course - these are also very capable golf shoes, with imaginative colors and designs that often venture way beyond golf's stuffy past.
Despite the flashier looks, Jordan golf shoes are some of the most comfortable golf shoes on the market. Virtually nothing is off-limits when it comes to Jordan shoes, especially when it comes to styling. Low tops, mid tops, even the best high tops (opens in new tab), plenty of color combinations, materials, spikes and spikeless with aggressive soles describe the options. So without further ado, we've put together the below list of some of the best Jordan golf shoes, which not only break away from traditional golf shoes, but from Nike's main lineup of golf shoes as well. If these styles aren't to your taste, check out our guides on the best golf shoes for walking (opens in new tab), the versatile styles of the best Ecco golf shoes (opens in new tab) or the best Skechers golf shoes (opens in new tab) too which are notorious for comfort.
Best Jordan Golf Shoes
Why you can trust Golf Monthly Our expert reviewers spend hours testing and comparing products and services so you can choose the best for you. Find out more about how we test.
Nike Golf Air Jordan 1 Low G Golf Shoes
Reasons to buy
+
High quality construction and stitching
+
Comfortable leather is easy to walk in
+
Easy to clean
Reasons to avoid
-
May not deliver the same grip as other shoes on this list
A high-quality and stylish pair of golf shoes, the Air Jordan Low G Golf Shoes are built from genuine leather to deliver extreme comfort on the course. Their classic look pays tribute to the original Air Jordans, first released in the early 80s. But these have been re-designed for golf and feature encapsulated air in the heel cushions that make every step a joy. While these shoes are designed for use in warmer conditions, they do also come with a 1 year waterproof warranty, which is a great addition as you can never predict when the heavens will open on the course.
Nike Air Jordan ADG 2 Golf Shoes
Reasons to buy
+
Low profile
+
Breathable
+
Excellent grip
Reasons to avoid
-
Only available in two colors
This model from Jordan offers great versatility on and off the course. The spikeless outsole offers plenty of grip while also keeping a low-profile look and feel. The strategically placed mesh fabric section also makes it very breathable, which is excellent for golfers who get sweaty feet playing in the warmer months of the year. Despite that mesh layer, it is still a fully waterproof shoe (opens in new tab), meaning you can display the iconic Jumpman logo throughout the whole golf season.
Nike Jordan ADG 4 Golf Shoes
Reasons to buy
+
Traditional looking golf shoe
+
Breathable and comfortable
+
Excellent grip
Reasons to avoid
-
May not be the best shoes for those who suffer with blisters on their heels
As we know, MJ loves golf, and as a special request from the man himself, Nike produced these classic-looking golf shoes, that tie in elements of the Jordan brand to produce what is an excellent spikeless golf shoe (opens in new tab) that is perfect for summer golf. Designed from a supple leather, that has holes textured all around its tongue and upper for added breathability, these shoes are smart and durable and will keep your feet well aerated on the course.
Keeping true to traditions, these shoes also have the iconic elephant print pattern on their heel as well as the signature Jordan logo. And while you'll look the part on the course wearing these shoes, their rubber sole has an integrated traction pattern that offers a stable and firm base on the ground, helping you to drive long and strong shots down the fairways.
Nike Jordan XII G Golf Shoes
Reasons to buy
+
Great spiked golf shoe
+
Fantastic padding
+
Easy to pull on and off
Reasons to avoid
-
May be a bit chunky for some golfers
The Nike Jordan XII G Golf Shoes are one of the most comfortable sneakers on this list. Although they are slightly chunky and weigh a bit more than most other offerings, they can provide excellent comfort on the course thanks to their thick padding and large sole. Designed in homage to a classic worn by Jordan in the 90s, this features the famous rising sun-inspired stitch lines and is accompanied with a suede upper. This shoe breathes quality from its sole to its laces and comes with a hybrid outsole that combines seven removable spikes with an array of cleats that are integrated into the sole of the shoe.
Nike Air Jordan XI Low Golf White
Reasons to buy
+
Very clean look
+
Easy on the eyes
+
Certainly one of the more comfortable shoes in the lineup
Reasons to avoid
-
Like all white shoes, keeping them clean and bright can be a challenge
-
Very expensive collectors item
If you're looking for a warm-weather golf shoe with a bit of a classic look while still retaining the Jordan flair, the Air Jordan XI all-white shoe is a pretty good fit. The shoe features glossy patent leather on the mudguard and on the leather-tone outsole plate. That makes it quite an easy shoe to wipe clean, compared to others on this list so it's not super difficult to keep clean, but any white shoe is always a challenge, especially in muddy conditions.
This is a shoe that appeals to younger and older golfers alike, and certainly doesn't offend the more conservative player - we think this is the best golf shoe for seniors (opens in new tab) in the Nike Air Jordan range. Plus, it's a very comfortable shoe that's also waterproof. With seven sets of spikes surrounded by an aggressive outsole design, it offers excellent grip and traction on the turf. You can check out our guide on the best waterproof golf shoes (opens in new tab) if you're looking for a new pair to get you through the rainy months.
Nike Air Jordan VI Retro Golf Shoe
Reasons to buy
+
Imaginative designs and colors
+
Athletic design provides plenty of stability
Reasons to avoid
-
Midtop shoe isn't for everyone
The Air Jordan VI Retro Golf Shoe pays homage to the shoes he wore during Micheal Jordan's first championship run with the Chicago Bulls basketball team. The Retro Shoe features a green all-leather waterproof upper, a lightweight injected unit in the midsole and forefoot moderation that helps stabilize the foot during swing rotation. There's also a strategically placed rubber layer in the heel and forefront of the shoe to provide support and grip.
True to the line, there's a dominant Jumpman logo on the bottom of the midsole, which adds an additional hit of the DNA for which the Jordan Brand is known. The shoe also features seven sets of spikes on each sole, making it a good choice for pretty much all playing conditions. Check out our guide on the best spiked golf shoes (opens in new tab) for more golf shoes that provide excellent grip on the turf.
Nike Air Jordan 4 Golf Shoes
Reasons to buy
+
Large footprint provides stability
+
Design really stands out
Reasons to avoid
-
The size of the shoe will put some off
The Jordan Brand made a point to celebrate the Air Jordan IV throughout 2021, and that included its performance versions for golf. Three new Air Jordan IV Golf colorways were introduced this year -- the "Seersuchker", "Green Metallic," and "Teal Purple," worn by the Jordan Brand's family of athletes at various golf tournaments this year. These mid-top shoes feature an aggressive sole with seven sets of spikes on each shoe. The Seersucker is in reference to one of MJ's suits, and features classic, striped material. The Green Metallic is based on the Air Jordan/OG Metallic Pack, and the Teal Purple was inspired by oceanside colors and ripstop nylon of Jordan Flight Suits. It has also been seen on tour over the past few years, with former Masters champion Bubba Watson (opens in new tab) regularly sporting this excellent pair of sneakers (opens in new tab).
Nike Air Jordan Trainer ST G
Reasons to buy
+
Athletic low-profile look
+
Very comfortable
+
Can be worn from the car to the course
Reasons to avoid
-
Doesn't feel quite as stable as some of the other models
Originally launched in 2016, the Jordan Trainer ST 6 is a classic trainer sneaker that comes in a variety of colors. The newest and coolest colors are wolf gray, royal blue and white. Both feature Jordan Brand's iconic elephant print as well as a drop-in sock liner and flexible outsole that bends with your foot as you walk. These low tops feature an aggressive outsole with seven sets of cleats on each shoe.
Nike Air Jordan Flight Runner
Reasons to buy
+
Sleek, athletic look
+
Lightweight and comfortable. Good shoes for walking
Reasons to avoid
-
Doesn't provide the same base as some of the Jordan brand's heavier shoes
The Jordan Flight Runner Golf shoe combines mesh and synthetic materials in the upper for lightweight support and breathability while the shoe's dynamic Nike Flywire is responsible for the ultimate lockdown fit. In addition, the midsole of this running-inspired shoe has a forefront moderation plate that stabilizes the foot when twisting. And there's a lightweight injected unit that adds comfort as well. The outsole boasts a combination of TRI-LOK spikes with a semi-aggressive design around them that helps players strike the ball longer distances (opens in new tab) off the tee.
Nike Air Jordan 5 Grape Ice
Reasons to buy
+
Beautifully crafted athletic-looking shoe
+
Very stable feel, fairly comfortable for walking or riding
Reasons to avoid
-
Basketball look and feel isn't for everyone
One of two models made available in the Grape Ice color scheme (the other is the Air Max 97 G), the markings were inspired by the site of the 2000 U.S. Open, Winged Foot Golf Club. Nike silhouettes include a grape-ice-inspired palette of cool blues across the outsoles and inside the heel lining. The stripes are in reference to the famous awning of Winged Foot's clubhouse. Inspired by OG sneakers released more than 25 years ago, this is a synthetic leather shoe with a visible Air-Sole unit that adds comfort and energy return on every step. The shoe features removable spikes surrounded by a fairly aggressive pattern on the outsole that delivers great grip on softer grounds.
Nike Air Jordan III Golf Shoe Premium
Reasons to buy
+
Beautiful shoe, no matter what color you choose
+
Very stable platform that will provide plenty of ground support as you twist
Reasons to avoid
-
A little more bulky than other models, so it might not be as walker friendly
The Air Jordan III sneaker debuted more than 30 years ago and these Air Jordan III premium golf shoes honor that legacy. The shoe features an elephant print across the toe box and heel that adds a touch of class to this high-top shoe. It is one of the most stylish golf sneakers (opens in new tab)on this list and features a tonal leather upper metal detailing on the eyestay and eyelets that bring another touch of quality to the shoe. The outsole has seven sets of spikes on each shoe that help players create a solid base between them and the ground, while the white midsole and a Nike logo on the back heel complete the look.
Nike Air Jordan I Golf Premium
Reasons to buy
+
The most nostalgic look in the lineup
+
For anyone who wants to break the norm, the least golfy of the entire Jordan Golf line
Reasons to avoid
-
Again, many players might not like the feel of a mid-top on the golf course
More than 30 years after the debut of the Air Jordan I sneaker in 1984, Nike Golf introduced this iconic shoe to the golf course. Jordan, of course, remembers this shoe fondly, saying, "The Air Jordan I was the first sneaker that really pushed the limits on what was acceptable. It's like being a young kid, when his parents say he can't do something, but he wants to do it. I felt like I wanted to be different."
This limited offering features a few notable changes from the original basketball shoe, including extra padding to provide additional comfort and support around the ankle, a Jumpman logo on the tongue, Nike Free-inspired outsole with soft spikes and a fully waterproof upper.
How We Test golf shoes
Our golf shoe testing methodology (opens in new tab) revolves around putting models to the test over a number of rounds and in different conditions. This is so we can gain a better idea of overall performance in terms of factors like grip comfort, grip, stability, waterproofing and how they actually look on the golf course. Each of the shoes listed above has been personally used by a member of the Golf Monthly team. This is the best way of testing a golf shoe, as using it in the real world over a number of weeks allows us to see how the sneakers perform when variables change like weather, ground conditions, different stances and lies, and so on.
We think this also gives us information on the little details as well like which brands come up small or large, which models start to rub a bit too much after 36 holes, which designs can be used off the golf course and for the drive home? We are very comprehensive in our tests to the point where we will regularly attend product launches and meet with the manufacturer's R&D experts to understand the new technology. That isn't to say manufacturers can buy a good review though, as all our reviews are made by golfers, for golfers.
If you enjoyed this guide on the best Nike Jordan golf shoes, be sure to check out the Golf Monthly website for more guides, such as the best Under Armour golf shoes (opens in new tab), best adidas golf shoes (opens in new tab) or best FootJoy golf shoes (opens in new tab).
How to choose golf shoes
Nike Jordan shoes are some of the best and most reliable golf shoes on the market. Each boasts a variety of features that will help you play better and score lower rounds, but which shoe is right for you? As there are a lot of things to consider when purchasing the best golf shoe, from grip to comfort, we've decided to set a few key points out for you below, that will help you make the most informed choice when buying your next pair of golf Jordans.
1. Spiked or spikeless?
The best golf shoes above are split into spiked (or cleated) and spikeless designs and there are pros and cons of each. Spiked golf shoes offer better grip and stability but don't sit as low to the ground as spikeless models. Spikeless golf shoes offer off-course versatility. They are perfect for driving in the car to the golf course, playing a round, and then driving home again because they are usually light and comfortable, but most won't offer as much traction as a spiked shoe.
2. Waterproofing
If you live somewhere that gets a lot of rain, then a waterproof shoe is a must. Some of the best designs will keep your feet bone dry but if you play golf in glorious sunshine most of the time, then you may view other factors as more significant, like breathability. Many players choose to have one pair for winter and a lighter pair for summer as both kinds of shoe suit different requirements.
3. Getting the right fit
When picking out golf shoes getting the right fit is important because otherwise blisters can build up or your feet may slide around inside, which can limit your stability when playing a shot. When trying a pair on for the first time, listen for the 'whoosh' sound when you slide your feet in - that's the sound of all the air leaving the shoe to confirm it is the correct size, but do a walking test to be sure. They shouldn't pinch anywhere, nor should your feet be moving around inside.
When it comes to the right fit, it is also worth considering using different laces. Normal laces are good for most but for some golfers, BOA-laced shoes provide more convenient fastening and shouldn't loosen during the course of a round but are usually a tad more expensive.
4. Styling
Thankfully modern golf shoe design has seen many brands create not just traditional, classic-looking shoes, but also modern styles that can be used off the golf course too. Therefore it is important to think about what your shoes look like and what style suits you. Whatever you like or dislike, there is something for everyone these days.
5. Budget
Some of the best golf shoes (opens in new tab) on the market do come with a pretty heavy price tag and it is always wise to shop around before you commit to buying a new pair of golf shoes.
FAQs
Are Jordan golf shoes worth it?
While Jordan golf shoes sit on the more expensive end of the spectrum, they are certainly worth it. They're without a doubt one of the rarer golf shoes on the market that will stand out on course, and they're also very well made.
Is Jordan owned by Nike?
Yes. Much like the regular street sneakers, Nike is in charge of creating Air Jordan golf shoes.
Do Air Jordan golf shoes run small?
No. From our testing, we've found all Air Jordan golf shoes are true to size.
Mike has worked in the golf industry for nearly 30 years with full-time staff positions at publications and websites that include PGA Magazine, the Golfweek Group, and GolfChannel.com. He is currently writing for several different sites and magazines and serves as a contributing equipment writer for Golf Monthly, focusing on irons, shoes and the occasional training aid or piece of technical equipment.
Mike has experienced a number of highlights in his career, including covering several Ryder Cups and PGA Championships, writing instruction pieces and documenting the best places for golf travel for more than a decade.
Mike carries a 7.6 handicap index and has two hole-in-ones, the most recent coming in February 2022. A resident of Texas for more than 40 years, Mike plays out of Memorial Park Golf Course (home of the Houston Open on the PGA Tour).