Best Ecco Golf Shoes 2023
Ecco are one the most recognized brands in the golf shoe industry. Here, we take a look at their best golf shoes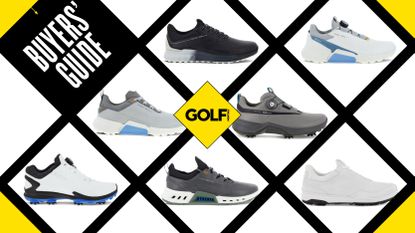 (Image credit: Golf Monthly)
Best Ecco Golf Shoes
Ecco has been producing some of the best golf shoes for a long time now and has been at the forefront of golf shoe innovation for many years as they manufacture some of the most comfortable products in what is now an extremely crowded marketplace.
Without a doubt, the best Ecco golf shoes compete with just about any model on the market, as the company is now renowned for its comfort, support and style. Creating some of the best waterproof golf shoes and most breathable golf shoes on the market, the brand is rather famous for many of its spikeless designs, while also making a range of excellent spiked models.
So what are the best golf shoes from Ecco? Well, in this piece, we've picked out our favorites to help you find your next pair of excellent golf shoes. Additionally if Ecco is not for you and you would rather go for a different model, then why not check out the best FootJoy golf shoes and also the best Under Armour golf shoes.
Best Ecco Golf Shoes
Why you can trust Golf Monthly Our expert reviewers spend hours testing and comparing products and services so you can choose the best for you. Find out more about how we test.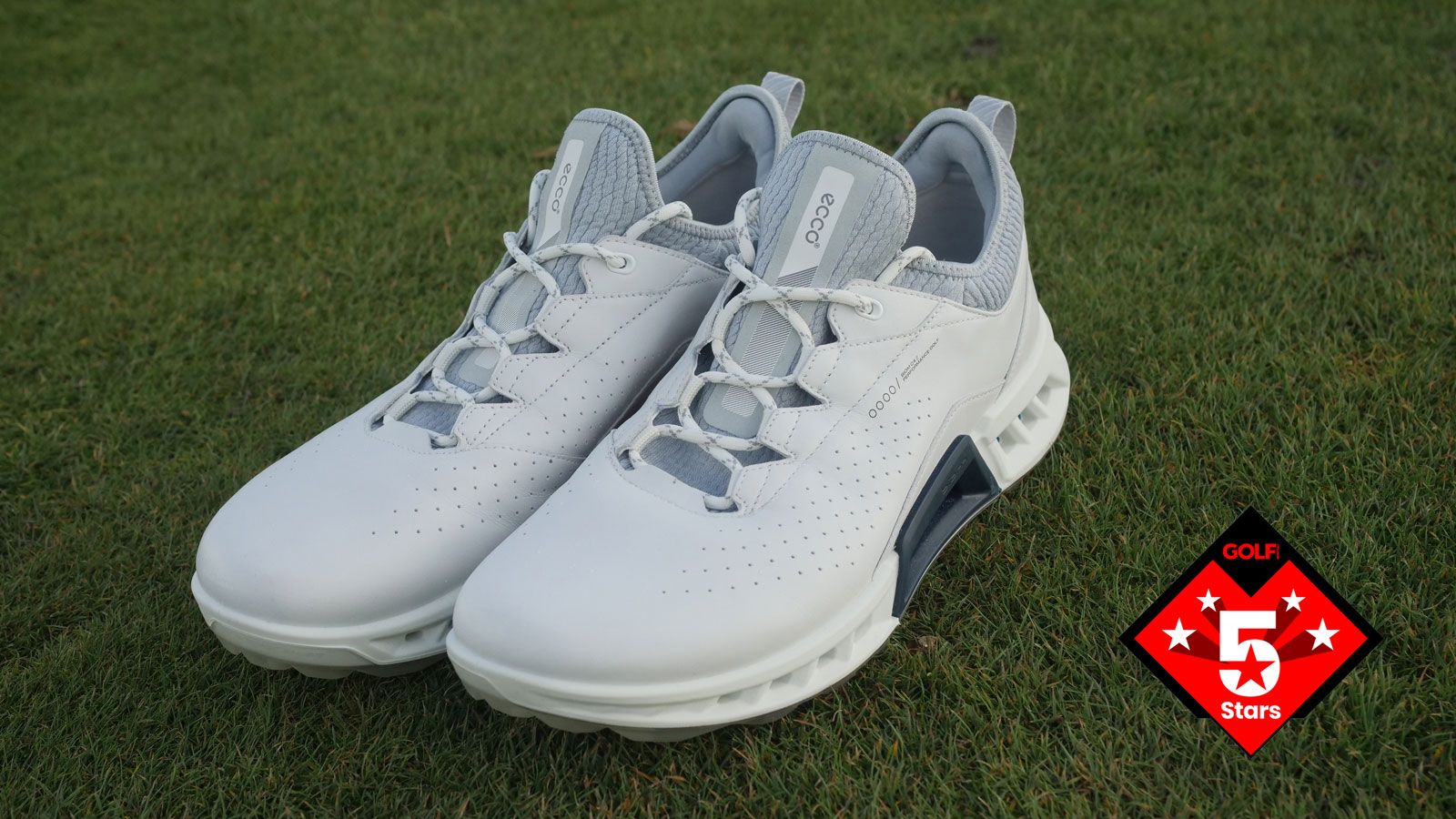 Reasons to buy
+
Supreme comfort thanks to soft leather upper
+
All-over breathability
+
Suitable for all feet widths
Reasons to avoid
-
Toe area prone to staining
One of the most technology-packed spikeless golf shoes we've tested, the Ecco Biom C4 seriously impressed us with its overall comfort, grip, style and breathability. It's built nicely on the foundations of the excellent Biom H4, but the new sneaker-style has won our hearts from a style perspective, and the performance is there to match.
The Biom C4 uses Ecco's Exhaust Grid technology that scoops fresh air towards the sole of the foot to keep it cool. This, combined with Gore-Tex surround and breathable Ortholite insole, makes this the most breathable shoe we tested back in 2022 by some stretch.
Another excellent touch from Ecco is that the insole is removable to allow for more width in the shoe. This makes the Biom C4 of the best golf shoes for wide feet, as there was still the same amount of comfort and cushioning with the first insole removed.
It's certainly a step in the more athletic direction for an Ecco shoe and we think this aesthetic move will attract golfers of all ages into their range. We personally think these are some of the best looking golf shoes this year
Specifications
Sizes: 6-13
Colors: 3 (plus BOA options)
Reasons to buy
+
Modern, stylish design
+
Excellent waterproof protection
+
Outstanding comfort
Reasons to avoid
-
Distinct Ecco design does divide opinion
We have always liked the H4 shoes (as you can see with the older version below), and the newer 2023 design did not disappoint either. It has a reworked upper which was mainly noticeable in two areas. In the toe it looks a touch slimmer whilst the tongue itself has been redesigned completely. We liked both of these design alterations.
It is visually appealing thanks to the combination of a simple aesthetic that also features some pops of color. It isn't over the top and garish, but rather has subtlety to it. The shoes felt soft but not overly squishy and the tongue in particular was a new design element which felt comfortable.
The outsole itself gave very good grip and despite mud and sand gathering in each channel this didn't seem to impact the grip and stability. In wet conditions the shoes also performed well and we found them to be reasonably easy to clean after too.
Specifications
Sizes: 6-12.5
Colors: 4 (including BOA options)
Reasons to buy
+
Smart, modern styling
+
Excellent traction
+
Stable feel underfoot
Reasons to avoid
-
Some may prefer a softer feel
The Ecco Biom G5 aims to bring together the best elements of two previous Biom shoes into one feature-packed model. Notably, the cleated outsole of the Biom G3 and the athletic look of the impressive Biom H4. We have to say, Ecco has done a great job and the addition of the BOA lacing system in the pair we tested is the cherry on top.
The first thing you'll notice with the Biom G5 is the weight, or the lack of it, with the Biom G5 weighing 18 grams lighter than the Biom H4, no mean feat given the addition of the cleats on the outsole. Talking of the cleats, there are only six in this model, which are positioned at the very edge of the outsole to provide perimeter stability as well as excellent grip.
It still features Ecco's Gore-Tex protection and wipe-clean characteristics of the leather upper, which make this a robust winter shoe option. What's more, the modern, athletic take on a heritage shoe will appeal to a wide range of ages and visual tastes among the five colorways available.
Reasons to buy
+
Lightweight
+
Soft, premium materials throughout
+
Ortholite insole is superbly comfortable
Reasons to avoid
-
Not as much ankle support as in some shoes
The new Classic Hybrid is a very different take on what a spikeless golf shoe can be. It features a beautifully embossed leather upper that is rich and soft to the touch. The silhouette is a classic brogue look and Ecco has taken inspiration from its dress shoe division when designing the Classic Hybrid. As such it is probably more of a shoe to use for a special round of golf rather than an evening knock with your friends.
We were impressed with how light these shoes were, as well as by the softness of the Ortholite leather-covered insole and the lightweight nature and soft materials used on the Classic Hybrids make it one of the most comfortable golf shoes on the market right now.
Two things to note are that these shoes are water repellent so perhaps not a shoe to use in the winter months, and the ankle support compared to other shoes is lacking a bit. That being said our feet still felt secure and gripped down throughout testing, just not to the same level as other performance shoes.
Specifications
Sizes: 6-13
Colors: 8+ (including BOA options)
Reasons to buy
+
Stylish and extremely comfortable
+
Ample grip from different lies
+
Protection from the elements
Reasons to avoid
-
Softer feeling shoes underfoot
When it was released the Biom H4 was Ecco's next generation hybrid performance shoe. Not only does it look sportier and more athletic, but the traditional areas of performance have also been enhanced. From an aesthetic point of view, we think the look is excellent, being neutral enough for those who will be put off by a design that is too 'out there'.
Admittedly there are possibly softer feeling shoes on this list, but this is a minor thing because we felt the performance in this and also the women's version to be excellent.
Ecco's Fluidform technology creates a moulded midsole that strikes the right balance of cushioning and stability whilst the leather upper creates a premium feel and features a Gore-Tex membrane for good protection from the elements. What's more, the model pops color and has an array of subtle features which really boost the shelf appeal.
Specifications
Sizes: 6-12.5
Colors: 10+ (including BOA options)
Reasons to buy
+
Ample grip from different lies
+
Comfortable and versatile
+
Lots of sizes and colors
Reasons to avoid
-
Bulky for a spikeless model
A model that blends on-course performance with off-course style, the S-Three delivers dynamic comfort and modern looks with a mix of technologies to enhance performance.
The most notable innovation here is the Zonal Fluidform Technology, with three distinct zones of softness to ensure the right balance of cushioning and stability exactly where you need it.
Out the box, the leather's thickness was immediately apparent and yet it was soft too, which gave a really snug feel when we tried them on. We also felt it moulded to the shape of our feet very well.
When it comes to stability and traction, it also performed admirably, as the waterproofing was an added bonus. It may not be amongst the best waterproof golf shoes, but its modern and sophisticated looks strike a balance visually as well. There are also a number of cool colors to choose from too enhancing the shelf appeal.
Reasons to buy
+
High level of grip for a spikeless shoe
+
Excellent protection from the elements
+
Modern styling will suit a variety of tastes
Reasons to avoid
-
The shape won't suit everyone
Ecco is synonymous with comfort and the Hybrid 3 is no exception. Featuring in both men's and women's designs, the Freedom Fit mixes a snug heel setting with a roomier forefoot area that allows toes to move naturally.
In addition, Fluidform technology bonds the upper and outsole unit, creating a bond between the sole and its leather upper without the use of stitching. Additionally, the Tri-Fi-Grip outsole provides performance in terms of stability, durability and rotational support throughout the swing.
There were times when we were worried about going after a shot from a wet, sloping lie, but we needn't have been, as the Biom Hybrid 3 maintained our connection to the ground with ease. The 100% Gore-Tex waterproof protection makes them far more than just a summer shoe and, with so much choice in the line, ranging from clean and classic to outlandish, every taste should be catered for.
Reasons to buy
+
Excellent grip and stability
+
Top-notch waterproofing and breathability
Reasons to avoid
-
Felt a bit higher off the ground than normal
Whilst the spikeless offerings from Ecco may steal most of the limelight, the brand also makes some excellent cleated offerings, such as the Biom G3. It features Ecco's renowned Biom Natural Motion, which combines low-to-the-ground stability with a glove-like fit. Consequently, this provided a soft feeling around our feet and ankles.
In our testing, we found the grip from different lies to be exceptional because of the Eight Zarma-Tour spikes which work together with hybrid cleats on the toe and rotation line to offer optimal grip and a more stable footing. It certainly argues the case of being amongst the best spiked golf shoes that money can buy.
Additionally, the shoe also has X-Tensa Invisible Technology, which links the sole unit to the lacing system for a tighter connection and even more stability. Finally, in terms of looks, we thought it was premium, understated and classy, with a flash of sporty influence on the midsole and ankle sections being welcome additions.
How we test golf shoes
Our golf shoe testing methodology revolves around putting models to the test over a number of rounds and in different conditions. This is so we can gain a better idea of overall performance in terms of factors like grip comfort, grip, stability, waterproofing and how they actually look on the golf course. Each of the shoes listed above has been personally used by a member of the Golf Monthly team.
This is the best way of testing a golf shoe as using it in the real world over a number of weeks allows us to see how they perform when variables change like weather, ground conditions, different stances and lies, and so on.
We think this also gives us information on the little details as well like which brands come up small or large, which models start to rub a bit too much after 36 holes, which designs can be used off the golf course and for the drive home? We are very comprehensive in our tests to the point where we will regularly attend product launches and meet with the manufacturer's R&D experts to understand the new technology. That isn't to say manufacturers can buy a good review though, as all our reviews are made by golfers, for golfers.
What to consider when buying golf shoes
Comfort
As you would expect, comfort is king when it comes to golf shoes. An uncomfortable golf shoe is useless so it is worth trying some models on before you buy so you know what you like the feel of. For example some models have specific foam technologies, or specific sole designs that are designed to house your feet in comfort all day when out on the golf course.
Grip/Stability/Traction
Spikeless shoe design has improved massively in these factors. Previously, spiked models were the only way to ensure grip and stability in difficult lies or when the weather makes ground conditions slippery. This is no longer the case because most of the models above have specifically designed traction patterns and lugs to make sure your feet don't slip.
Looks
This is entirely subjective but you need to make sure you like the look of your golf shoes and there is a model above for all different types of fashion sense.
Waterproofing
Most golf shoes these days offer a degree of waterproof protection but some are better than others so if you see yourself playing in the rain a lot models like the G5, Biom H4 or S-Three are perfect for all weather play.
Sizes
Be wary of different sizes because many brands like Payntr and Nike offer shoes that can come up quite small or large if you have got the wrong size. As such it is worth checking out brand websites to see how the shoes convert to size guides from around the world. Ecco's sizing is pretty standard but it is still worth trying on some models to see what they feel like to your feet.
Price
The last factor to consider is price. With the models above we have tried to find shoes at all different price points so if you want a cheap model, you can get one. Or if you want to spend more, you can do that too. Importantly there is something for everyone.
FAQs
Are Ecco shoes good for golf?
Yes, absolutely! Ecco is regarded as one of the top, premium brands, with their design and performance arguably the best on the market. The company are worn by multiple Tour professionals and make a superb option for anyone wanting to get out on the course.
What is special about Ecco shoes?
The brand has certainly become well renowned for the comfort of its shoe range. Using a range of proprietary technologies in the midsole, we agree that Ecco shoes are some of the most comfortable on the market.
If you enjoyed this guide on the best Ecco golf shoes, be sure to check the Golf Monthly website where we have done guides on the best Nike golf shoes and best adidas golf shoes as well.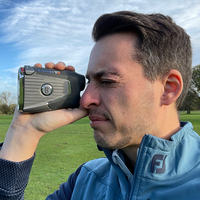 From clubs, balls and tees, to essential sportswear and fitness products, keep it affordable with a little help from our promo and coupon codes.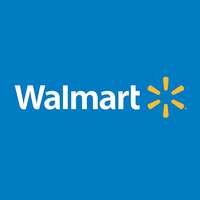 Our Walmart coupon codes can get you better prices on items from the retailing giant including clothing, tech & sports gear.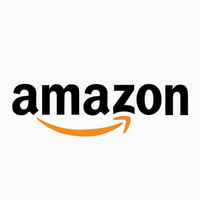 Get saving on those Amazon orders with these coupon codes to help reduce the price in your basket.