Best Golf Shoes For Plantar Fasciitis 2023
Do you struggle with plantar fasciitis? Here are some of the best golf shoes to help...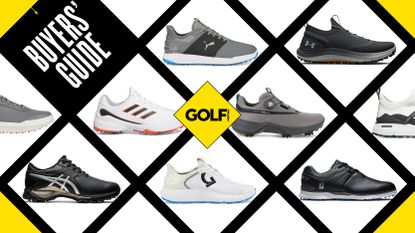 (Image credit: Future)
Best Golf Shoes For Plantar Fasciitis
Pain of any sorts in your feet can be incredibly distracting during a round of golf. For those who suffer with plantar fasciitis - an intense stabbing pain felt in the heel of the foot - flare ups and constant pain can ruin a round of golf and potentially stop you from playing the sport altogether. However, the perfect pair of golf shoes can both help alleviate pain and make the long walk around a golf course a much more pleasant experience. With any luck they'll help you play better golf too!
The best golf shoes for plantar fasciitis have incredibly soft midsoles and insoles that cushion your feet. They have especially good padding around the heel area and offer excellent support around the ankle so your feet don't move around too much. Plus it's also worthwhile getting a fairly lightweight pair of shoes, too, so that your feet and legs don't come under too much stress while you walk the golf course.
While it must be stressed that we at Golf Monthly aren't podiatrists and our recommendations below are strictly our golf knowledge rather than medical, we do know a seriously comfortable golf shoe when we test one. On that basis, we've collated a mixture of the best spiked shoes (opens in new tab) and best spikeless shoes (opens in new tab) for those with plantar fasciitis. It's worth noting we've added more spikeless shoes to this list as they tend to be the most comfortable of the two types of golf shoe. You can also check out our guides on the best golf shoes for wide feet (opens in new tab) and best golf shoes for walking (opens in new tab) for even more options that are easy on your feet.
Best Golf Shoes For Plantar Fasciitis
Spikeless Models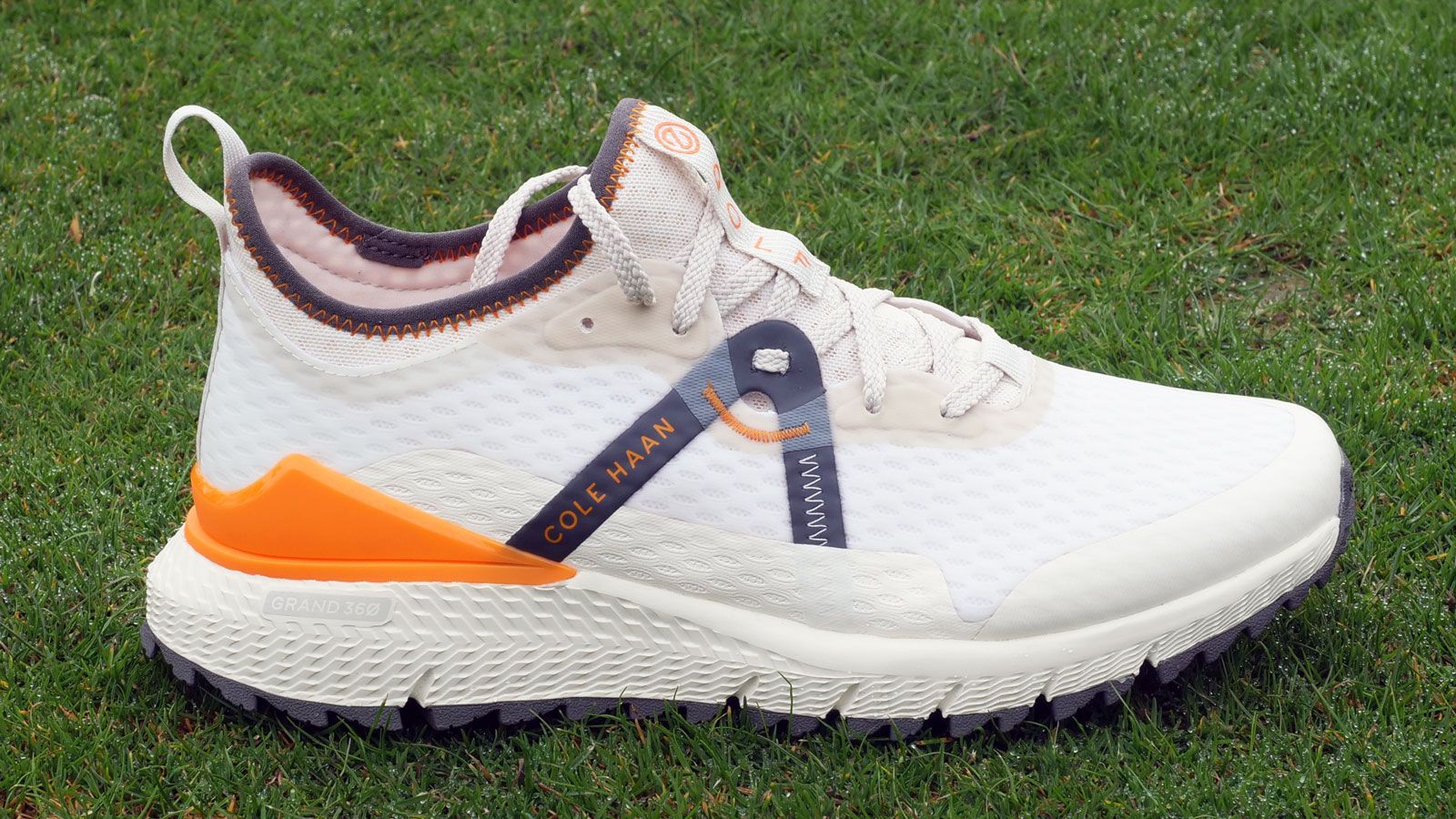 Perhaps one of the most lightweight golf shoes on the market right now, the Cole Haan ZeroGrand offers a designer look but also delivers comfort in spades. When we say lightweight, we mean these shoes weight quite literally next to nothing and offer a very cool sporty look that will help you stand out as a serious player when you rock up to the course. In fact, we feel there's a lot of versatility on offer here and would feel very comfortable wearing these not just on the golf course, but in our daily lives as well.
On that note, let's talk a little more about comfort, with these shoes coming with a midsole that feels almost like a memory foam mattress to walk on. Cole Haan call this their GrandFoam midsole plate. It feels soft and full of bounce as you walk around the course and we felt it really hugged the bottom of our feet when walking - a fantastic sensation to say the least. In fact, we would even go as far as saying that this was one of the most comfortable golf (opens in new tab) shoes we've tested this year.
Cole Haan aren't a brand that you'd regularly come across on the course, but they're certainly shaking things up with aesthetics here. This shoe a great addition to those who are looking for a more easy-going look, something you might find from some of the best casual golf shoes (opens in new tab) on the market. The only downside here is this shoe is only water-resistant and not waterproof, so it doesn't quite match up to some of the best winter golf shoes (opens in new tab) for performance, but will come into its own when during the summer months.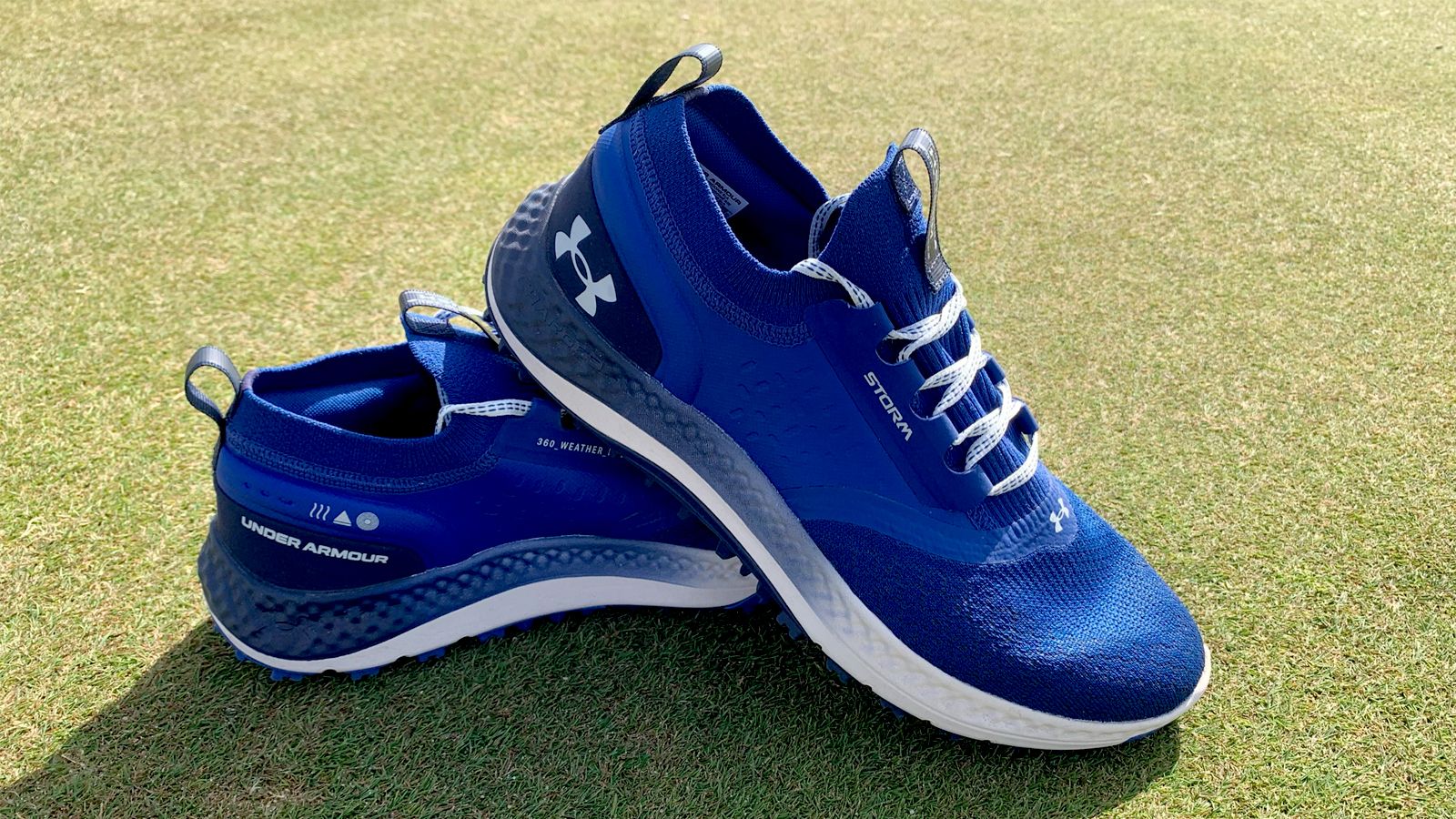 Many of the best Under Armour golf shoes (opens in new tab) are jam packed with technology that will help cushion your feet as you walk around the golf course. With the brand boasting a breadth of experience producing high performance athletic-wear, the Charged Phantom SL shoes are one of the most stable best spikeless golf shoes (opens in new tab) out there. Visually, they are a stunning pair of sneakers, offering an eye catching colorway on the midsole that blends a lovely a dark navy with white. We liked the versatility these shoes offered. They look similar to a running trainer and we used them heading out for walks, trips to the supermarket and even to the pub.
On first impressions, we loved the fit they delivered. It was snug and the material wrapped nicely around our feet to provide a locked-in feel that was really comfortable. The Charged midsole that separates the footbed and outsole is another highlight of this shoe. It delivered a lot of responsivity as we pushed through each shot. We felt really strong and well supported here and that gave us a lot of confidence that we could really rip through each golf shot. Another nice touch was the TPU infused yarn that is wrapped around the toe of the shoe. It delivered a secure feeling, much like a sturdy leather-based shoe, but was very welcome when things got a little wet on the course.
The last thing to note here is the grip. While it doesn't quite match up to whats on offer in some of the best spiked golf shoes (opens in new tab), this is a shoe built for warmer temperatures and in fairness, did perform nicely in dewy conditions on the course. The sole of the Charged Phantom SL features a ton of rubber nubs that are strategically placed to resist rotational movement and help you really plant your feet. We were really impressed with this factor, especially on a damp driving range in March.
We have been fans of the Pro SL range since it was released back in 2016. In its newest edition, the fourth generation, we see the iconic model take some of the comfort from the FootJoy Stratos golf shoe (opens in new tab) and the brand's Hyperflex (opens in new tab) design added to the midsole of the new 2022 Pro SL. In testing, this provided comfort whilst also returning energy to our feet as we stepped, with the Pro SL providing comfort straight out of the box and an on-course performance that we've gotten to know and love. What's also great here is that the shoe comes with a very wide sole that means its one of the best golf shoes for wide feet (opens in new tab).
Certainly the sole design alone puts this as one of the best spikeless golf shoes (opens in new tab) we have worn on the course, as it also provides all the traction you need, even in wet, wintery conditions. Because there are multiple versions of the Pro SL, there should be something for everyone's tastes here, but one of the great features about the pro SL is its dexterity in wetter conditions. The shoe is waterproof and you'll even get a one year waterproof warranty here too! For more options that'll help your feet stay bone dry, check out our guide to the best waterproof golf shoes (opens in new tab).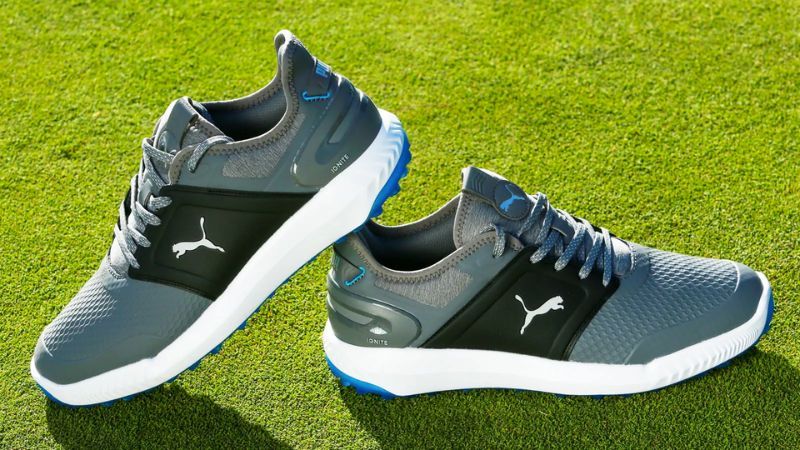 One of the best-looking spikeless golf shoes available right now, the Ignite Elevate takes everything that we loved about the 2022 Puma Ignite Articulate (opens in new tab), and upgrades it into a spikeless offering. Aesthetically, a lot of influence has been taken from this shoe's predecessor, with the Elevate coming in a very cool athletic profile akin to many of the best golf sneakers (opens in new tab). We particularly enjoyed the combination of materials the brand has used here, with the Elevate coming with a textured upper that is contrasted by a black cage area across the shoe. That all combines to give this shoe a very premium feel.
Speaking of which, the comfort here is impressive too. It comes with a fabric sock area around the ankle that helps to deliver a locked-in feeling to your feet but is super comfortable too. The shoe's midsole is built from the familiar Ignite Foam which is seen in many of the best Puma golf shoes (opens in new tab). It helps to deliver a responsive feeling, which was both comfortable and supportive. It also comes with a cool Exoshell casing on the heel, that aims to deliver 360º of support to your feet. During testing, we found that it keeps you feeling locked-in and supported throughout 18 holes. Overall, the Elevate is a stunning spikeless golf shoe (opens in new tab) that will appeal to many kinds of players.
G/FORE (opens in new tab) is a relative newcomer with tons of style and attitude to help you stand out from the crowd. We've seen this with models like the Gallivanter (opens in new tab) and MG4+ (opens in new tab), and the brand's flair is evident once again in the new spikeless MG4x2 shoes. This is a cross-trainer shoe, a multi-functional model designed for both on and off the course. A lot of golf shoes struggle to find the balance between on and off course versatility; many end up failing on one or sometimes both tasks with either the style or performance being compromised. Not so with the MG4x2 shoes.
On course, the Sawtooth sole design offers one of the most compelling spikeless outsoles on the market even in wet and soft underfoot conditions. Having put these to the test ourselves, we did like the confidence they gave us when playing in wet and muddy conditions. They also feature a moulded heel cup that prevented our feet from slipping around inside the shoe, so you always feel really secure. Meanwhile, the upper is both breathable and waterproof and that kept our toes nice and dry in when the rain comes down or even when things got too hot on the course. The style here is the defining feature though, and it fits with many of the best G/FORE golf shoes (opens in new tab) available right now.
Ecco is well known for producing comfortable golf shoes, and the Biom Hybrid 4 is no different. While it must be said that this shoe does come in at a premium price point, what you're getting here is a high-quality sneaker that'll help you perform on the course and stay well-protected from the elements. From a style perspective, these hit the perfect note. Being pretty neutral overall means golfers won't be immediately put off by the design and it can match with many different outfits, similar to some of the best casual golf shoes (opens in new tab) on the market.
Our experience wearing these on the golf course didn't disappoint either. The shoe offers a lot of room up top for your toes, while the back section keeps your feet nicely locked-in. That combines to deliver a ton of comfort around the golf course. While it's not the softest-feeling spikeless golf shoe on this list, we've come to the conclusion that you don't always want to be walking on a sponge and this shoe strikes the right balance to produce an energetic feel as you walk the course.
The grip was deceptively not a problem here either. While mud did get clogged in the deeper channels, we could kick it away pretty quickly when we felt like our shoes were getting a little slippery. The sole held firm when we needed it too, plus the Gore-Tex membrane on the upper adds a peace of mind if you get caught in a passing shower. Ultimately, these are a lightweight pair of spikeless golf shoes that offer a stunning aesthetic akin to some of the best golf sneakers (opens in new tab).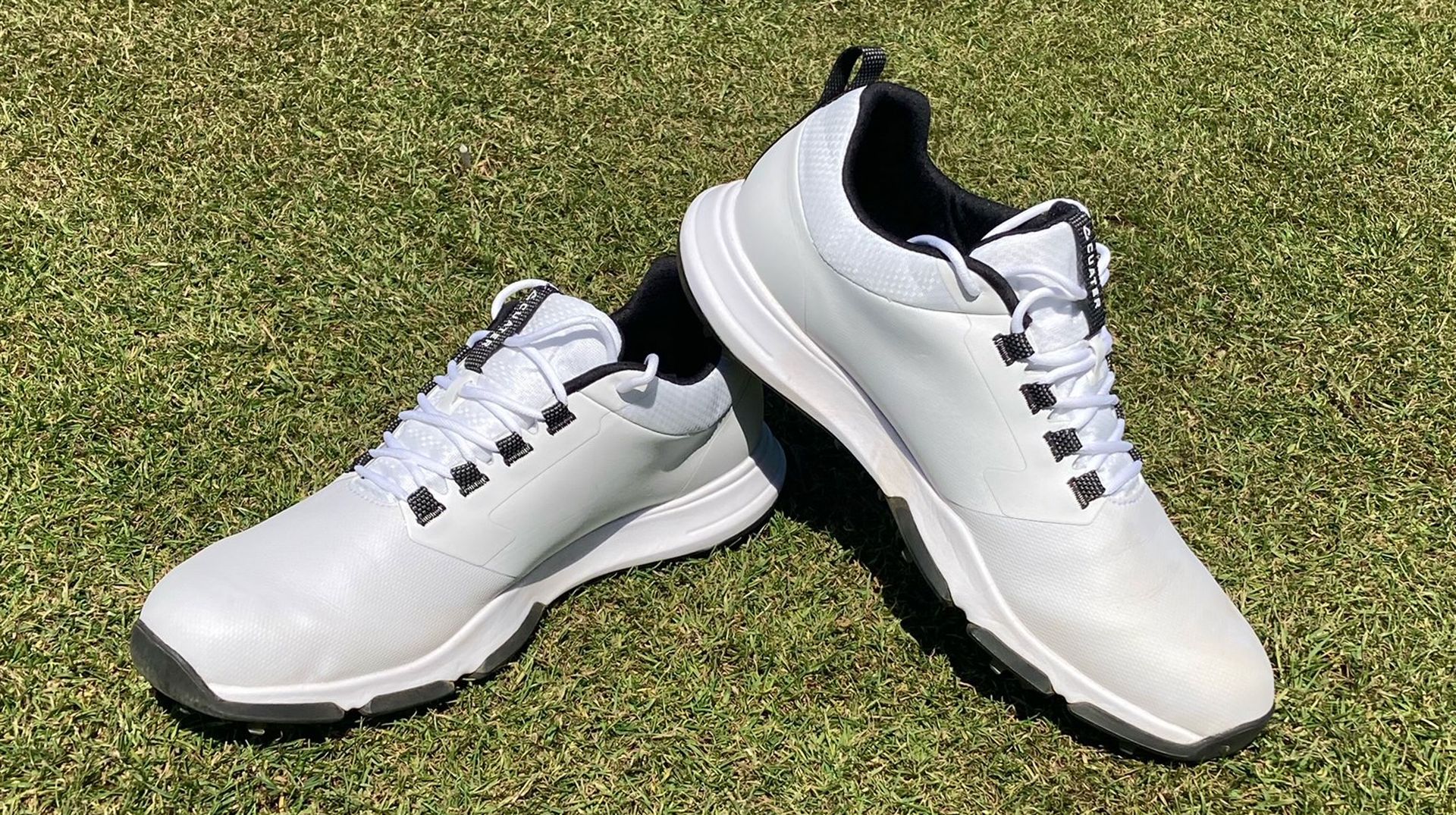 Worn by former US Open champion Jon Rahm (opens in new tab) and WGC Match Play winner Sam Burns (opens in new tab), the Cuater Ringer shoes are one of the best-looking and most comfortable sneakers money can buy. We loved the sporty and modern design of the Ringer, which isn't plastered with brand logos or text and provides a trendy yet smart look if you're thinking of combining them with shorts or trousers.
The Ringer is also brilliant for comfort and stability and features in our most comfortable golf shoes guide (opens in new tab), making these a great pair of shoes for any golfer who struggles with foot pains. The fit is secure from heel to toe and we found the cushioning inside the shoe also very soft. The one drawback we noticed was that the shoe didn't offer that much breathability. However, that means the shoe is waterproof and its outsole material will keep your feet dry on wetter days. As for its grip, the shoe features Softspikes Pivix cleats which give great traction on the turf, locking into the grass while you play your shots.
One of our favorite golf shoe manufacturers at the moment is G/FORE. The brand are changing the mold of what a modern golf shoe should look and feel like. The Gallivanter range from G/FORE proves that you can blend striking colors and designs with a traditional golf shoe design to create a stunning pair of shoes. And we loved wearing these out on the course. They are an extremely comfortable pair of shoes. As you'd expect from one the best golf shoes (opens in new tab) on the market, the traction levels here are also very impressive. While they are a spikeless golf shoe, the grip keeps you well planted on each shot and we had no issues ripping through each golf shot.
The premium leather feels as good as it looks and the textured pebble grain finish is eye catching and easier to clean than I thought they'd be. The cushioned footbed that features lots of small raised 'nubs' provides a wonderful massage – a sensation that takes a little getting used to, but after a short while you really begin to appreciate it. That ultimately means these are one of the most comfortable golf shoes (opens in new tab) on the market. Not everyone will be a fan of the versions with bold outsoles and the in your face Skull and Ts emblem that is also found on many of the best G/FORE golf shoes (opens in new tab). But for those who like their shoes to have a more classic design with a bit of 'attitude', then the Gallivanter can't be beaten.
A new entry to the list this year is the Payntr X001 F shoe. The sports footwear performance brand has already turned heads in the golf world, with its shoe that is said to give golfers a competitive advantage thanks to a unique 3D traction system specifically designed to prevent rotational slippage. It looks the part though, and comes in three different colors that cater to the tastes of pretty much every golfer.
There is also a Responsive Power Plate and midsole cavity that make it easier to utilise ground reaction forces, while the underfoot cushioning and PMX foam midsole provide all-day comfort that is breathable and waterproof. Visually, this shoe will turn heads because there are lots of elements to catch your eye such as the color blocks and laces. Overall it is an impressive debut by Payntr in the world of golf but there is one thing to remember – we found these shoes to come out on the small side, so you might want to opt for a half a size bigger than you normally would.
Spiked Models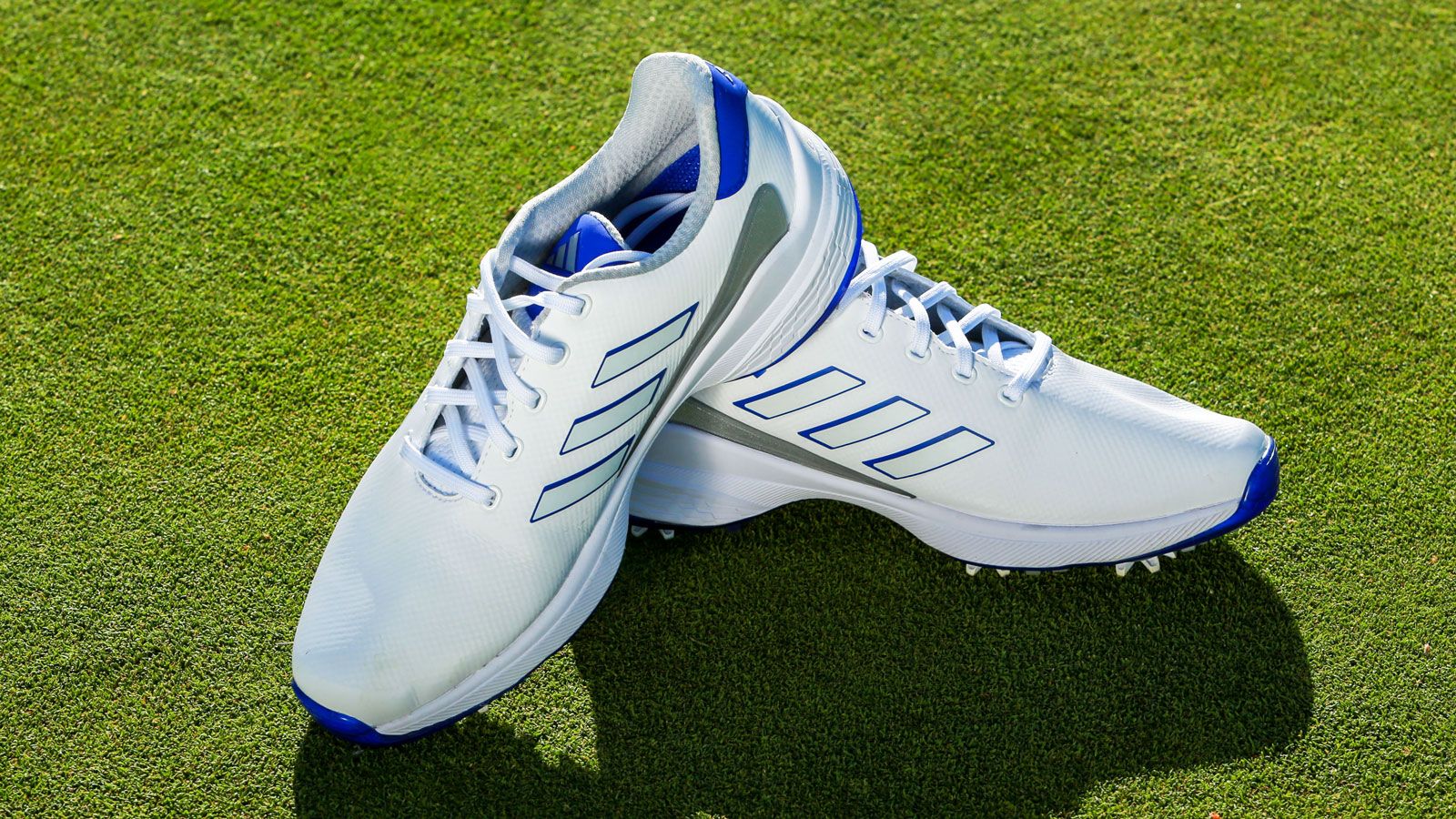 An upgrade on the adidas ZG21 golf shoe (opens in new tab) the ZG23 boasts a stunning design that will appeal to many golfers looking for a golf shoe that will help to minimise the pains from plantar fascitiis. The biggest improvement over the ZG21 - and a standout feature in the whole shoe market - is adidas' new Lightstrike and Lightstrike Pro technology used throughout a newly revamped midsole. While many of the best adidas golf shoes (opens in new tab) currently employ a Boost midsole, which by all means delivers excellent comfort, the new technology on offer here is a real winner that we thoroughly enjoyed.
In testing, we were impressed with the overall comfort, especially the softness in the midsole and the cushioning and comfort under the foot. This, paired with the softness of the upper, both on the outside and inside of the shoe, makes it one of the most comfortable shoes on the market. Those features combine to make this one of the most comfortable golf shoes (opens in new tab) out there. Plus there is also more comfort and stability from the Stability Fin, which gives the ZG23 the ability to keep your feet incredibly stable as your weight shifts through the golf swing. Lastly, because of the ultra-lightweight nature of the shoe, it really reduced foot fatigue after walking 18 holes.
The Gel-Ace Pro M Standard is the golf shoe that Hideki Matsuyama wears on Tour and it's an impressive new option from the collaboration between Asics and Srixon. In our testing, the Pro M Standard offered incredible comfort right out of the box, and proved to be one of the most comfortable golf shoes (opens in new tab) we have tested this year.
In testing, we found it to be a stable and supportive shoe both during the swing and while walking between shots and, rather nicely, it offers a traditional, premium look that many will find appealing. The Gel-Ace Pro M Standard is also waterproof and we found, during testing, that the shoe provided excellent breathability even on some very hot days. Cleaning up well after use, it showed little wear during our on-course testing, but one small downside to the Pro M Standard is that there are only two color options available.
The Ecco Biom G5 aims to bring together the best elements of two previous Biom shoes into one feature-packed model. Notably, the cleated outsole of the Biom G3 (opens in new tab) and the athletic look of the impressive Biom H4. We have to say, Ecco has done a great job and the addition of the BOA lacing system in the pair we tested is the cherry on top.
The first thing you'll notice with the Biom G5 is the weight, or the lack of it, with the Biom G5 weighing 18 grams lighter than the Biom H4 (opens in new tab), no mean feat given the addition of the cleats on the outsole. Talking of the cleats, there are only six in this model, which are positioned at the very edge of the outsole to provide perimeter stability as well as excellent grip. It still features Ecco's Gore-Tex protection and wipe-clean characteristics of the leather upper, which make this a robust winter shoe option. What's more, the modern, athletic take on a heritage shoe will appeal to a wide range of ages and visual tastes among the five colorways available.
Skechers' flagship model at the moment, the Pro Golf 5 Hyper shoe takes comfort to the next level by incorporating Skechers Arch Fit technology that provides podiatrist certified support to your feet, with cushioning across the midsole. I thought this made the shoe one of the most comfortable golf shoes (opens in new tab) on this list. That Arch Fit technology is designed to reduce pressure on your foot by distributing weight over a wider area, thus reducing foot fatigue.
Admittedly, it's a strange feeling at first as it feels like the arches of your feet are being pushed up, but I was soon very much used to - and enjoying - the sensation beneath my feet. The shoe also boasts Skechers Hyper Burst and Resamax cushioning which work in tandem to offer excellent rebound in your step. Other elements we liked were the breathable mesh that helped keep my feet cool, and the Softspikes provided excellent grip for me.
One of the most traditional golf shoes to be launched in 2021, The Legend by Cuater offers golfers a technology-packed, classic golf shoe that can be worn all year round. It's got to be said that this simple, clean design isn't seen as often in golf shoes anymore as brands constantly try to find the 'new' look to capture a golfer's eye. Alongside the FootJoy Premiere Series (opens in new tab) line of shoes, we think The Legend is probably the most 'classic' looking brogue you can currently buy.
Premium materials are used throughout and you can feel the quality of The Legend immediately when you pick them out of the box and again as soon they are on your feet. The Legend features what Cuater call its Sweet Spot Technology Cushioning System, which is used in the midsole to great effect. Having tried this golf shoe out on the course it is one of the best midsoles on a spiked shoe we've ever tested. That makes it one of the best golf shoes for walking (opens in new tab) around the the golf course.
How We Test Golf Shoes
As we've mentionned above, the Golf Monthly team are not podiatrists but we do know a seriously comfortable and supportive shoe when we try one. The golf shoes above represent the cream of the crop when it comes to overall comfort and support that should help to alleviate the symptoms of plantar fasciitis. If you have specially made insoles to help stave off symptoms, they should also fit into these shoes to add another layer of comfort.
Using our extensive testing methodology (opens in new tab), we look to wear each shoe over several rounds of golf to determine the comfort, grip, durability and waterproofing the shoe possesses. We also attend product launches with the respective brand's R&D experts to get a better understanding of the technology in each shoe and how the features built into each shoe can benefit you on the course.
What To Consider
Picking out a new golf shoe is never an easy task. That is made even harder when you're looking to snag yourself a pair of sneakers that will help to alleviate the problems associated with Plantar Fascitiis. As some of the best golf shoes (opens in new tab) come with a ton of features, functionality and different styles, it is so hard to pick the one that's right for your needs. But do not fret. We've got you covered, as here are some of our top points to consider when buying your next pair of golf shoes.
1. Comfort
Once you know the right size to go for, comfort is the next factor to be aware of. If a shoe isn't comfortable, you aren't going to wear it so we recommend trying on different models before you buy. For some inspiration, check out our guide on the most comfortable golf shoes (opens in new tab).
When you are trying shoes on, listen for a 'whoosh' sound which should indicate air leaving the shoe which usually suggests a good fit. Walk around in the shoes too so you can feel any pinching and whether your feet are moving around inside them. A correctly fitted shoe should so neither of these things.
This is important because if your feet slide around inside, or you get rubbing and blisters, you won't wear them again and they could damage your feet and performance.
2. Waterproofing
Because nobody wants to play with cold, soggy feet, right? Waterproofing is always important in a good golf shoe. Us golfers are outside all day sometimes and that means the occasional bit of rain is inevitable, and your shoes need to be able to deal with this. Therefore always check if a model is waterproof.
Some shoes are 'water-resistant' where they will survive in a short shower but will struggle to keep the water out in significant rain. It's best to double check before you buy which shoes are waterproof or not. But for some examples, we've got you covered. Take a look at our guide to the best waterproof golf shoes (opens in new tab).
3. Spikes or no spikes?
A big conundrum many golfers are currently facing is whether they want a spiked golf shoe or a spikeless shoe. Ultimately, we cannot advise you here on what to buy as there is no right answer - it's all about personal preference. What we will say though is that there are some big benefits to wearing both.
The recent rise in popularity of some of the best spikeless golf shoes (opens in new tab) on the market comes down to essentially the amount of grip manufacturers have been able to put in their latest models. Some of the newest spikeless golf shoes offer superior traction on dry and wet lies. While spiked models will always be advisable for winter golf, there are some trendy spiked options that are able to deliver all-year-around. They also tend to be more versatile with golfers able to wear spiked shoes off the course too.
Meanwhile, the best spiked golf shoes (opens in new tab) will offer way more grip than any spikeless golf shoe can in a variety of terrains. If you plan on playing through the winter, then a spiked option may be better for those sludgy muddy days out on the course. Offering superior traction compared to many spikeless options, you may also find a spiked golf shoe can help you dig into the ground and swing through the golf ball with much more control and force.
4. Stability
On that note, stability is a big thing to consider when buying a new pair of shoes. In a way it is different to comfort as stability relates directly to your performance through a golf shot. If you find your feet moving around loads while you play each shot, then you're not going to be able to rip through the ball as well and may end up hitting your shot awry. Be sure to look out for a golf shoe that offers great support to your feet and delivers a locked-in feeling.
5. Budget
Finally be aware of your budget because you can find a golf shoe at any price point. There are some very expensive shoes out there and while sometimes you cannot put a price on your health and wellbeing, some of the best budget golf shoes (opens in new tab) also offer some great functionality to help you play your best golf.
For more advice on buying golf shoes, check out our guides to the best Footjoy golf shoes (opens in new tab), best nike golf shoes (opens in new tab) and best Skechers golf shoes (opens in new tab).
FAQs
What is plantar fascitiis?
Plantar fascitiis is a regular occurrence among many golfers both at the professional and amateur level. It is a pain in the bottom of the arch and heel of your foot. It is particularly common among players who regularly play on hard ground as it is related to a lot of stress impacts on your foot.
How can golfers prevent plantar fascitiis?
While we are not medical professionals, what we can say is the best way to prevent foot, heel and toe pain on the golf course is to invest in a new pair of comfortable and spongey golf shoes. That can help to reduce the stress and pressure going through your feet during 18 holes. You can also opt to use orthotic sole inserts and roll your feet out regularly before and after your round.
Should I buy spiked or spikeless golf shoes?
That depends on your preferences as a golfer and the types of terrain you'll be playing in. Ultimately, spiked golf shoes deliver more traction on a wider range of surfaces and in different weather conditions. That means they are more suitable for year-round golf. But spikeless golf shoes do come with a lot of versatility and some of the top performing models on the market now come with traction and grip that is almost on par with some of the best spiked options on the market.
Dan is a Staff Writer and has been with the Golf Monthly team since 2021. Dan graduated with a Masters in International Journalism from the University of Sussex and primarily looks after equipment reviews and buyer's guides, specializing in golf shoe and golf cart reviews. Dan has now tested and reviewed over 30 pairs of golf shoes for the website and magazine with his current favorite pair being the Ecco Biom C4. A left-handed golfer, his handicap index is currently 8.5 and he plays at Fulford Heath Golf Club in the West Midlands. His best day in golf so far was shooting 76 at Essendon Golf Club on his first-ever round with his Golf Monthly colleagues. Dan also runs his own cricket podcast and website in his spare time.
Dan is currently playing:
Driver: Ping G425 Max
Fairway: Ping G425 Max
Hybrid: Ping G425
Irons: Ping i59 (4-PW)
Wedges: Ping Glide Forged Pro
Putter: Wilson Staff Infinite Buckingham
Ball: TaylorMade TP5 Pix