Best Golf Clubs For Intermediate Players 2023
Are you that kind of high single figured to mid-handicap range of golfer? We have looked at some of the best golf clubs for you here.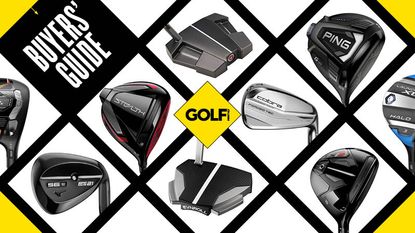 (Image credit: Golf Monthly)
Best Golf Clubs For Intermediate Players
Selecting the best golf clubs for your game is not a straightforward task, especially when there's so much choice on the market. If you're a beginner, it's actually more straightforward – you need clubs with game improvement features, as you'll find in our best golf clubs for high handicappers (opens in new tab) and best golf club sets for beginners (opens in new tab) guides.
Meanwhile, the scratch golfer and more accomplished ball strikers demand superior feel and workability. Then, there's the 8-18 handicap category, which comprises a range of abilities. If you're an 'intermediate player', you may find that you're pretty handy one minute and, often, quite ordinary the next.
Generally speaking, the best golf clubs for intermediate players offer a combination of feel, forgiveness and workability. Not all clubs in this category will suit the same level of player, but some models do actually have quite a broad appeal. So, let's take a closer look at some of the best golf clubs for intermediate players.
Best Golf Clubs For Intermediate Players
Drivers
To achieve new performance levels in the G425 Max, Ping has implemented a 26-gram movable weight called a CG Shifter, which is made possible by weight savings from advancements in the driver's Dragonfly crown design. The weight can be secured in one of three settings – neutral, draw or fade – to influence forgiveness and shot shape.
For golfers with a slice, the 460cc SFT driver (10.5° only) features a fixed, heel-biased 23-gram weight to promote right-to-left shot bend, whilst the 425cc LST model, which has a more pear-shaped head, will appeal to the better player. Therefore the intermediate players who sit in the middle will enjoy the performance from the Max version we selected for this guide.
Titleist has introduced a number of new technologies to make the TSi2 driver easy to hit and consistently long – making it one of the best golf drivers (opens in new tab) anywhere. The result is even more speed across the entire face, which has also been boosted by a reshaped head.
We were impressed by how easy the TSi2 was to launch, which allowed us to swing relatively smoothly and still deliver a powerful ball flight. We also liked the consistency, even when shots were not middled, which will give mid handicappers a useful boost when they need it. Behind the ball, it strikes an ideal balance between looking generous in size and easy to hit without appearing too clunky.
In 2022 TaylorMade introduced the all new carbon fibre face on the Stealth range. Finished in red, whilst this might not be to everyone's taste, the chosen color is not too bright and down behind the ball is fairly recessive. We liked it.
It creates a powerful feel and good sound at point of contact. While it may be a little more high pitched than the outgoing SIM2 driver, it still sounds great in our opinion. During our testing, we managed to deliver an extra three miles per hour in clubhead speed with the Stealth compared to the SIM2, which translated into more distance.
This is the standard model in the Stealth range, but there is also the draw bias Stealth HD or low spinning Stealth Plus to choose from - so if you're after the best drivers for slicers or best drivers for distance, check those models out. We think the standard head will suit the broadest range of golfers in the intermediate sector.
The Rogue ST family replaced the outgoing Mavrik range and it comes in four different heads: Rogue ST Max, Rogue ST Max D (draw bias), Rogue ST LS (low spin) and Rogue ST Triple Diamond LS.
We selected the Rogue ST Max head in this guide because this is the option we think will suit the broadest range of golfers. For 2022, Callaway's new driver range has extended its use of A.I. to optimise its Flash Face for launch and spin as well as ball speed.
Down at address, the Rogue ST Max has a new matte crown which we really liked, although we didn't care much for the clock-style graphics at the rear. The face looks flatter and is lighter in color, making it more visible and therefore easier to align.
Fairways
One of the best golf clubs (opens in new tab) out there, simplicity is key with the Titleist TSi2 fairway wood. A classic, clean black look at address is accompanied by a nice size head that inspires plenty of confidence off a tee or off a fairway lie.
It launches nice and high and is super forgiving across the face, thanks to the deeper and lower CG. This makes it a thoroughly playable fairway wood for golfers up and down the handicap range. Plenty of adjustment in the hosel and five different lofts mean it's easy to find the right fit.
Tour Edge has a long history of developing high-performing fairway woods for more accomplished players and the Exotics C722 will add to that legacy. In our testing sessions we loved the shape and overall look of this fairway wood but where it really shined was in terms of distance, as we found it to be very long, both off of a tee and from the turf.
However, what makes it ideal for intermediate players across the handicap range is it also offered us surprising forgiveness in testing, especially in terms of dispersion, as poor strikes tended to stay on target. Overall, however, this is a fairway wood best suited for low and mid-handicappers who generate ample speed and regularly find the center of the face.
The new Cobra LTDx line-up includes a choice of three adjustable fairway metals, with progressive designs, head shapes and sole rails designed to appeal to golfers of all ability levels. The LTDx fairways replace the Cobra Radspeed model, which last year ranked top overall performer in our annual test of the best fairway woods (opens in new tab). Overall we have selected the standard head for this guide because it will suit a wide variety of players.
It has a carbon fiber crown with a muted matte-black finish. Whilst the head is compact, there's a 12g fixed weight positioned back in the head for maximum forgiveness and high launch. The feel of the forged face is the most enjoyable of any fairway tested this year.
Hybrids
Another TaylorMade design to make this guide is the regular Stealth hybrid. All the tried and tested TaylorMade hybrid technology is here again, from the V Steel sole to Twist Face and the Speed Pocket. What's different in the Stealth Rescue is a new carbon crown construction. The lighter head lets engineers shift seven grams of weight lower in the head for a better CG (centre of gravity), easy launch and optimal forgiveness - the perfect blend for intermediate players.
The sleek top line and carbon head do inspire confidence at address which, for most golfers, leads to a freer swing. We also found the Stealth Rescue easy to hit with a firmer feel off the high strength C300 steel face.
The Cleveland Launcher XL Halo Hybrid ranks as one of the most forgiving hybrids (opens in new tab) on the market and hence earned a spot in our Editor's Choice Awards in 2022. (opens in new tab)
The Halo features Cleveland's XL head design which is larger than most hybrids. As well as the large head design, the hybrid has an MOI of 2,961 - the most ever in a Cleveland Golf hybrid. The Launcher XL Halo also features great stability and resistance at the moment of impact, with three Glide Rails on the sole helping keep the clubface straight for better strikes, regardless of lie quality.
Callaway has released the Rogue ST Max OS hybrid for 2022 with a larger head, beefed up forgiveness and a helpful draw bias designed for golfers that are looking to correct a slice.
This model is billed as the most forgiving in the ST line-up, which just so happens to have a high launch and a mid-spin profile. It's a perfect long iron replacement and will interest golfers who want a club that sits between a fairway wood and 4-iron.
We think it may surprise a lot of people, especially better players who opt for it over hybrids pitched at the lower handicap bracket. Breaking it right down, it's longer, faster, more forgiving and plays like the Adams and Sonartec clubs that used to get so much love out on the tours.
Irons
Everyone should make it their ambition to play with a set of Mizuno irons (opens in new tab) at some point. The good news is, the Japanese brand doesn't just manufacture stunning blades.
With the JPX921 range, golfers of all abilities are well covered, especially with the Forged design in this guide. Offering a super combination of feel and forgiveness, the Forged model wouldn't be out of place in a single figure player's bag, or a mid handicapper's.
Ping irons that don the 'G' moniker are known for being a forgiving distance iron (opens in new tab) that is well built and stylish. The Ping G425 delivers on all these fronts and has a classy and understated look compared to the bolder red colors featured on the G410. Of course the look is completely subjective, but we think this new design gives the G425 an altogether more premium look.
Off the face, the G425 feels fast, making a nice loud sound without being too clicky. It is very stable off the face too, with toe and heel strikes maintaining a strong line through the air. By resisting changing the lofts for even more distance, Ping has evolved the G425 into a forgiving, controllable and classy looking iron suited to a wide-range of golfers.
This iron is built around the DualCor (DC) system that comprises two types os polymer inside the hollow head. The inner core polymer provides energy return while the outer core high COR polymer provides increased structural stability to support the thin steel face.
The standard 7-iron loft is 28°, so clearly this is a distance-orientated iron but through customization it can be built two degrees stronger or weaker. Our testing told us that this is a cast game improvement iron that sounds and somewhat feels like a forged club. The ball flat is quite low but the spin is high, which creates a balance of distance, a strong trajectory and stopping power that golfers of all abilities look for but especially the higher handicapper.
The TaylorMade P790 irons will appeal to a broad range of players. They offer a great blend of distance and forgiveness in a compact clubhead. The Speed Pocket in the clubhead helps to create greater forgiveness and consistency while the use of SpeedFoam dampens vibration, creating quite an unusual sound and feel at impact.
The ball is extremely fast off the face of these irons, like you would expect from a hollow club, and we like the slimline compact package. Overall, it's a strong performer that will suit a range of handicaps.
The previous King Tec irons were an impressive addition to the Cobra brand, offering excellent distance, stopping power and control. The latest edition, the Cobra 2022 King Forged Tec Irons are an upgrade on that, and while they are a more streamlined offering, we loved the user experience we had with these clubs.
Visually, this is one of the best-looking clubs on the market. With a crisp and elegant finish, it looks like a club that can add a lot of distance to your game. We were amazed at the power this iron offered, giving a metallic sound on impact and seemed to be more gentle compared to other brands. That also felt like it helped with club stability through impact, with your hands feeling fewer vibrations on the club, resulting in better ball flights and fuller shots. Ultimately this is a fantastic, five-star golf club that we think will benefit any low handicapper (opens in new tab) looking for more distance, control and power on their golf shots.
Wedges
Cleveland has added another model to its impressive wedge line-up, with the CBX ZipCore (opens in new tab) wedge providing superb forgiveness thanks to a cavity/muscle back design.
Although it may not look the best wedge from the back, this is all forgotten when standing over the ball at address as the classic teardrop shape and chrome finish inspire bags of confidence. The ZipCore is extremely easy to hit and surprisingly easy to flight which are two factors many players in the mid-handicap range tend to struggle with. Because of the performance it has earned a place in our 2022 Editor's Choice Awards (opens in new tab).
The Ping Glide 4.0 wedge looks exceptional - especially in the more traditional teardrop shape that is available in three of the four sole options. It also has the classic Ping Hydropearl 2.0 chrome finish, which reduces glare as well as flyers from the rough in damp conditions while also adding a touch of style to the aesthetics.
Most impressive, however, was how easy it was to spin the golf ball. Even when hitting shots that came off a little hotter and lower than expected, the ball sat to attention quicker than most new wedges (opens in new tab). This could well have been down to the new Emery face blast, which adds a little more friction to the hitting surface.
Traditional wedge designs tend to have a sweet spot that is slightly towards the heel due to long wide hosels and high lofts, making it hard for many players to find consistency. But the ES21 wedges feature a higher, more central sweet spot which delivers a squarer strike and greater levels of more controllable spin. Therefore we think it is a wedge which will suit a wide variety of players.
A multi-piece stainless steel construction features a hollow body for a higher and deeper centre of gravity that promotes more vertical gearing for increased spin, while the high toe and low heel keep the wedges extremely stable when the face is opened.
Putters
The Odyssey Eleven putter, which made our comprehensive list of the best putters (opens in new tab), has a composite head design made up of a steel crown with a lightweight TPU & aluminum under-body and heavyweight steel weights in each of the back corners. This gives it a very high MOI to improve forgiveness on off-centre hits.
The White Hot insert in the face improves the roll and the latest generation Stroke Lab shaft stimulates a better stroke tempo, all of which should contribute to you making more putts. There is also a choice of different alignment lines on the head and hosels for a straight or arc stroke.
The extended version of the ER11v putter, the Evnroll ER11vx comprises of a large mallet head with additional 303 stainless steel weights in the rear corners of each side. This therefore increases the MOI further, making it more stable and forgiving on off centre hits.
Like all Evnroll putters there is a choice of hosel options, with the latest addition of a short slant hosel creating 15° of toe hang which, combined with the high MOI head that is made from black anodized 6061 aluminum, and the ER11vx has one of the highest MOI's on the market, giving it a worthy spot in our 2022 Editor's Choice Awards. Overall we think the feel on offer will appeal to those lower handicap players in the intermediate sector, whilst those at the higher end of the handicap spectrum will enjoy the forgiveness.
The latest generation of the Spider family is designed to be one of the most stable compact mallet putters. The Spider GT has a Pure Roll 2 face insert of aluminum and TPU for a soft feel with consistent roll allowing golfers to maximize their pace control on the greens.
The 'wings' on each side are made from heavier steel and the centre section from lighter aluminum to raise the MOI and with a choice of different GT head shapes and hosels you are sure to find the right one for your game.
The Cobra King Agera is about as futuristic as mallet putters come. At address, the shape is very square and you can see the 3D Printed lattice structure poking out the sides. Whilst the sight line could be clearer to see, the contrasting colors do help you to set the face square.
It is surprisingly lightweight for such a large putter head and feels very solid and stable. This delivers more forgiveness and more consistency especially on those longer putts, which should you three-putt less.
How we test golf clubs
Our testing for golf clubs (opens in new tab) is built upon a comprehensive process combined with the knowledge and expertise of the Golf Monthly test team. Our team usually attend product launches and then when it comes to our actual testing, we first try clubs in a controlled environment. This usually takes place on an indoor simulator at Foresight Sports, with premium balls and the GCQuad launch monitor.
Next up is outdoor testing, which normally takes place at West Hill Golf Club. We think it is vitally important to do both and continue to test the clubs so they have been comprehensively put to the test in different conditions. It should also be mentioned that manufacturers cannot pay for a good review and we make our conclusions from the testing and our experiences. This is because we strive to give the best reviews possible so you can get a greater understanding of the clubs themselves.