Collin Morikawa What's In The Bag?
A young star in the game, we take a look in the bag of Collin Morikawa.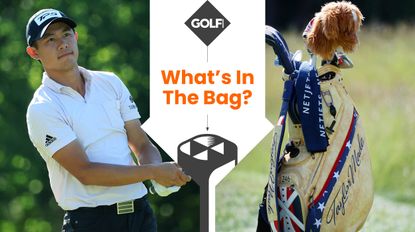 (Image credit: Golf Monthly)
Golf Monthly Newsletter
Golf tips and expert instruction, golf club reviews and the latest golf equipment.
Thank you for signing up to . You will receive a verification email shortly.
There was a problem. Please refresh the page and try again.
Collin Morikawa What's In The Bag?
Young American star Collin Morikawa (opens in new tab) has had a lightning fast start to his career with several outstanding results on the PGA Tour including five PGA Tour victories, two of which came in Major Championships - the 2020 PGA Championship, and 2021 Open Championship. What clubs does he use at the moment? Let's take a look.
Collin Morikawa What's In The Bag?
Driver
TaylorMade Stealth Plus/TaylorMade SIM
Image 1 of 3
Morikawa is a TaylorMade staffer and uses a near-full set of TaylorMade clubs right now including the new TaylorMade Stealth Plus driver (opens in new tab).
Speaking at the 2022 Sentry Tournament of Champions, Morikawa said of the driver; "Yeah, TaylorMade's been able to put 60 pieces of carbon together on the face and it's unbelievable, like the feel is there, which is great, obviously the first thing, first two things that we look at is feel and sight and obviously the red face took me five hits, hit it, don't even think about it anymore, I think it looks so clean. But the carbon, it creates a feel that normally you would feel off a titanium face, titanium driver.
"TaylorMade has already, in the past few years, has already put carbon in part of their heads, on the top, on the bottom, but to really put it in the face and to change that technology it's been fantastic. And I've actual sleep some increases in ball speed. Like this is the first time where I've actually seen that jump, which has been great."
All of that being said, we believe Morikawa is also still occasionally using the TaylorMade SIM driver from a couple of years ago as well.
Fairways
TaylorMade SIM Ti, TaylorMade Stealth Plus
Morikawa carries a three-wood and five-wood at the moment. The former is a SIM Ti (opens in new tab) model whilst the latter is a Stealth Plus (opens in new tab) model. The former has 14 degrees of loft and the latter has 19 degrees of loft.
Irons
TaylorMade P770, TaylorMade P7MC, TaylorMade P730
Moving to the irons he starts with a TaylorMade P770 (opens in new tab) four-iron, and then from five-iron down to seven-iron he has TaylorMade P7MC (opens in new tab)'s. He then uses TaylorMade P730's from eight-iron to pitching wedge but he has been known to put more of these in the bag, replacing some of the P7MC's. He uses the P770 for his longest iron because it gives him more forgiveness which is incredible given how good his iron play is.
Wedges
TaylorMade MG3
Moving to the wedges, Morikawa was carrying two TaylorMade Milled Grind 3 (opens in new tab) wedges with 50 and 56 degrees of loft, and then a TaylorMade Milled Grind 2 (opens in new tab) 60 degree model but the lob wedge has been replaced with a TaylorMade MG3 TW model which is the design built for Tiger Woods.
Putter
TaylorMade Spider GT Rollback/TaylorMade CM Proto
Collin is "a tried and true blade guy" according to TaylorMade which made it interesting when he played several events with the FCG mallet. He then briefly put the Juno back in play before switching to the Spider GT Rollback. According to TaylorMade, Collin loves the feel of the Pure Roll insert featured in all of the Spider GT putters, as well as the way Rollback sits at address.
This was in the bag for a while and he does occasionally put it into play, but we have recently spotted him with a TaylorMade CM Prototype which has a blade-like design in a black finish.
Ball
TaylorMade TP5
He also uses a TP5 golf ball (opens in new tab). Interestingly though Morikawa used a TP5x when he first turned pro and he gravitated towards that because it was the lower spinning, firmer model however he found that it had a negative impact on his chipping because he felt like he was scooping the ball because he wasn't spinning the ball enough. As such he gave the TP5 ball a go and it has seemed to work. Speaking to Golf.com he said; ""It took me a week or two to really get used to the feel of the TP5 ball. I had really never used that soft of a ball. It took me a little time, but I've gotten used to it now. It feels completely normal. My wedges spin great. It feels great off the putter. I like a soft feel off the putter anyways… it's just been awesome around the greens, feel, everything; in the wind it's amazing, too. It's been a great ball and definitely a great switch. Easy transition to say the least."
Apparel/Shoes
Adidas
Morikawa is also an adidas staffer, wearing head-to-toe adidas apparel and shoes. His specific shoes are the adidas ZG21 (opens in new tab)'s although it will be interesting to see if he switches to the new models coming out in 2022.
Full Specs
*The top of his bag setup changes regularly dependent on golf course, conditions and other factors.
Driver: TaylorMade Stealth Plus, (8 degrees), Mitsubishi Diamana D+ Limited 60 TX shaft (or TaylorMade SIM)
3-Wood: TaylorMade SIM Ti, (13.5 degrees lofted to 14), Mitsubishi Diamana D+ Limited 80 TX shaft
5-Wood: TaylorMade Stealth Plus (19 degrees) Mitsubishi Diamana D+ Limited 80 TX shaft
Irons: TaylorMade P770 (4), TaylorMade P7MC (5-7), TaylorMade P730 (8-PW) all with Dynamic Gold X100 shafts
Wedges: TaylorMade MG3 (50, 56), TaylorMade MG3 TW (60) Dynamic Gold S400 shafts
Putter: TaylorMade Spider GT Rollback/TaylorMade CM Proto
Ball: TaylorMade TP5 (2021)