Best Pitching Wedges 2022
If pitching is the part of the game where you struggle, take a look at this guide on the best pitching wedges which will get you up and down more often.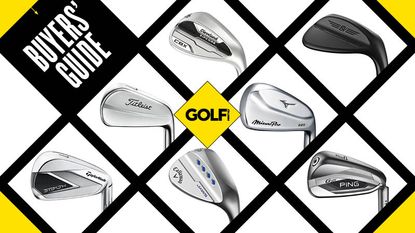 (Image credit: Golf Monthly)
Golf Monthly Newsletter
Golf tips and expert instruction, golf club reviews and the latest golf equipment.
Thank you for signing up to . You will receive a verification email shortly.
There was a problem. Please refresh the page and try again.
Best Pitching Wedges
Getting the best wedge for all the different types of shot you have to play approaching and around the green can be a difficult thing to do. Therefore most people carry more than one so that chip shots, bump and run shots, flop shots, bunker shots and everything else can be played when needed. Another very specific shot that should be included in that is pitch shots, and therefore getting the best best golf wedges (opens in new tab) for you is also very important. Getting up and down from 100 yards and in, or at least hitting more greens from that yardage, will definitely help you shoot lower scores.
Usually a pitching wedge loft will fit somewhere between 42° and 46° but they can occasionally vary either side of this range. The most important decision to make here is whether you want to use the specific pitching wedge iron that comes in your iron set, or opt for a speciality wedge with a loft within that bracket. (We have provided models for both types below)
Knowing you have the right loft and right club here will then inform your gapping in terms of your gap wedge (opens in new tab), sand wedge (opens in new tab) or lob wedge (opens in new tab). That way you know you will avoid having two wedges that do the same job. Put simply, you have to trust the pitching wedge you've got in the bag. It acts at the vital link between the irons and the wedges whilst also being one of the most versatile clubs in the bag when it comes to chipping, pitch shots and full shots. Acknowledging all of this, below we have put together a guide on the best pitching wedges, and be sure to check out our reviews of all the models too.
Best Pitching Wedges
Set Pitching Wedges
Reasons to buy
+
Significantly improvement over prior model
+
Visually appealing from all angles
+
Fast and forgiving
Reasons to avoid
-
Some may want to look down on a larger head
There is a reason the phrase, 'nothing feels like a Mizuno (opens in new tab)' is so synonymous with its irons, and the Pro 225 is no exception. It feels infinitely hotter off the face compared to the previous model and will really suit those mid-to-low handicappers that want to play a slim, players-looking iron without giving up distance.
The pitching wedge in the set has a loft of 44° so be sure to check the gapping to your gap or sand wedge so you have all the necessary slots filled.
Reasons to buy
+
Stunning looks
+
Forgiving off centre
+
Stable ball flight
Reasons to avoid
-
Mirror chrome finish will split opinion
The Callaway Rogue ST Pro has a loft of 43° in the pitching wedge and the overall package combines a great balance between a modern, technology-packed iron and a classic looking blade-like club.
That means this model, from an aesthetic point of view, will suit those who want to blend the clean looks of the irons with muscleback wedges. However, in terms of playability, these irons aren't just for single handicappers because we found the ball to get up into the air nice and easily, whilst the look did inspire confidence without being intimidating.
Reasons to buy
+
Incredibly accurate
+
Noticeably longer than outgoing SIM2 Max
+
Lively but pleasant sound and feel
Reasons to avoid
-
Considerably low spin limits stopping power
TaylorMade has made across-the-board improvements in Stealth as its game-improvement (opens in new tab) offering for 2022 over the SIM2 irons. Golfers should notice the extra forgiveness at play while being drawn in by the premium, elegant look on the shelf.
While the enclosed cavity concept continues, the Cap Back design has evolved to where the mid section of the toe has been completely removed to lower the CG of the iron, assisting with both ball speed and launch.
Because these irons are all about distance the lofts are stronger which means the pitching wedge comes in at 43°, so that is something to be wary of when filling out the bottom of the bag.
Reasons to buy
+
Classy, neutral styling
+
Arccos sensors embedded into the grip
Reasons to avoid
-
Not the most workable iron in the Ping range
The G425's from Ping are also all about distance but the brand hasn't really fiddled around with making the lofts significantly stronger here. The pitching wedge loft is 44.5° and as a result the iron is a forgiving (opens in new tab), controllable and classy looking model that many golfers will enjoy.
Off the face it felt fast and off-centre strikes still maintained strong flights through the air, whilst the strong descent angle made approaching into greens simple. This is especially helpful when we are faced with shots from 100 yards and in.
The final thing to mention is the looks. Previous irons from Ping have looked large and cumbersome but the G425 gives a premium look thanks to the darker color and slightly smaller profile compared to the previous G410.
Titleist 620 MB Irons
Reasons to buy
+
Beautiful looking club
+
Ultimate for feel and shot-making
The final iron set pitching wedge we wanted to mention is for the better player, the Titleist 620 MB. A real players' iron, the muscleback design looks awesome in the bag and particularly transitions nicely into the Vokey SM8's below.
As you would expect, these irons are all about control, workability and feel, which explains the pitching wedge loft of 47°. Distance is not important here. We found the feel off the face to be supremely smooth and we enjoyed the penetrating ball flight from good strikes.
It has to be said, this is really only a club for better golfers, but those with the necessary ball-striking skills will get a great deal out of it. Also check out our guide on the best golf blade irons (opens in new tab) if you are in the market for a new dream set.
Speciality Pitching Wedges
Specifications
Lofts: 46-60 degrees
Grind options: 2 (Full, W)
Finish: 1 (Grey)
Reasons to buy
+
Very forgiving and user-friendly
+
Satin finish works well in varying light conditions
Reasons to avoid
-
Limited versatility because of wide sole
The first speciality wedge we wanted to mention is the Callaway Mack Daddy CB, designed for those mid to high handicappers who need a little more help than the better player. They don't feel as soft as the Jaws MD5 (opens in new tab), but generally speaking they make it easier to deliver good good contact consistently when chipping and pitching.
In testing, we were also impressed with the forgiveness on full shots, and the feel off the face was really pleasing. From a looks perspective, better players will perhaps be better suited to the other muscleback designs below but if you are a player who uses cavity irons, then the CB wedge will sit well in the bag.
Specifications
Lofts: 46-60 degrees
Grind options: 4 (S, D, X, C)
Finish: 3 (Chrome, Raw, Denim Copper)
Reasons to buy
+
Ticks every box.
+
Provides exceptional spin control and a buttery soft feel
+
Ample versatility in a pleasing shape.
Reasons to avoid
-
Denim copper finish scuffs easily, raw finish rusts quickly
One of the best golf clubs (opens in new tab) in the wedge sector is the T22 from Mizuno. The three finishes feature a microlayer of copper beneath the nickel chrome, just like on the MP20 irons, to improve the feel at impact.
They feature a slightly more compact, 'modified teardrop,' profile with an extensively bevelled top edge to make it appear thinner. The spin weighted blade design, created by tapering the upper portion of the blade, helps create more consistent spin and a more penetrating trajectory.
You also get HydroFlow Micro grooves which perform excellently in wet weather, and the grooves are cut into Boron infused steel to offer a longer effective lifespan. Finally there are three finishes are available - Denim Copper, Satin Chrome and Raw.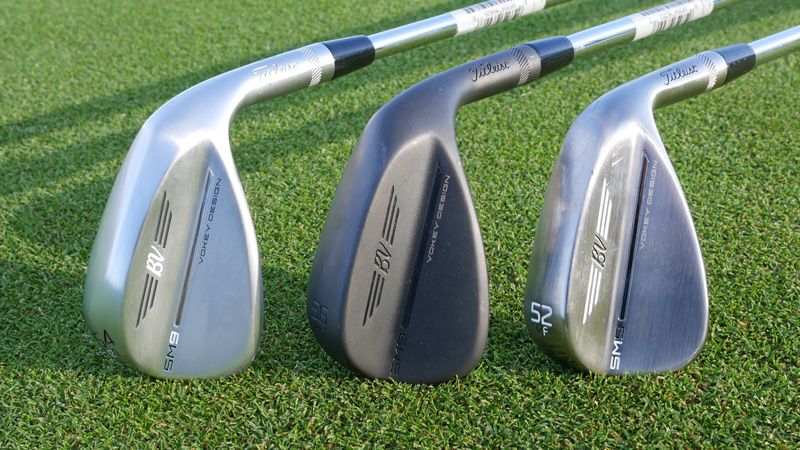 Specifications
Lofts: 46 to 62 degrees
Grind options: 6 (F, M, S, D, L, K)
Finish: 4 (Tour Chrome, Brushed Steel, Jet Black, Raw)
Reasons to buy
+
Brilliant levels of spin and trajectory control
+
Lots of bounce and grind options to suit all swings
+
Unrivaled looks
Reasons to avoid
-
A custom fitting is a must to get the best set make up
We have seen a lot of players out on Tour put the Vokey SM9 in the bag as a pitching wedge because of the control and consistency on offer. The SM9 is a case of evolution rather than revolution from the SM8 but Titleist says it has developed the groundbreaking Progressive Centre of Gravity (CG) design to improve distance and trajectory control. In testing, we found it very easy to square-up on full shots and deliver excellent consistency of spin and flight from closer to the green.
A new spin milled cutting process means grooves are sharper, while each groove is specifically cut based on loft and finish. Titleist also inspects every single groove on every wedge to guarantee conformity. They are also arguably the best looking wedges on the market so they will make your playing partners jealous no doubt.
Specifications
Lofts: 44-60 degrees
Grind options: 3 (V, S, C)
Finish: 1 (Chrome)
Reasons to buy
+
Excellent feel on all shots
+
Lots of spin on offer
+
Really forgiving
Reasons to avoid
-
Not the best-looking from the back
Another pitching wedge design that will suit those looking for more forgiveness is the Cleveland CBX ZipCore - it also made our guide on the most forgiving wedges (opens in new tab) by the way.
Cleveland's cavity back offering performs superbly, with the ZipCore extremely easy to hit and surprisingly easy to flight, something that's likely a consequence of the low density ZipCore that sits at the heart of this wedge to shift the centre of gravity and raise the MOI for maximum forgiveness.
Now traditional blade users may not like the looks but the wide sole design is there for a reason, to air forgiveness so it could be a pitching wedge for the inconsistent player to consider. That being said down by the ball it does still look pleasing to the eye.
Specifications
Lofts: 48-60 degrees
Grind options: 3 (Standard, Low, Tiger Woods)
Finish: 3 (Chrome, Black, Custom)
Reasons to buy
+
High levels of spin
+
Traditional shaping
Reasons to avoid
-
Not everyone will enjoy the look of the rusty face that builds over time.
A club that is often seen out on Tour in the pitching wedge slot is this TaylorMade Milled Grind 3 model. We think one reason for this is the looks, because it looks great and seems to blend well with other TaylorMade irons like the P7MB.
Another could be the rusty face which develops over time and is said to aid spin and feel. Additionally the ZTP Raw grooves are sharper, deeper and narrower too to maximise spin especially when greenside. In our testing we couldn't prove with any certainty that the rusty face generated more spin or felt softer, but that's not to say you won't enjoy more success, and we definitely felt this was one of the most playable models out there.
Specifications
Lofts: 48-60 degrees
Grind options: 2 (Classic, Tour)
Finish: 1 (Grey)
Reasons to buy
+
Consistent flight
+
Soft feel off the face
Reasons to avoid
-
Not a lot of bounce and grind options
If you are in the market for a wedge that looks like a blade and yet still inspires confidence at address then this Wilson Staff Model could be the one for you. Designed in collaboration with Tour players, it blends nicely with bladed irons and yet it is more forgiving than it looks too which will make it suitable for a wide range of players.
The higher density pattern on the face will help with consistency of strike and the machine-engraved scorelines will suit players who like to be aggressive when chipping. Whilst this club may not spin as much as other on this list, which may suit some players, the difference is minimal and shouldn't detract from what is otherwise an excellent club.
Specifications
Lofts: 46-64 degrees
Grind options: 5 (S, W, C, X, L-W)
Finish: 3 (Platinum Chrome, Tour Grey, Custom)
Reasons to buy
+
Exquisite looks and feel
+
Plenty of bounce and grind options
Reasons to avoid
-
Some may prefer a straighter, longer leading edge for easier alignment
The final speciality wedge in this list we wanted to mention is the Callaway Jaws MD5. It looks great because it has a shape designed by Roger Cleveland and better players will love how its muscleback design looks in the bag. It will also help blend nicely with blades or cleaner looking irons.
Spin comes from the new Offset Groove-In-Groove technology, which basically means there are diagonal score lines between the JAWS grooves. That being said, and despite it being one of the spinniest models we tested, the wedge still felt buttery soft for several different shots. As a result it would work excellently as a pitching wedge, and because of the sheer array of grind, loft and bounce options, a full set of them would blend together well.
How we test golf clubs
Our testing for golf clubs is built upon a comprehensive process combined with the knowledge and expertise of the Golf Monthly test team. The irons section is headed up by technical editor Joel Tadman whilst the wedges category is managed by Andy Wright. As far as the specific procedure goes, before testing, the team will usually attend product launches and meet with the manufacturer's R&D experts to understand the new technology.
When it comes to testing, we often head indoors first to try the clubs in a controlled environment. This usually takes place on an indoor simulator using a premium, reputable launch monitor with premium balls. Our outside testing normally takes place at a variety of golf courses and practice facilities.
What to consider when buying a pitching wedge
Gapping - So the first thing you need to consider is whether you want to carry the pitching wedge from your iron set, or put in a speciality wedge with the loft of a pitching wedge. If you're going to stick with your iron set pitching wedge, then you need to know what loft your pitching wedge is so you can work out what loft your next wedge (typically a gap wedge) ideally needs to be.
If you're dropping your set's wedge, you need to check your 9-iron loft so you can work out what will be the best pitching wedge loft for you. As we all know, you are only allowed 14 clubs in the bag so you shouldn't waste any of them, it is about making sure each one has a purpose. When it comes to pitching wedges, you should know how far your shortest iron goes and then transition down into your wedges, so you have an understanding of your yardages at the bottom of the bag.
Style - As we mentioned above you should know whether you want to use an iron as your pitching wedge or a speciality model. Once you know this you can decide on the style you want to go for.
Speciality wedges come in different shapes and sizes these days. Tour players obviously go for the muscleback designs that blend seamlessly with their irons, whilst amateur players may be more suited to cavity back wedges that aid forgiveness through the turf and on off-centre strikes.
Finish - This is all about personal preference really and what you like to look down on. Given how many shots amateurs play around the green, and from 100 yards and in, it pays for you to like the aesthetics of your pitching wedge. As the models above have shown, you can get irons, classic designs, or ones with different finishes like a black PVD coating or a copper design. It should be noted that whilst these finishes are usually just cosmetic, darker finishes will reduce glare.
Grooves - While grooves are now tightly regulated, it is still well worth keeping up to date with the latest designs, which use new milling processes and groove shapes to help move water and dirt away from the ball at impact to create extra spin and improve control.
FAQ's
Which wedge to use for pitching?
A pitch shot is a tricky shot to play well and when it comes to selecting a club to use this largely varies on what shot the person faces. A common pitching wedge loft is around 45 degrees so that is a club we would recommend using for pitch shots but you can also use clubs with more or less loft depending on the shot you want to play.
We hope you enjoyed this guide on the best pitching wedges, and for more buying advice content, check out the Golf Monthly website.