Best Golf Snoods 2022
Although it may not seem it, a golf snood is an important part of equipment in winter conditions. Here, we take a look at the best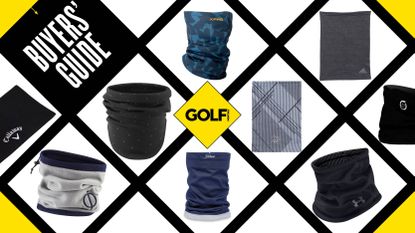 (Image credit: Golf Monthly)
Golf Monthly Newsletter
Golf tips and expert instruction, golf club reviews and the latest golf equipment.
Thank you for signing up to . You will receive a verification email shortly.
There was a problem. Please refresh the page and try again.
Best Golf Snoods
Up there with base layers, thick socks and wooly hats, a golf snood is an essential piece of winter clothing for those brave enough to play through the elements. To clarify, snoods are not scarves. By all means, wear your favorite scarf on the course, but it will come loose and flap about at the most inconvenient time and you wouldn't catch a pro doing that.
Talking of pros, we've started to see the neck warmer feature more often on Tour because, occasionally, the world's best players are required to play in cooler climates.
Additionally, many brands have sought to make snoods fashionable as well, with varying designs and prints. In short, snoods are an excellent way of keeping the cold at bay around the neck without compromising on your swing or mobility and they are a way to look good as well.
As such, we have set out some of the best golf snoods below, but if you need more gear to deal with the cold, also check out our guide on the best golf jackets and some of the best golf beanies for bad weather as well.
Best Golf Snoods - Best Golf Neck Warmers
SA Company Face Shield
Specifications
Material: Microfiber
Colors: 50+ designs
Reasons to buy
+
Tiger Woods approved
+
Loads of colors and designs
+
Versatile
Reasons to avoid
-
Some may prefer a more substantial model for the cold
First up is the SA Company Face Shield, which is the model of choice by Tiger Woods. The 15-time Major winner often wears the blacked-out American flag design as you can see above.
When Tiger turned up to a Major Championship wearing one, Clarke Bowman, brand manager for SA said: "We've seen our products worn by some football players and basketball players before, but this is definitely the biggest 'celebrity' we've ever had. It definitely was a 'holy cow' moment of, 'Oh my God, Tiger Woods is wearing our face shield!"
Bowman went on to add: "They are a tubular bandana made of microfiber material and are lightweight and breathable. They are mainly worn by outdoorsmen like hunters and fisherman as they provide excellent sun protection, but also help to stay warm in the cold. They help to keep your skin cooler in the hot sun, and they can also help to protect against bugs and dust, so traditional blue-collar workers like construction workers and landscapers also love to wear them while on the job."
Galvin Green Derry Snood
Specifications
Material: 90% recycled polyester, 10% elastane
Colors: 4 (Yellow, Bluebell, Black, Red)
Reasons to buy
+
Extremely insulating
+
Made from recycled material
Reasons to avoid
-
One of the more expensive models
The Derry from Galvin Green is made from recycled polyester and has been designed to give a stretchy and breathable feel when around the neck. Galvin Green produce some of the best designer golf apparel on the market and this snood is certainly a high-quality piece of apparel.
In terms of versatility, this one is hard to beat. We like the fact that it can be used as either a snood or bandana and that it offers a more standout look with several different colors to choose from.
Titleist Performance Snood Neck Warmer
Specifications
Material: Polyester material with fleece lining
Colors: 4 (Black, Grey, Blue, Charcoal)
Reasons to buy
+
Quality, comfortable material
+
Great color choice
Whichever color you choose, you're going to look smart in the one-size-fits-all Titleist Performance Snood Neck Warmer this winter. The fleece lining will prevent the cold from setting in, whilst antimicrobial, moisture-wicking technology aids comfort and breathability. You could even pair this snood with one of the Titleist beanies featured on our best golf hats guide for maximum warmth on the course.
Ping Harlow Golf Neck Warmer
Specifications
Material: Outer: 89% polyester, 11% elastane. Lining: 100% polyester
Colors: 2 (Delph Blue/Navy, Greystone/Radiant Yellow)
Reasons to buy
+
Great amount of stretch and comfort
+
Handles sweat well
+
Ping Eye branding a nice touch
+
Reversible
You'll be sure to stand out on the course with this reversible camo print neck warmer from Ping. To begin, we love the geometric style, but for those who prefer a more conventional look, the reverse side features a single block color, either radiant yellow or navy.
In terms of performance, it performs as well as some of the best Ping irons on the market, providing ample face and neck protection and insulating golfers from the wind and cold this winter. You can't go far wrong with this offering as it really is one of the best golf snoods on the market.
Adidas Neck Snood
Specifications
Material: 94% recycled polyester, 6% elastane fleece
Colors: 2 (Black, Grey)
Reasons to buy
+
Made using recycled content
+
Simple style
Reasons to avoid
-
Lighter than others so not quite as warm
Keep the chill out of your game this winter with the adidas Neck Snood. It's made to feel soft and warm, with plenty of stretch, so it's easy to pull on and take off. What's more, it also features an adidas logo on the neckline, which gives it a simple, classic style.
An added bonus of this product is that it has been made using recycled content as part of the big-name brand's push to end plastic waste. All of the best adidas golf shirts feature this initiative, with their apparel some of the most eco-friendly.
FOCO Neck Gaiter
Specifications
Material: Polyester
Colors: NFL, NBA, NHL, Nascar, College teams
Reasons to buy
+
Model for variety of teams
+
Large coverage
Reasons to avoid
-
Better quality models on this list
Want to take the chance to show your team support on your neck warmer? Well, FOCO has you covered, with adult and youth sizes of masks that have NBA, NFL, NHL, Nascar and College teams printed on.
In a two-pack, you get two designs made with a durable, double-layered construction, as well as a stretchable fabric that is lightweight and soft, making it perfect for wintery golfing conditions.
Sunderland Thermal Neck Warmer
Specifications
Material: 100% polyester
Colors: 1 (Black)
Reasons to buy
+
Reputable cold-weather brand
+
Feels soft against the skin
This thermal lined neck warmer has no dangling ends or loose material to distract you, which is an attribute we prefer when push comes to shove. It features a Heatweaver thermal brushed fleece inner and comes with Sunderland's Never Weather Beaten windproofing, warmth and comfort.
The winter golfer can suffer with cracked lips, but a snood will offer protection, particularly this one, which feels wonderfully soft when pulled up around the lower portion of your face.
Under Armour Storm Gaiter Snood
Specifications
Material: 100% polyester
Colors: 1 (Black)
Reasons to buy
+
Delivers typical UA insulation
+
Has a water-repellent finish
A neck accessory you can rely on when the temperature drops! Under Armour's Storm Gaiter features much of the same technology that can be found in the brand's waterproofs and other layers, with the ColdGear Reactor technology, which is a lining that adapts to your performance, providing just the right amount of warmth and breathability.
There is also the addition of an Armour Fleece construction, which gives the garment superb warmth and protection. It features a water-repellent finish as well, which is always an added bonus come the winter. What's more, we recommend pairing it up with one of the best waterproof golf jackets.
Ping Sensor Neck Warmer II
Specifications
Material: 100% Polyester
Colors : 2 (Blue; Grey)
Reasons to buy
+
SensorWarm technology
+
Great comfort
+
Performance fabric
Reasons to avoid
-
May be a little thick for some golfers
An excellent snood for when the cold weather rolls in, this offering from Ping will help to keep your neck and face toasty warm while you're out on the course. It features the brand's patented SensorWarm technology, which will deliver superb thermal insulation in whatever conditions you're playing in.
Its moisture-wicking properties will also transfer any sweat or rain away from your skin to keep you cool and dry on the course. Plus, it is made from a very comfortable polyester material that is easy to take on and off while you're on the course.
Oscar Jacobson Reversible Snood
Specifications
Material: 100% acrylic
Colors: 3 (Black, Black/Orange Rust, Navy/Grey)
Reasons to buy
+
One of the softest and fluffiest options
+
Reversible
Reasons to avoid
-
Drawstring can be annoying
For those of you who give your golf outfit that little bit more thought this snood could be just what you need. It's snug and soft in a reversible design and has an adjustable elasticated drawstring for an optimum fit. The Oscar Jacobson branding gets the nod, too, with this being a fantastic quality product at a great price point.
FootJoy Print Thermal Snood
Specifications
Material: 95% polyester, 5% spandex
Colors: 1 (Black)
Reasons to buy
+
Print is a nice style touch
+
Ultimate protection
+
Manages moisture well
+
Holds shape in wash
Reasons to avoid
-
Only comes in black
-
We prefer products without a toggle
Featuring a windproof outer and a warm fleece inner, FootJoy's printed snood ticks a lot of boxes - especially on the fashion front with the mini logos. The fabric is easy to care for and highly efficient at moving moisture away from the skin, so you feel warm but not sweaty.
It also features an adjustable toggle allowing golfers to find a comfortable and secure fit. FootJoy produce some of the best golf beanies on the market and, in the winter months, you will need all the protection you can get from the harsh weather conditions.
Stuburt Blizzard Snood
Specifications
Material: Outer: 100% Acrylic. Inner: 100% Polyester
Colors: 2 (Black, Midnight)
Reasons to buy
+
Two nice color options
+
Locks in warmth
+
Really soft fabric
Reasons to avoid
-
Drawcord might be off-putting for some
This high-quality snood from Stuburt does a great job in any conditions you might face this winter. The thermal fleece lining locks in warmth and feels incredibly soft against the skin.
It also has a subtle, but nice style, and comes in black or navy for those who want to match it with the rest of their outfit. Additionally, there is a draw-cord so golfers can tighten or loosen it to fit how they like.
Callaway Weather Series Snood
Specifications
Material: 100% polar fleece
Colors: 1 (Black)
Reasons to buy
+
Very soft
+
Incredible warmth on offer
Reasons to avoid
-
Basic-looking, only coming in one color
This one-size-fits-all snood features a fleece-lined design that is soft to touch and, with its thermal insulation, will keep you warm throughout those coldest days on the fairways.
We like the iconic Callaway branding, which you will also find on its best Callaway golf bags (opens in new tab), with the design very understated, although we suspect some might want something more modern looking. That being said, it's a solid performer which will suit a large number of golfers just fine.
Galvin Green Dex Golf Insula Neck Warmer
Specifications
Material: 90% recycled polyester, 10% elastane
Colors: 4 (Black, Red, Grey, Navy)
Reasons to buy
+
Provides excellent thermal insulation
+
Very durable and easy to care for
+
Breathable
As you'd expect from Galvin Green, this has been designed with fantastic attention to detail. As a result, it's a highly breathable garment, which transports moisture away from the body whilst retaining heat, lightness and comfort.
Furthermore, it's easy to wash, with the snood keeping its shape very well. What's more, the style is understated, with just a solitary Galvin Green logo front and center.
An investment in this is an investment in a quality product that will perform excellently and stand the test of time. Galvin Green are known for producing some of the best golf waterproofs, so you know that this snood is going to be an incredible performer.
How we test golf snoods
When it comes to testing golf snoods, our comprehensive methodology (opens in new tab) revolves around, as you would expect, playing a lot of golf. We feel putting golf products to the test on the golf course, on the range and in practice, is the best way to find out how usable and well-designed some snoods are.
On that note, we feel it is particularly important to use all golf snoods in different conditions, whether that be rain, wind, hot or cold, to give a clear idea on the protection on offer.
We also looked to use the snoods away from the course as well to see how versatile they were. Importantly, every member of the Golf Monthly team is a regular golfer, so we put snoods to the test over a number of rounds. The final point we should mention is no manufacturer can buy a good review. This is because our testing team tells it how it is and we seek to be as insightful and honest as possible.
How to choose a golf snood
Golf snoods come in all shapes, sizes and materials. For that reason there are many different things to consider when purchasing your next golf snood. To help you make the best choice for you, we've set out several key considerations you need to make in order to get the right golf snood for your needs.
Comfort
This is the most important factor to consider when buying a golf snood. It sits on your face and around your neck so has to be comfortable and fit properly. Too loose and the cold in particular will impact you, and too restrictive and it might feel too tight around your neck which definitely isn't what you want. Therefore go for a model designed for your profile and also a model that gives a good deal of stretch too.
Breathability
Sometimes it can be hard to breathe through certain materials, and as a snood will often rise up over your mouth and nose when the cold weather starts to really kick in, you may want to consider how easy it is to breathe through that snood.
Protection
A good golf snood is not only going to keep you warm in the cold and wind, but help keep you cool when the temperature rise. Additionally, they will keep insects at bay and provide some kind of moisture wicking as well.
Design
Snoods are a great way of mixing things up whether it be with a patterned design, or maybe you want to show your team support in the NBA, NFL College and so on. That being said you can also get designs that are more neutral if needed. Whatever kind of style you want, there will be a gaiter for you.
Value
Of course, there are snoods at different price points and you should obviously consider how much you are willing to spend here. Additionally be aware of how many come in a pack, or if there are good deals to be had out there. Some brands, like SA Company at the top of this page, offer outstanding deals on buying one model, and getting more free.
If you're also in the market for a complete winter wardrobe refresh, then why not take a look at our guides on the best golf base layers, best golf beanies and best golf jumpers for more cold weather apparel options.
FAQs
What is a snood?
A snood is often called a neck warmer or gaiter and it is designed to be worn around the neck to protect the wearer from the cold, wind or even the sun. They can be used for a variety of sports and activities and often have cool and unique designs and prints on them.
Can you wear snoods or neck warmers for golf?
Yes, you can! Snoods are an excellent way to stay warm and comfortable on the course. While a scarf can be a little hard to manage during your swing, and can often fall off, a snood will stay in place and will not fall or move when you swing through the ball.
Can you wear a snood on your head?
You can wear a snood on your head too if you fold it in the correct manner but it won't offer the same level of warmth as a classic golf beanie might. Take a look at our guide on the best golf hats for more golf beanies (opens in new tab).
How should my golf snood be designed?
A snood should be easy to pull up and down over your face. You don't want them to be lose, otherwise you will be spending the majority of your round pulling them up. A snood is designed to protect your neck, so there should be a notable amount of adjustability provided.