Best Golf Mitts 2022
Keep your hands warm on the course with a pair of the best golf mitts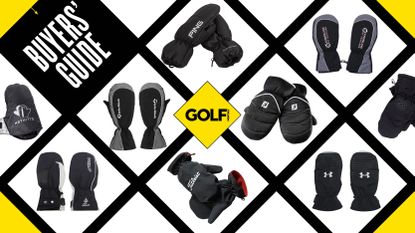 (Image credit: Golf Monthly)
Golf Monthly Newsletter
Golf tips and expert instruction, golf club reviews and the latest golf equipment.
Thank you for signing up to . You will receive a verification email shortly.
There was a problem. Please refresh the page and try again.
If you're looking to upgrade your winter wardrobe, a pair of the best golf mitts should be right at the top of your priority list. They might not be the most colorful collection of the best golf accessories (opens in new tab), but when the wind comes in and you've lost all the feel in your fingers, these will be the most valuable piece of kit in your bag.
There's a lot to be said for keeping your ears and feet warm, but the only part of your body in touch with your clubs are your hands, so look after them and show them a bit of love when the cold weather rolls around this year. Alternatively, we also recommend checking out our guides on the best golf waterproofs (opens in new tab), best golf beanies (opens in new tab) and also the best golf shoes (opens in new tab) to make sure you are prepared for the cold on the course.
Best Golf Mitts
FootJoy Winter Mitts
Reasons to buy
+
Very warm
+
Quality construction
+
Highly durable
Reasons to avoid
-
Getting on and off isn't easy
While FootJoy are best known for producing some of the most comfortable shoes in golf, they are also a market leader when manufacturing some of the best golf gloves (opens in new tab). As a brand that are constantly innovating, it seems FootJoy isn't letting up either when it comes to producing golf apparel that can keep you comfortable on the course, releasing these winter golf mitts that are designed to keep your hands warm and toasty on the course.
Featuring a wind and water-resistant nylon outer material that is combined with a soft inner lining to provide added warmth, these gloves were a joy to wear on the course and our hands felt well protected inside the glove. We also really liked the design of these gloves, which feature a nicely sculpted polyester shell and some very cool white detailing. They also come with some handy features that include a velcro pocket and a handy hook meaning they can easily be clipped onto your bag.
Motocaddy Hot Mitts
Reasons to buy
+
Unrivalled warmth
+
Extremely practical
+
Work really quickly
Reasons to avoid
-
Only usable in the "M" range
-
More expensive than other options
The perfect trolley companion to keep your hands warm through the winter months. Ready to plug and play straight into any M-Series 28V Electric Trolley featuring a USB charging port, the electric heat layer is evenly spread within a fleece insulate, allowing warmth to be evenly distributed over the hands. That'll keep your hands both warm and dry on the course, which can be hard to do when pushing a trolley around during the winter months.
A simple center button controls three heat settings, letting golfers easily adjust the temperature depending on weather conditions, whilst an ergonomic fitting and design ensure ultimate trolley control. While they are only compatible with Motocaddy electric trolleys (opens in new tab) they are a brilliant way to keep your hands warm and dry on the course, thanks to their electric, hand warming function.
Under Armour CGI Cart Mitts
Specifications
Colors: 1 (Black/Pitch Grey)
Reasons to buy
+
Water repellent
+
Lightweight
+
Mega softness inside
+
Available in multiple sizes
A soft thermo-conductive inner coating and Under Armour's ColdGear Infrared technology will help to keep you toasty when you need all the help you can get from the chilly winds. The branding is as simple as it is striking and these oversized mitts offer a polyurethane palm so you can carry out all those necessary tasks without having the faff of taking your mitts on and off. That makes them a great option for any golfer who likes to use GPS watches (opens in new tab), rangefinders (opens in new tab) and any golf accessories (opens in new tab).
Ping Cart Mittens
Reasons to buy
+
5-finger fleece liner for peak comfort
+
SensorWarm tech keeps hands warm in any conditions
SensorWarm technology will help you brave the elements when the weather takes a dip in temperature. This technology adds a thin thermal layer that traps warm air in the glove, but still allows your hands to breathe without feeling too heavy. There is a five-finger fleece liner for extra comfort and usability and a one-size-fits-all design thanks to an elasticated cuff. Other appealing features are a skid-proof polyurethane palm so you can handle your umbrella or push your trolley with ease and the exterior is weather resistant so your hands aren't going to get wet when the heavens really open.
Clicgear Golf Trolley Mittens
Reasons to buy
+
Made from quality waterproof material
+
Velcro Closure
Reasons to avoid
-
Not great if you don't play with a trolley
A fantastic offering if you play with an electric golf cart (opens in new tab) or push trolley (opens in new tab) these mittens will keep your hands warm and dry as you stroll around the course. They attach on to the handle of your push cart, preventing your hands from getting cold and wet, but also provide an extra bit of padding on your trolleys handle. They also come with pockets for handwarmers on those extra-cold days on the course and are very easy to slip on and off.
Titleist Winter Thermal Golf Mitts
Reasons to buy
+
Usual Titleist quality
+
Easy on-off
+
Water resistant
+
Internal hand warmer is great
A durable outer shell will see you protected from the wind and rain and the white Titleist embroidered label adds its usual stylish finishing touch. A fleece lining provides extra warmth and the textured fabric on the palm and thumb helps with a better grip for your umbrella or trolley. You can also fasten these gloves to the side of your Titleist golf bag (opens in new tab) when you're not using them, thanks to the ergonomic hook that is stitched to the wrist of the glove.
adidas Cold.RDY 3-Stripes Golf Mittens
Reasons to buy
+
Can be used to play golf shots
+
Made from 100% sustainable materials
Reasons to avoid
-
May not be the warmest gloves on this list
Keeping you looking cool but feeling warm on the course, these stylish mittens from adidas will keep your hands nice and warm from the first tee shot, to your last putt. You can even grip your golf club and play a shot with these mittens which feature a removable flap that folds open to give your fingers access to the club shaft. They also have an excellent palm grip on the handle and once you've played your shot, simply fold down the flap again and tuck your fingers back inside.
adidas are one of the best sustainable golf manufacturers on the market and these gloves embody their commitment to the environment as they are made from 100% recycled polyester materials. Those materials are water resistant and windproof too and will keep your hands toasty warm during your round.
TaylorMade Cart Mittens
Reasons to buy
+
Really warm
+
Impressive in the rain
Reasons to avoid
-
A little tight so on-off is quite difficult
One size fits all with a high elasticated cuff to ensure the snuggest of fits and it comes in this black-grey offering if you're looking to add a little more style to your winter golf game. A Thinsulate fleece lining also offers the perfect protection from the wind, while the water-resistant nylon shell does likewise from the rain (or snow). Whatever the weather, all your bases will be covered with this fantastic glove offering from TaylorMade.
Sunderland Thermal Lined Showerproof Winter Mitts
Reasons to buy
+
Quality construction
+
Thermal lining works wonders
+
Waterproof
The soft Heatweaver thermal brushed fleece lining on these gloves plays a huge impact in keeping your hands warm and snug on the course. It recirculates warm air around your hands keeping them well insulated in the coldest of climates. That insulation works as your hands are sealed off by inner storm cuffs around the wrists, which also secure your hands into the gloves. These mitts are also wind and shower proof and will keep your hands safe from the wet weather.
If it gets really cold and you need an extra layer of heat, you can add hand warmers to the specially provided pockets to keep your hands extra toasty. Hanging clips are also attached to the wrists to keep the mittens conveniently on hand so they don't take up any unnecessary room inside your bag. It's also worth noting that for what's on offer here, these gloves come in at a great price point and are a very durable offering that will last a long time.
Galvin Green Landon Mitts
Reasons to buy
+
Durable and long-lasting
+
Windproof, warm and well-fitting
+
Water repellent
+
Made using sustainable materials
As you might expect these are one of the more stylish offerings on this list and they come with velcro for easy attachment to your bag or trolley. It must also be said that the technology included in these mitts is also just as impressive as their look, with the windproof lining offering extreme breathability so your hands remain warm and not sweaty. The drawstring toggle means you can keep the heat locked into the mittens and the water-repellent finish will disperse any rain beads away from the gloves rather than let them seep in. Galvin Green are a top-notch brand for dealing with most forms of weather and are one of very few brands to have more than one model in our best waterproof golf jackets (opens in new tab) guide.
Oscar Jacobson Winter Mitts
Reasons to buy
+
Premium product
+
Incredible warmth
+
Will fit well for most
Made from a three-layer fabric, the outer layer of this glove delivers wind and waterproof protection and the inner is soft and velvety. The glove within a glove construction means your hands are always toasty and warm. Taking them on and off is also very easy thanks to the elasticated cuff, which also means the fit is nice and snug when on course. This is a fantastic product for any player who doesn't like faffing on the golf course, but if you really do dislike taking your gloves on and off again and again, check out our guide on the best winter golf gloves (opens in new tab) for a list of great gloves you don't need to keep taking on and off.
ProQuip Winter Mittens
Reasons to buy
+
Inside and out, the comfort on offer is great
+
Adjustable wrist band is easy to adjust and holds well
+
Good value
Reasons to avoid
-
Those with wide hands might find them too tight
These offer an adjustable wrist band so, whether you have small or large hands, you should be able to find a fit that is good for you. However, we did find them to be a little on the tight side, which is something larger-handed golfers should consider. Inside, these mitts are triple wadded for extra warmth and comfort and the palm grip offers extra purchase. In addition, the soft outer fabric delivers outstanding protection against whatever conditions are being thrown at you.
Inesis Golf Cold Weather Mitts
Reasons to buy
+
Great value on offer
+
Waterproof so will keep hands dry as well as warm
Your fingers won't have the luxury of a liner for each one but there is a fleece lining and waterproof membrane so you'll stay warm and won't get wet when wearing these gloves. In terms of style, this is one of the more basic-looking offerings and comes in black only, but that is reflected in the product's price, which is a fraction of some of the other models on this list.
Titleist Golf Winter Cart Mitts
Reasons to buy
+
Excellent for cart users
+
Can be hung from your golf trolley
Reasons to avoid
-
A little lacking in features compared to other products on this guide
Another great offering from Titleist are their golf cart mittens. These are a lightweight yet durable product that are primarily designed to help golfers keep their hands warm as they push their cart around the course. They are water resistant and feature an internal microfleece lining that keeps your hands well insulated during your round. An internal hand warmer compartment can also be utilized to help keep your fingers warm when the temperature really drops.
Callaway Winter Mitts Golf Waterproof Thermal Mittens
Specifications
Color: 1 (Black and Gray)
Reasons to buy
+
Opti Thermo thermal fleece lining keeps hands warm
+
100% waterproof
Reasons to avoid
-
Maybe quite chunky for some players
This excellent product from Callaway gives golfers great protection from the elements. Made from technically advanced materials, these gloves are designed to keep the cold weather out and feature an Opti Shield microfiber outer shell that repels water and keeps the wind out. They also feature an Opti Thermo thermal fleece inner lining that keeps your hands warm when inside the glove. They are 100 per cent waterproof and also feature a zip-locked pouch that can store handwarmers or other small valuables.
How we test golf products
In terms of testing golf gloves, our testing process (opens in new tab) is similar to all the other golf gear reviews we produce, in that manufacturers cannot pay for a good review and we always tell it how we see it. While our writer Sam Tremlett (opens in new tab) heads up all reviews on apparel, we should say that everyone in the Golf Monthly team are golfers and have experience playing at a variety of different levels. We feel this gives us honesty and integrity in the reviews that we produce. We seek to try and be as comprehensive as possible in testing and reviewing each product which means we have used it over a number of rounds, in different conditions, as this often gives us great insight into things like durability, fit, quality and so on.
Specifically, when it comes to testing golf mittens, we look to test these gloves in a variety of conditions to assess several factors that include, durability, weatherproofing and how easy they are to use. Weatherproofing is perhaps the most important of those factors and we look to test each pair of gloves out on the course in wet weather, cold weather and windy weather, putting them all to the test to see how each performs in different conditions.
What to consider when buying a pair of golf mittens
You may not think that a golf mitt is that important compared to other pieces of equipment on the market, but in fact, they really are! Getting cold hands on the course is one of the worst things that can happen to a golfer. It can be debilitating for your swing and can cost you a few shots around the course. For that reason, it is very important to get the right pair of golf mits that will keep your hands warm and dry on the golf course. So to help you make an informed choice, we've set out several key points below that you need to remember when purchasing your next pair of golf mittens.
1. Materials
It is vital to make sure you're buying a pair of mitts that are made of quality materials that are going to keep your hands warm on the course. Some players like to have gloves that have several layers inside and feature a fluffy thermal internal lining. One thing you shouldn't forget is that you need to ensure your gloves are totally waterproof, as wet hands are an absolute no-no when its cold on the course. Comfort is also king when it comes to buying a pair of golf mittens, so make sure to try them on before you buy!
2. Insulation
While ensuring your mittens are made of a good material is important to ensure your hands stay warm on the course. Your gloves need to be able to retain heat, even when you remove your hands from them, as a pair of gloves that allow heat to dissipate from them are not efficient at all. Look out for gloves that have good fastenings around your hands, that will keep the heat in and your hands snug inside the mitten.
3. Fit
We can hear you asking, how should a mitt fit? Well, depending on what you want from your mittens, you may want something that is large enough to fit your hand whilst wearing a pair of wet-weather golf gloves (opens in new tab). Sometimes when it's cold, the thicker the mitt, the better the glove. So it may be worth looking out for a pair of mitts that are slightly on the larger size to keep your hands nice and snug.
4. Pockets
Some manufacturers have really thought ahead and added some cool pockets to their golf mitts in which you can add hand warmers for those extra cold days on the course. If you're someone who really hates having cold hands, then these might be the best golf gloves for you!
5. Ease of use
Because no one likes faffing around on the golf course, right? Being able to quickly take your gloves on and off between shots and store them safely on your bag is a huge bonus of any mitten as that keeps your game flowing quickly and can also stop you from being out in the cold for too long. Look for mittens that have expandable wrists, that have clips on their side that you can hook them onto your bag quickly, or those that can be attached to your golf trolley.
If you're thinking about adding more clothing to your winter golf wardrobe, well, look no further as here at Golf Monthly, our expert team of writers have you covered on all the latest golf apparel that will keep you well protected during the winter months. Take a look at our guides on best golf wind jackets (opens in new tab), best golf base layers (opens in new tab) and best golf rainwear (opens in new tab) for more advice on the best clothing for the winter months on the course.
FAQ's
What are the best golf mittens?
There are lots of excellent golf mittens on the market these days. Big and small brands construct designs purely to keep your hands warm and we included many of the best models in our best golf mitts guide.
Can you play golf in mittens?
Yes, but it is not advisable if you're looking to score well and hit good shots. As golf mittens are not as grippy as a standard golf glove, are much thicker, and don't have individual fingers, you will struggle to get the same level of grip on the club shaft as you will with a pair of regular gloves.
Why are golf mittens so important in cold weather?
Golf mittens are vital to ensuring your hands stay dry and warm out on the golf course. If your hands get cold out on the course, you can seriously struggle to hit good golf shots and score well. For that reason, it is really important that players keep their hands well protected in the cold weather by wearing golf mittens that keep their hands warm.