Most Compact Golf Trolleys 2023
In this guide we take a look at some of the most compact golf trolleys currently on the market.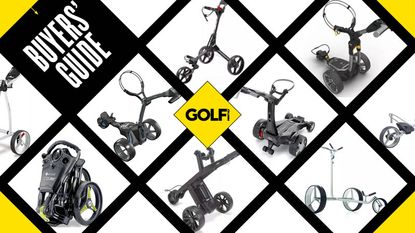 (Image credit: Golf Monthly)
Most Compact Golf Trolleys
One thing that can often stop people from investing in a golf trolley is how big and heavy they are. While there are still some models that are on the cumbersome side, manufacturers have noticed that lots of golfers prefer a lightweight, compact folding golf cart that easily fits into cars and garage spaces. Over the last few years, manufacturers have continued to innovate new ways that golf carts fold and mechanisms to make them easy to carry and hassle-free to use. Quite simply, the modern compact golf cart represents the easiest way to transport your clubs on the course.
VIDEO: Watch Dan Parker's verdict on the best push carts and best electric trolleys of 2022
These models can be folded up and down quickly and efficiently, whilst making sure they produce the smallest footprint possible to save space in the car, garage or wherever you keep your golf equipment. What is incredible is that golf cart technology has come so far that it's not just push carts that are compact in size, even the best electric golf trolleys (opens in new tab) can be folded down to next to nothing.
Don't think that because these trolleys are compact they don't come with plenty of features. In fact, some of the most compact golf trolleys have GPS and remote functionality. We think a compact trolley can be the best of both worlds: plenty of features while not being awkward to use.
Below we have taken a look at some of the most compact trolleys out right now. Be sure to check out our full in-depth reviews of these models to get a greater idea of how easy a compact golf trolley is to use. Additionally, we also recommend checking out our guide on the best electric trolleys or the best golf push carts (opens in new tab) to get a wider understanding of all the best golf trolleys currently available.
Most Compact Golf Trolleys - Lightweight Golf Trolley
Electric Models
Brand new for 2022, the Powakaddy CT8 GPS is the world's smallest touchscreen GPS golf trolley. It folds down a whopping 35% smaller than its nearest competitor and is ideal for those with small car trunks or minimal space to store a trolley at home. It's one of the best golf carts (opens in new tab) of 2022 and a great addition to PowaKaddy's CT series.
The GPS system is the same one we've become used to in PowaKaddy devices, but it's on a new and very clear 3.5" full-color touchscreen display. This makes the GPS very intuitive to use and has some really useful features such as scorecard, stroke index information, active green view and drop flag to give you accurate yardages on course. It comes preloaded with over 40,000 courses worldwide and requires no subscription.
The new look Motocaddy S1 for 2022 has revived the iconic moniker from Motocaddy and created a simple but powerful electric trolley that is 16% smaller than previous models in the S Series. It is incredibly easy to fold this trolley up and down and the new S1 uses Motocaddy's easiest every folding system, with the trolley completing folding up and down in one step. The S series has been one of the best electric trolleys since the first edition launched in 2006, and the 2022 model does not disappoint.
One of the highlights of this trolley is the newly positioned Click 'N' Connect battery which is cable-free and automatically disconnects when the trolley is folded up. This allows the battery to be charged without having to ever take it off the chassis. It's as reliable and easy-to-use as you'd expect from a Motocaddy, with a clear display and ergonomic control knob making for a very enjoyable experience out on course.
A model that is unquestionably one of the best golf carts (opens in new tab) out there, the M5 GPS folds down very compactly, assisted by the ability to invert the wheels and the front wheel automatically folding underneath.
The assembly process requires two latches to be undone, and while they are quite stiff, with practice the trolley can be erected in under five seconds. To go along with this the trolley has a host of other features to it including large touch screen screen and a long battery life. On the large colour touch screen, you can access front, middle and back distances, the hole par, a list of hazards and move the pin position for greater accuracy. All of the M-Series models share the same compact folding frame design, so you get the same benefits on the M1 and M3 GPS too.
For golfers short on space but who still want in-built GPS functionality, the CT6 GPS provides an ideal solution. The simplicity of the folding process will surprise you. It uses one-click mechanism used to collapse the frame but with the added step of folding the front wheel under to make it take up less space.
The screen is more readable and graphics have been freshened up to make them more cutting edge and create a more premium feel overall, although some might have preferred the middle distance to have remained larger in the display. The space that the CT6 GPS saves, with its ability to invert the wheels, is truly game changing if your car boot lacks storage room. We've found it provides ample space for your clubs, shoes and other bits and pieces with room to spare while also being quick and simple to erect when you arrive at the course.
Despite being a top of the range electric trolley with follow functionality, the Q Follow from British manufacturers Stewart Golf is surprisingly compact, especially when considering it's one fo the best remote golf trolleys too. While it's on the heavier side when compared to other models in this guide, it is made of some seriously sturdy materials that should see this trolley last you a near lifetime. The weight mostly comes from the motors that provide the Follow and Remote functionality, but the way it folds up keeps it well inside the 'compact' category. The Smartpower lithium battery connects to your phone, so you can check on the amount of battery you have left from the convenience of an app. Through the app, you can also perform battery health checks and power updates.
The Q Follow can follow you around the course at your walking pace from a safe distance thanks to the unique functionality built into the Bluetooth handset. A completely new frame design, which has a unique marble-effect finish, allows it to fold down much more compactly while an integrated carry handle makes it easier to lift into your car. There's also a new retractable stabiliser comprising two wheels, which automatically deploys as the trolley is unfolded.
In terms of the rest of the trolleys on this list, where this trolley sets itself apart is the design of the frame – both in terms of how it is assembled and where the electronics are housed.
The trolley frame and component parts break down into multiple parts, which means it takes up less space in transit than most other trolleys and the pieces can be moved around to cater for the space available. It also gives golfers the option to pack the various parts in a golf travel bag to be taken abroad to use as the trolley and battery together weighs just 7.2kg. During testing we found the remote function worked very well indeed which meant we had to include it in our guide on the best remote control golf trolleys (opens in new tab) as well.
The Zip Navigator is very stable across all terrain and we quickly grew confident that, whatever part of the golf course we sent it scurrying across, we'd arrive next to our ball with our trolley and bag waiting.
The excellent stability is in part thanks to the rear 4th wheel which keeps the trolley from tipping backwards if it goes up a steep incline. It also features downhill speed control – a feature that stops it going too quickly down steep hills – which adds to the confident stability of the trolley. The remote has a 'lock' button that stops any buttons being unwillingly pressed while in your pocket and you can invert the wheels when folding it down to save on storage space. All in all, it's a very well rounded offering at a competitive price.
Push Models
The first push model we selected, which also made our 2022 Editor's Choice list (opens in new tab), is the Micra from PowaKaddy. It folds down extremely well, very compact which makes it perfect if you need that extra room wherever it will be stored. Despite this, it still assembles incredibly easily thanks to a clever quick-folding mechanism that involves just two steps. Despite this ease, it is sturdy and glides around beautifully whilst it is also practical too.
We loved the dedicated water-resistant mobile phone storage area, and you also get a scorecard holder, a pen/pencil holder and storage for your balls and tees.
A stylish and lightweight addition to the PowaKaddy family, the TwinLine 5 is one of the easiest trolleys to use on this list and is also one of the most durable. It is constructed from a strong, aluminum frame that is lightweight and easy to carry but has a host of features attached to it. Perhaps the best is the foot parking break that is reliable and can be used on some harsh slopes. It also comes with a height-adjustable handle that suits golfers of all heights. The other fantastic thing about this trolley is that it comes with storage space for all your balls and tees, which means you don't need to go digging around in your bag when you hit your tee shot into the water.
The Rovic by ClicGear is another fantastic addition to this list and is one of the most compact trolleys we've seen on the market. While it is compact, it doesn't skimp on the finer details and features a built-in accessory storge, a multi-feature console with a soft grip handle and a hand break. That makes it a very ergonomic and handy trolley that is easy to use. It also folds down very easily when you're ready to pop it into the boot of your car. Lastly it comes in several bright colorways, so if you're looking to compliment your outfit then this trolley is the best option for you.
Next up is the Bag Boy Nitron and our tester got on very well with the trolley. It's extremely lightweight and, when folded down, it's very compact, making it a dream in terms of storage. And while it may not be as heavy or bulky as other similar products, it remains robust and able to cope with any and all demands placed on it. During a round, the bungee straps do an excellent job of tightly securing golf bags in place from start to finish.
Additionally you get ample storage by the handle for all your golfing paraphernalia and the trolley itself looks good as well.
During testing the first thing we noticed about the Motocaddy Cube was how compact it is when folded up. It's also very light at just 6.8kg and has a well-placed carry handle that makes it easy for anyone to carry when it's folded up.
From there, it is quick and easy to unfold. It is a process that only requires a couple of button clicks and movements, and once you've done it once, it becomes second nature to the point you'll be unfolding and folding it in seconds. The Cube also feature Motocaddy's Easilock system, allowing Motocaddy branded cart bags to lock into the bottom half of the Cube without the need for ropes or ties.
The 360˚ Swivelease Push Trolley from Caddymatic offers an interesting design with a sturdy construction. One of the key attractions of the trolley are the wheels, which are not just free-rolling, but also easy to attach and detach pre- and post-round. Folding down to an already compact size, you can remove the wheels for further space, with the Caddymatic taking up minimal space in the car boot.
Overall, it is a fantastic performer, with the swivelling front wheel an interesting design addition. If it's not your thing, then don't panic, as it can be turned on or off via the switch above it.
The clue is in the name here; Ti Lite. This compact, lightweight construction weighs just over 11 pounds which means any person could use it with ease. It has good usability too thanks to the premium organiser panel with ample storage net for accessories, foot brake and height adjustable handle.
The wheels are incredibly smooth too, which means that even when you're pushing it up hills it really doesn't feel stressful at all. The folding system takes a while to get used to, but it folds down compactly for easy storage and the wheels are easy to remove from the frame if you need to. It's the perfect push cart if you want a minimalist, reliable option that will turn heads for the right reasons.
One of the most popular push carts in the US, the Speed Cart from Sun Mountain offers one of the most complete push cart experiences. While it is one of the larger models in this list, it is sturdier and arguably easier to push than many other models. That's in part to the three wheel design that ensures the Speed Cart is solid over multiple terrains. It folds it in two simple steps for hassle free assembly in and out of the trunk of your car.
Given the image above, we think this model deserves inclusion on the most compact golf trolleys. The first thing you notice about the Blade IP is how small it is when folded down – it really can slide into the smallest of spaces. While it's a little heavier than the Ti Lite we listed above, it folds up significantly smaller.
When fully assembled, it doesn't disappoint either. It is lightweight and surprisingly smooth and sturdy with its user-friendly handle, making it easy to push up gentle hills without excessive strain. We also like the fact it can easily cater for different types of bags and the foot brake keeps it stationary on the steepest of slopes when playing a shot.
How we test foldable trolleys
When it comes to testing golf gear, let alone golf trolleys and carts, Golf Monthly has a comprehensive testing procedure (opens in new tab) built around using the products properly, thoroughly, and over a number of rounds and golf experiences. That way we can produce proper reviews that help you make an informed decision regarding possibly buying a certain model.
Getting down to specifics, we should first say that no manufacturer can pay for a good review, because we tell it how it is. We should also say that before testing even begins, the Golf Monthly team will usually attend product launches and meet with the manufacturer's R&D experts to understand the new technology. With how much technology is in a standard golf trolley these days, we think having an understanding of what a particular model can do is very important.
The team then takes models out on the course for testing which is a simple process because everyone in the team plays golf regularly. We look to test each trolley in different conditions from rain to snow to assess the performance benefits that each product offers. We also look to address how easy each is to use, fold away and whether there are any stand-out features on that trolley that differentiate it from others on the market.
What to consider when buying a golf cart or trolley
Golf trolleys come in all different shapes, sizes and styles. The latest golf carts also come with an array of features and that can all make buying a golf trolley a very difficult decision. Depending on your needs as a golfer, there is a lot to think about when buying a golf cart, so we've set out a handy list of tips that you need to consider when purchasing your next cart.
1. Push or electric cart?
Push carts are more appropriate for golfers that play mostly on flatter courses.
They're also less expensive than the best electric carts, so are a more cost-effective way of getting your clubs around the course. Push carts also tend to offer better storage solutions on the handle console for items like balls and tees.
2. Weight
Push carts need to be lightweight because it is you that is providing the pushing power, which can be particularly tiresome when playing holes that go uphill, so be sure to pick one that is lightweight without sacrificing stability or durability.
Luckily, push carts are much lighter than electric carts. Make sure the wheel bearings are nice and smooth, which will help reduce the amount of manual effort required.
3. Folding
Push carts often fold down more compactly than electric carts because the simpler design (no electrics) provides more freedom with the design of the frame.
This means they often fold down flatter, which can be more convenient for golfers that need to also fit their golf bag in the trunk. So if you're very short on space, a push cart could provide the answer.
4. Maneuverability
With push carts, because you are doing some of the work in terms of propulsion and direction, good models have to be easy to maneuver. Poorly designed models make life more difficult which is precisely the opposite of what a cart is supposed to do. Now admittedly there are some good four-wheel options in this regard, the Big Max Blade Quattro for example, but the more common design we have found to move easily are three-wheeled designs.
5. Storage
How much storage do you want on your push cart? If it is a lot then pick a design with a large central console, whereas if all your golf gear is going to be kept in your golf bag itself, then go for a trolley that doesn't specifically need storage in its design.
For more advice on some of the best golf trolleys on the market, visit our guides on the best push carts, (opens in new tab) best electric golf carts (opens in new tab) and the best golf trolley bags (opens in new tab).
FAQs
Should you use a golf trolley?
Generally most golfers should use a golf cart and if you can use an electric one, then even better! While some prefer to carry their bags around the course with them, having a trolley to push can help you conserve energy and prevent the chance that you can strain your arms or shoulders when lugging a trolley around the course.
Is a push or pull golf cart better?
A push golf cart is better than a pull cart. The action of pushing a trolley loaded with a heavy bag of clubs puts much less strain on your arms and shoulder than having to drag the same trolley and bag behind you. That means there is less chance that you could injure yourself on the course.
Are electric carts less compact than push carts?
As electric carts tend to have a battery and a few different power components that are not typically included in a push cart, they tend to be a little bulkier than a push trolley. But that's not to say that they aren't compact and there are some electric carts on this list that fold neatly down in the trunk of your car.
Dan is a Staff Writer and has been with the Golf Monthly team since 2021. Dan graduated with a Masters in International Journalism from the University of Sussex and primarily looks after equipment reviews and buyer's guides, specializing in golf shoe and golf cart reviews. Dan has now tested and reviewed over 30 pairs of golf shoes for the website and magazine with his current favorite pair being the Ecco Biom C4. A left-handed golfer, his handicap index is currently 8.5 and he plays at Fulford Heath Golf Club in the West Midlands. His best day in golf so far was shooting 76 at Essendon Golf Club on his first-ever round with his Golf Monthly colleagues. Dan also runs his own cricket podcast and website in his spare time.
Dan is currently playing:
Driver: Ping G425 Max
Fairway: Ping G425 Max
Hybrid: Ping G425
Irons: Ping i59 (4-PW)
Wedges: Ping Glide Forged Pro
Putter: Wilson Staff Infinite Buckingham
Ball: TaylorMade TP5 Pix