Best Cobra Drivers 2022
We take a closer look at the best Cobra drivers on the market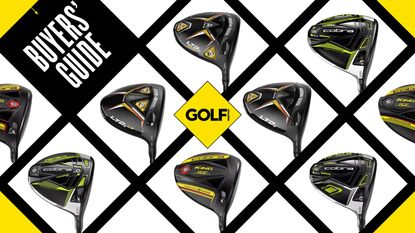 (Image credit: Future)
Golf Monthly Newsletter
Golf tips and expert instruction, golf club reviews and the latest golf equipment.
Thank you for signing up to . You will receive a verification email shortly.
There was a problem. Please refresh the page and try again.
Best Cobra Drivers
So you know what's on the market - perhaps you've already read our best golf drivers post - and your mind's made up - you want a new Cobra driver. Maybe you've seen Rickie Fowler and Bryson DeChambeau (opens in new tab) use their Cobra drivers to great effect, and you like what you see.
Many of you probably fell in love with the brand when it introduced its 'Baffler' utility wood, a piece of technology that's still used in a number of its clubs. There's been no lack of innovation where drivers are concerned either, such as the 46-inch driver which was longer than standard to help golfers get more distance. So, what are the best Cobra drivers on the market right now? What does the latest technology offer - and how can this help your game?
The newest range of Cobra drivers for 2022 is the LTDx range and has three different head designs available. We'll walk you through what each head design offers and which will best best for your game. Also in this guide you'll find the best golf drivers (opens in new tab) from Cobra in previous ranges as well as they still perform excellently.
Alternatively if Cobra is not for you, we have also created guides for other brands too – such as the best Titleist drivers (opens in new tab), the best TaylorMade drivers (opens in new tab), or the best Callaway drivers (opens in new tab).
Best Cobra Drivers
Specifications
Lofts: 9°, 10.5° & 12°
Adjustable Hosel: Yes
Stock Shaft: Project X HZRDUS Smoke iM10 or Project X HZRDUS RDX Blue
Left Handed Option: Yes, in all available lofts
Reasons to buy
+
More refined aesthetics versus last generation
+
Improved sound and feel
+
Good value for money
Reasons to avoid
-
Limited performance gains versus previous generation
Launched right at the start of 2022 to replace the Radspeed range of the clubs, the LTDx range from Cobra features three heads: the standard LTDx we've featured here as well as the LTDx Max and LTDx LS, both draw bias and lower spinning models respectively.
We've started this guide with the standard head as it will likely suit the broadest range of golfers. The aesthetics have become more refined - the LTDx features a very similar-looking matte black carbon crown to last year's Radspeed (why change it - for us it was one of the best looking drivers of 2021).
The LTDx has a much lower pitched, quieter impact sound than the Radspeed. For us, it was significantly better - creating a satisfying 'crack' through impact that felt very powerful. As tends to be the case with Cobra drivers, the RRP is a decent chunk lower than the competitors from TaylorMade and Callaway, all with very little difference in performance between the three brands.
Specifications
Lofts: 9°, 10.5° & 12°
Adjustable Hosel: Yes
Stock Shaft: Project X HZRDUS RDX Blue 60, HZRDUS Smoke iM1060 & UST Helium Nanocore.
Left Handed Options: Yes, in all available lofts
Reasons to buy
+
More refined aesthetics versus the last generation
+
Improved sound
+
Impressive forgiveness and consistency
Reasons to avoid
-
Marginal gains versus last year's Radspeed range
Next up is the Max head, which we think is the model best suited for beginner (opens in new tab) golfers and higher handicap players. It features a 3g weight positioned toward the heel of the head to help encourage a draw shape and yet it sits less closed behind the ball than some other draw-biased drivers you'll find this year. For us, that meant we were able to swing confidently at the ball without worrying about hitting a hook and ultimately, we were pleased by how consistent the Cobra LTDx Max was.
As we mentioned above, the look of the driver is excellent with a matte black carbon crown and small touches of orange around the head. You can also get a Volition America finish in red, white and blue as well if that is more up your street.
Like with the standard head, the sound is quieter and lower pitched when compared with the Radspeed, and we also enjoyed the higher launch and spin characteristics of the Max. The forgiveness was also top-notch as well so overall, and given the lower price point on the market, this is definitely a model to consider.
Specifications
Lofts : 9°, 10.5° & 12
Adjustable Hosel: Yes
Stock Shaft: HZRDUS Smoke iM10 60, HZRDUS Smoke RDX Blue 60 & UST Helium Nanocore 40/50
Left Handed Option: Yes, in all available lofts
Reasons to buy
+
Plenty of distance on offer for faster swingers
+
Impressice forgiveness for a low spin model
+
Sleek aesthetics
Reasons to avoid
-
Lack of carry on offer for slower swingers
As you might expect, the LS in the Cobra LTDx name stands for low spin and as such, this driver is aimed squarely at those faster swinging players looking to control their flight and shape. Down behind the ball, this has a traditional shape and sleek aesthetic. The matte black crown that we saw in the Radspeed LS driver is back and to be honest the differences in terms of the visuals at address are minimal at best
The LTDx LS was, as you would hope, the lowest spinning of the three new Cobra LTDx heads. Whilst we gained 3 yards through the air with the standard head, the lower flight of the LS version actually delivered one extra yard of overall distance (opens in new tab). There is a lot to like about the Cobra LTDx LS driver and for any faster swinging golfers, the controlled flight is the standout performance gain here, whereas we were also impressed with the forgiveness on offer from a low spin model.
Specifications
Lofts: 9° & 10.5°
Adjustable Hosel: Yes
Stock Shaft: Fujikura Motore X F3, HZRDUS Smoke RDX Blue & Fujikura Motore X F1
Left Handed Option: Yes, in all available lofts
Reasons to buy
+
Adjustable sole weights to alter launch and spin
+
Three models to choose from
Reasons to avoid
-
Lowering spin to increase distance reduces playability
Now replaced by the LTDx range of the drivers, the Radspeed drivers still have a decent amount of availability, although you may struggle to get custom fit for them now. But, at the heavily discounted prices we've seen online, if you know your specs then now is a great time to pick up one of the best drivers from 2021.
The name Radspeed comes from the Radial weighting, whereby the distance between the front and back weights has been increased to create a more optimum blend of faster ball speed with low spin and forgiveness to maximize performance for all player types.
In the three Radspeed drivers, Cobra managed to significantly increase something called the radius of gyration, which is the distance from the club's centre of gravity to each weight location, to produce extra yardage in different ways. The 460cc Radspeed driver has forward-biased weighting with 28g positioned in the front, (16g fixed, 12g adjustable) and 10g in the back (8g fixed, 2g adjustable). The two adjustable weights can be interchanged to fine-tune the desired launch and spin performance which is why this can suit golfers who are after forgiveness or low spin qualities. We also loved the look of this driver when it came out and we think you will to.
Specifications
Lofts: 9°, 10.5° & 12°
Adjustable Hosel: Yes
Stock Shaft: Fujikura Motore X F3, HZRDUS Smokee RDX Blue & Project X Even Flow Riptide
Left Handed Option: Yes, in all available lofts
Reasons to buy
+
Cobra Connect can track performance
+
Excellent value for money
Reasons to avoid
-
Limited gains over previous model
The Radspeed XB (Xtreme Back) is for players who want distance through consistency across the face in the form forgiveness and stability. Indeed it is by far the most forgiving driver in the Radspeed range and would be ideal for a higher handicap golfer.
It features an oversized address profile and 20g of weight positioned in the back (14g fixed and a 6g interchangeable weight) and 8g of fixed weight in the front, making it arguably Cobra's most forgiving driver to date. It's arguably the best of the three drivers in the range because of how forgiving it manages to be while still offering relatively low spin. Not everyone will enjoy the glossy finish on the crown, but in terms of all round playability at a reasonable price the Radspeed XB is hard to beat.
Specifications
Lofts: 10.5° & 12°
Adjustable Hosel: Yes
Stock Shaft : Fujikura Motore X F3 & Project X Evenflow Riptide
Left Handed Option: Yes, in all available lofts
Reasons to buy
+
Will help slicers
+
Cutting edge technology and look
Reasons to avoid
-
Won't suit players with a draw
When Cobra's Speedzone range of drivers arrived with draw adjustability in the hosel in 2020, the brand did not release a specific draw head. However, when the Radspeed range launched in 2021, we were very pleased to see that Cobra brought back a head design specifically for golfers who slice the ball.
The most important weight for slicers is the 10g draw weight added to the heel of the head. Alongside the 6g weight positioned at the back of the head, the Radspeed XD offers forgiveness, distance and straighter ball flight. Plenty of adjustability in the hosel and with an Arccos sensor included in the grip, the Cobra Radspeed XD has got everything an anti-slice driver needs. If you're looking for forgiveness with some very helpful draw bias, this is your club. But if you don't want that draw bias, the Radspeed XB is just as forgiving.
How We Test
When it comes to product testing (opens in new tab), our reviews and buyers' guides are built upon a rigorous testing procedure as well as the knowledge and experience of the test team. Headed up by Neil Tappin, and assisted by Joel Tadman, both have been testing golf clubs for years and both play to a handicap of 5. Both are also able to efficiently test the vast majority of the biggest product releases and convey the pros and cons eloquently.
Getting into specifics for drivers, we first attend product launches and speak to manufacturer's to understand the technology. We then hit the golf clubs indoors, usually at Foresight Sports and test the products with premium golf balls on a launch monitor.
Outdoor testing is the next port of call and this usually takes place at West Hill Golf Club, a course in Surrey with top-notch practice facilities. Ultimately, we aim to be as insightful and honest as possible in our reviews so it is important to acknowledge that no manufacturer can buy a good review. This is because our team tells it how it is.
What To Consider When Buying A New Driver
You've probably already asked yourself whether you need to buy a new driver in 2022, but there's a few key things to consider when investing in a new driver. Hopefully answering these questions will narrow your search down slightly and make comparing between various models much easier.
When purchasing a new big stick, it is crucial to ask yourself just what you need from it. Is distance your main priority or are you looking for something to help you find more fairways? We'd always recommend a custom fitting with a PGA Pro but if you know what you're looking for you can make an informed decision.
If accuracy is what you're after, go for something with a high MOI or adjustable weights to help alter spin and flight characteristics. If distance is key to you, look at a low-spinning driver to help ensure your ball doesn't balloon too much. If you're after something in the middle, the so-called 'standard' heads in most driver ranges will suit you the best.
Some more factors to consider when choosing a new driver are sound, feel, looks and other things like shafts and loft as well.
FAQs
Which Cobra driver is the best?
That depends what type of golfer you are. If you're after more forgiveness, the Cobra LTDx Max will be best. If you're after more distance, the Cobra LTDx LS will be the best. If you're somewhere in the middle of these two, the Cobra LTDx will be the best.
What pros use Cobra drivers?
The biggest names using Cobra drivers on Tour are Bryson DeChambeau, Rickie Fowler and Lexi Thompson.
Are Cobra drivers good?
Cobra drivers regularly make it into our list of the best golf drivers. They easily compete with the likes of TaylorMade, Callaway, Titleist and Ping for the best driver crown.