Cobra King F6 Baffler Fairway Unveiled
The Cobra King F6 Baffler fairway combines the iconic Baffler rail system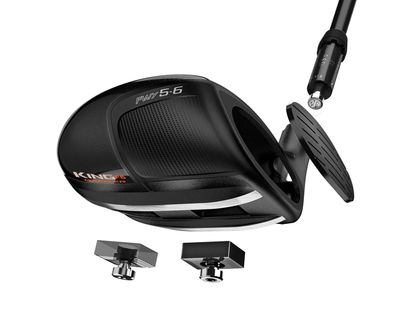 The new Cobra King F6 Baffler fairway wood combines Cobra's iconic Baffler rail system with the F6's adjustable weighting
Cobra has introduced the new Cobra King F6 Baffler fairway wood, a new design that combines Cobra's iconic Baffler rail system with the F6's adjustable weighting.
It's a combination that provides improved turf interaction and the chance to choose between a penetrating low spin flight or a higher trajectory that's more forgiving.
The club came to life after Cobra tour staffer Rickie Fowler and his coach discussed playing something with rails. To accommodate, Ben Schomin, Cobra's tour rep, created a prototype made from Fowler's Bio Cell 5-wood and welded on rails, which the American liked so much he put it in his bag straight away.
The final polished version of the Cobra King F6 Baffler fairway wood features a design where the front of the rails improve turf forgiveness from any lie, while the back of the rails help the sole glide out of the turf more smoothly.
The Cobra King F6 Baffler fairway also comes equipped with switchable 15g and 3g sole weights that can be exchanged to change your ball flight, while Cobra's MyFly8 hosel delivers eight loft and draw positions in one head.
The new fairway isn't the only new arrival with the MyFly8 hosel, as Cobra has also just unveiled the Cobra King Utility iron, which is golf's first adjustable driving iron.
Other technology in the new Cobra King F6 Baffler fairway sees a higher strength steel forged face allow the engineers to make the club thinner and lighter for increased speed and forgiveness.
The new fairway is also slightly shorter in length at 41.75 inches (a standard 5-wood is approximately 42.5 inches), which allows you to be a little steeper and more aggressive when needing to get the ball airborne.
Cobra King F6 Baffler Fairway specifications
Available on May 1st in right-hand only and in black, the Cobra King F6 Bafler fairway wood will cost £179.
As standard it will feature a Cobra Rel 360 Grip and Matrix Red Tie Q4 shaft in lite, regular, stiff and x-stiff flexes.
Jake O'Reilly specilaises in equipment coverage, and joined the Golf Monthly team in 2013. Before this he graduated from the University of Huddersfield with a Sports Journalism and Media degree, and worked at a number of British golf magazines. Follow Jake on Twitter
@jake0reilly