Best Vice Golf Balls 2022
Check out our guide to the latest affordable golf balls from Vice Golf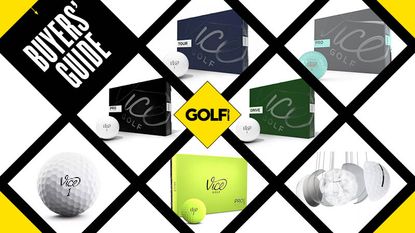 (Image credit: Golf Monthly)
Golf Monthly Newsletter
Golf tips and expert instruction, golf club reviews and the latest golf equipment.
Thank you for signing up to . You will receive a verification email shortly.
There was a problem. Please refresh the page and try again.
Best Vice Golf Balls
German ball manufacturer Vice believes that high-performing balls don't need to have such a sizeable price tag. To help you save money, the company sells through its own website and offers up the best prices when you buy five dozen at a time. This is great because we all know how important it is to get the best golf balls (opens in new tab) for your game. After all, it is the only piece of equipment you use for every shot so it pays to play with the one that ticks all of your boxes.
So for that reason, in this guide, we'll be bringing you a sample of the best Vice golf balls currently on the market. Alternatively if Vice is not for you, check out our other ball guides from different brands, such as the best Titleist golf balls (opens in new tab), best Callaway golf balls (opens in new tab) or the best TaylorMade golf balls (opens in new tab).
Best Vice Golf Balls
Image 1 of 2
Best value premium ball
Specifications
Construction: Four-piece
Colors: 3 (white, lime, red)
Reasons to buy
+
Very good value premium option
+
Extra-thin urethane cover for feel and short-game spin
Reasons to avoid
-
Very fast swing speeds may not reap maximum benefits
Vice has established itself among the mainstream ball brands in recent years with its unique approach and the four-piece Pro Plus is an excellent offering that embodies that approach. It is a great golf ball for the faster-swinging golfers out there with the ball's lower spin ratios creating long and penetrating ball flights at the top end of the bag. Yet, when we tested this ball out on the course, we didn't feel like we lost any feel or control when approaching the greens.
Additionally, the KIL (Keep in Line) alignment tool is a handy extra for people who are looking for an extra bit of guidance when putting. It also comes in white, lime or red for those with a flair for the colorful. The only negative is that it won't suit those with slower swing speeds, but there are other balls in the Vice range that will fit that bill.
Low-compression core for an extra-soft, responsive feel
Specifications
Construction: Three-piece
Colors: 3 (white, lime, red)
Reasons to buy
+
Impressive all-around durability
+
Comparable to market-leading premium models around the greens in terms of spin control
Reasons to avoid
-
Lacked a little distance off the tee and on iron shots.
Featuring an extra-thin cover, the three-piece Vice pro is designed for amateurs and professionals with a clubhead speed in the region of 95 to 110 mph who are looking to maximize their distance off the tee and spin the ball around the greens. Specifically, we really liked the feel on all shots, not just those with our wedges. In the longer clubs, the strike feels just as good as the Pro Plus but it does fly a little higher. For those playing in the wind, this could be an issue. But around the greens it's one of the softest balls (opens in new tab) we've ever tested, which makes it an excellent option if you're looking to get more shots to check around the flag.
Vice Golf Pro Soft Ball
Colours options to suit vibrant or more subtle preferences
Specifications
Construction: Three-piece
Colors: 6 (white, lime, red, peach, coral, blue)
Reasons to buy
+
Fantastic color options
+
Really soft feel thanks to its urethane cover
Reasons to avoid
-
Faster swingers won't reap the maximum performance benefits of its design
Another great offering comes in the form of the Vice Pro Soft. Again, a three-piece construction, it offers excellent performance for players who tend to swing the club slower than 95 mph, making it a great golf ball for high handicappers or beginner golfers (opens in new tab).
While it didn't carry as long as other balls, we found this offering to be no slouch and were impressed by its well-rounded attributes. The KIL alignment aid features once again on this ball, with it coming in white, lime or red as well as hue finish of Living Coral, Peach Parfait or Blue Light. Around the putting surfaces, the thin urethane cover worked its magic for us during testing, leaving us pleasantly surprised with this versatile product.
Vice Pro Zero Golf Ball
Specifications
Construction: Three-piece
Colors : 1 (White)
Reasons to buy
+
Premium ball at affordable price
+
Handy alignment tool
+
Excellent distance off the tee
Reasons to avoid
-
Not the best for golfers with low swing speeds
It's not often that we stumble upon premium golf balls at such great price points, but the Vice Pro Zero Golf Ball really does offer excellent value for money (opens in new tab). A great golf ball for any experienced golfer, or a player looking to improve on their game and hit greater distances, this urethane-covered golf ball offers plenty of gains that can help you shoot lower scores. You'll also be able to take advantage of the ball's Energy Speed Core, which generates higher ball speed and greater driving distance for those who can really rip through the ball with their driver.
What's also great about that cover is that it is highly durable but provides enough feel to help players control the golf ball where they need to. And once you're on the green, you can use the handy Keep in Line (KIL) alignment tool on the ball to help you knock in your putt. While this is a fantastic golf ball if you're looking to add a few extra yards to your game (opens in new tab), there is plenty of balance on offer here for golfers and those looking to improve in everything from their putting to their driving.
Solid offering for distance and stability
Specifications
Construction: Three-piece
Colors: 1 (white)
Reasons to buy
+
Noticeably high and strong flight
+
Impressive distance with decent feel in the short game
+
Very good value for money
Reasons to avoid
-
Lacks a little spin control on more finesse shots.
The even more budget-friendly Tour ball has a three-piece construction with a surlyn cover and is aimed at golfers of all abilities. It is designed to offer great distance, greenside control and is extremely durable and cut-resistant on the outside. In testing, we found the Vice Tour gave brilliant feedback on full shots as well as a decent amount of control approaching the greens.
Around the greens, the feel was perhaps a little lacking but the ball is designed with durability in mind so this was to be expected. Overall, it's an excellent ball to have in the bag for a bounce game as there's not much of a performance difference tee to green compared to more premium models on the market. And at just over $2 per ball, it's easily one of the best value golf balls (opens in new tab) on the market.
Vice Golf Drive Ball
Best for slower swingers
Specifications
Construction: Two-piece
Colors: 1 (white)
Reasons to buy
+
One of the lowest-priced branded balls on the market
+
Extremely cut-resistant cover for durability
Reasons to avoid
-
Best for slower swingers
The only two-piece ball in the range, the Vice Drive is aimed at the slower-swinging golfers looking for ultimate distance. It does this thanks to a low compression Energy Speed Core, which offers up a relatively soft feel too. Similar to the Vice Tour, it also features a surlyn cover and we found that this cover did not cut up easily too, making it ideal for those who like to get the most out of their golf balls.
While it doesn't offer the premium performance of other products in their range, it is definitely one of the best distance golf balls (opens in new tab) out there if that is what you're looking for. Around the greens, it performed perhaps a little better than we expected but its gains off the tee are where this ball comes into its own.
How we test golf balls
When it comes to testing golf products, we have a thorough testing procedure (opens in new tab) that revolves around our ethos of giving insightful and honest reviews of golf gear so you are well informed if you want to make a buying decision. At Golf Monthly we are all regular golfers and therefore seek to be as honest and insightful as possible in all our reviews and buyers' guides, so that you can make an informed decision.
Our Digital Editor Neil Tappin (opens in new tab) heads up all golf ball testing on the site, but all our writers are experienced players who are able to review a golf ball's performance accurately. Our procedure revolves around both indoor and outdoor testing. We start by testing the ball indoors to get some controlled data on how it performs. We always use launch monitors like SkyTrak (opens in new tab) or Foresight Sports GCQuad (opens in new tab). Often we hit new models alongside previous generations, or competing models to see how the performance differs as well.
Outdoor testing comes next which revolves around hitting the product not just on a driving range, but on the course too. This way we can see how the ball performs by playing a variety of shots from different lies and conditions. We think golf balls have to be tested over a number of rounds because that is how you can test for things like distance, feel, durability, spin and so on. The final critical point we want to mention is that no manufacturer can buy a good review because we tell it how it is.
What to consider when buying golf balls
Golf balls are perhaps one of the most technical pieces of equipment in your golf bag, and for that reason, picking the right golf ball for you can be quite an overwhelming choice. With each golf ball featuring so many different features, it can be hard to suss out which is the right ball for you. For that reason, we've put together a few key points you need to consider when purchasing your next golf ball.
1. Soft or firm?
What do you prefer from a golf ball feel-wise? Do you like a clicky golf ball or do you prefer something a little softer? The range of Vice golf balls we selected above all have different designs which fit into either soft or firm categories, so we would always recommend trying different golf balls from different distances to find your preference.
2. Cover material
Urethane-covered balls offer the best spin control and feel but do cost more than surlyn-covered golf balls. Experiment to see if you notice enough of a difference to justify the extra cost, or whether the best mid-price golf balls (opens in new tab) might be an option.
3. Long game or short game?
Linking with the above point, which aspect of the game is most important to you? Do you want to get as much distance as possible out of your golf ball or would you prefer a model that allows your short game to flourish thanks to an improved feel?
If distance is your focus, then the Vice Drive is going to be the top model in all likelihood, whereas if you want a premium feel, then the Vice Pro Plus or Pro Soft models will give the best spin and short-game control. On that note, you may also want to check out our best soft feel golf balls (opens in new tab) guide for more models that are designed for feel.
4. Color
No longer do your golf balls have to be white, instead, they can be different colors like yellow, red, or even green. The Vice Pro Soft also comes in Hue colors like coral, blue and peach.
5. Budget
We would always recommend being aware of what your budget is when it comes to golf balls and then you can choose a model accordingly. What is interesting about Vice is the unique system they have for buying golf balls from their website. The way it works is the more you buy, the cheaper it is per golf ball so it may be worth thinking about buying them in bulk at the start of the season.
For more advice on what golf balls you should purchase, take a look at our guides on the best premium golf balls (opens in new tab), best golf balls for high handicappers (opens in new tab) and best value golf balls (opens in new tab).
FAQs
Are Vice golf balls any good?
Yes, Vice golf balls are good but you need to make sure the model you are buying is suited to your game, how you like to play and what you like to feel. If a player values distance, a golf ball designed for spin and short game control will not be good for their game. From our testing Vice golf balls do give good performance and offer good value as well when buying in bulk.
Do any pros use Vice golf balls?
As of right now we do not believe any top professional players use Vice golf balls at the moment but this is not to say amateurs will not enjoy the performance on offer.
Are any Vice golf balls good for low handicappers?
Yes, the Vice Tour Pro Plus Golf Ball is an excellent option that low handicappers and experienced golfers can use to strike the ball further and land the ball on the green.