Best Golf Belts 2023
We take a look at some of the best and most stylish golfing belts available on the market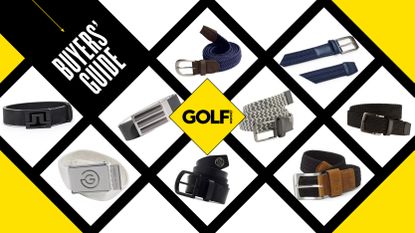 (Image credit: Future)
Best Golf Belts
Looking and feeling the part on the course can give you the edge when it comes to your performance. However, one often forgotten part of a great golfing outfit is the belt. Not only should a belt give a comfortable fit and help keep your pants or shorts where they should be, but the belt is also a chance to make a fashion statement too, as shown by some of the models we've set out below.
Whether you are after a leather design, a stretchy woven model, or something to help you stand out, there is plenty of choice out there. It is also important for you to think about what material you want your belt to be made out of because these days you can get polyester, leather, polyurethane and other materials in belt design that each do different things.
Speaking of which, we have created this post to give you an idea of some of the best golf belts out there. From Puma to FootJoy, Galvin Green to Nike, there is something for everyone. What's more, if you want more buying advice, we recommend checking out a couple of the other posts below to make sure you have the perfect clothing and equipment setup. Such as the best golf pants, best golf shorts or the best golf tops.
Best Golf Belts
Why you can trust Golf Monthly Our expert reviewers spend hours testing and comparing products and services so you can choose the best for you. Find out more about how we test.
Sizes: S - XL (32" - 42")
Colors: 9+ (White, Black, Navy, Blue, Brown etc)
+ Used by the Tour pros
+ Loads of colors
- Nike sizing can be tricky
The Nike Stretch Woven Golf Belt is incredibly stretchy for a comfortable fit on the course. Nike is worn by some of the biggest names in golf, including Rory McIlroy, Tommy Fleetwood and Brooks Koepka, with all three men opting to use this belt on a number of outfits in Majors and other Tour events. It comes in several colors to suit any pant design and will keep your trousers well fastened at your waist.
Adidas 3-Stripes Tour Belt
Sizes: One size fits all
Colors: 2 (Black, Grey)
+ Tour proven
+ Works well with lots of pants and shorts
- Large buckle can be off-putting
A belt that is often worn on Tour by the likes of Xander Schauffele and Joaquin Niemann, this offering is reversible and has a very cool 3-Stripe design buckle. The entire package just feels totally premium and will work well with a variety of pants and shorts combinations. The large buckle may be off-putting to some, but we didn't think it was that much of an issue.
Callaway Golf V-Logo Belt
Sizes: One size fits all
Colors: 2 (Navy, Grey)
+ Stretchy material
+ Very stylish
+ Handy buckle
- Polyester material may not be the most durable
Quality is engrained in all of the best Callaway golf products, and this belt is no different. It is a stylish, clasp fit belt, that is made from 100 per cent polyester materials that make it very comfortable and easy to wear.
The belt is also very stretchy, so will expand and contract with your swing, but features a reliable clasp that will keep your trousers locked around your waist during your round.
Sizes: Regular, Long
Colors: 4 (White, Grey, Black, Navy)
+ Very comfortable and hard-wearing
+ Wearable on and off course
- Styling may be too basic for some
Every smart outfit needs a good belt and this braided option from FootJoy really impressed us. First and foremost, it is comfortable. The thick, woven material means there's no need for buckle holes, which makes it so much easier to find the right fit every time you wear it.
Whilst the basic styling might be too simple for some, we thought it was both smart and versatile. We tested the grey and blue versions, both of which worked well with a range of outfits including both shorts and trousers.
The leather tabs are also the same color as the belt making for an unfussy design that is modern, but without requiring you to wear the same outfit every time you play!
Under Armour Braided Golf Belt
Sizes: 30-42
Colors: 4 (Black, Steel, White, Academy)
+ Feels high quality
+ Nice amount of stretch
- Thick design
The Braided Golf Belt from Under Armour is a classy belt that looks fantastic and is extremely functional and adjustable. It can be worn however loose or tight you like it and it also comes in a perfect size, too, so we'd recommend going with your usual waist size.
It's a fairly heavy, tight belt that feels very good quality and has a nice amount of stretch in it, opposed to some other lighter belts that are perhaps too stretchy and feel a bit cheaper. The metal buckle feels very solid and is easy to open and close, with four color options meaning there is bound to be a suitable option for your tastes. What's more, it can be worn away from the course, either with casual clothes or jeans.
Original Penguin Lemonade Leather Belt
Sizes: One size fits all
Colors: 2 (Blue, White)
+ Easy to cut down
+ Lemonade design really looks cool
- The white reversible belt won't be for some
As someone who hasn't worn a leather belt for years this belt is amazingly comfortable. This sounds a bit odd, given that it's a belt, but my memory of leather belts is one of something that rides into you and never quite fits, hence the move to more braided options.
The design here is fun, with a collection of summery images; glasses of lemonade and fruits and it's a robust offering that has a straightforward pin closure. On the other side is a plain white which is golf's version of Marmite – some love a white belt, others aren't fans. But the navy side is cool, which fits in with the Penguin brand, and the beauty here is quite how easy it was to cut it down to size. There are very welcome tear-off instructions that come with the belt which is brilliantly simple to use.
Mission Belt Nero Italian
Sizes: 32" - 42"
Colors: 7 (Nero, Moro, Tobacco etc)
+ Looks great
+ Easy to get the right fit
- Can be a little fiddly to undo the buckle
A model we recently tested that is a worthy inclusion in this guide comes from Mission Belt. We tested the black Nero design (although there are six other classy colors to choose from), and we enjoyed the overall look of the belt as it gave a really premium aesthetic, especially with the black buckle.
Made from full-grain leather, that is sourced from the French countryside, as well as vegetable-tanned in the Tuscan region of Italy, the main design feature to mention here is the buckle design. The leather slots into the buckle and it can be adjusted to every 1/4", unlike traditional belts that only have holes every 1". It can be a little fiddly to undo the belt when you first start wearing it, but we got the hang of it very quickly indeed.
Sizes: One size fits all
Colors: 3 (White, Black, Blue)
+ Very smart belt buckle design
+ Webbed belt has very good stretch
- Prong of the buckle can be fiddly to pass through the material
We have always been a fans of the webbed style belt due to its ability to stretch and provide comfort. The Sadun Belt is no exception, as the 4-way stretch and one-size fit gave unbelievable comfort out on the course. Along with the stretch, the smart 'F' belt buckle design was very eye-catching, with the belt loop ensuring that the material remained tight and didn't flap around.
Although the belt buckle is very stylish, it is a tad fiddly when it comes to pushing the prong through the material and it requires some oomph to do this successfully. The only other negative is the label that is attached to the strip of leather behind the belt buckle. Because it was rather large, it was necessary to trim it down.
Oscar Jacobson Shelby Leather Belt
Sizes: One size
Colors: 3 (Black, Gray, Navy)
+ Brilliant design and high quality feel
+ Suitable for off course
- Over 38 inch waists may find it too small
This is one of our favorite golf belts currently on the market and it isn't the first time that Oscar Jacobson has wowed us with their clever designs. To begin with, the hidden track system located in the back of the belt works effortlessly with the buckle, meaning that the belt fits perfectly to waist sizes. There are is also the added bonus of there being no unsightly loop holes and it means the belt looks really clean and fresh.
The quick-release buckle makes the belt easy to do up and take off. The leather is great to the touch and the pinhole design is a great modern look.
Under Armour Webbing Belt
Sizes: One size
Colors: Four styles
+ Full reversible
+ Good functionality
- Very thin
You get two belts for the price of one with the Webbing Belt from Under Armour, which comes with a thin strip of webbed material and a nice metal buckle that comes with the Under Armour logo embossed.
The belt is very thin, so this certainly isn't the highest of quality products - go for Under Armour's superb Braided Belt if you want a top quality belt - but it is durable and does the job you'd hope so. It's also fully adjustable, so can fit all waist sizes, just clamp the belt in at whichever length you like. Lastly, it features in four simple color options and is reasonably priced, making this a great option.
Ping Stretch Webbing Belt
Sizes: Small - Extra Large
Colors: 3 (Black, Blue, Stone)
+ Easy to adjust
+ Stretches nicely
- Two-tone color design will put some off
Ping is famed for high-quality golf gear and this belt is no exception. It comes in black, blue and stone color designs, with the leather and metal trims adding a premium feel for those golfers looking to stay smart on the course.
Because it is designed with split leather trims and added stretch, it can fit comfortably to any size, with a sturdy and stylish metal buckle keeping the material in place so you can focus on your golf game. Admittedly it is limited in versatility, you probably wouldn't use it off the course, but this is only a minor point given the quality of the golf specific performance.
Sizes: Size 1 - 32" - 42" - Size 2 44" - 52"
Colors: 6 (Blue, Black, Grey, etc)
+ Good value
+ Six very different colors to choose from
- More premium feeling models on this list
On and off the course the Inesis Stretchy belt is extremely comfortable to wear as it is made from 54% Elastodiene and 46% Polypropylene. Because of the stretchy material, it also provides a perfect fit every time, as well as comfort throughout the golf swing.
Looks wise, it isn't bad either, as it comes in five color variations – three of which are in solid colors (petrol blue, black, dark chocolate, navy blue and grey) but there are also two multi-colored patterned Inesis designs available.
Sizes: S - XL (30" - 40")
Colors: 2 (Heather Grey Pinstripe, Heather Grey)
+ Robust and Durable
+ Fits exactly with no holes
- Only one color
The Pueblo belt from Cuater by Travis Matthew is a robust and stylish accessory that will complement any golf look well. First thing to note is there are no belt holes to worry about. It's a stretch woven fabric design and the buckle spike can punch through at any point to deliver the perfect fit.
As it's a stretch fabric, there's just enough give to deliver excellent comfort. It offers a sleek and contemporary look with black metal buckle and leather detailing.
Sizes: 32" - 42"
Colors: 4 (Acid, Blue, Black, White)
+ Premium feel
+ Classic design
- Large buckle
A classic belt with the famous JL design on the buckle, the Slater brushed leather belt is a wardrobe staple. It has a premium look and, with several colors on offer, it means it will pair nicely with lots of different colored pants and shorts. The feel of the leather in particular is high quality, making it one of the best belts on the market. If you're looking to complete a very classy look, pair this golf belt up with some of the best designer golf clothes too.
Puma Golf Reversible Web Belt
Sizes: One size fits all
Colors: 4 (Black, Navy, White, Grey)
+ Reversibility provides plenty of options
+ Doubles up as a bottle opener
As the name would suggest, this belt can be reversed, giving golfers the opportunity to change their look. It comes in a one size fits all format and features a metal claim buckle that features the iconic Puma cat logo on its face. It even has the capacity to open bottles if you're the type of golfer who enjoys a few drinks during your round.
Nike Golf Tech Essentials Single Web Belt
Sizes: One size fits all
Colors: 4 (Black; White; Orange; Red)
+ Easy to use clasp system
+ Textured and stretchy cotton
+ Four different colors
- May be a bit too sporty for some traditional golfers
Another fantastic offering from Nike is the Golf Tech Essentials Single Web, with this belt made from a textured cotton which is very comfy to wear and can coordinate with pretty much any outfit in your wardrobe. Available in four different colors, it also comes with a cool belt buckle that is easy to attach to the belt at your desired size.
Sizes: One size fits all
Colors: 7 (White, Black, Navy, etc)
+ Can easily adjust to size
+ Good color choice
- Large logo design seems unnecessary
This excellent quality belt is made from a strong nylon webbing strap, complimenting a range of outfits. It also features a cut-out metal buckle with the Galvin Green logo, and we particularly like how easy it is to adjust to a range of sizes. Also if you are a fan of Galvin Green, make sure you take a look at our guide on the best golf waterproofs because the brand makes some of the highest quality models anywhere in golf.
Sizes: 30" - 40"
Colors: 3 (Twilight, Onyx, Snow)
+ Leather finish
+ Nylon provides enough stretch
- Skull design will put some off
The entire G/FORE brand is based upon the idea of standing out from the crowd and the belts continue that ideology. This continues this season with the Killer T's models, which are made from durable nylon and leather and also come with an embroiled skull design too.
No doubt this skull design will put some off, but for those that aren't, this is an excellent belt.
How we test golf equipment
When it comes to testing golf belts our comprehensive methodology revolves around, as you would expect, playing a lot of golf. We feel putting golf products to the test on the golf course, on the range and in practice is the best way to find out how usable and well-designed some belts are.
On that note, we feel it is particularly important to use all golf belts in different conditions, on the course or in practice to ascertain how each performs. We also looked to use belts off the course as well to see how versatile they were in social situations or when wearing them to work. Importantly, every member of the Golf Monthly team is a regular golfer so we put golf belts to the test over a number of rounds. The final point we should mention is no manufacturer can buy a good review. This is because our testing team tells it how it is and we seek to be as insightful and honest as possible.
What to consider when buying a golf belt
While you might think golf belts are some of the more simple pieces of golf apparel on the market, there are a variety of things to consider and bear in mind when purchasing your next golf belt. To help you make the most informed choice possible, we've set out below a list of considerations you need to keep in mind when picking your next golf belt.
Material
The first thing you should consider is what do you want the belt to be made out of? No longer are belts just made out of leather these days as nylons, polyesters and other materials and fabrics are used. Each of them create a unique fit, feel and look so knowing what material you want will help narrow down your search.
Size
Importantly most of the models above are one size fits all but sometimes brands adopt more specific sizing measurements so this is definitely something to be aware of.
Comfort
Because a comfortable belt is a good belt, right? On the course, you're going to want to be as comfortable as possible to ensure you're able to focus on playing your best golf. For that reason, look for a belt that combines the right material, size, flex and stretch to allow you to hit good shots and stay relaxed.
Colors
As you can see from the key info sections on a lot of the models above, you can now get a golf belt in pretty much any color so it is a case of a) picking one you like the look of, and b) making sure the color will suit the pants and shorts you use for golf. Do not pick a color that only works with one outfit because you want to get more for your money here.
Budget
Finally, be aware of how much you want to spend on a belt. If you want to go for a premium design, there are models from J Lindeberg and G/FORE which have got you covered. Whereas if you want a more value-conscious option, then there are models like the one from Inesis too.
While having a golf belt is very important, so too is having a good pair of golf shoes that match your belt. For that reason, take a look at our guides on the best golf sneakers, best waterproof golf shoes and best spiked golf shoes.
FAQs
What is the purpose of a golf belt?
Regardless of your golfing style when it comes to pants, trousers or shorts, a good belt remains an important part of your golf outfit. This not just because they are functional and help keep your pants and polo in place, but a belt can also elevate a golf outfit by looking more classy or with a touch of flair.
Do I have to wear a golf belt?
No, you don't have to wear a golf belt. But it is advisable to do so for multiple reasons. The first is that golf belts can make your outfit much smarter. They can also improve how you play by delivering good comfort and can ensure that your trousers do not fall down when on the course.
What color should your golf belt be?
The simple answer here is whatever color belt you are comfortable wearing. There are people who say don't put those colors together and other such rules but if you want to wear a traditional black or brown belt, you should. The same can be said for those who want to wear a belt to stand out. Whatever you want to wear, do so as this is entirely up to different people. If it was up to us, we always try and get out belt to match or suit the pants or shorts we are wearing on the day.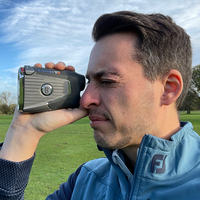 From clubs, balls and tees, to essential sportswear and fitness products, keep it affordable with a little help from our promo and coupon codes.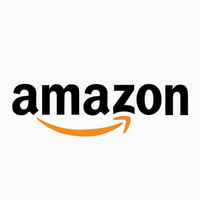 Get saving on those Amazon orders with these coupon codes to help reduce the price in your basket.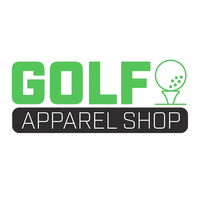 Look through these Golf Apparel Shop coupon codes to get all your golf equipment like balls, clubs, bags & clothing for better prices.
A golfer for most of his life, Sam is a Senior Staff Writer for Golf Monthly.
Working with golf gear and equipment over the last six years, Sam has quickly built outstanding knowledge and expertise on golf products ranging from drivers, to balls, to shoes.
He combines this knowledge with a passion for helping golfers get the best gear for them, and as such Sam manages a team of writers that look to deliver the most accurate and informative reviews and buying advice. This is so the reader can find exactly what they are looking for.
Sam now spends most of his time testing and looking after golf gear content for the website, whilst he is also responsible for all content related to golf apparel.
He also oversees all Tour player content as well so if you need to know what clubs Tiger or Rory has in play, Sam is the person to ask.
Unfortunately, Sam is not a member of any club at the moment but regularly gets out on the golf course to keep up the facade of having a handicap of five.
Sam's What's In The Bag:
Driver: Titleist TS3 (9 degrees)
Fairway Wood: Callaway Paradym (15 degrees), Nike Covert Tour 2.0 (19 degrees)
Irons (4-PW): Titleist AP2
Wedges: Titleist Vokey SM7 54˚, 58˚
Putter: Scotty Cameron Phantom X 5.5
Ball: Srixon Z-Star Diamond
Shoes: G/FORE Gallivanter/Nike Air Zoom Infinity NEXT%/Cuater The Ringer/adidas Tour 360 22