Best Bridgestone Golf Balls 2023
Bridgestone fan? Check out the best Bridgestone golf balls on the market right now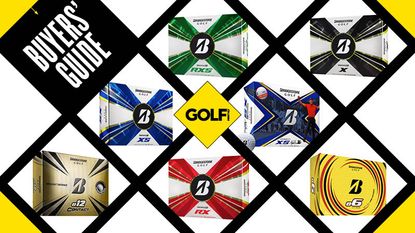 (Image credit: Golf Monthly)
Best Bridgestone Golf Balls
Bridgestone currently makes some of the best golf balls on the market with players like Tiger Woods (opens in new tab), Bryson DeChambeau (opens in new tab) and Lexi Thompson (opens in new tab) using the company's balls. Now if that illustrious group of players is using Bridgestone golf balls, then surely you might also want to consider using the brand too! Bridgestone are one of the most reliable and reputable brands in the industry when it comes to producing high-end, top-quality golf balls.
Especially if you're seeking more distance and accuracy in your game, Bridgestone's B-Series golf balls will be perfect for you. Below, we've set out a list of some of the best Bridgestone golf balls that are currently on the market and can help you improve in all aspects of your game. Alternatively, if you prefer a different brand than Bridgestone then take a look at our guides on the best TaylorMade golf balls (opens in new tab), best Vice golf balls (opens in new tab) and best Titleist golf balls (opens in new tab) or our overall guide to the best golf balls on the market this year.
Best Bridgestone Golf Balls
Why you can trust Golf Monthly Our expert reviewers spend hours testing and comparing products and services so you can choose the best for you. Find out more about how we test.
All-around performance for moderate swing speeds
Specifications
Construction: Three-piece
Colors: 2 (White, Yellow)
Reasons to buy
+
Exceptional greenside spin and control
+
Extremely stable in the wind
+
Highly durable cover
Reasons to avoid
-
Maybe not the best fit for faster swings
The 2022 Tour B RXS golf ball might not garner as much attention as some of Bridgestone's other premium golf balls but in our testing it performed exceptionally well. It offered all of the greenside spin and control that was promised but also exceeded expectations in terms of the distance it provided in the long game. The Tour B RXS also held up very well in windy conditions and even after significant play and practice the ball showed very little in the way of wear or discoloration. Bridgestone recommends this ball for players who swing a driver at less than 105 mph. If you fall into that category, this ball is definitely worth a try.
Impressive distance for players with modest swing speeds
Specifications
Construction: Three-piece
Colors: 2 (White, Yellow)
Reasons to buy
+
Exceptional long game distance
+
Excellent stability in the wind
+
Surprising greenside control
Reasons to avoid
-
Not the best fit for high-speed golfers
Bridgestone's Tour B RX golf ball, like the Tour B RXS, was created for golfers who swing a driver at less than 105 mph but still want the performance offered by a premium golf ball (opens in new tab). Where the Tour B RX stands out is in terms of distance, as in our testing it excelled in that regard while also offering a powerful, piercing trajectory. But the B RX also fared well around the greens in terms of spin and control, and it offers a soft but responsive feel when putting. Additionally, the Tour B RX performed extremely well during our testing in the wind, and its cover is one of the more durable on the market today.
Bridgestone 2022 Tour B XS Golf Ball
Best For Spin
Specifications
Construction: Three-piece
Colors: 1 (White)
Reasons to buy
+
Feels soft greenside while still being long off the tee
+
Very consistent through the air
+
Superb feel and exceptional spin control around the greens.
Reasons to avoid
-
Performance off the tee might be sub optimal for slower swingers.
The B XS golf ball is the model used by Tiger Woods. It is for players with swing speeds of over 105mph and offers up more spin than the B X with a softer feel. In the past Tiger has spoken about his preference of a spinny golf ball and that is why this model suits him best. With the Gradational Compression core and Dual Dimple Pattern, in our testing, the ball launched with high speed and the distance was comparable with other premium models.
Moving to short shots, it feels soft and comes off the clubface slowly (which is what you want for short pitches and chip shots) and grabbed up quickly on the second bounce. The feel was also very nice to putt with, especially on faster greens. Given it has Tiger's seal of approval, we had to also include the B XS in our guide on the best premium golf balls (opens in new tab) too. It's one of the best performing, tour-caliber balls for golfers that enjoy a slightly softer, more responsive feel.
Best For Faster Swingers
Specifications
Construction: Three-piece
Colors: 1 (White)
Reasons to buy
+
Long off the tee and with control on approaches
+
High levels of greenside spin
Reasons to avoid
-
Slow swingers may want to look elsewhere
The ball used by 2020 US Open winner Bryson DeChambeau as well as Lexi Thompson and Matt Kuchar. It utilizes Bridgestone's new Reactive urethane cover, which gives increased distance and spin on the previous generation. The Tour B X is aimed at golfers who swing it faster than 105mph and is the longer of the two Bridgestone balls targeted at the fastest swingers. Overall we felt this was an excellent premium offering that provides a firm, solid feel on all shots and spins really well around the greens while being long and consistent off the tee. It is a great option for those looking to add more distance (opens in new tab) to their game.
Best For Control
Specifications
Construction: Three-piece
Colors: 4 (White, Yellow, Green, Red)
Reasons to buy
+
Dimple design encourages straighter flight and less sidespin
+
Gradational soft core promotes better spin around the greens
+
Available in vibrant matte color options
Reasons to avoid
-
It's all about straightness so won't be as workable as some balls
For 2021, Bridgestone replaced its e12 Soft (opens in new tab) and e12 Speed balls (opens in new tab) with one new model – the Bridgestone e12 Contact. The key to performance is a new and distinctive Contact Force dimple, which features a visible raised area in the center. This raised area allows for 38% more contact between clubface and ball at impact than traditional dimples, improving core activation for more efficient energy transfer.
The end result is improved ball speed, distance and accuracy with every club, plus a little more grip and spin around the green thanks to the increased levels of contact. Available in white, matte green, matte red, and matte yellow - it might not offer the top-level performance of the Tour B balls, but it's not far behind.
Best Soft Bridgestone Option
Specifications
Construction: Three-piece
Colors: 4 (white, yellow, green, red)
Reasons to buy
+
Great for players who prefer soft golf balls
+
Limited complaints at this price point
+
Comes in four colors too.
Reasons to avoid
-
Not as consistent as Bridgestone's premium models
Designed for sub 105mph swing speed golfer, the e12 soft is a distance ball offering up a soft feel. It is a three-piece construction with a surlyn cover and Bridgestone's Active Acceleration Mantle layer, which features a High-Performance Polymer material that provides increased thrust and higher initial velocity at impact. It also has Bridgestone's Delta Wing Dimple pattern for less drag and optimized aerodynamics. As well as the standard white, the e12 soft comes in matte green, matte red and matte yellow.
Best Bridgestone Ball For Seniors
Specifications
Construction: Two-piece
Colors: 2 (white, yellow)
Reasons to buy
+
Excellent value for money
+
One of the longest Bridgestone balls available
Reasons to avoid
-
Lacks greenside feel and control
The e6 is a two-piece ball aimed at moderate swing speed golfers. It has a low compression core to give high ball speed while maintaining a soft feel. The ball comes in both white and optic yellow and we think it is one of the best golf balls for high handicappers (opens in new tab) and best golf balls for seniors (opens in new tab) too. Why?
Well in our testing we were expecting solid distance and we got that. This ball is easy to shape and move both ways, so would suit better players who have plenty of shots to call on. The thinner cover and varied dimple pattern seems to encourage the movement through the air, which is both a weakness and a strength, depending on how accurate you are in the long game. On the green it performed as well. It was butter soft to putt with, and came off the putter at a measured calm pace after making a pleasing soft sound.
How we test golf balls
When it comes to testing golf products, we have a thorough testing procedure (opens in new tab) that revolves around our ethos of giving insightful and honest reviews of golf gear so you are well informed if you want to make a buying decision. At Golf Monthly we are all regular golfers and therefore seek to be as honest and insightful as possible in all our reviews and buyers' guides so that you can make an informed decision.
Our Digital Editor Neil Tappin (opens in new tab) heads up all golf ball testing on the site, but all our writers are experienced golfers who are able to review a golf ball's performance accurately. We start by testing the ball indoors to get some controlled data on how it performs. We always use launch monitors like SkyTrak (opens in new tab) or Foresight Sports GCQuad (opens in new tab). Often we hit new models alongside previous generations, or competing models to see how the performance differs as well.
Outdoor testing comes next which revolves around hitting the product not just on a driving range, but on the course too. This way we can see how the ball performs by playing a variety of shots from different lies and conditions. We think golf balls have to be tested over a number of rounds because that is how you can test for things like distance, feel, durability, spin and so on. The final critical point we want to mention is that no manufacturer can buy a good review because we tell it how it is.
What to consider when buying golf balls
Golf balls are perhaps one of the most technical pieces of equipment in your golf bag, and for that reason, picking the right golf ball for you can be quite an overwhelming choice. With each golf ball featuring so many different features, it can be hard to suss out which is the right ball for you. For that reason, we've put together a few key points you need to consider when purchasing your next golf ball.
1. Soft or firm?
What do you prefer from a golf ball feel-wise? Do you like a clicky golf ball or do you prefer something a little softer? The range of Bridgestone golf balls we selected above all have different designs which fit into either soft or firm categories, so we would always recommend trying different golf balls from different distances to find your preference.
2. Cover material
Urethane-covered balls offer the best spin control and feel but do cost more than surlyn-covered golf balls. Experiment to see if you notice enough of a difference to justify the extra cost, or whether the best mid-price golf balls (opens in new tab) might be an option.
3. Long game or short game?
Linking with the above point, which aspect of the game is most important to you? Do you want to get as much distance as possible out of your golf ball or would you prefer a model that allows your short game to flourish thanks to an improved feel?
If distance is your focus, then the Tour B RX is going to be the top model in all likelihood, whereas if you want a premium feel, then the B XS model will give the best spin and short-game control. On that note, you may also want to check out our best soft feel golf balls (opens in new tab) guide for more models that are designed for feel.
4. Color
No longer do your golf balls have to be white, instead, they can be different colors like yellow, red, or even green. In the Bridgestone range the e12 Soft and e12 Contact are the models to go for if you want a bit of color.
5. Budget
We would always recommend being aware of what your budget is when it comes to golf balls and then you can choose a model accordingly.
For more advice on what golf balls you should purchase, take a look at our guides on the best premium golf balls (opens in new tab), best golf balls for high handicappers (opens in new tab) and best value golf balls (opens in new tab).
FAQ's
Which Bridgestone golf ball is best?
Bridgestone makes several high-quality golf balls across every level of the game and across different player abilities. Therefore when answering this question it is about what you are after from a golf ball. If you want a Tour level design, then one of the Tour B X or B XS balls will be the best, or if you want distance then the e12 Contact will probably test best. Then you have factors like soft-feel, firm-feel and so on and so forth. Whatever you are after, Bridgestone has you covered.
Which Bridgestone ball is like Pro V1?
From our testing the model we think that is the closest in terms of performance is the Bridgestone Tour B XS model.
What golf ball does Tiger Woods use?
After signing with the company in 2016, having conducted his own research on what ball best suited him, Tiger Woods now uses a Bridgestone Tour B XS (opens in new tab) prototype golf ball.
A golfer for most of his life, Sam is a Senior Staff Writer for Golf Monthly.
Working with golf gear and equipment over the last five years, Sam has quickly built outstanding knowledge and expertise on golf products ranging from drivers, to balls, to shoes.
He also loves to test golf apparel especially if it a piece that can be used just about anywhere!
As a result he has always been the one family and friends come to for buying advice and tips.

He is a graduate of Swansea University where he studied History and American Studies, and he has been a part of the Golf Monthly team since December 2017. He also previously worked for World Soccer and Rugby World magazines.
Sam now spends most of his time testing and looking after golf gear content for the website. He also oversees all Tour player content as well.
Unfortunately, Sam is not a member of any club at the moment but regularly gets out on the golf course to keep up the facade of having a handicap of five.