Best Golf Hats 2023
We take a look at some of our favorite hats to play golf in.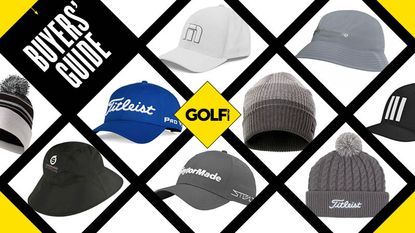 (Image credit: Golf Monthly)
Best Golf Hats
Choosing the right hat for when you're on the golf course doesn't sound like that much of an important decision, but we would argue it is. This is because hats are no longer just something to tip when we hit a good shot, nor are they just a fashion statement. No, these days the best golf hats have been designed specifically to deal with the sun, the rain, the wind, the cold and just about every other weather variable you can think of. Importantly, modern-day hats have become comfortable, functional, as well as fashionable.
So bearing in mind the huge selection of choice, and the various styles of hat out there, below we have taken a look at some of our favorite golf hats - from caps, to bucket hats, to beanies. Additionally if you want to narrow your focus a bit more have a read of our specific hat guides on the best golf caps (opens in new tab), best golf bucket hats (opens in new tab) and best golf beanies (opens in new tab).
Best Golf Hats
Why you can trust Golf Monthly Our expert reviewers spend hours testing and comparing products and services so you can choose the best for you. Find out more about how we test.
Golf Caps
Titleist Tour Performance Cap
Sizes: One size fits most
Colors: Several collections to choose from
+ Tour proven
+ Lots of colors and designs to choose from
- Can be dislodged when windy
A cap worn by professionals around the world, this is made from Titleist's proprietary material and it also has a headband that regulates temperature, wicks moisture and is also antimicrobial to limit odor too. There is also a mesh version of the Tour Performance cap too which is another top performer.
Nike TW Aerobill Heritage 86 Cap
Sizes: S/M, M/L, L/XL
Colors: 9
+ Used by Tiger
+ Top notch breathability
- Hat brings a degree of pressure on your game
Look the part with this Nike cap with the legendary 'TW' logo. The perforations and holes at the front of the design give excellent ventilation and Nike's AeroBill technology combines breathability with sweat-wicking comfort. The cap is also very adjustable making it great for golfers of all head sizes. There are loads of colors to choose from as well although we should say, if you turn up to the course with a Tiger Woods logo on display, you better bring your A-game!
TaylorMade Tour Radar Cap
Sizes: One size fits most
Colors: 6
+ High quality stitching
+ Looks great
- Others may have better UV protection
Do your best Dustin Johnson impression with this Tour Radar cap from TaylorMade. Available in six different colors it has an adjustable strap to cater for any shape of head whilst the moisture wicking fabric deals with any sweat nicely too. Not only that but you can either get the design with the Stealth logo on the side.
Under Armour Iso-Chill Driver Mesh Cap
Sizes: S/M, M/L, L/XL, XL/XXL
Colors: 3
+ Keeps you cool in the heat
+ Comfortable fit
- White colorway picks up dirt easily
A golf cap needs to offer protection and not distract you and this model does this and then some. We like the understated styling and the mesh design means there is plenty of ventilation on hot days. We certainly appreciated the Iso-Chill sweatband during our testing, which helps disperse body heat making it feel cool to the touch. The shape is quite tall at the top although the slight stretch in the rim created a snug but comfortable fit.
Sizes: One size fits most
Colors: 4
+ Good value
+ Versatile
- Perhaps best suited to younger players
A model you will undoubtedly have seen on the heads of Sergio Garcia and Joaquin Niemann, this 3-Stripe Tour cap has been designed to keep golfer's cool on hot spring or summer days. Available in four colors, it is made from 100% polyester which stretches nicely to fit on any shape or size of head. Check out our guide to the best adidas polo shirts (opens in new tab) which could be paired nicely with this fantastic golf hat to complete a very sporty and athletic look for the golf course.
Callaway Tour Authentic Performance Pro Cap
Sizes: One size fits most
Colors: 6
+ Easily adjustable
+ Weather protection
- Flat bill design won't be for everyone
A cap you will undoubtedly have seen out on Tour, this Tour Authentic hat from Callaway boasts 30+ UV protection, an adjustable fit, a moisture wicking sweatband that will keep your brow dry and your head cool in even the hottest conditions. That headband is easy to adjust thanks to a clip on the back of the hat, which will accommodate every head size, but the flat bill design will not be to the tastes of every golfer.
Sizes: One size fits most
Colors: Several collections
+ Very popular model
+ Lots of designs and colors to choose from
- Perhaps best suited for younger players
One of the most popular golf caps in the amateur game, Rickie Fowler could play a role there, this 'P' Snapback cap has a moisture wicking sweatband and is made from dryCell Technology fabric to help you stay cool under pressure. The important thing here though is to find a color you like because there are so many collections and unique designs to choose from, which is fitting of Puma's excellent style and branding. If you want the classic look though, you can still get a simpler model as well.
Sizes: One size fits most
Colors: 3
+ Simple but good-looking aesthetic
+ Premium model
- More colors would be great
Get the look of the tour with Ping's new Tour Classic Golf Cap, featuring a moisture-wicking sweatband, lightweight construction and adjustable back closure for a comfortable and fresh feel on and off the course. Ping are one of the biggest brands in the golf industry, producing some of the most high-quality golf equipment around. If there reputation is anything to go by, you'll already know tht this hat is durable
Sizes: One size fits most
Colors: 10+
+ Used by top players
+ Well trusted brand
- Some designs are very outlandish
A classic design worn out on Tour by players like Rory McIlroy, this high-performance golf cap is highlighted with Nike's signature Swoosh logo. The cap has a soft sweatband to give you maximum comfort during your golf game which will also remove moisture and sweat from your brow as you work your way through 18 holes. The hat is also fully adjustable, making it great for players with a variety of head shapes and sizes. Additionally if you are a fan of Nike gear then take a look at our guides on the best Nike golf shirts, and best Nike golf shoes.
Beanie/Bobble Hats
Sizes: One size fits most
Colors: 3 (Hemp, Black, Navy)
+ Thick material gives warmth
+ Feels very well made
- Hemp color not for us (but others available)
When the cold weather hits, a good warm hat is vital. Enter this Pom Beanie from adidas which features a soft polyester fabric combined with Cold.Rdy technology to really give a warm and insulated feel from the cold.
The brushed interior lining enhances warmth retention, and we also liked the breathability of the beanie too so it didn't feel uncomfortable or itchy when wearing it for a long time. The stretch of the fabric is a bonus as well.
J Lindeberg Swirl Bridge Windbreaker Beanie
Sizes: One size
Colors: 2 (red and green)
+ Keeps wind at bay
+ Eye catching design
- Rustling sound inside may be distracting
This beanie hat provides the warmth of 100 percent merino wool without the harsh feel thanks to the stretchy windbreaker lining inside which also helps create the perfect fit. In terms of protection from the elements, this wooly hat is hard to fault, although the inner lining means that sound struggles to dissipate when the ears are covered, leading to a slight rustling sound every time you move your head.
It's distracting at first but you soon get used to it and the protection you experience it is worth it if you peg it up a lot in extreme conditions.
Puma P Removeable Pom Beanie
Sizes: One size fits all
Colors: 2 (White/Black, Red/Black)
+ Doubles as a beanie hat
+ Soft and warm
- Only two colors
The P Removable Pom Beanie has got you covered through the frosty mornings into the windy afternoons. We found it to be very warm, comfortable and surprisingly wind resistant.
Along with the looks, the bobble, or pom, can be removed to make it look like a beanie hat, which works surprisingly well in practice. Featuring the renowned Puma P on its front, the P Removable Pom Beanie blends practicality with style, so you'll not only be feeling warm out on the course, but looking good too!
Sizes: One Size
Colors: 5 (Gray, Black, Blue, Brown, Mustard)
+ Thick and warm
+ Versatile and can be used away from the course
- Might be a little small for people with larger heads
When it comes to getting the best golf beanie for you, it's always worth looking at the versatility the hat offers. By that, we mean whether you'd feel comfortable wearing that hat both on the course and away from it. This beanie from Nike does precisely that. Being made from a soft thick wool, it provides a dense layer of insulation around your head that will keep you nice and toasty during the colder months of the year. This hat is also very comfortable to wear as it stretches and molds itself around your head depending on how you want to wear it. It comes in five different colorways and features a stylish Nike label on its lip.
Sizes: One size
Colors: 3 (Blue, Black, Stormcloud)
+ Extremely comfortable
+ Good roomy fit
- No bobble - many golfers like the look of one
The Bertie hat from Ping is an extremely comfortable beanie that offers up a slightly larger fit than the brand's Cresting Knit hat and therefore will fit golfers of all head sizes. It offers up a very warm wear and can be adjusted to your preferred fit thanks to the adjustable turn up cuff.
The hat comes with a small Ping logo and a large sensor logo that is subtle in the black and blue colorways but comes in bright yellow in the navy option - allowing golfers to choose if they want color or subtlety from their beanie. The Ping logo is very well stitched in so should last a very long time.
Under Armour ColdGear Infrared Driver Pom Beanie
Sizes: One size
Colors: 3 (Black, Grey, Green)
+ Extremely warm
+ Comfortable, tight fit
- No white, navy or red options
The Infrared Driver Pom beanie is a fantastic, warm winter hat that looks superb with its one-color throughout styling, minimal Under Armour branding and bobble. It offers up a snug fit with some stretch but golfers with large heads may feel it could be looser, although it has an elasticated adjustable cuff so it can be worn to fit your preference.
The beanie comes in just three colors - black, grey and teal - which all look great but some golfers might have preferred white, navy or red options as well. Overall, it's undoubtedly one of the best golf beanies on the market and one that will become a favorite both on the course and off of it throughout the colder months.
Bucket Hats
Adidas Rain.Rdy Bucket Hat
Sizes: XS-2XL
Colors: 5 (Black, Green, White, Navy, Bliss Lilac)
+ Great for sunny days and wet days
+ Small and minimalist design
- No inner sweat band
Made from Primegreen, a series of high-performance recycled materials, this bucket hat is part of the Rain.Rdy range from adidas, which seeks to keep you performing when the weather is bad. Available in several colors, the hat not only helps in bad weather, but it has been designed with an all-around brim which provides both shade and sun protection to your face while keeping your head cool. Why not also complete the look and grab a pair of adidas golf trainers and a premium adidas golf shirt to go with them.
TaylorMade Storm Bucket Hat
Sizes: One Size Fits Most
Colors: 2 (Grey, Black)
+ Stretch design fits nicely around most head sizes
+ Water-resistant
- Only comes in two colors
Bucket hats don't come much better than this excellent offering from TaylorMade which, notably, can be worn in both the rain and sunshine. Yes, this hat is water-resistant and while it isn't completely waterproof, it'll keep your head pretty dry when the elements get tough. Meanwhile, on a sunny day, this is perhaps one of the best caps to wear to protect you from the glare of the sun. What's more, its visor is the perfect length to keep your eyes sheltered from the sun's glare and also shade the back of your neck. It also comes with a dark underbill that helps reduce glare even further.
Titleist StaDry Performance Bucket Hat
Sizes: One Size Fits Most
Colors: 1 (Black)
+ Wide brim
+ Water-resistant and lightweight construction
- May be too large for some golfers and their swings
With the iconic Titleist logo stitched onto the front of this hat, you'll look the part wherever you go on the golf course. Its design is simple but effective, thanks to the high-performing waterproof construction of this hat's material. Its seams are fully sealed to not let one drop of water through and has a great protective rim that will push rain off and away from your body. That all combined means that this is a really well-designed hat that can keep both the rain and sun off you while you're on the course.

Galvin Green Aqua Bucket Hat
Sizes: One Size Fits Most
Colors: 2 (Black, Navy)
+ Handy chin strap
+ Fully seam sealed
- Only comes in two colors
Galvin Green's Aqua bucket hat is fully seam sealed like most other bucket hats but, what differentiates it further, is the extra wide brim at the back, the storm strap and the elasticated sweatband. That all combines to give players maximum protection and comfort when they need it most in terrible weather. However, it's the wider brim at the back that is perhaps the best addition, as it keeps the rain from running down the back of your neck. It works so well for a variety of head sizes, that we also included the Aqua in our guide on the best women's golf hats too.
Under Armour Iso-Chill ArmourVent Bucket Hat
Sizes: M/L, L/XL
Colors: 1 (Grey)
+ Takes up very little room in your golf bag
+ Made from a breathable material that is stretchy
- Not the best hat for wet conditions
First things first, this bucket hat is made with ArmourVent technology which delivers breathability in a light, stretchy, durable, and fast-drying fabric. It also has a nifty little sweatband and lining, which helps disperse body heat and the material itself wicks sweat away so this is the perfect model to use on hot days. While it isn't one of the best hats on the list for wet weather golf, it will certainly do a great job of keeping you cool in warmer conditions. Under Armour also make some of the best base layers on the market, so they know a thing or two when conditions turn sour.
Sizes: One size
Colors: 1 (White)
+ UV protection
+ Breathable and moisture wicking sweatband provide comfort
- Only comes in one color
Callaway are well known in the golf industry for producing high quality golf materials and this garment lives true to that reputation. It is the perfect bucket hat for hot conditions, as it is designed primarily for shading golfers from the sun. Featuring a 50+ UV protective material and breathable mesh head, it also features quality craftsmanship, which we loved. Callaway have clearly put time into designing this bucket hat but, if you're after even more brilliant Callaway gear, then check out some of our other guides on Callaway equipment.
How we test golf hats
When it comes to testing golf hats our comprehensive methodology (opens in new tab) revolves around, as you would expect, playing a lot of golf. We feel putting golf products to the test on the golf course, on the range and in practice is the best way to find out how usable and well-designed some hats are.
On that note, we feel it is particularly important to use all golf hats in different conditions, whether that be rain, wind, hot or cold, to give a clear idea on the protection on offer. We also looked to use the hats off the course as well to see how versatile they were. Importantly, every member of the Golf Monthly team is a regular golfer so we put hats to the test over a number of rounds. The final point we should mention is no manufacturer can buy a good review. This is because our testing team tells it how it is and we seek to be as insightful and honest as possible.
How to choose a golf hat
There are many things to consider when purchasing your next golf hat. From comfort to type, we've put together a list of considerations you should keep in mind when purchasing your next golf hat.
1. Type
First things first, what type of hat are you after? Do you want a regular golf cap? Or maybe you need a beanie when it is cold, or a bucket hat so you can prepare yourself for bad weather. Knowing what you want to use the hat for will help you narrow down your search straight away.
2. Comfort
One factor that is applicable across all golf hats, and golf apparel is comfort. If something is uncomfortable on your head you are going to take it off, or it is going to distract you from your round. As such, we would always recommend trying models before you buy so that you have some idea on what is comfortable for you.
3. Protection
All golf hats are there to protect us from something. If it's caps then it is sun protection, beanies the cold, and bucket hats the rain. Therefore you need to know what gaps you have in your current golf gear and plug them with whichever hats you don't have.
4. Color
This section kind of excludes bucket hats as they tend to be in black or grey, but beanies, caps and other golf hats these days come in lots of different colors and styles. As such, have a think about what you want your hat to look like out on the course and we would also recommend having a think about whether you want to use the hat off the golf course too, so you can pick a more versatile color or design, rather than one specifically for the golf course.
5. Budget
Finally, we would be remissed if we didn't mention budget. Whatever design or type of hat you are after, there are models at different price points so it is a case of working out how much you are willing to spend on a golf hat, and then picking accordingly.
For more information on some of the best weatherproof apparel to go with your new hat, take a look at our guides on the best golf jackets (opens in new tab), best golf sunglasses (opens in new tab), and best golf umbrellas (opens in new tab).
FAQ's
What hats do golfers wear?
Golfers tend to wear caps, beanies or bucket hats whilst out on the golf course. All three designs do something a little different and protect us from the sun, cold and rain respectively. Tour players tend to wear caps mainly, but when they play events in the cold, beanies are used on occasion.
Why do all professional golfers wear hats?
Pro golfers are rarely seen not wearing a hat mostly because of sponsorship deals. They are paid a lot of money to be seen wearing hats that have logos and brand names on them and are rarely allowed to be seen without them in order to abide by their brand deals. They also wear hats because they predominantly play in hot, sunny conditions and need to keep the sun out of their eyes.
Can you play golf in a bucket hat?
Yes, you can play golf in a bucket hat. Although some might think they are too large to play in, bucket hats can be extremely useful in wet weather. While their large surface area means they can blow off, bucket hats are great for golfers looking to stay dry but not have to carry around an umbrella all day.
A golfer for most of his life, Sam is a Senior Staff Writer for Golf Monthly.
Working with golf gear and equipment over the last five years, Sam has quickly built outstanding knowledge and expertise on golf products ranging from drivers, to balls, to shoes.
He also loves to test golf apparel especially if it a piece that can be used just about anywhere!
As a result he has always been the one family and friends come to for buying advice and tips.

He is a graduate of Swansea University where he studied History and American Studies, and he has been a part of the Golf Monthly team since December 2017. He also previously worked for World Soccer and Rugby World magazines.
Sam now spends most of his time testing and looking after golf gear content for the website. He also oversees all Tour player content as well.
Unfortunately, Sam is not a member of any club at the moment but regularly gets out on the golf course to keep up the facade of having a handicap of five.