Best Golf Bucket Hats 2023
Need headwear to deal with the sun or rain? A bucket hat could be the way to go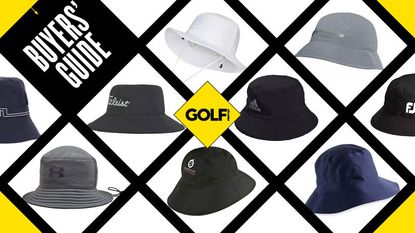 (Image credit: Golf Monthly)
Best Golf Bucket Hats
Getting the right hat doesn't sound like that much of an issue, does it? Well, we would argue it is a pretty big issue when Mother Nature is throwing the elements at you.
Ultimately, it's wise to be prepared as a golfer and ready to adapt to any weather condition and that's why it is important to think about what kind of headwear you take with you on your round.
It's never a nice feeling when rain is coming down and drenches through your baseball cap, which might also allow water to run down the back of your neck, but that's where the bucket hat comes in.
A good bucket hat will help you deal with the rain and it can also be used to shield you from the sun if needed too. Not only that, but it should also be functional off the golf course and have some degree of style, because nobody wants to look silly on or off the golf course right?
So, bearing in mind the huge selection of choice on the market, we have set out a list of the best golf hats with bucket designs. Additionally, if you want to narrow your focus a bit more, then why not check out our best golf caps, best golf beanies and best golf snoods.
Best Golf Bucket Hats
Why you can trust Golf Monthly Our expert reviewers spend hours testing and comparing products and services so you can choose the best for you. Find out more about how we test.
Adidas Rain.Rdy Bucket Hat
Sizes: XS-2XL
Colors: 5 (Black, Green, White, Navy, Bliss Lilac)
+ Great for sunny days and wet days
+ Small and minimalist design
- No inner sweat band
Made from Primegreen, a series of high-performance recycled materials, this bucket hat is part of the Rain.Rdy range from adidas, which seeks to keep you performing when the weather is bad. Available in several colors, the hat not only helps in bad weather, but it has been designed with an all-around brim which provides both shade and sun protection to your face while keeping your head cool. Why not also complete the look and grab a pair of adidas golf trainers and a premium adidas golf shirt to go with them.
TaylorMade Storm Bucket Hat
Sizes: One Size Fits Most
Colors: 2 (Grey, Black)
+ Stretch design fits nicely around most head sizes
+ Water-resistant
- Only comes in two colors
Bucket hats don't come much better than this excellent offering from TaylorMade which, notably, can be worn in both the rain and sunshine. Yes, this hat is water-resistant and while it isn't completely waterproof, it'll keep your head pretty dry when the elements get tough. Meanwhile, on a sunny day, this is perhaps one of the best caps to wear to protect you from the glare of the sun. What's more, its visor is the perfect length to keep your eyes sheltered from the sun's glare and also shade the back of your neck. It also comes with a dark underbill that helps reduce glare even further.
Titleist StaDry Performance Bucket Hat
Sizes: One Size Fits Most
Colors: 1 (Black)
+ Wide brim
+ Water-resistant and lightweight construction
- May be too large for some golfers and their swings
With the iconic Titleist logo stitched onto the front of this hat, you'll look the part wherever you go on the golf course. Its design is simple but effective, thanks to the high-performing waterproof construction of this hat's material. Its seams are fully sealed to not let one drop of water through and has a great protective rim that will push rain off and away from your body. That all combined means that this is a really well-designed hat that can keep both the rain and sun off you while you're on the course.

Galvin Green Aqua Bucket Hat
Sizes: One Size Fits Most
Colors: 2 (Black, Navy)
+ Handy chin strap
+ Fully seam sealed
- Only comes in two colors
Galvin Green's Aqua bucket hat is fully seam sealed like most other bucket hats but, what differentiates it further, is the extra wide brim at the back, the storm strap and the elasticated sweatband. That all combines to give players maximum protection and comfort when they need it most in terrible weather. However, it's the wider brim at the back that is perhaps the best addition, as it keeps the rain from running down the back of your neck. It works so well for a variety of head sizes, that we also included the Aqua in our guide on the best women's golf hats too.
Under Armour Iso-Chill ArmourVent Bucket Hat
Sizes: M/L, L/XL
Colors: 1 (Grey)
+ Takes up very little room in your golf bag
+ Made from a breathable material that is stretchy
- Not the best hat for wet conditions
First things first, this bucket hat is made with ArmourVent technology which delivers breathability in a light, stretchy, durable, and fast-drying fabric. It also has a nifty little sweatband and lining, which helps disperse body heat and the material itself wicks sweat away so this is the perfect model to use on hot days. While it isn't one of the best hats on the list for wet weather golf, it will certainly do a great job of keeping you cool in warmer conditions. Under Armour also make some of the best base layers on the market, so they know a thing or two when conditions turn sour.
Sizes: One size
Colors: 1 (White)
+ UV protection
+ Breathable and moisture wicking sweatband provide comfort
- Only comes in one color
Callaway are well known in the golf industry for producing high quality golf materials and this garment lives true to that reputation. It is the perfect bucket hat for hot conditions, as it is designed primarily for shading golfers from the sun. Featuring a 50+ UV protective material and breathable mesh head, it also features quality craftsmanship, which we loved. Callaway have clearly put time into designing this bucket hat but, if you're after even more brilliant Callaway gear, then check out some of our other guides on Callaway equipment.
J Lindeberg Parker Bucket Hat
Sizes: One size fits most
Colors: 1 (Green/white)
+ Very cool design featuring JL logo
+ Keeps both your face and neck sheltered from sun
- Only comes in one colorway
J Lindberg are back once again with another excellent cap offering, but this time in the form of a bucket hat. The Parker Bucket Hat is a cool and stylish cap that will keep you well sheltered from the sun and, while bucket hats are not the most traditional piece of golf clothing, this one manages to maintain a trendy golfing style that will help you stand out on the course.
Sizes: One Size Fits Most
Colors: 1 (Black)
+ Excellent quality
+ Fully waterproof
- Not the widest brim on this list
The bucket design gives you maximum protection with DryJoys performance. Fully waterproof and well fitting, this is a must have in the bag in case you get caught in a rain shower. In fact, FootJoy are one of the best brands in golf when it comes to waterproof protection and, as such, the several pieces of FootJoy apparel feature in our guide on the best waterproof golf trousers.
Sunderland Wide Brim Waterproof Golf Hat
Sizes: S/M and L/XL
Colors: 1 (Black)
+ Wide brim provides excellent shelter
+ Fully waterproof
- May be a little heavier than some of the other hats on this list
A practical piece of headwear to pull out of the bag when the weather turns bad, Sunderland has given this hat the full waterproof treatment, including heat sealed taped seams and an extra-deep front and long back brim design to prevent rain from reaching your face or inside your collar. It also has an elasticated headband with a micro-mesh lining for added comfort.
Original Penguin Reversible Bucket Golf Hat
Sizes: S/M, L/XL
Colors: 1 (Castlerock)
+ Trendy design, with a cool penguin logo
+ Reversible
- Not the most weather proof hat on this list
Original Penguin are renowned for some outside the box styling, but the brand has kept things simple with this reversible bucket hat. Whichever way you choose to wear it, it looks good and two hats for the price of one is never to be scoffed at! It also adds protection from the sun, especially the neck and ear areas, which are particularly susceptible to burning. What's more, Pete the Penguin is embroidered on the front section too.
How we test bucket hats
When it comes to golf apparel, we take the testing process very seriously. Whether we are sent a product or buy it ourselves, we put everything through its paces to ensure we can provide thorough and reliable advice on each product. Our writer Sam Tremlett heads up the apparel sections of our website while every member of the Golf Monthly team is an avid golfer and as such, knows what does and doesn't make for a good piece of golf equipment.
As far as our methodology goes, we review all bucket hats properly, which means we have used each one across multiple rounds and in practice to assess every aspect of its performance. For example, if a bucket hat claims to be the best waterproof bucket hat, we will put that claim to the test to see whether the bucket hat does keep you dry in wet conditions. Specifically for bucket hats, we test each one to assess how its design features can benefit you on the course. We put each hat to the test in both sunny and in rainy conditions to assess how they perform in both climates. This comprehensive testing style is not just exclusive to bucket hats as we test with the same level of thoroughness across all gear categories.
What to consider when buying a bucket hat
While you may think that buying a bucket hat is a pretty simple purchase, there are actually many things you need to consider to ensure you get the best value for money out of your golf bucket hat. For that reason we've set out a list below of the top things we think you need to consider when purchasing your next golf bucket hat.
1. Coverage
How big do you want your bucket hat to be? Some models above, like the Galvin Green Aqua, or Sunderland Wide Brim will cover your head and neck well whereas others have less coverage, like the J. Lindeberg Hans model. The more coverage, the better protected you're going to be from the elements. But likewise, some bucket hats that have fairly large rims can sometimes get in the way of your swing.
2. Material
What is the hat made out of? If you want your bucket hat to deal with the rain then we would recommend models that are constructed with fabrics that bead water away nicely. A great example of this are the two adidas models we have included above. Or maybe you want a hat made with a stretchy fabric instead? Or one that feels light on your head? The material of your bucket hat is definitely a factor to consider before you purchase it.
3. Color
The bucket hat world seems to be filled with blacks, greys and navy's, but there are also models which stand out a little bit more so have a think about what color you want your bucket hat to be and how you want to stand out on the course.
4. Versatility
Will you be using the hat away from the golf course? There are several models above that have several understated designs that do not compromise performance. They can each be used just about anywhere when the weather takes a turn or when the temperature picks up.
5. Budget
With most golf gear there are models available at different price points and we have included several different kinds above that come in at different prices. Ultimately, the more technology that is included in each hat, the more costly they will be, so for that reason think clearly about your budget before buying your next golf bucket hat.
FAQ's
Can you wear a bucket hat to golf?
Yes you can wear a bucket hat for golf. What makes them so useful and appealing is you can wear a bucket hat in pretty much any weather. If the sun is out and the temperature is hot, then a bucket hat keeps your face and head in the shade and cooler. Additionally there are models designed from waterproof fabrics as well and they bead water away from your head so some models are perfect for bad weather as well.
Who wears a bucket hat on PGA Tour?
The most high-profile player who wears a bucket hat on the PGA Tour is Joel Dahmen, a one-time winner on the Tour. Some other players who have occasionally worn a bucket hat are Rory Sabbatini, Charl Schwartzel and Peter Malnati.
Do bucket hats keep sun off?
Yes, bucket hats keep the sun off thanks to the wide brim which helps protect the neck, face and rest of the head. A bucket hat will protect areas of your head from exposure to the sun such as your nose and the sides of your face that just do not get covered by a cap.
A golfer for most of his life, Sam is a Senior Staff Writer for Golf Monthly.
Working with golf gear and equipment over the last five years, Sam has quickly built outstanding knowledge and expertise on golf products ranging from drivers, to balls, to shoes.
He also loves to test golf apparel especially if it a piece that can be used just about anywhere!
As a result he has always been the one family and friends come to for buying advice and tips.

He is a graduate of Swansea University where he studied History and American Studies, and he has been a part of the Golf Monthly team since December 2017. He also previously worked for World Soccer and Rugby World magazines.
Sam now spends most of his time testing and looking after golf gear content for the website. He also oversees all Tour player content as well.
Unfortunately, Sam is not a member of any club at the moment but regularly gets out on the golf course to keep up the facade of having a handicap of five.