What Is TGL? Tiger Woods And Rory McIlroy's New Star-Studded Golf League
The "tech-infused" TGL launches in 2024 where six teams of three PGA Tour pros will take part in a 15-event series of Monday night matches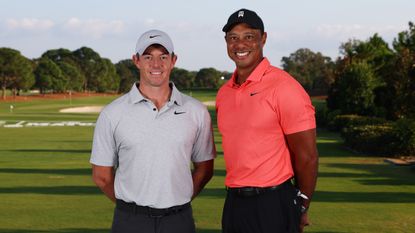 (Image credit: Getty Images)
The TGL is set to be a big fixture of many fans' golf consumption in 2024.
The league was conceptualised by Tiger Woods and Rory McIlroy and their company TMRW Sports as a way to not only launch golf into the future but also as a way of persuading the top tour names to stick with the PGA Tour.
When TGL was first launched, Woods and McIlroy both spoke of taking the game into the future for the next generation of PGA Tour pros. The state of the art arena built specifically for the league will not only host some of the world's greatest players but it is planned to give fans a fun and interactive insight into how the best play the game.
The TGL will be a unique experience for fans who attend the show live but also for those who watch from the comfort of their couch. Tour commissioner Jay Monahan spoke of attracting a broader audience to the sport and its players as well, and he believes this will be the step that helps achieve that.
Over the last six months, the PGA Tour has had to increase its efforts in order to keep a grasp on its best players amid the LIV Golf fight, and the TGL is proving to be doing just that.
What is the TGL?
The TGL is a tech-rich golf league that aims to reach more people and get them engaged with the game of golf. This will be achieved by the use of state of the art technology "a first of its kind" and allowing the audience to get a close view of the virtual course and short game area.
The TGL is in partnership with the PGA Tour and it will feature 18 players made up of six teams of three PGA tour players who will compete over 18 holes on a "data-rich, virtual course complete with a tech-infused, short-game complex".
The format will consist of a 15-match regular season, followed by playoffs and then a championship match.
When does the TGL start?
The TGL season will get started in January 2024. There will be 15 regular season matches followed by semi-finals and finals.
The show will be broadcast throughout the year on Monday nights in front of a live audience. When asked why Monday evenings, Rory McIlroy said that it fits better with the players' schedule "as Tuesdays and Wednesdays are usually reserved for practice days before tournaments."
Each match is said to last two hours.
Which players are in the TGL?
Founders Tiger Woods and Rory McIlroy have had their places firmly cemented since 2022, and the line-up looks incredibly strong so far.
Here is a list of the players that have signed on to play as things stand:
Tiger Woods
Rory McIlroy
Justin Thomas
John Rahm
Collin Morikawa
Adam Scott
Matt Fitzpatrick
Max Homa
Billy Horschel
Justin Rose
Xander Schauffele
What does TGL stand for?
There's no official confirmation on this and it is known as TGL in all communications. We'd simply assume it stands for 'TMRW Golf League'.
What is TMRW Sports?
TMRW (prounounced as 'Tomorrow') Sports is a business founded in 2022 by 18-time Major winner Tiger Woods, four-time Major winner Rory McIlroy and Mike McCarley, who was an NBC Sports executive for over 20 years.
TMRW Sports is "focused on building technology-focused ventures that feature progressive approaches to sports, media, and entertainment."
Monty is an upcoming golf journalist having completed his Multimedia Journalism degree at Bournemouth University; where he was also apart of the University's well renowned golf team. He has had a passion for golf ever since he picked up a club at 12 years old and this love for the sport only grew stronger over time as his game developed and he pursued golf through different avenues. His game took him over to the United States on a golf scholarship and has had him travelling the UK to take part in competitions like the Nick Faldo series and general club scratch matches. Monty worked on 'The Open' radio team when it was hosted at Royal St George's getting to walk inside the ropes with some of the top players like Justin Thomas, Rory McIlroy and of course that year's winner - Collin Morikawa. Monty has been lucky enough to have three holes-in-one in his short golfing career and he looks to continue growing that number. Monty believes the ability to continue playing golf well lies in his dedication to keeping fit through his other passion, which is CrossFit.
What's in the bag:
Driver: Srixon Z 765
3 wood: Taylormade AreoBurner
2 iron: Srixon Z U65
Irons: Srixon Z765
Wedges: Titleist Vokey SM6 (50°,54°,58°)
Putter: Odyssey White Hot Nano 7