54 Common Golf Questions You Asked Google… Answered
We answered 54 commonly-asked questions from Google's auto-correct system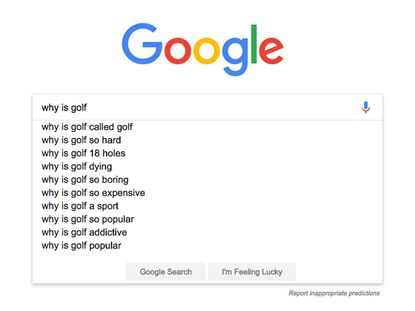 Here we take a look at some of the most common golf questions asked on Google using their auto-correct system
54 Common Golf Questions You Asked Google... Answered
Google's auto-correct feature lets us see into the mind of golfers who take to the search engine to find an answer for their questions.
Why is golf...
Why is golf called golf - It is widely thought that the word 'golf' came from the word 'club'
Why is golf so hard - "Golf is deceptively simple, but endlessly complicated," said Arnold Palmer. It's a tough game but you can play it for decades so there is always plenty of time to improve.
Why is golf 18 holes - The first ever 18 hole golf course was played at St Andrews in 1857 (opens in new tab), which involved turning four short holes into two and all greens featuring two holes, one to use on the way out and one to use on the way back.
Why is golf dying - Golf clubs in the UK are struggling with some even closing, although a majority of them are actually booming. Like all sports, it goes through its peaks and troughs, but overall the game is in good shape.
Why is golf so boring - The person who called golf boring either didn't play it or wasn't very good and gave up straight away.
Why is golf so expensive - Golf courses are on vast amounts of land and require huge man-power to maintain. Technology in clubs is genuinely groundbreaking and you need 14 of them, plus golf balls, clothing and shoes. It is expensive, but not much more expensive than other sports.
Why is golf a sport - Because it is competitive, uses physical and mental skill and involves exercise.
Why is golf so popular - Back to that Arnold Palmer quote..."it is without doubt the greatest game mankind has invented."
Why is golf addictive - Because you can never master it. Every round or driving range session makes you want to come back and improve. Plus, you get to meet and socialise with friends, exercise, etc.
What golf...
What golf ball should I use - There are many different types of golf ball, from ionomer to urethane covered ones to distance or control ones. For more details visit here.
What golf clubs should I buy - Just like the above answer, different clubs suit different players. Visit our Reviews page for more.
What golf is on this weekend - Visit our Tour News page to find out.
What golf irons should I buy - Browse our Iron Reviews page for more details.
What golf shaft do I need - Shafts come in different weights and flexes - this well help.
What golf driver should I buy - Again, it is personal preference. Here is a look at the best drivers on the market.
What do golfers...
What do golfers wear - Golf has always had a strict dress code but that has been relaxed in recent times, with more trainer-like shoes becoming common place and some Nike staffers no longer wearing collars. Best check up with the course you intend to play on their dress code because some still do have strict ones, although other courses may let you play wearing whatever you like.
What do golfers eat - Golfers are humans, so we eat all foods just like everyone else. There are some foods that are good for golf, like energy bars, fruit etc. Related - What should I eat before playing golf?
What do golfers earn - The top golfers at the moment can earn over $40m per year just from endorsements alone, however those outside of the world's top 200 or so will be nowhere near as well off with missed cuts and travel/hotel/food expenses. Related - See where golfers rank in Forbes' rich list.
What do golfers drink - Golfers love a drink - lager, bitter, cider, wine, spirits - you name it, we drink it!
What do golfers get for a hole in one - If you're lucky enough to get a hole-in-one in a professional tournament then you may win a prize like a car, but in amateur golf your reward is a hefty bar bill. Yep, you must buy everyone in the clubhouse a drink!
What do golfers want - All we want is health and wealth for our family and friends. Oh, and to get our handicap down, to win competitions, drive it longer and stop bloody three putting!
What do golfers put on the green - We put our golf balls on the green in as few shots as possible and then place a ball marker down, that really is about it.
What do golfers shout fore for - Read our post on why golfers shout fore.
What do golfers write in their notebooks - Thinks like yardages to the front, middle and back of the greens, ideas like what clubs to use off the tee and reminders so we can (hopefully) play the specific hole we're making notes on better next time.
What do golfers use to mark the ball - Anything. A coin usually but some golfers also mark their ball with a tee or a pitch fork. Usually we keep special coins or foreign currency to mark our golf balls with.
Expand How Far Do Average Golfers Actually Hit It?
How Far Do Average Golfers Actually Hit It?
These statistics show that average golfers probably aren't…
Expand How Many Calories Does A Round Of Golf Burn?
How Many Calories Does A Round Of Golf Burn?
A round of golf is reckoned to equate…
Expand 10 Mistakes Amateur Golfers Make
10 Mistakes Amateur Golfers Make
Some of the most obvious errors that we…
Expand 14 Reasons They're Lucky To Date A Golfer
14 Reasons They're Lucky To Date A Golfer
Golfers have numerous characteristics that translate well into…
Where golf...
Where golfers putt crossword - Coming here for help on your crossword? We've got the answer. Try 'putting green', 'putting surface', 'green', 'dance floor'. If none of those are correct I can only apologise.
Where golf is played - Our great sport is played in all corners of the globe. It is played on roughly 34,000 courses worldwide as well as at driving ranges, on privately owned land and in living rooms - we all like a practice putt out of hours.
Where golf started - Golf started in Scotland. That's why it is called the Home of Golf.
Where golf balls are made - Golf balls are made in factories. Titleist, which is the number one ball in golf, makes theirs in New Bedford, Massachusetts. An estimated 300,000 golf balls are made there each day.
Where golfers live - A lot of the world's best golfers currently live in Florida, due to its climate, range of private, quality golf clubs and its ease to fly to and from to PGA Tour events. As for the rest of us, we live everywhere.
Where golf clubs go in bag - Most golfers have a system to their bag. Usually that involves driver and fairway woods at the top and then the irons in order - 4, 5, 6, 7 etc. - with the wedges at the bottom. Does the putter live at the bottom with the wedges or at the top with the woods? Dilemma.
Who golf...
Who golf number 1 - Dustin Johnson is currently #1, although the owner of the position has been known to change a bit in recent years since Tiger Woods stopped dominating the game. Check the world rankings here (opens in new tab).
Who golfed on the moon - Apollo 14 astronaut Alan Shepard apparently is the only man to play golf on the moon. He reportedly hit the ball miles (literally) so is, technically, the longest hitter of all time.
Who golfing in the masters - The Masters field is made up of the top 50 players in the world as well as the previous year's US Amateur (+ runner-up), Amateur, US Mid-Am, Asia-Pacific Am and Latin America Amateur champions. There are many other ways to qualify, including being a past champion which gets you back every single year.
Who golfs more - That is a difficult question. This answer is probably not correct but the honour could belong to this man - in 1988 Seattle's David Mikkelson took the award for not only playing 56 rounds in one month but also averaging 449 rounds of golf per year over a six-year period too. Click here for the full story.
Who golfed in the masters 2018 - This year's Masters field was the smallest in a long time, with just 87 players competing. For the full list visit here (opens in new tab).
Who golfs more obama trump - Donald Trump. Obama played 306 times in his eight-year spell as POTUS, whilst Trump is predicted to play 624 times according to trumpgolfcount.com (opens in new tab).
Who golfed more as president - Woodrow Wilson was estimated to have played around 1,200 rounds during 1913-1921.
How golfers...
How golfers get paid - Golfers get paid from tournaments which generate money through things like sponsorship, TV money and gate receipts. Players then have to pay their overheads like travel and accomodation, caddies, management, coaches etc. Golfers also get paid from their own sponsors.
How golfers vary for example crossword - Is the answer handicap?
How golfers are ranked - Male golfers are ranked via the Official World Golf Ranking (opens in new tab) which gives out points for golfers to earn during tournaments. Their points-earned then goes into an average over time which decides their ranking. This is similar in the women's game with the Rolex Rankings (opens in new tab).
How golfers train - Golfers train by doing work in the gym - see Rory McIlroy's gym routine - and by practising playing golf, whether that be on the putting green, short game area, driving range or course.
How many golfers play in the masters - The number is usually less than 100. This year's total of 87 competitors was the smallest since 1997.
How many golfers make the cut - The cut line on the PGA Tour is the top 70 players and ties after two rounds, they then get to play the weekend and earn some money, whilst those below them go home empty handed after just two rounds.
How many golfers break 100 - Realistically not that many. You might think that, say your handicap is 25, you're not very good but in actual fact a lot of golfers never break 100. 55% of golfers said they break 100 on average in a National Golf Foundation poll in 2013. Just 2% broke 80 on average.
Which golfer...
Which golfer is in form - That depends. Check out the world rankings, European Tour Race to Dubai and PGA Tour FedEx Cup Standings for a better idea. Looking to have a bet on the golf? The Golf Monthly Tipster is usually accurate (he just picked Brooks Koepka to win the US Open for his sixth winner of the year).
Which golfers smoke - Loads of golfers smoke, just not many of the top ones. Some of the highest profile golfers that smoke are John Daly, Darren Clarke and Kiradech Aphibarnrat. Plenty of others do, but they don't get much TV time.
Which golfers use the interlocking grip - The likes of Tiger Woods and Ben Hogan used the interlocking grip.
Which golfer dislocated his ankle - That was Tony Finau at The Masters - read our story on it here.
Which golfer died in a plane crash - That, tragically, was three-time major winner Payne Stewart.
Which golfers play well at Augusta - Jack Nicklaus has won The Masters the most times - six. Tiger Woods has won it four times whilst Gary Player, Phil Mickelson, Arnold Palmer and Jimmy Demerat won it three times. Rory McIlroy is currently one of the form players at The Masters with five top-10s in a row. Jordan Spieth has a win, two runner-ups and a third place finish in five years.
Which golfers use Mizuno clubs - Luke Donald has used Mizuno clubs for a long time and the recent US Open winner Brooks Koepka uses Mizuno irons. As do Paul Casey and Ross Fisher.
Which golfers hits the farthest - The current leader in driving distance on the PGA Tour is Trey Mullinax who has averaged 318 yards this year. Many consider Dustin Johnson to be professional golf's biggest hitter.
Which golfer is the best putter - Currently we have an awful lot of great putters in the game, with Jordan Spieth and Jason Day probably considered the two best - although Spieth has been having a bad year so far on the greens. Day currently leads the PGA Tour's Strokes Gained: Putting statistics.
Other questions you may need answering...
Where does the word 'birdie' come from?
Where does the word 'bogey' come from?
Where should bunker rakes be placed?
How far do you walk in a round of golf?
How many calories does a round of golf burn?
Why do golfers only wear one glove?
Make sure you follow Golf Monthly on Facebook, Twitter and Instagram