Might As Well Face It You're Addicted to Golf
Think you're addicted to golf? You might want to think again...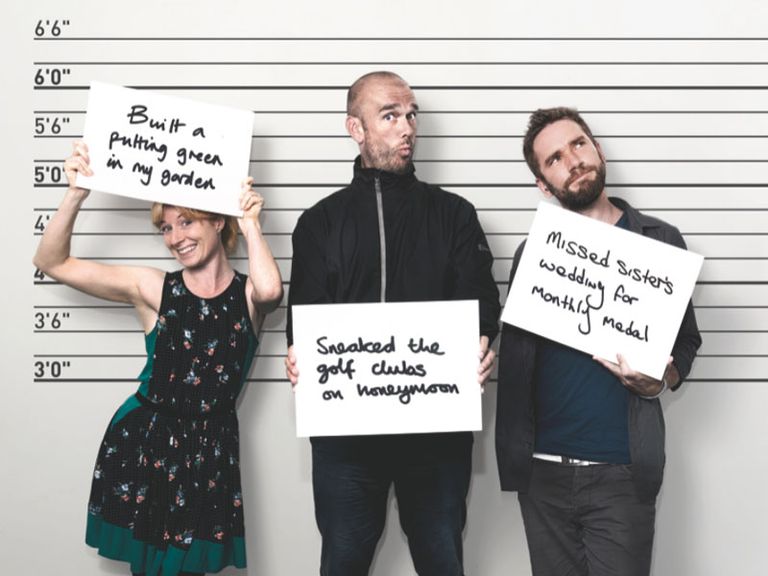 Think you're addicted to golf? You might want to think again...
Might As Well Face It You're Addicted to Golf
In the United States, there is a 4,000-strong organisation, the 'Golf Nuts Society of America' that is dedicated to honouring those fearless golfers whose love of golf really does know no bounds. It is the kind of club populated not just by those who are genuinely committed to the game but also by those who probably should be committed as well and each year, the Society bestows their prestigious 'Golf Nut of the Year' award on the one member whose tireless pursuit of golfing greatness has gone above and beyond anything else.
Certainly, a cursory trawl through some of the previous winners of the title will put into perspective any concerns your friends and family may have about your fondness for playing the game. In 1988, for example, Seattle's David Mikkelson took the award for not only playing 56 rounds in one month but also averaging 449 rounds of golf per year over a six-year period too. Merle Ball of Florida, meanwhile, won for playing in all 50 states in America in 1988 right-handed, before doing it all left-handed in 1989 in just 51 days. And then there was Dr. Brad Barstow who not only paid $36,000 to have a state-of-the-art golf simulator installed in his Michigan home but then also placed an advert in the local press for a live-in golf professional to work – and live – with him at his house. Having interviewed 12 candidates, Barstow eventually hired his own pro but even after hundreds of hours of one-on-one tuition his handicap remained unmoved at 14.
More recently, Bob Fagan took the title for a variety of quite remarkable achievements, including playing six different 18-hole courses in 114-degree heat in Palm Springs in a single day and achieving the 'Golf Nut Slam' by playing on Easter, Mother's Day, Thanksgiving, Christmas Day, Spouse's Birthday, plus Wedding Anniversary in a single calendar year. Moreover, in 2000 and 2001, his total expenditure on caddies, carts, clubs and green fees actually exceeded his total household income. Now that, quite clearly, is dedication.
Of course, such stories, while undeniably amusing, show precisely how an interest in golf can turn into something altogether more time-consuming and even, perhaps, dangerous. Yes, these incidences are much more than simply some peculiar predilection for putting along the carpet into a (probably golf-themed) mug lying on its side down the other end of the landing or finding yourself air swinging at the most inopportune of moments. This is when the game of golf becomes the be all and end all of your very existence and when you'll do anything and everything in order to squeeze a round in.
Related: How to practice golf indoors
Of course, an addiction to golf, like, say, an addiction to sex, is one of those conditions that often invites ridicule and hilarity. After all, how can something so apparently innocuous ever be a bona fide addiction as such? Well, according to the psychologist and author of Golf's Mental Hazards, Dr Alan Shapiro, it's not so much the game itself and the time and effort that one needs to put into playing it, but, crucially, how you react to the round afterwards that's often a key indicator of just how much the game is taking hold of you. It is not uncommon for families to be ignored and for bad rounds to be followed by not just hours, but days of angry, agitated depressive moods on the part of the frustrated and disappointed golfer, he explains.
Over the course of his career, Alan Shapiro's interest in the game has seen him encounter almost every kind of golf addict imaginable. He has worked with several clients whose 'golf widows' have called time on their relationship and upped and left and whose children, having also taken a back seat to The Big Dog, came to loathe both their golfing parent and, indeed, the game of golf itself. He has, moreover, encountered those players whose golfing obsession has also been compounded by a new reliance on alcohol or drugs that has only been prompted by the frustrations the suffer from not being able to play the way they really want to on the golf course. It's a vicious circle.
Related: How to curb your anger on the golf course
Indeed, an adverse reaction to a bad round can often hint at issues in a player's personal or professional life that the game of golf invariably helps to bring out. The key, then, is how you gain, or regain, some perspective on what's happened on the course. It is, after all, only a game. Treatment for such an extreme, addictive approach to golf, is only possible when the golfer develops some level of insight into his plight, and when he comes to realise that the proportion of good versus bad feelings around the game are not working in his favour, adds Shapiro. At that point, he might consider counselling, not so much to examine his golf game, but rather to explore the core issues of low self-esteem and general life dissatisfaction, that are at the heart of the matter.
The trouble is that like any hobby, pursuit or pastime that brings pleasure or enjoyment, golf does possess the inherent potential to develop into something altogether more addictive. Even for the mid to high handicapper, there's always the latent, lurking prospect of that spectacular shot to keep them keen. We've all been there. It's those one or two shots a round where everything comes together and where you not only execute precisely the shot you had envisaged but where you also get the result you had planned for too. You know the ones.
Yes, golf's tendency to offer only occasional, sporadic rewards actually makes it not dissimilar to gambling in that the promise of hitting the jackpot or, in this case, hitting that world class, show-stopping shot that you'll talk about long after the 19th hole, is what keeps golfers coming back for more, time and time again. As addictions go, however, golf is, superficially at least, a comparatively harmless one, providing physical and mental stimulation, not to mention the many myriad benefits of spending quality time with friends and family, away from the daily grind. And unlike drugs or alcohol, it won't cause you any real physical harm unless, perhaps, you wrap your 3-wood around a tree trunk or snap your putter over your knee.
Indeed, golf is often the sport that many other addicts turn to in a bid to help them overcome an over-reliance on other substances as it offers a ready-made alternative capable of filling that hole, as well as a way of making someone feel better about themselves, albeit temporarily. Given the power of the random, mood-altering impact of golf, it's not surprising that alcoholics and drug addicts have found compensatory needs satisfied by the highs and lows of golf, says Shapiro. In fact, some research suggests that an intermittent reward schedule yields a higher level of dopamine [the neurotransmitter released when we experience pleasure or enjoyment – production] than other more predictable reward schedules. This would add to the evidence for golf helping with the withdrawal from other addictions.
It's why the likes of the veteran rocker Alice Cooper finally turned his back on a crippling drinking habit and took up the game in 1982. Then, he found himself faced with the prospect of trying to find something that would fill the time so he could try and keep his mind off the booze and as golf took five hours to play, it seemed to be the ideal pastime. It was only when he creamed his first ever golf shot, a 7-iron, that he seemed to have found his true calling. ìI was addicted that moment, the moment I hit that ball down the middle and watched it disappear down the centre of the fairway, he told The Los Angeles Times earlier this year. ìAnd anyone who's played golf will tell you, 'Lord help you if you hit five good shots.' Because you're forever addicted to the game.
Related: The 4 celebrity golfers you'd want as a partner
For Cooper, golf has proved to be a life saver and if you've ever read his book Golf Monster: A Rock 'n' Roller's 12 Steps to Becoming a Golf Addict, you will realise just what part the game has played in his salvation. But he's not the only one. A-listers like Dennis Quaid also used golf to help kick a heavy cocaine habit while his fellow actor Samuel L. Jackson, a man who has struggled with issues with drink and drugs, is also now more concerned with getting down to scratch than he is with living the Hollywood high life. "Golf came into my life at a time when I needed some focus," explains Jackson, who took up the game at the age of 50. "It gave me a place where I could let my thoughts go and hang out. Believe me, I needed that.
For some people with addictive personalities, though, golf may well be the last thing they need to help them through. The Irish writer Declan Lynch, for example, tells the story of the manager of a well-known Irish rock band who was more petrified that his charges might get into golf rather than go down the tried and trusted rock 'n' roll route of consuming vast amounts of Class A drugs, the rationale being that if they're on smack, you can at least kick them into a taxi and throw them onto a plane, but if they're out golfing you can't even find the bastards.