14 Reasons They're Lucky To Date A Golfer
Golfers have numerous characteristics that translate well into relationships, such as...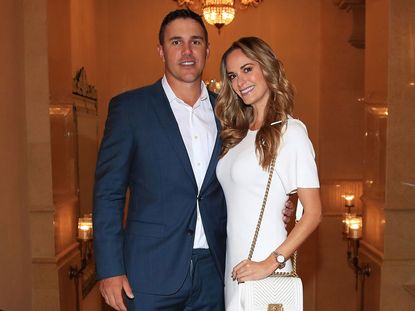 (Image credit: Getty Images)
Golfers who take their game seriously have numerous characteristics that translate well into relationships. Here are a few of our favourite reasons why they are lucky to date a golfer
14 Reasons They're Lucky To Date A Golfer
You've checked the forecast, you've planned your outfit and you've even visualised splitting the 1st fairway, and then you hear that terrible question… "Didn't you play last weekend?"
We've all probably heard those dreaded words at some point, and answering never gets any easier.
Thankfully we're here to help with a list of ammunition you can use to remind your better half how lucky they really are to be dating a golfer…
14 Reasons They're Lucky To Date A Golfer:
1 – Golfers learn from their mistakes
If you leave your birdie putt short on the 3rd, we know you're likely to send your next attempt flying past the flag on the 4th. So yes we might forget the odd anniversary or leave the toilet seat up, but we're unlikely to do it again!
2 – Golfers don't dwell on the past
Not only do golfers learn from their mistakes, we also understand the importance of being able to put them behind us and move on to the next hole. That means we're quick to apologise if we're in the wrong, and we're much less likely to sulk if things don't go our way.
3 – Golfers are rarely late
We know being on time is important, after all, if we're late on the tee we'll get a penalty, or even disqualified. That means if we say we'll be somewhere, we'll be there.
4 – Golfers aren't afraid of commitment
'If at first you don't succeed, try and try again' is a mantra that could have been thought up by any golfer. Instant success in golf is rare, near on impossible. So once we're in, we're in for the long haul.
5 – Golfers are honest, old-fashioned gentleman
Would a racing driver radio in to the stewards telling them he jumped a red light, or a footballer own up to a dive? The answer to both is a resounding no. But in golf players often call penalties on themselves, and are applauded for doing so. Throw in handshakes, removing of hats and general politeness and you know with a golfer you're in safe hands.
6 – Golfers aren't quick to judge
Golfers know that people shouldn't be judged on a handicap alone, and so can quickly look past any obvious assessment and discover the whole story. That means golfers have both great people and parenting skills.
7 – Golfers are patient
We all know that patience is great quality to have in any relationship, and thankfully us golfers know how to deal with frustration… and lots of it. On the course and off it, there will be good days and bad days, and we know how to make the most of both.
Continues below
Expand 11 Reasons Why You Should Never Date A Golfer
11 Reasons Why You Should Never Date A Golfer
Golfers have numerous characteristics that translate badly into…
Expand USA Ryder Cup Wives And Girlfriends
USA Ryder Cup Wives And Girlfriends
Get to know each of the wives and…
Expand Europe Ryder Cup Wives And Girlfriends
Europe Ryder Cup Wives And Girlfriends
Get to know the wives and girlfriends of…
8 – Golfers value consistency
Strong relationships and great rounds are both built on the same foundation; consistency. You know it's no good undoing the hard work of a birdie with a double bogey at the next, and it's that same ethos that makes a golfer the type of person you can count on through thick and thin.
9 – Golfers can switch on and off
Being able to control your focus between shots can be a huge advantage on the golf course, and it's the same back at home. Leaving your work troubles at the office and coming home in a positive mindset reduces the risk of any petty arguments and strengthens your relationship.
10 – Golfers are great at assessing risk
There's many ways to golf your ball, and it's all about judging the conditions on the day. Soft greens? Wind off the left? Tricky pin position? Golfers know when to play safe and when they can be aggressive. This analytical mindset is great when it comes to big life decisions like buying a house or raising your children.
11 – Golfers are great talkers
That awkward moment when you bump into her old school friends or get dragged along to his annual work party, and who's there to save the day? Golfers are. Only a small portion of a three to four hour round is spent slicing our tee shots and searching in trees, the rest is peppered with small talk, often with people we've never met, which means we're pretty damn good at talking.
12 – Golfers remember that little things matter
She's got an important meeting at work. It's your anniversary. It's her mum's birthday. Don't worry, we hadn't forgotten. Us golfers know the small things, like a two-footer, matter just as much as big things, like a 300-yard drive.
13 – Golfers like to be tucked up in bed on a Saturday night
While we've all tried to play hungover, we know that to perform our best in the Sunday medal we need to be rested and alert, so, on the whole, we'll opt for a night in with you watching TV, over going out and getting hammered.
14 - Golfers know their strengths and weaknesses
Golf's handicap system encourages self-improvement, so it's no surprise that golfers are more aware of their strengths and weaknesses and how best to use them to further their careers and improve their relationships.
Get the Golf Monthly Newsletter
Tips on how to play better, latest equipment reviews, interviews with the biggest names and more.
Jake O'Reilly specilaises in equipment coverage, and joined the Golf Monthly team in 2013. Before this he graduated from the University of Huddersfield with a Sports Journalism and Media degree, and worked at a number of British golf magazines. Follow Jake on Twitter
@jake0reilly