What is the etymology of the word bogey?
... and what does Colonel Bogey have to do with it?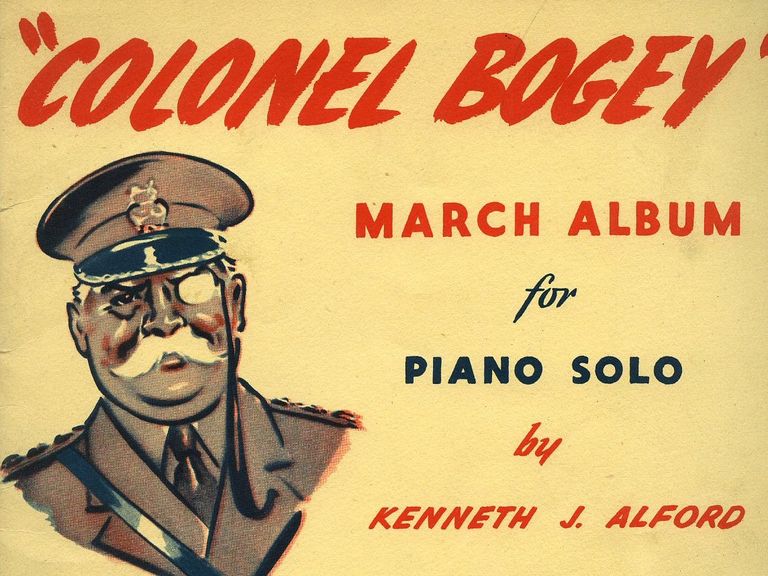 (Image credit: Picasa)
... and what does Colonel Bogey have to do with it?
Originally 'bogey', in its original meaning of a score which the good golfer should aim for on a hole, was known as the 'ground score'.
According to the R&A the concept of this score was devised at Coventry GC. One day the secretary at Great Yarmouth, Dr Browne, and Major Wellman decided to play a match not against one another but against the ground score as an imaginary third man.
A bogie was a Scottish term for a devil and a Bogey man was a monster in undefined form which spread terror and 'would catch you if he can'.
When Major Wellman failed to outplay the ground score, he complained to Dr Brownne "this player of yours is a regular bogey man!"
The description struck and when playing against the ground score golfers started calling it as playing against Mister Bogey. From this the term 'ground score' itself began to be superseded by 'bogey'. Competitions against the ground score were known as bogey competitions.
Colonel Seely-Vidal, Secretary of the United Services Club at Gosport, worked out the bogey score for his course. As all the members of this club had military rank, it was considered inappropriate that the chap they should be playing against was a Mister Bogey, so at this club he was give the rank of Colonel.
Thus the term 'Colonel Bogey' was born.
In January 1892 a report in The Field reported that 'a novelty was introduced in the shape of a bogey tournament for a prize. ... Fourteen couples started but the bogey defeated them all.'
In March of that year The Royal Cornwall Gazette reported the results of the Royal Cornwall Golf Club Ladies vs 'Colonel' Bogey.
Colonel Bogey became wider known when the "The Colonel Bogey March" was written. This tune had golfing origins beyond its name.
There was a golfer who instead of shouting fore, would whistle instead by way of warning. What he whistled was a two-note phrase - a descending major third interval, is what those of a musical bent than I described it as.
This golfer's habit was known to Lieutenant Frederick Joseph Ricketts, director of music for the Royal Marines, and he incorporated this musical phrase into the tune of "The Colonel Bogey March".