Garmin Approach S70 Golf Watch Review
Mike Bailey puts the latest golf GPS watch from Garmin, the Approach S70, to the test on and off the golf course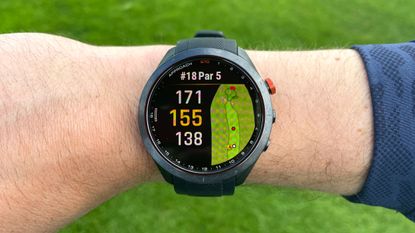 (Image credit: Future)
The new Garmin Approach S70, is the most user-friendly GPS golf watch to date, with a brilliant display and the ability to measure and analyze most anything during the course of a round.
Reasons to buy
+

Packed full of technology and features

+

Can track shots and make suggestions

+

Improved looks and interface

+

Extended battery life
Reasons to avoid
-

Abundance of tech and features could overwhelm some

-

USB-C charging cable might not cater for all
Garmin Approach S70 Golf Watch Review
When it comes to the new Garmin Approach S70 Golf Smartwatch, it's probably easier to talk about what it can't do than what it can. In short, it can't swing the club for you, but it can pretty much do everything else.
Besides getting accurate yardages to greens, bunkers and other features on the course, it is capable of tracking your score, your shot distances and even make club selections. You can easily swipe to see the weather forecast and even integrate that into your round. And if you set it up with a smartphone, it can relay all your notifications so you're kept fully in the loop.
I actually found the last feature both helpful and maybe a little overwhelming. For now though, after having the watch for less than a week, I'm continuing to see every email, iMessage, ESPN news, Linked-In, credit card charges (in real time), calendar events, and all my other notifications right on my wrist. I may edit those in short order, but right now, it fascinates me (the Garmin Approach S70 can be paired with either an iPhone or Android). You can also see who's calling your phone - you can't answer the call from the watch but you can bluetooth music from it.
This also is a tremendous fitness and health watch with a heartbeat monitor, step counter and all sorts of other fitness programs that you can employ to get yourself in better shape for golf. But like the best golf watches, the Garmin Approach S70 ($649.99) is really good at measuring distances on the course and tracking your rounds.
Image 1 of 2
Garmin Approach S70 watch golf screens
The watch comes preloaded with more than 43,000 courses, and simply by pushing one button, you can go from an interchangeable watch face (which can show your last round on the bottom) to full-on golf mode. When you get to the course, it will automatically download the course you're at via satellite and start your round for you. The updated hole maps give plenty of detail in vivid color and can be changed easily. This is one of the major advancements over the Approach S62 and the Approach S42, where the maps looked a little dated. You can see distances to different features like bunkers, trees and water, and you can also drag the pin to reflect its current location for even more accuracy.
You don't have to advance holes, and keeping score and stats can be pretty easy. In fact, it's pretty much automatic, especially if you pair the Approach CT10 club sensors with the watch. Sensors (an extra $300 or so) for all 14 clubs are available. There's also a starter pack for around $80, which is what I did. Garmin advises putting the starter set on a couple of wedges and the putter, the latter of which will help to record putting statistics effortlessly. It was fairly simple and quick to set up.
But let's talk about the watch itself. It comes with several pre-leaded watch faces, from a variety of digital looks to analogue designs, depending on your mood and the setting (when not in golf mode). The new Approach S70 is also offered in two different sizes - a 1.2-inch or 1.4 inch AMOLED display, which is the highest resolution available. I tested the larger face in black, and figured that's probably best for golf because it's, well, larger. But some users might prefer the smaller size for everyday use. And the watch band is comfortable, easy to adjust, and feels just fine on the wrist while swinging.
There are three buttons on the right side - an action button, a menu button, and a back button - which are easy to use and navigate through different functions and screens. It's fairly intuitive, though reading the user manual will open up what seems like endless fun possibilities. You can also customize your golf settings, changing the number sizes and looks. And after a few rounds, the watch can analyze your performances on the golf course, something not many of the best golf GPS devices offer.
Some other features worth mentioning include "PlaysLike Distance," which can provide an analytical estimate of how far a shot will play based on whether it's uphill or downhill, the wind, temperature, or/or barometric pressure. You can also employ a virtual caddie, which can make club recommendations based on those factors as well as your playing history (minimum of five rounds). You can also measure your swing tempo with the goal of finding the perfect ratio of backswing to through swing (3.0). Because different golfers have different speeds, Garmin provides six different timings, and the watch can let you know if your backswing or downswing times are too fast, too slow or just right for the selected timing.
For a monthly fee, there's even more. When connected to an active Garmin Golf membership ($9.99 per month), you can see the greens' contours, how much they slope, downhill and uphill. Testing has shown this works in showing the main contours of each green, but doesn't account for every subtle break, which makes it somewhat useful. The membership also allows you to download all your rounds.
And finally, unlike many smartwatches on the market, and certainly golf watches, the battery life on the Garmin Approach S70 is impressive. The Approach S70 can hold a charge for up to 16 days in smartwatch mode and up to 20 hours when using GPS. So you don't have to charge it daily or even weekly, if you're not playing golf every day. It charges via a USB-C cable, which is fine for Macbook users but might create a problem for traditional USB users given a plug adapter isn't included in the box.
All these features undoubtedly make the Approach S70 one of the best Garmin golf watches money can buy, perhaps with the exception of the super premium Marq Golfer watch.
Mike has worked in the golf industry for nearly 30 years with full-time staff positions at publications and websites that include PGA Magazine, the Golfweek Group, and GolfChannel.com. He is currently writing for several different sites and magazines and serves as a contributing equipment writer for Golf Monthly, focusing on irons, shoes and the occasional training aid or piece of technical equipment.
Mike has experienced a number of highlights in his career, including covering several Ryder Cups and PGA Championships, writing instruction pieces and documenting the best places for golf travel for more than a decade.
Mike carries a 7.6 handicap index and has two hole-in-ones, the most recent coming in February 2022. A resident of Texas for more than 40 years, Mike plays out of Memorial Park Golf Course (home of the Houston Open on the PGA Tour).