Best Left Handed Golf Drivers 2023
We run through the best left handed golf drivers, finding the perfect balance between quality and availability...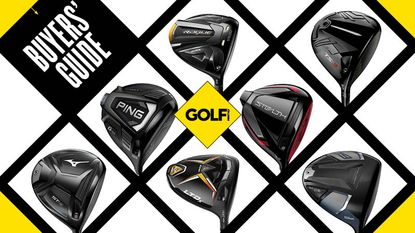 (Image credit: Golf Monthly)
Best Left Handed Golf Drivers
One of the most annoying things about being a left handed golfer is equipment availability. While pretty much every brand new club can be custom fitted for left-handed players, there is very little availability to pick up a club quickly online and right-handed golfers simply have it much easier when it comes to searching for equipment (opens in new tab).
We must stress that the majority of the current best golf drivers (opens in new tab) are all available in left-handed dexterity if you go through the custom fit process with your local pro or retailer, but this guide aims to point you in the direction of the most readily available left handed drivers online right now. If you're after a more specific type of driver, check out our guides on the best drivers for slicers (opens in new tab)or best drivers for beginners (opens in new tab) for an even wider range of golf drivers. Also, if you're a left-hander struggling to find readily available equipment, check out our best left-handed putters (opens in new tab) guide where we list the best left-handed putters that are easy to get your hands on.
Best Left Handed Golf Drivers
Why you can trust Golf Monthly Our expert reviewers spend hours testing and comparing products and services so you can choose the best for you. Find out more about how we test.
Specifications
Lofts : 9°, 10.5º
Adjustable: Yes
Flex: S, R
Reasons to buy
+
Very strong overall performance
+
Outstanding shelf appeal
+
Consistent ball flights, especially in the wind
Reasons to avoid
-
Less confidence inspiring than outgoing SIM2
Over the last few years, golfers have become used to seeing TaylorMade introduce new driver technologies in a bid to unlock more distance off the tee. For 2022, this promise comes in the shape of an all-new carbon fibre face. To highlight this new technology, the face of the Stealth driver is red. Whilst this might not be to everyone's taste, the chosen color is not too bright and down behind the ball is fairly recessive. We liked it.
Don't be concerned about the new carbon face sounding or feeling dull. Impressively, the engineers at TaylorMade have managed to create the Stealth with a powerful feel and good sound at the point of contact. While it may be a little more high-pitched than the outgoing SIM2 driver, it still sounds great in our opinion. During our testing, we managed to deliver an extra three miles per hour in clubhead speed with the Stealth compared to the SIM2. As you'd expect, this (along with a reduction in spin versus the original SIM) translated into more distance.
This is the standard model in the Stealth range, but there is also the draw bias Stealth HD (opens in new tab) or low spinning Stealth Plus (opens in new tab) to choose from - so if you're after the best drivers for slicers (opens in new tab)or best drivers for distance (opens in new tab), check those models out below. We think the standard head will suit the broadest range of golfers however and were seriously impressed with the aesthetics, performance and feel of this revolutionary new driver.
Powerful And Forgiving
Specifications
Lofts: 10.5º, 12
Adjustable: Yes
Flex: R
Reasons to buy
+
Increased forgiveness and accuracy over G410
+
Better fitting options across three models
Reasons to avoid
-
No obvious gains in distance over G410 on centred hits.
Ping are generally excellent for supplying left-handed equipment in retailers, and the G425 Max is no different with regular availability for left-handers. We're also not expecting this to be replaced in the lineup until 2023, so don't worry about a new one coming out too soon.
To achieve the new performance levels in the G425 Max, Ping has implemented a new 26-gram tungsten movable weight called a CG Shifter, which is made possible by weight savings from advancements in the driver's dragonfly crown design. The weight can be secured in one of three settings – neutral, draw or fade – to influence forgiveness and shot shape. The average MOI increase is 14 per cent across the three weight positions compared to the G410 Plus.
Indeed when compared to the older model, down at address, the G425 Max certainly has a more rounded profile than the G410 Plus, which to some people will look more user-friendly. That isn't to say performance has gone down though, because the Max still feels just as powerful and has the same sound we loved in the G410. Overall, in our testing, we think the Max, along with the other models with the G425 name, is a range of drivers that will work for every player type to maintain distance while finding more fairways.
Expansive Adjustability
Specifications
Lofts : 8°, 9° & 10°
Adjustable: Yes
Flex: S
Reasons to buy
+
Improved shaping at address
+
More effective adjustability
Reasons to avoid
-
Some may need more alignment assistance
The best Titleist drivers (opens in new tab) are often complete packages and the TSi3 continues that trend. It features a more compact, pear-shaped profile and a new SureFit CG Track positioned around the rear skirt, allowing players to alter their shot shape and launch characteristics.
Comparing it to the outgoing TS3 (opens in new tab), we prefer the more rounded toe and the quieter thud it produces. We believe many golfers will also prefer how the sole weight setting is now visible.
With the multitude of settings and shafts available, some of which made it into our best driver shafts (opens in new tab) guide, a custom fitting is a must to get the most out of this driver. Overall, with its more varied adjustability and extra forgiveness on offer, the TSi3 will appeal to a range of golfers, not just the better player.
Best Sound And Feel 2022
Specifications
Lofts: 9°, 10.5° & 12°
Adjustable: Yes
Flex: R, S
Reasons to buy
+
More premium look versus Mavrik
+
Better sound and feel than Mavrik
+
Produces very stable ball flight
Reasons to avoid
-
Unnecessary clock graphic design on the crown
The Rogue ST family replaced the outgoing Mavrik range and it comes in four different heads: Rogue ST Max, Rogue ST Max D (opens in new tab) (draw bias), Rogue ST LS (opens in new tab) (low spin) and Rogue ST Triple Diamond LS.
We're highlighting the Rogue ST Max head here as this is the option we think will suit the broadest range of golfers. Down at address, the Rogue ST Max has a new matte crown which we really liked, although we didn't care much for the clock-style graphics at the rear. The face looks flatter and is lighter in color, making it more visible and therefore easier to align.
During the testing, we noticed a quieter, more dense 'thud' sound of the Rogue ST Max versus the Epic Max and we really liked this change. Observing the ball flight, the Rogue ST Max also had a far more neutral trajectory. We also enjoyed the distance and dispersion on offer from this driver.
Our Choice For Best Driver 2022
Specifications
Lofts: 9°, 10.5° & 12°
Adjustable: Yes
Flex: L, A, R, S, X
Reasons to buy
+
More refined aesthetics versus last generation
+
Improved sound and feel
+
Good value for money
Reasons to avoid
-
Limited performance gains versus previous generation
Launched right at the start of 2022 to replace the Radspeed range of the clubs, the LTDx range from Cobra features three heads: the standard LTDx we've featured here as well as the LTDx Max (opens in new tab)and LTDx LS, (opens in new tab) both draw bias and lower spinning models respectively.
We've highlighted the standard head here in our best golf drivers guide as it will likely suit the broadest range of golfers. The aesthetics have become more refined - this year's LTDx features a very similar-looking matte-black carbon crown to last year's Radspeed.
The LTDx has a much lower pitched, quieter impact sound than the Radspeed. For us, it was significantly better - creating a satisfying 'crack' through impact that felt very powerful. As tends to be the case with Cobra drivers, the RRP is a decent chunk lower than the competitors from TaylorMade and Callaway, all with very little difference in performance between the three brands.
Best Value Driver 2022
Specifications
Lofts : 9°, 10.5° & 12°
Adjustable: Yes
Flex: L, A, R, S, X
Reasons to buy
+
Improved consistency of ball speeds
+
More affordable price point
Reasons to avoid
-
Looks at address may put off some golfers
Despite PXG's notoriously premium prices when it comes to its product line, the 0211 driver seems to buck that trend, making it one of the best budget drivers (opens in new tab) on the market right now. There are countless shaft options in five different flexes as well as three stock loft options for both right and left-handers. However, just because this driver has a cut price, doesn't mean you lose out on any performance.
The PXG 0211 driver is said to be designed for all player types thanks to a new head construction optimized for both distance and forgiveness. You'll notice the hybrid crown design with a carbon fiber center section surrounded by a titanium skeleton to prevent energy loss while optimizing the CG to enhance ball speeds.
A special Ti412 face material is both strong and flexible, increasing face deflection. There's also a Honeycomb TPU Insert located low and back in the head that improves forgiveness, sound and feel assisted by the railed sole geometry. A 10g weight comes as standard but there are lots of options from 2.5g up to 20g to fine-tune head weight and launch conditions via a fitting.
Great Value Performance
Specifications
Lofts : 9.5° & 10.5°
Adjustable: Yes
Flex: R
Reasons to buy
+
Easy to launch
+
Stable ball flight
+
Good value
Reasons to avoid
-
Minimal difference on the previous generation
Replacing the ST220G driver from 2020 is the new ST-Z 220 driver from Mizuno. Alongside the ST-Z 220, Mizuno has released the ST-X 220, a draw bias model for those struggling with a slice off the tee. The Z is a lower spinning model that should blend power and forgiveness and as such is aimed at the largest cross section of golfers.
During our testing we found the ball speed is up there with the likes of Callaway, TaylorMade, Ping and Titleist. With a good fitting we think this driver should help most golfers find some extra yardage. The other thing that struck us as we hit the ST-Z 220 was how easy it was to get in the air. It isn't as low spinning as we were expecting or as some other, similar drivers on the market. All in all during our testing, we really enjoyed hitting this Mizuno driver. In all the key categories - from looks to forgiveness - it performs well.
Best For Simplicity
Specifications
Lofts: 9°, 10.5° & 13°
Adjustable: No
Flex: R, S
Reasons to buy
+
Satisfying impact sound
+
Ample off-centre forgiveness
The design of the D9 driver comes from computer modelling software used to simulate hundreds of different club head variations to find the most effective design. It also features a three-layer composite crown which helps deal with vibration and reduce the weight of the club. A 10-gram sole weight comes as standard or a super-lightweight 3-gram weight giving the player the option of adjusting and fine-tuning the moment of inertia and forgiveness on offer.
The impact noise was a pleasingly dull thud and the look at address was clean and unfussy. The sole is also understated but modern when it comes to appearance. The conclusion we made from testing was, if you want more forgiveness from your driver at a decent price point, then it is definitely a model to consider. It will also suit those players with below average swing speeds who want more consistent results too, whereas faster swingers who want as much distance as possible will perhaps best be suited to look elsewhere.
Women's Left Handed Drivers
Specifications
Lofts: 10.5°, 12°
Adjustable: No
Flex: L
Reasons to buy
+
Most will see a distance boost of sorts
+
Extremely forgiving
Reasons to avoid
-
Lack of feminine colouring
The TaylorMade Stealth HD Women's Driver has very similar looks to that of the men's version, however, the performance is no different, with this being one of the best performing drivers on the market.
Featuring a 60X Carbon Twist face, which refers to the 60 layers of carbon sheets that are carefully arranged for better energy transfer and faster ball speeds across a large area of the face, it is a fantastic performer that is also 44% lighter than its predecessor. Along with the increase in distance and reduction of dispersion, the Stealth HD (opens in new tab) has a deep club face profile that allows for a large hitting area. This means forgiveness on off-center strikes.
Specifications
Lofts: 12°
Adjustable: No
Flex: L
Reasons to buy
+
Lightweight but powerful
+
Super stylish looks
+
Can be used easily off the deck
Reasons to avoid
-
Reflects sun glare easily
Buying a left-handed women's golf club can be an even more tricky task and it's often only the top-of-the-range equipment that you can find in left-handed dexterity. While this may mean a slightly more expensive trip to the pro shop, the quality will last you a long time.
Starting with the Kalea 3 from TaylorMade, we think this is like having a 2 wood from days gone by. This handy advantage is down to a low center of gravity and TaylorMade's very clever Speed Pocket which sees more flexibility in the lower part of the club face. This helps to pop the ball up quicker and from a tee and even the ground when hitting into the wind to ensure the ball carries further.
The price is reasonable for the performance you gain compared to the best women's golf clubs (opens in new tab) out there and you can own matching clubs all the way through from the driver to your putter, and even your golf bag.
Specifications
Lofts: 11.5° loft/lie adjustable
Adjustable: No
Flex: L
Reasons to buy
+
Lightweight for faster swing speeds
+
Excellent adjustability
Reasons to avoid
-
The striking looks may not be to everyones taste
This is the second generation of the women's G Le range and with custom-fitting being a core principle of the Ping (opens in new tab) brand, there are more fitting options in the latest edition to allow a woman to dial in for an optimum fit. The driver features an adjustable, 8-position hosel to alter the loft, and there are 3 different settings for the lie of the club.
The light titanium clubhead with an aerodynamic shape is designed to promote faster clubhead speed, whilst the Internal heel-biased weighting helps with a right-to-left spin for straighter ball flights. The G Le 2 has a thin, forged face to increase flexing for ball velocity and improved launch conditions, whilst forgiveness is at the heart of this driver so players can achieve repeated results with every swing.
Specifications
Lofts: 10.5 or 12.5° loft and lie adjustable
Adjustable: Yes
Flex: L
Reasons to buy
+
Large, ultra-forgiving face
+
Cutting edge aesthetics
Reasons to avoid
-
Unorthodox shape may put some off
The main aim of the Reva is to help women hit their tee shots further and find the fairway more often. To deliver longer drives and greater accuracy, Callaway has engineered a large clubhead with internal draw bias weighting. By also incorporating Callaway's Jailbreak technology, which helps to make the clubface more efficient, two internal bars stiffen the body of the Reva to allow the face to flex more, while the lightweight crown permits the weight to be redistributed for higher MOI.
Thanks to the advanced design of the clubface, there's a more expansive area to promote faster ball speeds, so women will still drive the ball a long way, even if they miss the center of the face at impact. Given all of that, this was a no-brainer inclusion on the best golf drivers for women list.
Cobra King Ladies LTDx Max Driver
Specifications
Lofts: 12°
Adjustable: Yes
Flex: L
Reasons to buy
+
Low spin and maximum forgiveness
+
Eye catching looks
Reasons to avoid
-
Large head design may not appeal to all
Cobra has always been one of the best at producing a premium-performing driver that doesn't break the bank. With the King LTDx Max, this appears to be the case as it is the first driver to achieve zero CG and an even higher level of forgiveness.
An oversized 460cc clubhead will also provide confidence at address, with Cobra's PWR-COR and H.O.T Face technology meaning an increase of distance off the tee. Combine that with a lightweight titanium chassis and the LTDx Max is a superb performer that will make a great addition to your bag.
How we test the best left handed drivers
When it comes to product testing, our reviews and buyers' guides are built upon a rigorous testing procedure (opens in new tab) as well as the knowledge and experience of the test team. While every Golf Monthly writer is an experienced golfer and knows what to look for when testing products, they are supported by our ladies golf equipment leader Katie Dawkins (opens in new tab) and Driver lead Neil Tappin (opens in new tab).
Getting into specifics for left-handed drivers, we regularly attend product launches and club release events to speak to manufacturers to understand more about the technology that goes into each product. We then get our hands on the clubs, typically hitting them indoors first, and use some of the best launch monitors (opens in new tab) with premium golf balls (opens in new tab) to test the products out.
We then put them to the test outdoors on the range, before putting them through their paces on the course in a variety of conditions that will give us an understanding of how each club performs in real-life conditions. Ultimately, we aim to be as insightful and honest as possible in our reviews so it is important to acknowledge that no manufacturer can buy a good review. This is because our team tells it how it is. We want to try and find the best golf clubs (opens in new tab) on the market and give you some insight on them, which requires being thorough and transparent.
What to consider when buying a left handed golf driver
As left-handed golf clubs generally tend to be harder to come by, you'll want to spend a little bit more time looking for the driver that best suits you. Whether you're an experienced golfer and have a faster swing or are looking for something a little more forgiving to get rid of your slice, you're going to want to try and test each product first before you buy it. During your testing process, there are several things you need to keep an eye out for to ensure that you get the best left-handed driver for your abilities. For that reason, we've set out five key considerations below that you need to make when buying your next left-handed driver.
1. Loft
The first thing to think about is the loft of your club. Drivers generally tend to come in lofts from 8.5º to around 13º. Now, depending on your abilities as a golfer, how fast you swing the club and how much power you generate through impact, you're going to want to think very carefully about the loft of the club you're buying.
Generally, players with lower club swing speed should opt for higher lofted drivers, from 11º to 14º. This is because if they play with a lower lofted driver, they will struggle to smash through the golf ball and get enough power on the shot to lift the ball into the air. For that reason, having a few extra degrees of loft on the club can help you achieve better ball flights, particularly if you're not the type of golfer who can generate a lot of speed through the ball.
Dissimilarly, if you know you can get a lot of power off the tee, you should look to play with a lower lofted driver. This is because your higher clubhead speeds will add more power on the golf ball, enabling you to generate much better ball flights with a lower lofted driver. Most players on the PGA Tours can generate those top clubhead speeds and for that reason, they typically tend to play with drivers between 8.5º and 10º in loft.
2. Forgiveness
Even if you're the best golfer in the world, forgiveness is something we should all think about when buying our next driver. Nobody is perfect and you're not always going to be able to hit a perfect golf shot every time you address the ball, especially if you're a beginner or a high handicap golfer. So for that reason, having a driver with a little bit of forgiveness can really help to reduce the chances of you hitting a duffed shot. But what actually makes a driver so forgiving?
Well, there are several features to look out for when looking for a forgiving driver. The first, and perhaps most important, is the size of the sweet spot on the clubface. Big sweet spots ensure that off-center shots still travel long distances and are less likely to drop out of the air or slice than clubs with smaller sweet spots. That can also be helped if your club has a high Moment of Inertia (MOI). MOI means how much a clubhead turns on impact, and the lower the MOI of your club, the more fluid and true your golf shot will be. The last thing to consider is the weight distribution of the club. Ideally, you'd like the center of gravity of the club head to be centered towards the back of the club. This helps to keep the face open and square on impact and promotes a strong ball flight.
3. Adjustability
Most models these days come with a degree of adjustability, whether it be loft, weight movement, shaft and so on. Adjustability can be a useful feature for players who want to adapt their swing for different conditions. Perhaps you want to hit a low draw through the wind or want to smash a high cut on a hot day. It can also be great for improving the forgiveness of the club, by altering the weight distribution of the club head. Have a think about how important adjustability is to you because you can change the characteristics of a club if you want to. Alternatively, you can just keep things simple with other models as well.
4. Shaft flex
Another important point to mention is the flex of the shaft on the golf club. Golf club shafts tend come in five flex categories; extra-stiff (X), stiff (S), regular (R), senior (A) and ladies (L). It's important to head down to the range and try out each type of shaft to get a better understanding of which flex is right for you. Similar to driver lofts, golfers who can generate a lot of clubhead speed should opt to play with a stiffer shaft. That is because their ability to rip the club through the air means they need a slightly stiffer shaft to get a good contact on the ball. Meanwhile, those who generate less power through the swing may want to choose a club that has a little more flex and allows them to generate speed through the whip of the golf club onto the ball.
5. Looks
Looking good on the first tee inspires confidence to hit bombs down the center of the fairway and if you've got a driver you like the look of, then you're more likely to send your golf ball rather than slice it. Looks aren't everything in golf, but if you're going to fork out for a brand new driver, getting one that looks the business is vitally important.
For more advice on picking out your next driver head over to our guides on most forgiving drivers (opens in new tab), best drivers for slices (opens in new tab) and the best drivers for mid-handicappers (opens in new tab).
FAQs
What loft driver do Tour Professionals use?
As professional golfers are generally able to generate high swing speeds, they tend to use lower lofted drivers. This means they typically use drivers that are around 8.5º-10º in loft.
Does driver shaft flex make a difference?
Yes, driver shaft flex is one of the most important factors to consider when picking a new driver. Golfers who have slower swing speeds will struggle to use drivers that have stiff shafts and are better off using a club with a lot of flex in it to help them generate more speed through impact. Meanwhile, golfers who are able to generate high ball speeds should look to use stiffer shafts, as that will allow them to rip through their shot and strike the ball longer.
What happens if a golf shaft is too flexible?
If your driver shaft is too flexible, you'll find yourself struggling to hit the ball straight and will feel your hands coming through on impact at much different speeds to the clubhead. That can also alter the flight of the ball and can see you hit shots fat more often, or even strike the ball up into the air.
Dan is a Staff Writer and has been with the Golf Monthly team since 2021. Dan graduated with a Masters in International Journalism from the University of Sussex and primarily looks after equipment reviews and buyer's guides, specializing in golf shoe and golf cart reviews. Dan has now tested and reviewed over 30 pairs of golf shoes for the website and magazine with his current favorite pair being the Ecco Biom C4. A left-handed golfer, his handicap index is currently 8.5 and he plays at Fulford Heath Golf Club in the West Midlands. His best day in golf so far was shooting 76 at Essendon Golf Club on his first-ever round with his Golf Monthly colleagues. Dan also runs his own cricket podcast and website in his spare time.
Dan is currently playing:
Driver: Ping G425 Max
Fairway: Ping G425 Max
Hybrid: Ping G425
Irons: Ping i59 (4-PW)
Wedges: Ping Glide Forged Pro
Putter: Wilson Staff Infinite Buckingham
Ball: TaylorMade TP5 Pix