Why The Callaway Paradym Range Represents A Groundbreaking Shift In Golf Club Design
With a unique 360-degree carbon chassis, the new Callaway Paradym drivers bring completely new innovation to the category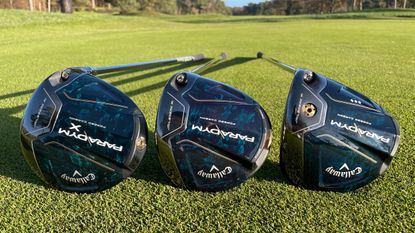 (Image credit: Future)
You'll hear Callaway talk a lot about a 'paradigm shift' in the coming months, for the brand, in bringing its all-new Paradym family to market, has moved away from the accepted way of doing things. TaylorMade came out with a similar message last year with its Stealth drivers and their carbon fibre faces - while this wasn't a completely new concept, it resonated with golfers as something different that upped performance levels. With the Paradym drivers, we're seeing a center section completely devoid of any metal whatsoever, which is not something the best Callaway drivers have ever had. The brand says this construction produces significant weight savings, which should then lead to performance gains over previous models like the Epic Speed driver and Rogue ST Max driver.
WHAT'S THE TECHNOLOGY?
The big story concerns the driver's 360-degree carbon chassis, and two types of materials that are proprietary to Callaway bonded together. On the top, you have a triaxial carbon that creates a thin, lightweight, smooth and strong structure; on the bottom, a forged carbon, which consists of bundles of chopped fibres. With no metal being used on the centre section of the clubhead, Callaway has been able to move weight saved into other more desirable areas for higher MOI and increased ball speed.
Elsewhere, a new Jailbreak system has been made 33 percent lighter and, as a result, even more stable for faster ball speeds. Callaway's use of Artificial Intelligence (A.I.) has also evolved. A new formula optimises each face for maximum ball speeds, lower spin and, now, downrange dispersion, which is a significant advancement.
Callaway has also reimagined how a fairway wood is constructed. The completely new construction eliminates weight from the body and repositions it for significant gains in speed and MOI. Once again, A.I. has played a crucial role, with a Jailbreak Batwing structure that has been pushed to the perimeter to stiffen the body, while allowing the face to flex for high ball speeds. Meanwhile, the hybrids stand out for having more of a fairway wood shape, and boast a Cutwave Sole design for improved performance through the turf.
The paradigm shift with the irons combines a forged 455 face with an all-new Speed Frame, giving more stiffness to the body for added distance. Urethane Microspheres improve the sound and feel while external and internal tungsten weights enhance launch conditions and improve speed on mis-hits. A pre-worn leading edge is designed to cut through the turf more efficiently for even more forgiveness.
WHAT ARE THE MODELS AND WHO ARE THEY AIMED AT?
Drivers
The standard Paradym driver features a 15g adjustable weight at the perimeter, allowing players to fine-tune their shot shape. It's the highest MOI model that will fit the broadest segment of player. The Paradym X driver has a slightly larger footprint, offers extra draw bias and higher launch which will suit slightly slower swing speeds, those with a more erratic strike pattern and who struggle with a slice. Finally, the Triple Diamond is the more compact, lower-spinning model for the low handicapper and Tour player.
Image 1 of 7
Fairways
The Paradym fairway features progressive shaping and fits a wide range of player types. This is the model for golfers who want a high launching fairway wood with a neutral ball flight. The Paradym X fairway will fit players looking for the most forgiving shape with a high launch and a slight draw bias. The Paradym Triple Diamond fairway is the most compact shape with a deeper face at address best suited for stronger players who are looking for a penetrating ball flight with lower spin.
Image 1 of 4
Hybrids
The Paradym hybrid is for golfers who want a mid-sized, wood-shaped hybrid that's long with excellent versatility and control. The Paradym X model is for golfers looking for full-sized, wood-shaped hybrid that's long with excellent versatility and forgiveness.
Image 1 of 4
Irons
The Paradym iron is designed for golfers who are looking for a players' distance iron with a refined shape and premium forging, while the 'X' irons are aimed at those who are looking for an iron that's incredibly long, forgiving and with a powerful feel thanks to stronger lofts.
Image 1 of 3
WHAT CALLAWAY SAY