Do Tour Players Use The Same Clubs As Recreational Golfers?
Are the clubs we buy the same as those in the bags of Tiger, Rory, Rahm & co? We spoke to a club fitter who works with DP World Tour players to find out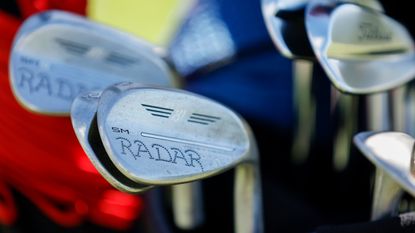 (Image credit: Getty Images)
Get the Golf Monthly Newsletter
Thank you for signing up to Golf Monthly. You will receive a verification email shortly.
There was a problem. Please refresh the page and try again.
Do Tour Players Use The Same Clubs As Recreational Golfers?
Although many of us so called grown ups don't like to admit it, there is something cool about playing the same golf clubs as the game's top stars. You rock up to the first tee for your Sunday four ball with your brand new TaylorMade Stealth 2 driver and one of your playing partners remarks "Isn't that the driver Rory uses?" and you nonchalantly reply "Yeah, I think so".
Is it though? Can we be completely sure about that? There will almost certainly be differences in set up because - and I'm just guessing here so apologies if I'm doing you dirty - you probably don't swing a driver the same way Rory McIlroy does. It would make sense for tour pros clubs to be configured differently, given they have very different needs to the weekend warrior.
The truthful answer is yes and no. Sorry to sit on the fence, but it's complicated. We can buy the same clubs that the game's best players use but the specifications are going to be subtly different. Or in some cases, not so subtle. The driver Bryson DeChambeau has in his bag will be nothing like the variant we can buy off the shelf in a retail store. The loft will be much lower, the shaft much stiffer and with Bryson who knows, there could be all sorts of other crazy stuff going on too.
What about the rest of the bag though? Is there any difference in the irons we can buy and those that tour pros have access to? What about putters, surely those are the same, right?
I spoke to Duncan Finch, a Tour Technician with Wilson who works with their DP World Tour players to find out just what are the differences between the clubs in the bag of an average golfer like me compared to those used by a three time major winner such as Padraig Harrington.
Driver
Late last year I was lucky enough to be fitted by Duncan for Wilson's new Dynapower driver, so I asked him to explain how the driver he fitted me for (and which any of you can buy online or in store) differs from one that would be used on tour.
"The only real difference from yours to a tour driver is in the options that we have" said Duncan. "So in the carbon head, for retail we'd have 9°, 10.5° and 12° and there's an 8° custom for anyone who requires that. But on tour we also have a 7° option. On the titanium head driver we have an 8° which isn't for retail but all the other lofts are. Some tour players will go for low lofts but most of ours are in 9° or 10.5° which is the same as yours."
"Where it would differ slightly is in what we can do for a tour player that we wouldn't do on the retail side simply because an amateur golfer wouldn't need it. So weights in the head for example. There's a 12gram in the carbon and a 16 gram weight in the titanium, which is fine for most golfers. But on the tour truck we would have 5, 7, 12, 16 and 20 gram weights. If you really wanted to add those weights in your driver you could do it yourself."
"In terms of the shafts, we offer four variations as stock options, and they will vary in terms of flex and weight. For the Tour players, it's anything that the shaft manufacturers want to give us for them to try or what they know works for them. Shafts are very much an individual preference," he added.
While Duncan is speaking specifically about Wilson Staff, it's a similar story with all of the brands represented on tour. The best golf drivers on tour are generally the same as those we can buy other than some of the bigger hitting tour pros will require a lower loft and some may prefer to customise their weight setting. Tour fitters also play around with hot melt sometimes to alter weight positioning and the feel of the head.
That said, there are some tour-only heads floating around - like the Callaway Triple Diamond S driver in the bag of Si Woo Kim, for example, which is a smaller head also used by Sam Burns. We've also seen images of a Triple Diamond + model on social media - bringing the total number of Paradym driver models made up to five.
Fairways & Hybrids
Compared to driver, the adjustability tends to be more limited on fairway woods and hybrids which makes the equipment used by the tour professionals more similar to those the average golfer can purchase off the shelf. For example, the standard Dynapower three wood I use is no different to that which you can find in the bag of some of Wilson's stable of tour professionals, as Duncan explains.
"What you would see at retail is the same as what we have on tour, although we also have a strong three wood as an option for any of our tour players who require it. It's just slightly lower lofted than standard. And again, there are different weight options, but essentially it's about being able to do a little bit more with the heads that we've got. There's no difference in the face, crown or looks or anything like that to the ones you can buy, it's just loft and weight options."
That said, lead tape is sometimes added to the sole of the club to alter the feel as well as the launch conditions. Tour players are often wanting to hit their fairway wood shots higher, so adding weight to the sole with lead tape helps achieve this. A great example is Sunshine Tour player Kyle Barker, who may have gone a little OTT.
Irons
Whereas there are obviously a vast amount of shaft, loft and weight options when it comes to driver, surely there isn't going to be much of a difference between the irons we can buy and those in the bags of the game's best players? After all, there isn't that much you can do to customise an iron, is there?
"The only variation we have is that for some players we have them in a raw head" says Duncan. "So Padraig uses the Staff Model CB in a raw head, which rusts over time and is not available at retail. Some of our U.S. Tour players also have the Staff Model Blade in a Raw head, but if we needed a standard set of irons for another Tour player, they would come direct from the factory as they would at retail," he explained.
This is generally the case across most of the brands. So we know that Jon Rahm uses Callaway Apex TCB irons but his are weaker in loft because of how he likes to compress the ball with lots of forward shaft lean. In fact, tour players have much more precise loft adjustments, sometimes to a tenth of a degree, to really dial in their distance gapping - something that isn't available at retail, even when getting custom fitted.
There are a few prototype iron sets or custom heads out on the major circuits - circling back to Si Woo Kim, who uses an X-Forged CB iron that isn't available at retail. Some players have different finishes, like the custom black finish Cameron Smith had on his Titleist T100 irons all of last year, which is now available to buy. Tour fitters can also add lead tape to alter the weight or a custom sole grind to change the way the head interacts with the turf.
Wedges
The pros use the same wedges that we do but because they aren't paying for their clubs they will change them more frequently to get maximum spin and they may also choose to go with a different bounce from week to week depending on the type of course they are playing on. Unlike with irons though, a raw finish or rusty wedges are widely available from some of the leading brands, such as the TaylorMade High Toe and Callaway Jaws Raw.
Let's hear from Duncan. "Wedges are similar to irons. We have a raw option for tour which isn't available for retail and we also have a couple of specific loft options that are tour only. So there's a 46° and a 62°, and there are a couple of different bounce options on some of the wedges, but otherwise our tour pros would be using the same thing you will."
Other differences on wedges out on tour might be a custom sole grind and some very elaborate stamping on the back, compared to what's available at retail which is quite limited. There will also be some bespoke or even one-of-a-kind head covers on show too.
Putter
Last but not least, the old flat stick. Surely this is the one club where we will all be using the exact same product?
Well actually, the putter is probably the club where you'll see the most tour-only clubs. Scotty Cameron, for example, is a brand known for its limited-edition runs and is happy to make specific putters for established players that request something unique. Plenty of other manufacturers are capable of creating something bespoke for a staff player based on their needs when it comes to the visuals, the feel and the flow of the putter head and you'll see these out on tour most weeks. Manufacturers also have a wider variety of weights available to build the putter to the exact specifications the player wants.
Conclusion
As a general rule, there are very few "tour only" clubs and the gear you can buy is essentially the same as that used by the world's top players. The only real difference is in how they are set up. A tour professional will have different requirements than even a low single figure golfer, let alone a 25 handicapper, but the difference in their equipment and the stuff available for us to buy is for the most part very small and in appearance they're the same.
Think of it as driving the same car as somebody else, except you will adjust the seat and the mirrors to your own requirements. It's still the same make and model of car, you've just adapted it to your needs.
So the next time you've splashed out on a new driver and your playing partner asks "is that the driver Tiger Woods uses?" you can reply with confidence that it is indeed, but that this one is tailored to your swing and not the great man's.
Get the Golf Monthly Newsletter
Tips on how to play better, latest equipment reviews, interviews with the biggest names and more.
Dave is a distinctly average golfer with (fading) aspirations to be so much more than that. An avid collector of vintage Ping putters and the world's biggest Payne Stewart fan, in 2021 Dave turned his front garden into a giant putting green to work on the weakest area of his game, but sadly to date he has seen little improvement. In addition to his work reviewing golf gear and writing features for Golf Monthly and T3, Dave is the founder of the Bang Average Golf website.
Dave's lowest round is a one over par 73 around Kirkby Valley Golf Club in 2018, which included a bogey on the 18th to ruin the one and only chance he'll ever have of shooting an even par or better score. That errant tee shot on 18 does not still haunt him to this day though, in fact he hardly ever thinks about it. No, honestly, he doesn't. Not at all. Never.
Dave splits most of his golf between Hurlston Hall Golf Club in Ormskirk, Lancs, and Berrington Hall Golf Club in St Helens and has a handicap that fluctuates between 9 and 12, largely depending on how poor his putting is.
Dave's current What's In The Bag?
Driver: Wilson Staff Dynapower Titanium, 9.5°
3 wood: Wilson Staff Dynapower, 15°
7 wood: Callaway Mavrik Max, 21°
Hybrid: Srixon ZX 2 hybrid, 16°
Irons: Wilson Staff Dynapower, 6-PW
Wedges: Cleveland CBX ZipCore (graphite), 44°, 48°, 52°, 56°
Putter: TaylorMade Spider EX Ghost White
Ball: OnCore Vero X2