Bryson DeChambeau What's In The Bag?
We take a look inside the 'Golfing Scientist' Bryson DeChambeau's golf bag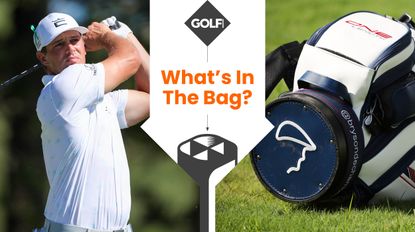 (Image credit: Getty Images)
Golf Monthly Newsletter
Golf tips and expert instruction, golf club reviews and the latest golf equipment.
Thank you for signing up to . You will receive a verification email shortly.
There was a problem. Please refresh the page and try again.
Bryson DeChambeau What's In The Bag?
Known as the 'Golfing Scientist', Bryson Dechambeau is an ambassador for Cobra with most slots in his bag filled out by clubs from the brand. He then carries a couple of clubs from smaller brands and wears Puma apparel and golf shoes. Let's take an in-depth look at his setup.
Bryson DeChambeau What's In The Bag
Driver
Cobra LTDx
Bryson was using a Cobra King Radspeed driver which had only 7.5 degrees of loft but he appears to have switched to a Cobra LTDx which only has five degrees of loft. "A lot of (the design improvements) were from last year's input," DeChambeau told GolfWRX (opens in new tab) on Monday at the Farmers Insurance Open. "There were obviously some moments that were tough, and some great moments, as well. I would say we've worked really hard on making a driver that works very well for me and for consumers that have some speed. And also, because we understand the upper end of speed, the lower end is going to be helped out quite a bit because we understand the parameters. Once you understand both sides of the coin, you can fit really well in between."
"(I'm swinging) a lot freer," DeChambeau said. "The ball's not going to go in places that I'm not expecting. That's just what happens with speed, in general, with any product out there. This is where (Cobra is) the first ones to really take the dive and go, 'OK, let's try and understand this and make it playable for guys with speed like this.'"
Fairways
Cobra Radspeed Big Tour, Cobra King Speedzone Tour
He then carries a Cobra Radspeed Big Tour 3-wood and a Speedzone Tour 5-wood which have 10.5 and 13.5 degrees of loft respectively.
Irons
Cobra King One Length Utility, Cobra One Length MiM Tour
His irons start with a couple of Cobra King One Length Utility irons (4-5) before transitioning down to Cobra King One Length MiM Tour irons which go from six-iron down to pitching wedge. All of his irons are seven iron length (37.5 inches to be exact) to ensure he swings the same with every club and they're fitted with extremely thick JumboMax grips (opens in new tab), the largest grips commercially available.
Cobra's Ben Schomin, talking to GolfWRX, described them as having a "better player shape with a thin, rounded topline, small-to-medium sole width, and rounded sole camber." DeChambeau prefers a simple shape in his irons with plenty of leading-edge bounce and some offset at the hosel, Schomin said.
These prototype irons are 3-D printed which not only allows for more rapid and consistent prototyping than other methods of club creation, but it also allows greater ease of "feel replication," according to Cobra.
Wedges
Artisan Prototype
Interestingly, DeChambeau had some PXG and Cobra wedges in the bag for a while but now he has three Artisan prototypes with 47, 52 and 58 degrees of loft. Artisan is a company co-founded by Mike Taylor, a man who helped create wedges for Tiger Woods, Rory McIlroy and others at The Oven, Nike's golf research and development facility in Fort Worth, Texas.
Putter
SIK Pro C-Series Armlock
His putter situation has been changing of late. He seems to be switching regularly between a blade and a mallet model made by Sik and also an Odyssey Exo model. Right now, he has gone for the blade prototype option. Bryson started tinkering with arm lock techniques in 2017 and he has become a very good putter as a result.
GolfWRX spoke to SIK Director of Communications Tyler Finley about Bryson and he said; "We went through every conceivable option (even face-on putting) and the arm-lock proved to be the most consistent method we tried. It also is the method that we could best build a system around to quantify distance and face-angle at impact with the ability to max out the range of motion and create a true pendulum-type stroke. There is less breakdown in mechanics with arm-lock as there are fewer moving parts."
Ball
Bridgestone Tour B X
DeChambeau was using the Bridgestone Tour B X ball but at the tail-end of 2021, around the time he was taking on Brooks Koepka in The Match, he appeared to have a prototype Bridgestone ball in play. Speaking at the time he said; "I know this golf ball will help me beat Brooks. The technology - allows the golf ball to have the appropriate spin rate and ball speed for every type of shot."
"Out of the rough, out of the fairway, miss-hits, chunks, everything. It has definitely improved from last year's ball.
"Out of the rough, what I'm looking for is consistency so when stuff gets in between the face and the ball, we are looking for that ball to perform consistently every single time.
"In order to have an all-encompassing game, you've got to have your wedges good and your driver good with that golf ball and what I mean by that is, you want your golf ball to feel soft around the green, comfortable off the face, spins a lot.
"With your driver, you want a golf ball that doesn't spin that much and is firm off the face."
Full Specs
Driver: Cobra LTDx (5 degrees) with LA Golf Tour AXS Blue 60 X shaft
3-wood: Cobra Radspeed Big Tour (9 degrees at 10) with LA Golf Tour AXS Blue shaft
5 wood: Cobra King Speedzone Tour (13.5 degrees), with LA Golf BAD Prototype 80 TX shaft
Irons (4-5): Cobra King One Length Utility with LA Golf Shafts B.A.D Prototype Rebar shafts
Irons (6-PW): Cobra One Length MiM Tour 37.5", with LA Golf Shafts B.A.D Prototype Rebar shafts
Wedges: Artisan Prototype (47, 53, 58 degrees) with LA Golf Shafts B.A.D Prototype Rebar shafts
Putter: SIK Pro C-Series Armlock
Ball: Bridgestone Tour B X
Apparel: Puma
Shoes: Puma Ignite Pwradapt Caged