Best Golf Headcovers 2023
In this guide we look at some of our favorite golf headcovers for your clubs.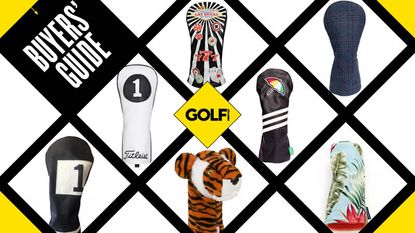 (Image credit: Golf Monthly)
Best Golf Headcovers
Your driver is one of the most expensive clubs in your bag and is also one of the most fragile. Being made of much lighter metals than your irons or your putter, it is very easy to put a dent or a scratch in your driver head if you're not taking proper care of them. And if you've ever tried to play with a dented driver, you'll know how much difference that damage can make, preventing you from producing top-quality golf shots.
If you want to protect your pride and joys then one of the best golf accessories (opens in new tab) to consider purchasing is a good headcover. Indeed not only is the protection invaluable, but there are some genuinely stunning designs knocking around the headcover scene these days, and you can add some real quality and color to the top end of your bag.
Back in the day, you used to buy your woods together and get a trio of cheap knitted socks to look after your woods, but since then we have truly moved on with many brands manufacturing cool and unique designs to give your golf bag a little more personality. Acknowledging this below we have taken a look at some of the best golf headcovers out there below.
Alternatively, if you need something to fill those headcovers too, be sure to check out our guides on the best golf drivers (opens in new tab), best fairway woods (opens in new tab), or best golf hybrid clubs. (opens in new tab)
Best Golf Headcovers
Why you can trust Golf Monthly Our expert reviewers spend hours testing and comparing products and services so you can choose the best for you. Find out more about how we test.
+ Durable
+ Protective leather material
- Special editions cost more
TaylorMade are one of the best when it comes to designing and producing high-quality golf equipment and that is evident when looking at their driver head cover. These headcovers are one of the most durable on the market, being made from a semi-perforated synthetic polyurethane leather that will keep your clubs protected and dry when you're on the course.
TaylorMade also produce this stylish yet simple headcover design for fairway woods, hybrids and putters too, so you can match up all the club headcovers in your bag.
(opens in new tab)
+ A smart looking head cover
+ Great for any golfer's bag
- Only comes in two colorways
Some brands just look classy whatever the product and this always seems to be the case with Titleist and their familiar logo. They do a couple of options with their headcovers - the jet black leather and these white and black ones.
The two-panel construction is 100 percent leather and the 1, square on its side and X are neat, retro and simple. These would complement any bag. Speaking of bags if you are a fan of Titleist then be sure to have a read of our best Titleist golf bags guide.
+ A very stylish set of head covers
+ Made of premium waterproof materials
- Only in two colorways
An excellent accessory that will help keep your drivers safe from being scratched or dented. This cover features a very slick two tone blue and white Tour-design and has an elastic fit that stretches to the head size of your driver.
Used by Mizuno professionals around the world, this is head cover is very easy to slip on and off and is built from a polyurethane and nylon material, meaning it is a very durable club headcover.
+ Synthetic leather is durable
+ Very protective
- Only comes in one colorway
With a modern and contemporary design, J Lindberg have once again proven that they are currently one of golf's best brands for style. And in this club headcover, they have managed to develop a very cool-looking cover that provides ample protection to your clubs.
Featuring a synthetic leather outer layer and a smooth internal lining, you will be confident that your driver is well-protected out on the course. The navy and red color coordination combines well and would look great sitting inside perhaps a Sun Mountain golf bag or even an Ogio golf bag.
(opens in new tab)
+ Superior quality
+ Features Arnold Palmer logo
- Slightly pricier than other offerings
This US company - they're based in North Carolina - has been going for less than 10 years but have already become well known for producing premium products with an outstanding attention to detail - 'all the way down to the last stitch'.
Headcover wise they have a beautiful collection of knitted and leather offerings and an extremely popular Arnold Palmer collection. It's not cheap but it is pretty special, featuring Palmer's signature umbrella design and they even have a classy headcover for your alignment stick.
(opens in new tab)
+ Very fun, visual design
+ Excellent protective cover
- Some designs will divide opinion
This mother-and-son partnership came about when they thought there was a gap in the market for golf accessories and the very first PRG products were stocked in the Royal County Down pro shop where the advice was to focus on 'clean high-quality products'.
These days they produce over 3.4 million customized items per year and their headcover options are vast and range from the sharp 'Executive Classic' to the mascot ones. This Las Vegas offering is a very fun and visual design, perfect for any golfer who likes to take a gamble on the course.
(opens in new tab)
+ Comes in a variety of themes and colorway
+ Made from premium wool materials
- Comes at a premium price
You're spoilt for choice here, they've got a headcover for every occasion and look. The original inspiration of their work came from a headcover from Royal Troon and, after designing a few prototypes, they knew they had something special and, before too long, they were stocking their products in places like Bandon Dunes.
The name comes from Seamus O'Reily, one of the family dogs and a fun-loving Irish terrier. It's all highly original, uber-stylish, hard wearing and each product is carefully designed, cut, sewn and packaged for each individual golfer. Known for their fantastic Hawaiian-themed headcovers, these wool offerings can seriously bring a colorful edge to your golf bag.
(opens in new tab)
Dormie Workshop Headcovers
+ Premium leather materials
+ Provides excellent protection for your clubs
- Another pricey club headcover
These are really cool. Yes, they're pricey but they really are something else to look at and admire. These quality leather products come in a variety of interesting categories which include some lovely US Open, Camo, Whiteout and Tiger Zone efforts.
And if you really want something special you can custom-fit your own headcover be it your driver, fairway, hybrid, putter, scorecard holder, yardage book or alignment stick cover. They'll create a mock-up based on your request, you can tweak it away and then see it come to life. If you're into personalizing your golf equipment, why not check out our guide on the best personalized golf balls.
(opens in new tab)
+ Some amazing designs available
+ All provide adequate protection
- Some may not like the novelty designs
One of the best novelty golf headcovers out there, a Daphnes headcover will really liven up your golf bag with, the emphasis on fun. There are over 175 designs to tickle your fancy and they've been going for over 40 years now. The name comes from the owner Jane Spicer's mum and the pair of them set up their animal headcover business.
Every product carries a lifetime guarantee and they're as durable as they are fun. If visiting the company's website there is a Hall of Fame section for the men and women who rely on Daphne's headcovers, the most notable being one Tiger Woods. When he won the Masters in 1997 they received a phone order for 30,000 Tiger headcovers plus an extra $30,000 to help get the order out quickly.
(opens in new tab)
+ Creative and contemporary designs
+ Provides excellent protection to your clubs
- On the pricey side
You see this name crop up a lot on social media with a lot of tour pros showing off their new Scott Readman equipment, be it world-class putters, covers or accessories, and gushing in their praise of his products.
Readman learned his craft as a young pro, refurbishing and repairing persimmon clubs, and he has now extended his craft to a world of original and exquisite designs from his base in Bristol in the UK.
(opens in new tab)
+ Classic style
+ Provides great protection
- Few colors available
This is really smart with the embroidered two-tone black and white polyurethane cover and velour-padded interior. And it's a fraction of the price compared to many of its contemporaries in this market.
The familiar Ping logo will appeal to fans of the brand and with their driver and woods being so popular they should be flying off the shelves. These also look great alongside many of the models in the current Ping bag range so check out our guide on the best Ping golf bags to complete the aesthetic.
How we test
When it comes to product testing, our reviews and buyers' guides are built upon a rigorous testing procedure as well as the knowledge and experience of the test team. Product reviews on drivers are headed up by Golf Monthly's Digital Editor Neil Tappin (opens in new tab), who has been a part of the team for over 15 years and is currently playing with a TaylorMade Stealth Plus Driver.
Other members of the Golf Monthly team contribute to clubhead cover testing too. All of our writers are able to efficiently test the vast majority of the biggest product releases while conveying the pros and cons of each item eloquently. Getting into specifics, we test club covers outdoors on premium drivers, to get a thorough understanding of the design features, durability and style each item offers.
Ultimately, we aim to be as insightful and honest as possible in our reviews, so it is important to acknowledge that no manufacturer can buy a good review. This is because our team tells it how it is. To learn more about our methodology, check out our guide on how Golf Monthly tests products (opens in new tab).
What to consider when buying a new club headcover
Club headcovers might not be the most technical piece of equipment, or the first accessory that is on your list of things to buy, but they are a very important thing to have to protect your long range clubs and for that reason there are several important factors to think about when purchasing your next club headcover.
1. Size
Headcovers come in a variety of different sizes and shapes depending on the clubs you're buying them for. Depending on what clubs you have in your bag that need protection, you will need to think about the type and size of headcovers you need. For example, you can purchase a headcover for pretty much every club in your bag from your driver right the way down to your putter. Most golfers tend to buy headcovers for their driver, fairway woods, hybrids and putters, but you can get covers for your irons too, if you're concerned about scratching or denting them.
Depending on the club you're buying your cover for, you need to think about the size of the cover. Buying a cover that is too large for a certain club could mean that the cover doesn't fit well on that club, will likely fall off during your round and may even damage the club. Because of this, our top piece of advice when buying a club headcover is to always purchase a cover that is the correct size for your clubs. You may also want to consider buying a set of club headcovers, which might save you more money than buying them individually.
2. Material
Protection is paramount when thinking about the type of club headcover you want to buy. Golf clubs don't come cheap, so investing in a cover that is going to keep your clubs safe from being bashed around on the course is invaluable. That's why its always wise to get a headcover that is made of a sturdy and durable material that will keep your clubs safe. Leather is perhaps one of the best covers as it can also prevent your clubs from getting wet in the rain. Cotton and wool covers may not be as advantageous in wet weather golf but they can also provide great protection to your driver, fairway wood and putter heads.
3. Durability
Some of the premium club headcovers that feature the best designs don't come cheap. They can be an expensive addition to your bag and you don't want to have to be spending another $100 every other season replacing them. That money could be put towards green fees or a membership, arguably a better investment for most golfers, so for that reason, you should look to purchase a cover that is durable and will last a long time. Our top piece of advice is to look for covers that are waterproof and can withstand the rain.
4. Style
Style is another key point to remember when purchasing a club headcover. Whether you're a more traditional golfer or if you're looking for something that's going to make you stand out on the course, adding a touch of personalization to your golf bag can seriously help you feel comfortable and confident when you're on the course.
While we're on the subject of style, why not check out some more of our guides on club headcovers, including our guide on the best novelty club headcovers (opens in new tab) or our guide on the best headcovers for irons (opens in new tab).
FAQs
What is the point of golf headcovers?
Golf headcovers are not just a way for golfers to express their style on the course. They have a purpose of protecting your driver, fairway wood and putter heads from being dented or scratched while you carry your clubs around the course. They can also protect your clubs from the rain and are a great way to help make your clubs last longer.
Do you need headcovers for irons?
Most golfer's only use headcovers on their irons when they are travelling or storing their irons for a long period of time. Typically players don't keep their covers on their irons when playing as they can be a little harder to put on and take off when playing each shot, compared to a driver headcover. They are though a great way to keep your irons free from any dents or scratches.
Do golf clubs come with headcovers when you buy them?
Most drivers and fairway woods tend to come with club headcovers when you buy them. If you buy a set of clubs, you are also more likely to get headcovers coming with them. Although some brands do not provide covers when you buy their clubs so it is always best to check before buying a club whether it comes with a headcover.
Mark has worked in golf for over 20 years having started off his journalistic life at the Press Association and BBC Sport before moving to Sky Sports where he became their golf editor on skysports.com. He then worked at National Club Golfer and Lady Golfer where he was the deputy editor and he has interviewed many of the leading names in the game, both male and female, ghosted columns for the likes of Robert Rock, Charley Hull and Dame Laura Davies, as well as playing the vast majority of our Top 100 GB&I courses. He loves links golf with a particular love of Royal Dornoch and Kingsbarns. He is now a freelance, also working for the PGA and Robert Rock. Loves tour golf, both men and women and he remains the long-standing owner of an horrific short game. He plays at Moortown with a handicap of 6.