Best Golf Wedges For Beginners 2023
New to the game? Check out our guide to the best golf wedges for beginners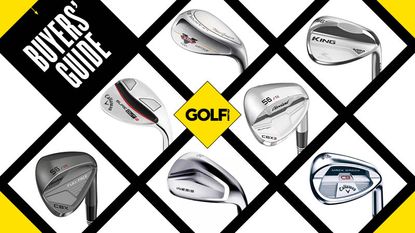 (Image credit: Golf Monthly)
Best Golf Wedges For Beginners
If you're new to the game, there are a few wedges buying tips to consider before you part with your hard-earned money. Given the proliferation of technology, and the variety of models offered by different brands, you might not need to spend an arm and a leg to get the best golf wedges (opens in new tab) for your game. Regardless of golf proficiency, there are things to consider though. When investing in a wedge set, you want to ensure you have even gaps between the lofts of your wedges, so you can cover off as many distances as possible.
We also recommend trying to make sure the shafts in your wedges are similar in type to your irons, so they feel the same on full shots. In terms of specific clubhead design, the best golf wedges for beginners often tend to offer a bit more bounce - the angle created between the leading edge and the lowest point of the sole - to help achieve cleaner strikes.
Then you need to consider how many wedges to put in the bag too. If all of that sounds complicated then our piece on what to consider when buying a wedge (opens in new tab) should explain tings a little better.
Here, we review some of the best golf wedges for beginners, to give you a better idea of the models you should be looking to try. Alternatively we also recommend checking out some of our other beginner golf gear guides too - such as the best golf balls for beginners (opens in new tab), best golf drivers for beginners (opens in new tab), or even the best golf irons for beginners (opens in new tab).
Whatever level you are in the game, we are here to help.
Best Golf Wedges For Beginners
Why you can trust Golf Monthly Our expert reviewers spend hours testing and comparing products and services so you can choose the best for you. Find out more about how we test.
Callaway Sure Out 2 Wedge
Specifications
Lofts: 56°-64°
Grinds: 1
Finishes: 1 (Chrome)
Reasons to buy
+
Refined bounce angle enhances playability
+
Confidence-inspiring at address
Reasons to avoid
-
Wide sole won't appeal to everyone
If you're a beginner, there's a fair chance that one of the more frequent shots that you struggle with is a fat strike, which is where you catch the turf before the ball. This Callaway Sure Out 2 model is one of the best golf wedges for beginners because it features a larger face area than most wedges, and a wider sole, which promotes a solid ball contact to propel the ball up in the air.
Meanwhile, the grip comes with 3 "step down" markings to promote effective and ultimate distance control and shot selection.
Specifications
Lofts: 46°-60°
Grinds: 3 (S, V, C)
Finishes: 2 (Chrome, Black Satin)
Reasons to buy
+
Extra forgiveness helps get full shots closer to the hole
+
Aggressive milling boosts spin
The first Cleveland wedge (opens in new tab) to make this list is the CBX 2 model from a while ago. In terms of the key technology, a hollow chamber towards the heel and a heavy weight strategically placed in the toe help maximize MOI to improve forgiveness. The clubhead felt really stable at impact during testing, and controlled both direction and distance consistency admirably on slightly mis-struck full shots.
Meanwhile, we found the wide sole design especially helpful from the sand, allowing the club to glide rather than dig downwards with minimal interference. It is this technology that makes the CBX 2 one of the best lob wedges (opens in new tab) we have tested.
Cobra King MIM Wedge
Specifications
Lofts: 50°-60°
Grinds: 3 (Versatile, WideLow, Classic)
Finishes: 1 (Chrome)
Reasons to buy
+
Three grind options
+
Classic shaping
+
Looks inviting at address
This is the first wedge to feature a fully metal injection moulded (MIM) head construction for precision shaping that delivers excellent feel and performance. And it all comes at a reasonable price point for beginner golfers looking to hit the ground running.
Over the ball, there is little offset and the classic shape makes it very inviting to hit. The CNC milled face and progressive grooves also ensure golfers of all abilities can generate maximum spin from any and all lies they find themselves in. It's also available in three grinds - versatile, widelow and classic - but we would recommend the versatile for those just getting started in the game.
Specifications
Lofts: 56°-64°
Grinds: 1 (C)
Finishes: 1 (Black Satin)
Reasons to buy
+
Full face grooves provide added forgiveness
+
Darker finish stops any glare
Reasons to avoid
-
Price point may turn off total beginners
Another great option from Cleveland's CBX range, this time in the shape of a wedge with full-face grooves. The logic of this groove design is sound and has proven useful for amateur golfers. Indeed, from low handicap amateurs to full beginners, we don't always hit wedge shots out of the middle of the face and these additional grooves help maintain spin from strikes out of the toe or heel.
The psychological effect of looking down on a wedge like this is significant too, and we found we felt more confident over a chip knowing we didn't have to hit it out of the screws to hit a successful shot. While the higher price point might put off a true beginner just beginning to get a feel for the game, if you are beginner looking to invest fully into a set of wedges this is a great, confidence inspiring option.
Specifications
Loft : 50°- 60°
Grind : 3 (5,11,9)
Finishes: 2 (Black and Silver)
Reasons to buy
+
Incredible levels of spin
+
Pleasing turf interaction
Reasons to avoid
-
Hard to flight on full shots
This is a fantastic wedge that we think certainly punches above its weight when it comes to the control, forgiveness and performance on offer. The Ram Tour Grind is a great club for any high-handicap player, looking to improve around the greens. It boasts an eye-catching look that comes in a black and a silver finish, and while it took a while to grow on us, we did eventually come to like the stamped numbers and writing on this club.
The highlight of this wedge is the excellent level of spin it delivers around the greens. We were able to generate a ton of control from the precision milled grooves when chipping. And having tested a host of the best wedges this year, the Ram Tour Grind easily holds its own among other heavyweights in the same division. One thing to note is that on full shots it doesn't offer the same level of forgiveness and workability as its competitors, but at a fraction of the price, the Ram Tour Grind is not to be overlooked. It does feel a little firm off the face but offers bags of confidence in the level of control it offers. That combined makes it one of the best wedges for mid-handicap golfers. (opens in new tab)
Specifications
Lofts: 46°-60°
Grinds: 2 (Full, W)
Finishes: 1 (Satin Chrome)
Reasons to buy
+
Forgiveness on full shots
+
Pleasing sound and feel
Reasons to avoid
-
Wide soles limit versatility
One of the most forgiving wedges (opens in new tab) out there, this will definitely help beginners who tend to get a little nervy around the greens. The extra size behind the ball will give the user that little bit of extra confidence, and help them to achieve good contact consistently when chipping and pitching (opens in new tab).
That strike may become a little harder off firm ground and tie lies, but the positives definitely outweigh the negatives. We were impressed with the forgiveness on full shots as well as the feel off the face, and spin control was also excellent.
Decathlon Inesis Wedge 500
Specifications
Lofts: 50°-60°
Grinds: 1 (V-Sole)
Finishes: 1 (Chrome)
Reasons to buy
+
Forgiving on mis-hit strikes
+
Available in different sizes based on height
+
Two-year warranty
Designed to blend seamlessly into a cavity-back set, this Inesis wedge is perfect for beginners and higher handicappers. Not only that, but it is available in two different shaft lengths and grip sizes, so can be tailored to a golfer's measurements.
We found the V-Sole design interacted with the turf really well on full shots and around the greens, giving higher handicappers plenty of help in an area of the game that can cause even seasoned players plenty of trouble.
One final reason it is one of the best golf wedges for beginners is the price because it comes at a lower price point than most other wedges, meaning you can get a full set of them without breaking the bank.
MacGregor V Foil Wide Sole Sand Wedge
Specifications
Lofts: 66°
Grinds: 1 (Standard)
Finishes: 1 (Chrome)
Reasons to buy
+
Helps to reduce fat and thin chips
+
Promotes straighter shots
+
Confidence-inducing
The MacGregor V Foil Wide Sole Sand Wedge is marketed towards those people for whom chipping (opens in new tab) is a weakness of their game. The wide sole is designed to reduce miss-hits, through eradicating thin and fat shots. The wide sole makes it hard for the club to dig into the turf; instead the club glides over it.
The loft is 66 degrees (yes you read that right), which compares with the more standard 56-60 degrees found on most sand wedges. This extra loft helps to get the ball into the air and makes it easier to clear lips of bunkers and also helps shots stop quickly on the green. It is undoubtedly a unique club and our tester absolutely loved it although those players who want to be more creative and versatile should probably look elsewhere. But for a beginner, this is a wedge we definitely recommend.
How we test
When it comes to wedges, we take the testing process (opens in new tab) very seriously. Whether we are sent a product or buy it ourselves, we put everything through its paces to ensure we can provide thorough and reliable advice. Every member of the Golf Monthly team is an avid golfer and as such, knows what does and doesn't make for a good wedge for each category of player.
As far as our methodology goes, we review all wedges properly, which means we have used each one across multiple rounds and in practice to assess every aspect of performance in all conditions. For example, if a wedge claims to be the ultimate bunker club, we will test that theory from any and all lies possible.
Specific to the best wedges for beginners, we tested every one thoroughly to assess how easy they were to hit and the level of forgiveness on offer. While not as important at this early stage, we were also keen to find out how much spin each was able to generate and if there were any difference in flight.
This comprehensive testing style is not just exclusive to wedges as we test with the same level of thoroughness across all gear categories.
How to choose a wedge
When choosing a wedge there are a variety of factors to consider. Let's go into those now.
Forgiveness - For a beginner, the main factor we think you need to consider is how forgiving a wedge is, because consistency of strike is the main thing newer players struggle with when starting out. As such picking a wedge that is going to help you as much as possible makes sense and there are lots of models out there to help, many of them are in this guide in fact.
Lofts: Even beginners should have some kind of understanding on what loft their wedges should be. As such we recommend measuring your current wedge yardages and how often you are in between clubs to help decide if you need to carry extra options. This is an important part of your bag setup to get right across the entire bag too, because knowing your gaps can allow you to fill out your bag correctly whether that be carrying two, three, or four wedges, which can then impact how many clubs you can carry at the top of the bag. The opposite is true as well. We have also created a guide on the best gap wedges (opens in new tab) as well so check that out for more information.
Finish: Options like black PVD and copper are becoming increasingly common. The difference is mainly cosmetic, but dark finishes can help reduce glare. Alternatively there are classic chrome and silver designs as you can see above so it is a case of picking a design you like the look of not just at address, but in the bag as well.
Grooves: While grooves are now tightly regulated, it is still well worth keeping up to date with the latest designs, which use new milling processes and groove shapes to help move water and dirt away from the ball at impact to create extra spin and improve control. Additionally there are several brands that have brought out wedges with grooves that stretch across the entire face. Admittedly this does take a little bit of time to get used to, but for those players who may struggle with strike, a full faced wedge might do you some favors when creating spin towards the toe.
FAQ
What is the best golf wedge for beginners?
A 56° sand wedge or one of the best gap wedges offer tremendous versatility for a beginner golfer getting started. One with full-face grooves and a cavity-back design will also help on off-centre strikes that are likely to be an issue in the early stages.
What are the easiest wedges to hit?
Most modern wedges are now designed to provide forgiveness on everything from chip shots through to full shots. However, as mentioned above, cavity-back wedges are probably the easiest to hit due to their maximised MOI and game-improvement technology.
What are the most forgiving golf wedges?
Generally speaking, wedges with a high MOI are the most forgiving. And for a more detailed breakdown, check out our guide to the most forgiving wedges on the market.
How many wedges does a beginner need?
There's no right or wrong here but it might be worth erring on the side of caution to begin with. It would be a waste to invest in three wedges only to discover golf isn't for you. With that in mind, one or two would probably be best and we'd suggest a pitching wedge and/or a sand wedge to get you started.
A golfer for most of his life, Sam is a Senior Staff Writer for Golf Monthly.
Working with golf gear and equipment over the last five years, Sam has quickly built outstanding knowledge and expertise on golf products ranging from drivers, to balls, to shoes.
He also loves to test golf apparel especially if it a piece that can be used just about anywhere!
As a result he has always been the one family and friends come to for buying advice and tips.

He is a graduate of Swansea University where he studied History and American Studies, and he has been a part of the Golf Monthly team since December 2017. He also previously worked for World Soccer and Rugby World magazines.
Sam now spends most of his time testing and looking after golf gear content for the website. He also oversees all Tour player content as well.
Unfortunately, Sam is not a member of any club at the moment but regularly gets out on the golf course to keep up the facade of having a handicap of five.