US Masters Prize Money: How Does It Compare To Other Sports?
A look at how the US Masters prize fund compares to other sports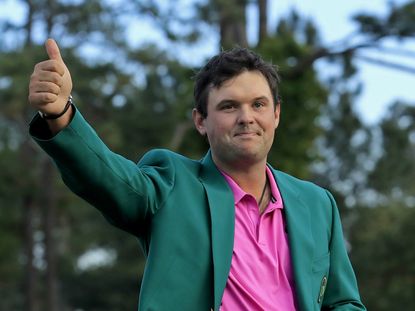 This year's Masters champion will walk away over $2 million better off. How does that stack up against other major sporting events?
US Masters Prize Money: How Does It Compare To Other Sports?
The Green Jacket may be the only prize on the players' minds this week, but there are a few dollars to share around for a lofty finish, too.
This year's prize fund for the 2019 US Masters (opens in new tab) stands at a massive $11.5 million, with the winner set to receive over $2 million for the first ever time; even the runner-up will pocket over $1 million as the pot gets bumped up by an extra $500,000.
It may be a Masters record, but it's not the most lucrative event. Just last month, the prize fund for the Players Championship hit $12.5 million, with Rory McIlroy walking away with a tidy $2.25 million - the largest winner's cheque in PGA Tour history.
Last year, Patrick Reed took home $1,980,000 for his US Masters victory, but how do these sums compare against other individual sports?
Related: US Masters Golf Betting Tips
Away from the world of sport, playing cards can prove lucrative - as it was for John Cynn last year. The 33-year-old turned his $10,000 buy-into something substantially larger in winning the World Series of Poker in Las Vegas.
Winners' cheques
FedEx Cup - $15 million (2019) The World Series of Poker - $8.8 million (2018) Australian Open (tennis) - £2.56 million (2019) Wimbledon - £2,250,000 (2018) French Open (tennis) - £1,990,000 (2019) The Open Championship - £1,426,000 (2018) World Snooker Championship - £500,000 (2019) PDC World Championship (darts) - £500,000 (2018/19) Tour de France - £440,626 (2018) London Marathon - £39,000 (2018)
Full US Masters Prize Money 2019 breakdown
1st $2,070,000 2nd $1,242,000 3rd $782,000 4th $552,000 5th $460,000 6th $414,000 7th $385,250 8th $356,500 9th $333,500 10th $310,500 11th $287,500 12th $264,500 13th $241,500 14th $218,500 15th $207,000 16th $195,500 17th $184,000 18th $172,500 19th $161,000 20th $149,500 21st $138,000 22nd $128,800 23rd $119,600 24th $110,400 25th $101,200 26th $92,000 27th $88,550 28th $85,100 29th $81,650 30th $78,200 31st $74,750 32nd $71,300 33rd $67,850 34th $64,975 35th $62,100 36th $59,225 37th $56,350 38th $54,050 39th $51,750 40th $49,450 41st $47,150 42nd $44,850 43rd $42,550 44th $40,250 45th $37,950 46th $35,650 47th $33,350 48th $31,510 49th $29,900 50th $28,980
The remaining professionals will receive cash prizes ranging downward from $28,290 depending on their scores.
Don't forget to follow Golf Monthly on Facebook, Twitter and Instagram for all the latest from the US Masters at Augusta.
Michael has been with Golf Monthly since 2008. As a multimedia journalist, he has also worked for The Football Association, where he created content to support the men's European Championships, The FA Cup, London 2012, and FA Women's Super League. As content editor at Foremost Golf, Michael worked closely with golf's biggest equipment manufacturers, and has developed an in-depth knowledge of this side of the industry. He's now a regular contributor, covering instruction, equipment and feature content. Michael has interviewed many of the game's biggest stars, including six world number ones, and has attended and reported on many Major Championships and Ryder Cups. He's a member of Formby Golf Club.