Under Armour Storm Rain Suit
We test out Under Armour's Storm Rain jacket and trousers in testing conditions at West Hill Golf Club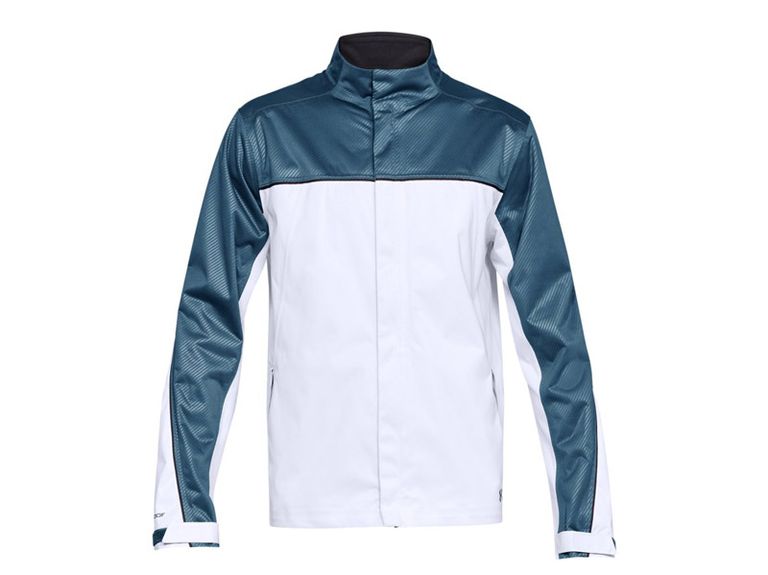 All in all, this waterproof suit is an enticing option given the protection, style, materials used and choice of four colours at such a reasonable price.
Reasons to buy
+

Water beads off quickly. We also enjoyed the soft, stretchy material and attention to detail.
Reasons to avoid
-

Not everyone will appreciate the shiny finish or the more relaxed fit.
By Joel Tadman
Under Armour Storm Rain Suit Review - We test out Under Armour's Storm Rain jacket and trousers in testing conditions at West Hill Golf Club
Under Armour Storm Rain Suit Review
Top-of-the-range waterproof suits can cost an arm and a leg but there are some decent options out there if you're looking to save a few pounds.
One such alternative is the Under Armour Storm Rain suit. The jacket costs £125, the trousers £100, and yet they boast a host of features that make playing golf in the rain a much more bearable experience.
The first being Under Armour's Storm finish, which also features on the Storm Gore-Tex Paclite suit. This outer coating ensures that when water lands on the suit, it beads off quickly - leaving no visible trace of moisture behind. This quality also ensures the garments stay dryer for longer, remain lightweight and don't hold water within the outer fabric, which can cause you to get cold and add excess weight.
RELATED: Best Golf Waterproofs 2018
Compared to the Gore-Tex Paclite option from Under Armour, the Storm Rain Jacket and trousers offer a more relaxed, roomy fit. We didn't notice excess material getting in the way of our swing from this, although some elastic waist adjusters on the jacket would certainly help in creating a more tailored fit.
Interestingly, the material has a shiny finish, is much softer and more stretchy too, ensuring your freedom of movement during the swing isn't impeded. It is also quieter overall too, not making that rustling sound some other suits can sometimes produce when swinging or simply walking between shots.
There are some nice golf-specific touches too, most notably the Velcro wrist adjusters on the jacket and on the trousers too. Poppers at the ends of zips provide a more premium look and feel, helped by the classy carbon fibre print on the arms and shoulder sections of the jacket.
The trousers are easy to slide on over your golf shoes and have ankle zips, belt loops and mesh-style pockets for a softer hand feel.