Why Golfers Might Want To Ditch The iPhone And Buy A Samsung Galaxy S8 Instead
Here's why you might want to seriously consider ditching the iPhone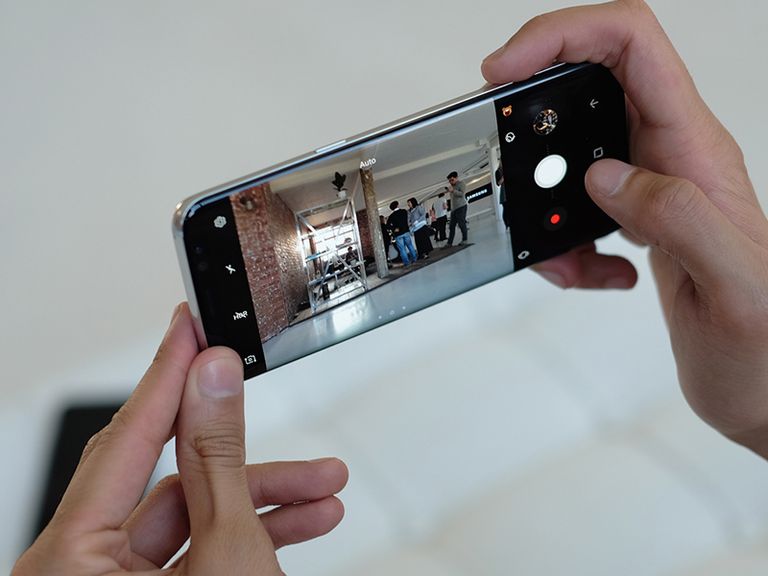 From great looks to wide-ranging app and fitness tracking functionality, here's why you might want to seriously consider ditching the iPhone and buying a Samsung Galaxy S8 this year - By James Laird
Why Golfers Might Want The Samsung Galaxy S8
From great looks to wide-ranging app and fitness tracking functionality, here's why golfers might want the Samsung Galaxy S8 over the iPhone. Samsung has just unveiled the the Galaxy S8, which is the most eagerly anticipated new Android phone of 2017. But what's it all about and why should golfers care?
The Specs
Premium design is the S8's first major selling point. Anyone who's ever graced a golf course knows that half the fun is getting kitted out for your next round, and having all that 'golf swag' – this extends to your choice of smartphone.
Sure, some clubs are still a tad precious about where mobiles can and can't be used on the course – check before your next round, if in doubt – but most now tolerate respectful phone usage out on the fairways.
The Galaxy S8? There simply isn't a more stylish device out there right now.
Related: Apple Watch Series 2: What It Means For Golfers
It's thin and light (the S8 weighs just 155g, which is about the same as three R&A approved balls), meaning it'll nestle politely in your pocket and not distract you from your swing, as well as being water and dust-resistant to the military-grade IP68 standard – bunkers and lakes be damned.
Don't just take my word for it, though. Here's what my colleague, TrustedReviews' Mobile Editor Max Parker, wrote in his Galaxy S8 preview having spent plenty of hands-on time with the new device.
Alternatively, hit the link below to read his full first impressions.
Related: Samsung Galaxy S8 review
"Let's start with the design, where nothing comes close to the Galaxy S8. It's the best-looking phone I've ever seen. The curved back nestles perfectly in your palm, while the glass shimmers as light hits it…."
Whether or not the S8 will shine in UK climes is, but for that autumn tour you've been planning to the Algarve or Costa del Sol? Look no further. And that's not all, either.
Related: Samsung Galaxy S8 v S8+: What's The Difference
What Does It Offer?
While style and design are key to the Galaxy S8's appeal to the modern golfer, there's loads more on offer as well.
Take apps. There are plenty of charlatans who will flog you a pricey bit of software that promises to shave strokes off your game overnight, but the Galaxy S8 and its Android OS excel at offering useful functionality for free.
Golfers live and die – or at least risk get soaked by – the quality of their phone's weather app, for instance.
The Galaxy S8 weather widget is great because it draws in data from AccuWeather, which is regarded by nerds like me as the most reliable forecaster around – and generally superior to the Weather Channel-based software found on Apple's iOS.
There's also the 12-megapixel primary camera that comes complete with slow-mo video capture, which you can use to analyse your swing – however painful an experience it might be.
Last but certainly not least, Samsung has added a new 'killer feature' feature to its arsenal with the Galaxy S8 – an AI (artificial intelligence) assistant called Bixby.
Bixby will basically let you quickly and easily bark voice commands at the S8, so you'll be able to gather information like, "What's the weather at Wimbledon Common this weekend?" without having to lift a finger.
Summary
The Samsung Galaxy S8 is the most impressive phone of 2017 so far, and one that should appeal to golfers as much as it does hardened smartphone snobs – all it can't really do for you is shout "Fore!"