Under Armour 2017 Shoe Range Revealed
Whatever your preference in style or performance, Under Armour's shoe range has you covered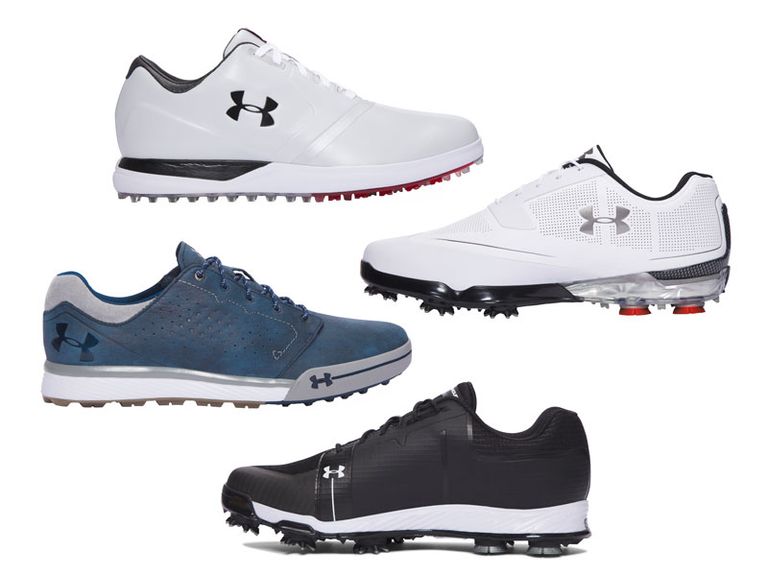 By Joel Tadman
Under Armour 2017 Shoe Range Revealed - Comprehensive new shoe line places premium on style and performance across cleated and spikeless categories
Under Armour 2017 Shoe Range Revealed
In addition to the top-of-the-range signature Spieth One shoe we reviewed recently, Under Armour has unveiled four other shoe models for 2017.
Related: Under Armour Spieth One shoe review
The Tempo Sport (£120, below) features a textile mesh upper that provides lightweight support, and relies on Under Armour's Storm technology to keep it waterproof and breathable. Rotational Resistance cleats, as featured on the Spieth One, are positioned in specific areas to rotate into the playing surface, lock down the foot, and prevent over-rotation through out the golf swing.
Excess movement or over-rotation of the feet in the golf swing can lead to a loss of traction or slippage, something Under Armour are keen for its shoe wearers to avoid.
Additional spikes and traction elements on each outsole allow the golfer to walk the course with comfort. The Tempo Sport comes with a one-year waterproof guarantee and is also available with the BOA closure system for £140.
Related: The 11 Best Golf Shoes Of 2017
The Under Armour Tour Tips (£130, below) features a lightweight, single-seam upper and again calls on Storm technology for waterproof protection and breathability and Rotational Resistance cleats to boost traction and flexibility, while an external, and visible, carbon fibre counter around the heel increases support.
There's also a removable PU footbed for under foot cushioning. The Under Armour Tour Tips shoes come with a one-year waterproof guarantee, with a BOA option available for £150, as well as a choice of colours to match the Under Armour 2017 clothing range.
The Tempo Hybrid (£120, below) boasts ultra-soft, water-resistant leather uppers that help repel moisture and create instant comfort, aided by a Charged Cushioning feature.
A rubber bumper acts to prevent foot twist, while strategically placed rubber traction pods enhance traction. Two hardnesses of outsole material provide stability under the outside of the heel area to help maximise power.
The lightweight Performance Spikeless (£110, below) features rotational resistance through special outsole nubs, as well as a removeable footbed.
Under Armour's Storm technology makes the shoe waterproof and breathable for both protection from the elements and comfort as the excess perspiration escapes through the membrane.
All shoe models are on sale now, for more information visit www.underarmour.co.uk.