Ping 2017 Polo Shirt Collection Launched
Ping's new polos provide performance and style in equal measure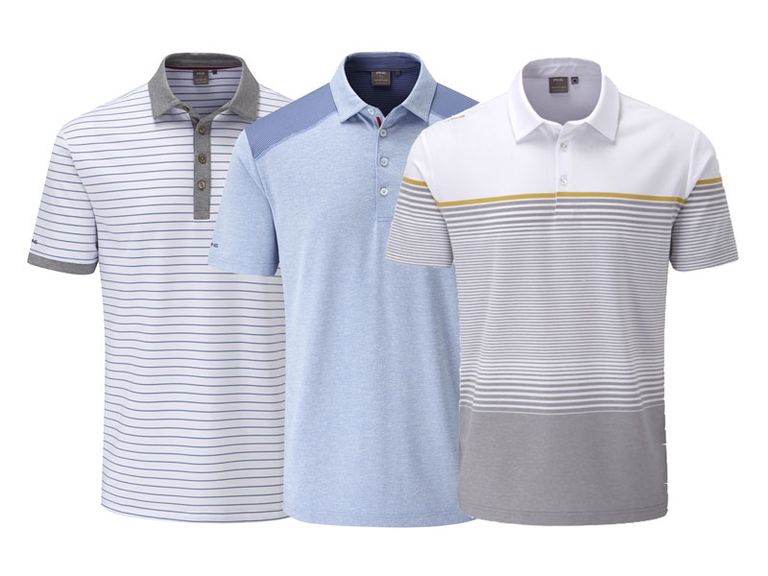 By Joel Tadman
Ping 2017 Polo Shirt Collection Launched - Ping's latest line of polo shirts combines modern styling with cutting edge performance fabrics to help you play your best
Ping 2017 Polo Shirt Collection Launched
Ping has announced the launch of its most comprehensive and technologically advanced polo-shirt range to date.
Using the some of the world's finest performance-driven fabrics, all the designs are engineered for every level of golfer to play better, including Tour players Louis Oosthuizen and Brandon Stone.
The collection's flagship Brett and Harris designs incorporate Coolmax All Season fabric technology. This transports moisture away from the body to keep the wearer cool and dry on hot days, while the fibre structure provides insulation on colder days, helping to optimise performance.
Other standout designs in the collection include the Ronan and Easton polos which benefit from a refined aesthetic and modern fit that is present throughout the range.
As well as being designed to enhance both comfort and performance in all playing conditions, the new collection features several new colour stories, including the eye-catching Mercury Rising palette (above), infused with a Rich Red throughout.
Brett Polo - RRP £60
This Coolmax All Season polo shirt has striped side panels, forward shoulder and back, and striped tape detail under button placket.
It is also quick drying, crease resistant, has stretch properties and comes in sizes XS-XXXL
Harris Polo - RRP £60
This feeder stripe polo shirt will keep you cool and dry and has stripe tape detail on the inside of the collar.
Ronan Polo - RRP £55
Engineered tonal yarn dyed stripe polo shirt with UPF 50+, moisture moving properties, two-piece fabric collar, and a three button placket.
Properties: Moisture movement / Quick dry / Crease resistant / Stretch properties
Easton Polo - RRP £50
Performance panelled polo shirt with moisture moving properties, UPF 50+, natural cotton handfeel, and concealed button-down collar detail.
The Sensor platform from Ping is an innovative technological system designed to ensure that every garment worn is specifically engineered to respond to the body's requirements and the demands of the game, whatever the conditions.
Sensor Cool – Engineered to be worn next to the skin, Sensor Cool moisture moving technology draws excess perspiration from the skin. This will keep the golfer dry for the duration of a round and beyond, guaranteeing exceptional comfort levels in all conditions.
Sensor Warm – Sensor Warm technology embodies a thermal layer designed to trap warm air and maintain a preferable body temperature. This layer also works as a barrier to resist wind chill and the subsequent affect it can have on a swing.
Sensor Dry – This technology provides ultimate, long-lasting waterproof and windproof protection from all the elements. The garments incorporating Sensor Dry are air permeable and therefore truly breathable. The outerwear is specifically cut in lightweight and noiseless fabrics to eradicate distractions often associated with weather protective garments.