17 Top Winter Golf Hacks
Use our 17 top winter golf hacks to play your best when the weather is against you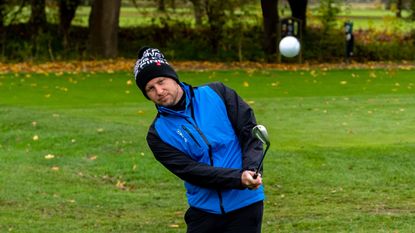 (Image credit: Howard Boylan)
Golf Monthly created this content as part of a paid partnership with Ping. The contents of this article are entirely independent and solely reflect the editorial opinion of Golf Monthly.
The weather may not be quite as nice, but there's no reason you can't carry on playing golf through the winter months – and enjoy it every bit as much. The winter golf hacks featured in the video and article below will help you adapt and thrive on the golf course when the temperatures start to drop.
If you're looking for more advice on playing winter golf, or looking to expand your winter wardrobe, be sure to check out our guides on the best waterproof golf jackets, best winter golf glove deals or how to pitch from muddy lies.
17 Top Winter Golf Hacks
1. Invest in high-quality outerwear
The amount of technology in golf clothing is amazing and outerwear these days is much lighter, more breathable and comfortable than previously.
It's also stretchier and thinner, so it's much easier to play golf in. You really get what you pay for when it comes to outerwear and waterproofs, and good ones last for a long time, so it's worth spending decent money on the best golf waterproofs that will prove to be more than worth the outlay.
2. Change your golf balls
Most of us like one particular model of ball, but it's well worth considering changing that preference to suit winter conditions.
You will likely benefit from a firmer distance golf ball that carries further through the air because you want optimum carry when the fairways and greens are soft. Those softer and colder conditions also mean you can afford the slight drop-off in softness, feel and spin around the greens.
3. Practise your short game
It can be easy to neglect your short game in the winter, but you should practice it at least as much for two very good reasons. Firstly, courses are playing longer and often tougher, so you'll probably need it more often.
Secondly, you'll be playing different kinds of short game shots from all sorts of lies and the ball will react differently on wetter and softer greens. Make sure you vary the lie when you practice and use the same model of ball you intend to use out on the course to make it more realistic.
4. Try a snood
The best golf snoods are a brilliant additional on particularly cold and windy rounds because it will keep your neck warm and prevent drafts getting down your top, and you can also pull it up over your face if temperatures drop below zero.
5. Wear a base layer
You have to stay warm on the course and the best golf base layers will help reduce heat loss from your core. They are amazingly warm for such a thin piece of material and many are skin-tight to increase blood circulation. A base layer also won't affect your swing like bulkier layers can. When it gets really cold, base layer bottoms are also fantastic.
6. Get a good pair of wet weather gloves
There's nothing worse than losing grip in wet conditions, but a good pair of winter golf gloves will actually improve your grip of the club when they get wet.
They also tend to be a little thicker than a traditional glove, which helps keep your hands warm as well. They take a while to get used to, but can make all the difference during those winter rounds.
7. Carry your golf bag
If you're able to, it's a good idea to carry your bag in winter because you will leave much less wear and tear on the course than using a trolley or buggy.
Using one of the best golf stand bags is also far less hassle to get around as you don't have to go out of your way to follow trolley routes or leave your bag a long way from where your ball is. It also leaves your hands free to put in your pockets to keep warm.
8. Keep your golf balls warm
A warm golf ball will actually fly further than a cold one – roughly two yards for every 10 degrees centigrade. Keep your balls in your pockets and benefitting from your body heat and you'll get a bit more yardage out of them.
9. Try playing with half a set
This makes your bag lighter to carry, which is especially helpful if you're used to using a trolley in the summer, and it also enables you to increase your creativity and versatility on the course.
It will help you protect the course too and improve your shot-making skills, something that seems to be getting lost in this bomb and gauge era but is especially useful in the wind or around the greens.
10. Keep your hands warm
It's absolutely essential that your hands stay warm and toasty while you're playing. The moment they get cold you'll lose a lot of feel and it's really difficult to get them warm again.
Using a hand-warming pouch or the best golf mitts is a really effective way to keep them warm. Make sure you slip them on between every shot, and you can even put some hand warmers in them when it's really cold.
11. Get winter trolley wheels
If you do need to continue using an electric trolley in winter, then using winter-specific wheels is a good way to reduce the impact you have on the course. At some courses, these are compulsory in winter months, so always be aware of the rules and potential trolley bans when using your trolley in winter.
12. Take more than one towel
Your towel is going to get pretty messy in winter with all the mud you need to wipe off your clubs, so make sure you're always able to keep them clean by carrying an extra one.
An extra towel is also brilliant if it rains because you can use it to dry your grips without transferring any mud you've already cleaned.
13. Adjust your driver
Adjustable clubs are fantastic and heading into winter is the ideal time to take advantage of this versatility. Softer ground conditions mean you're going to need more carry to achieve your optimal total distance.
You can get this by increasing loft to launch the ball higher and moving weight back to increase the spin - most of the best golf drivers will allow you to do this using a standard wrench tool.
You don't want to go too far and start ballooning it, so it's definitely worth consulting your coach or a PGA pro to find the best set-up for you in the winter.
14. Use a waterproof bag
If you play in winter, it's going to rain. Ensure you protect your golf equipment and personal belongings that you store in your bag like keys, phone and wallet, by making sure the outside is waterproof and the inside of the bag stays protected and dry - our guide to the best waterproof golf bags will steer you in the right direction.
15. Take more club
Your yardages will be shorter in winter because the ball doesn't fly as far through the air and you'll get much less roll when it lands. You're also more likely to play in strong winds that will really knock the ball in the air, and heavy rain will also affect the ball flight.
Generally, taking one extra club is usually a good idea, and conditions might dictate you're playing two or three more clubs more than you might in the summer.
16. Adjust your putting perception
The longer grass and added moisture on greens in the winter means there's more friction when your ball rolls, so putts will be slower and break less. Get yourself calibrated to winter speed and break and your course by spending plenty of time on the practice green.
Remember, you can putt more aggressively in winter because of the less speed and break. If you're still struggling to get the ball to the hole, a putter with a firmer feel off the face or heavier weighting could also help. Another solution might be to switch to a mallet putter, which comes with the added benefit of more stability.
17. Keep the soles of your shoes clean
It's really easy to slip while swinging in winter because the soles of your shoes get clogged up with mud, leaves and even ice when it gets really cold. Make sure this never happens by cleaning out your cleats with a tee or pitchmark repairer before every shot, so you can swing with total commitment and stability.